Congratulations on your upcoming wedding!
My name is Carole and I'm delighted to welcome you to WeddingConnexion.com where we aim to share with you our passion for weddings.
Are you confused about creating your wedding day timeline? You're not alone! It can be a dilemma for many couples and you might even be wondering if it's a necessity. Getting married is a wonderful, however stressful event to plan for and if you're thinking that one function will effortlessly lead into another, you might be in for an unwanted surprise! If you want everything to be perfect right down to the most minute detail, you can't overlook the progression of your special day!
Let me let you in on a secret; this blog post would have helped me with my wedding and the mistakes that could've easily been avoided if only I had created a timeline! Hopefully having and sticking to your wedding day timeline will help you come to the conclusion that timing really matters!
I completely understand that you don't want anything to feel rigid, orchestrated or contrived! Who would want that? But here's the beauty of a timeline; it provides a guide for you to stay on track and have time to properly fulfill the necessary tasks. This guideline isn't meant to take away from your big day, it's there for you to fully enjoy and appreciate the most special and magical moments! If you're stressed during each step and feeling the pressure of not having enough time, chances are you're not going to be in the proper head-space. (And the last thing you want are regrets about this milestone!) When something is well planned (and I don't mean regimented minute by minute), it frees you up to take part in the whole process and enjoy every aspect! Isn't that everyone's dream? My point is, spending a little bit of time on a timetable is excellent foresight if you don't want to have any 20/20 hindsight…if you catch my drift.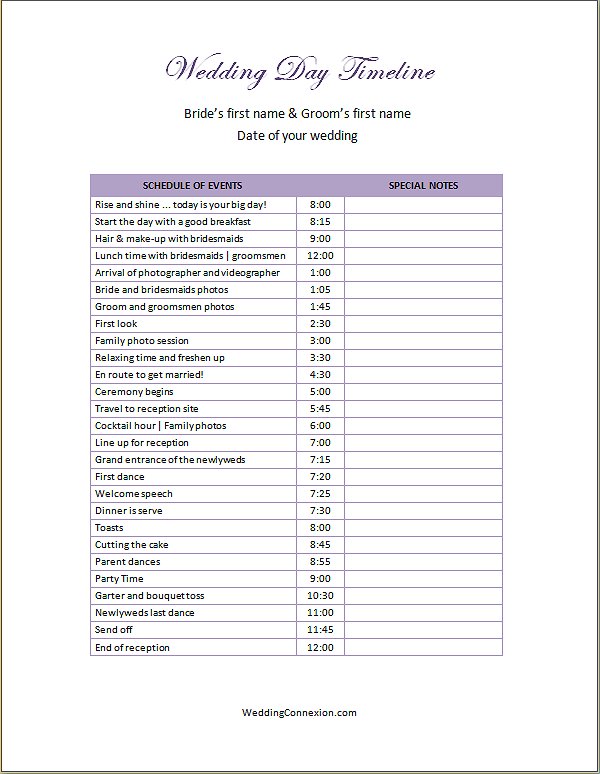 Get your Free, Wedding Day Timeline Editable Template
Just drop in your email and receive your free, fully editable template of a wedding day timeline. We'll also send you the wedding freebies 2020 Edition as well as include you in our weekly newsletter. It features exciting and trendy wedding tips and inspiration mood boards.