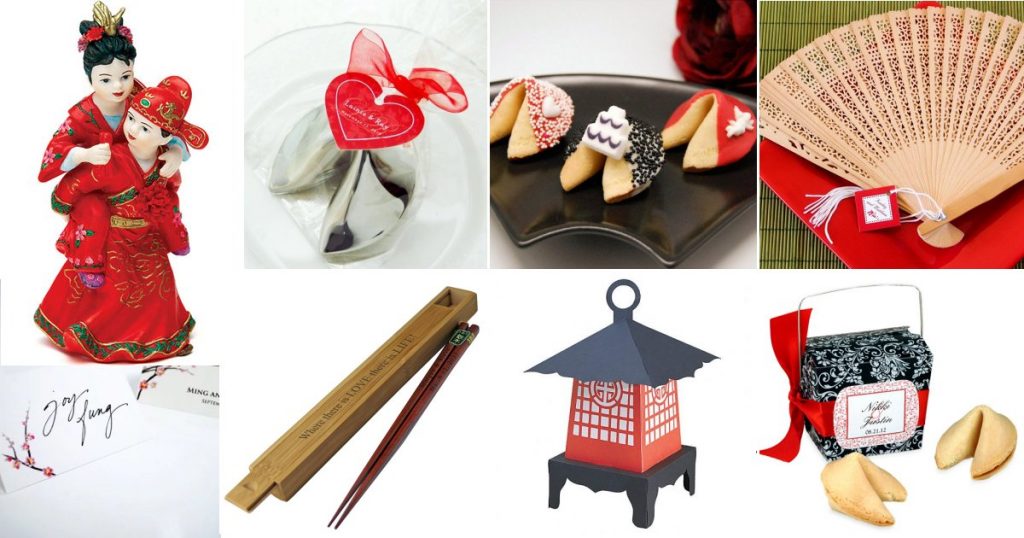 An Asian themed wedding or bridal shower is a wonderful opportunity to blend creative ideas originating from different cultural traditions. Create an immersive experience for your guests by capturing some of that cultural heritage.
Vivid colors such as red and orange mixed with the golden color of wood will give you a good start. Your decor should include fans, lanterns, parasols, and touches of bamboo throughout your venue. You may also want to include elephant statues, especially those with raised trunks which are considered to be a source of luck and good fortune. In blooming season, cherry blossom branches make splendid table centerpieces!
You shouldn't have any difficulties finding great foods to serve. A dim sum feast with lots of dumplings is quite an exciting choice! Sushi is also a wonderful idea to consider. The great advantage of sushi is that it can be prepared in advance. Guests can easily help themselves and pick their favorites. For dessert, fresh exotic fruits serve on a wood board, almond and fortune cookies, and to top it off, a large mooncake! Complement the foods with sake, and offer your guests unique, quality tea to discover with desserts.
Continue below for wonderful ideas to enhance your Asian themed event and don't forget to pin you favorites!
---
Invite guests to your Asian themed wedding or bridal shower with these unique cabana invitations. Completely eco-friendly, the invitation includes a bamboo wood gift box with ivory cardstock and a cabana leaf motif. You can also choose to include map & directions, place card and thank you note.
Asian Themed Decor Ideas
Spruce up your table decor with these attractive Japanese lanterns. Inexpensive and practical, these cardstock lanterns feature a black top and bottom with a red and white center. This makes for a perfect additional to your Asian themed event!
This authentic Asian umbrella is made from all natural Thai paper and features a hand painted orange blossom tree blooming with bright orange blossoms. The paper parasol is oiled to give a truly authentic look. Set the parasol over the head table or place several of them throughout the room to bring a truly unique cultural experience to the day.
Hand-painted, this pair of lovers cake topper is crafted from perfectly smooth porcelain, with fine details worked into the material. Featuring a vibrant display of beautiful, powerful colors, it will truly stand out as the centerpiece in any location it is placed. This is also a wonderful contrasting piece on top of a pure white cake.
A beautiful sandalwood Asian fan is the perfect accessory for outdoor or summer event. These natural wood hand fans are beautifully carved with an intricate design and are ideal for cooling off under the sun or away from the dance floor. Your guest can also bring them home as keepsakes!
Use these silver fortune cookie place card holders to enhance your Asian themed table decor. You can even add a special note for guests to bring home for an original party favor.
As a great wedding favor, these personalized chopsticks can be engraved with your wedding date and the names of you and your loved one. With an optional bamboo box, these chopsticks look great while in use, and store away with ease and class. Customize the box as too and you'll want to proudly display this great gift between uses. The maple brown finish matches any decor, and they're perfectly functional for the next time you whip up a batch of fried rice.
Asian Themed Favor Ideas
These customized fortune cookies are not only delicious, but a fun and original idea to serve for desserts or to hand out to your guests as favors. You will also impress your guests with this unique and classy fortune cookie favor box. Insert a personal fortune or thank you message for a wonderfully thoughtful keepsake. This fun damask fortune cookies take-out favor box includes two fortune cookies accented with a satin ribbon in your choice of color. One look at these cookies… the intricacy makes them to pretty to eat – almost!
Bring good luck to your guests with these antique ivory elephant tea light holders that double as place card holder as well. If you're looking for natural, eco-friendly favors, this set of four bamboo coasters arrives in a bamboo-green gift box with a clear-view picture window, natural raffia tie and round "For You" tag. The fragrant soap favor is inlaid with precision-carved cherry blossoms. Each arrives in a bed of raffia within a contemporary gift box that features chocolate brown accents and a cream-colored top.
A Touch of Cherry Blossoms
Complement your Asian themed decor with elegant blooming branches of pink cherry blossoms throughout the venue. The delicate light pink blooms are perfect for creating stunning centerpieces. Their fragrance will also waft through your room, creating warmth and ambiance.
These personalized place cards feature a delicate sprig of pink blossoms and folds in half lengthwise—no stand needed! Made from sturdy paper stock and printed on both sides when folded, this is a simple and tasteful ideas!
Practical for an outdoor reception, help keep your guests cool with these silk hand fans ribbed with natural bamboo. These cute disposable cameras can be used as unconventional table accents that double as a fun interactive gift. They're perfect for capturing priceless memories. The ring bearer pillow features a painted cherry blossom design silk-screened on the pure, white linen-textured pillow. A discreet ring pocket sits off-center with a traditional artisan's stamp bearing the word "Love" in both English and Japanese.