Choosing the perfect wedding cake topper is not an easy task! With so many available styles, finding one that will perfectly match the vibe of your event is an assignment that needs careful consideration.
'For my wedding I went for fresh flowers to decorate the tops of five cakes displayed on offset stands. It looked really elegant, and I was very happy with the result. I did however have some regret. If I were to do it again, I would choose a beautiful cake topper as a memento to cherish and remind me of that beautiful day.
How Do You Go About Choosing The Perfect Cake Topper?
Well… the first question you should ask yourself is if your wedding cake really needs a cake topper. If the design of your cake is intricate, adding a cake topper may simply be overpowering and will look unattractive.
Your wedding cake is an important focal point at your reception and without a doubt, your guests will take great pleasure checking it out and commenting on it! So if your cake needs a little dressing up, a carefully chosen cake topper will make your cake the star of your reception.
The style of the topper should complement your wedding theme and enhance the look of your cake. Choose one that represents both your personalities and the essence of the love that unifies you as a couple. Since by tradition the newlywed couple saves the top layer of their wedding cake to eat on their first anniversary, a customized cake topper makes for a unique keepsake to be cherished long after the wedding.
The size of your cake topper needs to be appropriate and in harmony with the size and shape of your cake. Talk to your baker, and ask for recommendations of not only what would look best but also what styles should you avoid. The last thing you want is a cake topper that is too big or too small for your cake. A rule of thumb is to leave a one inch space of cake around the topper. You don't want your cake topper sinking or falling off your cake!
Continue below for inspiration and to discover what style of cake topper is best suited, and as unique as your are.
For additional information on your favorite cake topper, simply click on the link provided and a new window will open and direct you to our preferred affiliate partner.
Don't forget to pin your favorites!
---
Porcelain Couple Figurine Wedding Cake Toppers
Traditional porcelain figurine cake toppers feature a bride and groom standing side-by-side wearing formal attire. Nowadays, from romantic, comical, whimsical to interracial figurines, finding a cake topper that fits your style has never been easier!
Porcelain couple figurines come in wide price range based on the quality of the piece. Hand-painted, fine porcelain cake toppers will obviously cost more than the mass produced ones. Many of them can be customized with your choice of color for hair, eyes, bouquets, shoes, and even for the suit and tie! The perk of a couple figurine is that you can customize it to become the mini you and mini loved one which makes for a wonderful keepsake!
Romantic Couple Cake Toppers
Love is the air! Romantic couple cake toppers have been a long lasting favorite among newlyweds. What better way to celebrate your love than adding a romance feel to your wedding cake!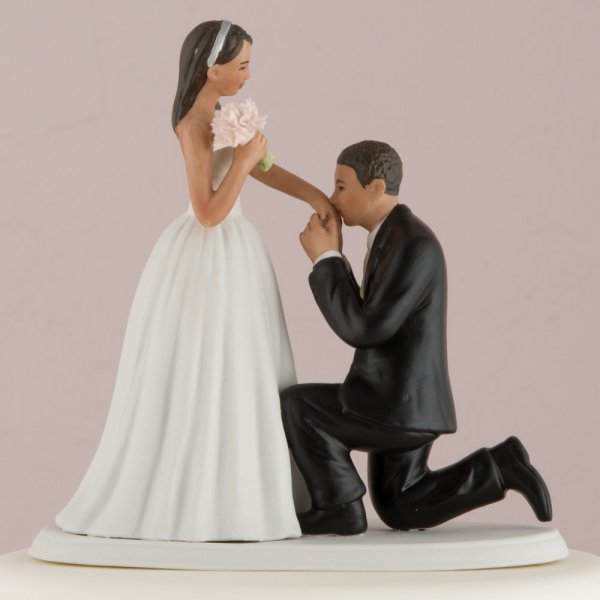 Comical Couple Cake Toppers
For the couple with a good sense of humor, dare to be different with a cake topper showing your funny side. It will leave you and your guests smiling!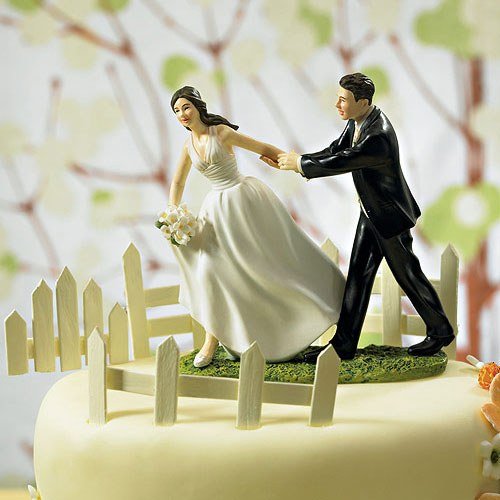 Sports Couple Cake Toppers
Share your love for action with a cake topper that represents your favorite sport. After all, couple that plays together stays together! if you and your loved one are into sports, this type of cake topper is definitively a way to infuse your unique style and personality.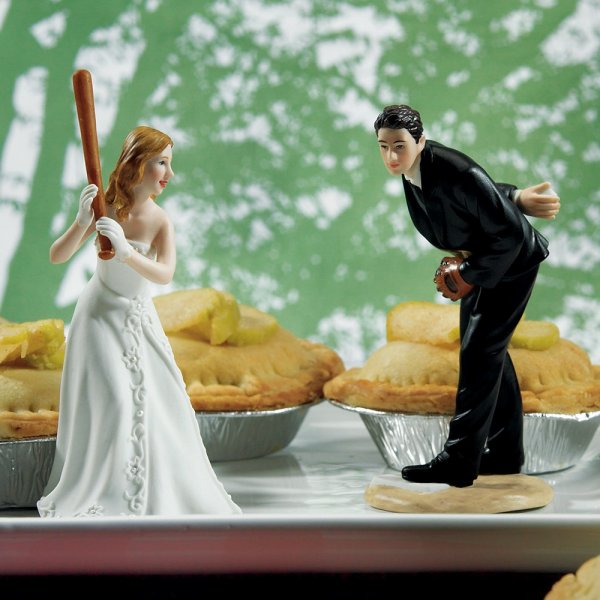 Interracial Wedding Cake Toppers
Creating a perfect couple wedding cake topper has never been easier! You can now customize yours to represent almost any ethnicity. Our favorite is the interchangeable 'True Romance' wedding cake topper collection. The selection of stylish brides and grooms reflect a range of skin tones and ethnicities which allow you to select both a bride and groom for a combination that will closely resemble you and your beloved one.
Monograms & Initials Wedding Cake Toppers
For a modern flair, monograms and initials cake toppers make for a truly unique way to decorate your wedding cake. They are available in many styles and fonts ranging from script monograms to block print font, and a variety of finishes to perfectly match your wedding style.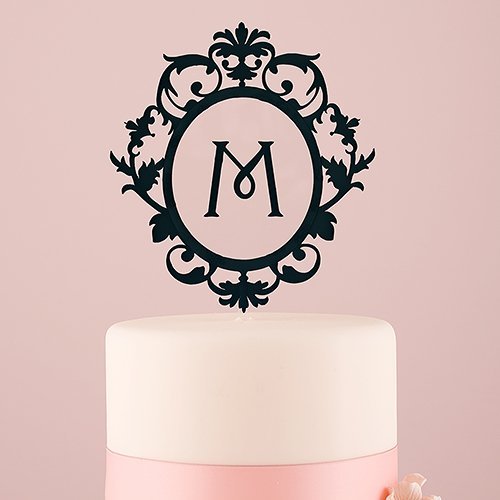 Personalized Laser Cut Cake Toppers
Simple, yet so beautiful and trendy, laser cut cake toppers are a creative way to personalize your cake with your names, initials, or a design of your choice. The only limit is your imagination! This also allows you to make sure the topper will fit on your cake!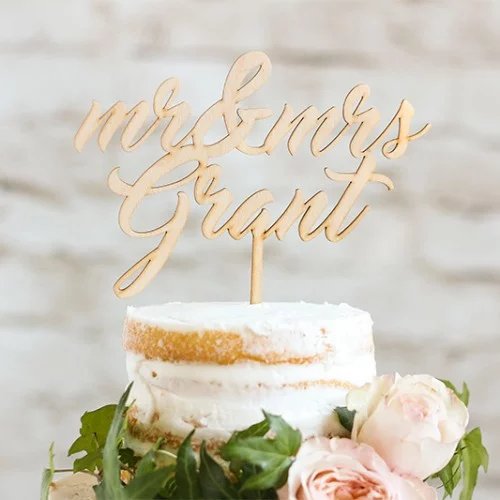 Which ones is your favorite wedding cake topper?