A copper and rust wedding color palette makes for a bright and vibrant venue decor. It brings in natural sophistication while still conferring a mood of coziness and romanticism.
Copper is a wonderful color accent for a myriad of wedding themes. Paired with rust, terracotta, amber, orange, and brown, copper imbues a comforting and charming vibe particularly for a fall event. Copper also works beautifully with dark blue, teal, black, and all natural earth tones.
Being the traditional gift for a seventh year wedding anniversary, copper symbolized prosperity, good luck and the good fortune of having found one another.
Accentuate the warmth of your venue by playing with textures and adding greenery and wooden decorations. Complementary and contrasting hues combined with elements from different styles will fully bring your decor to life white you celebrate your big day!
Fun fact: Ketchup removes tarnish of copper. Simply coat the copper with ketchup and let it sit for about 10 minutes. The acid in the tomatoes will take care of the tarnish. You need only wipe the copper afterwards and rinse to remove excess ketchup. Guaranteed to work!
Don't forget to pin your favorite copper & rust wedding ideas for later!
---
Specially Hand Picked Favorite Copper & Rust Ideas
Made with beautiful roses and pampas, this gorgeous flower swag is a lovely choice to accentuate a triangular or rectangular ceremony arch. Simple, yet it makes for a classy decor for exchanging your vows.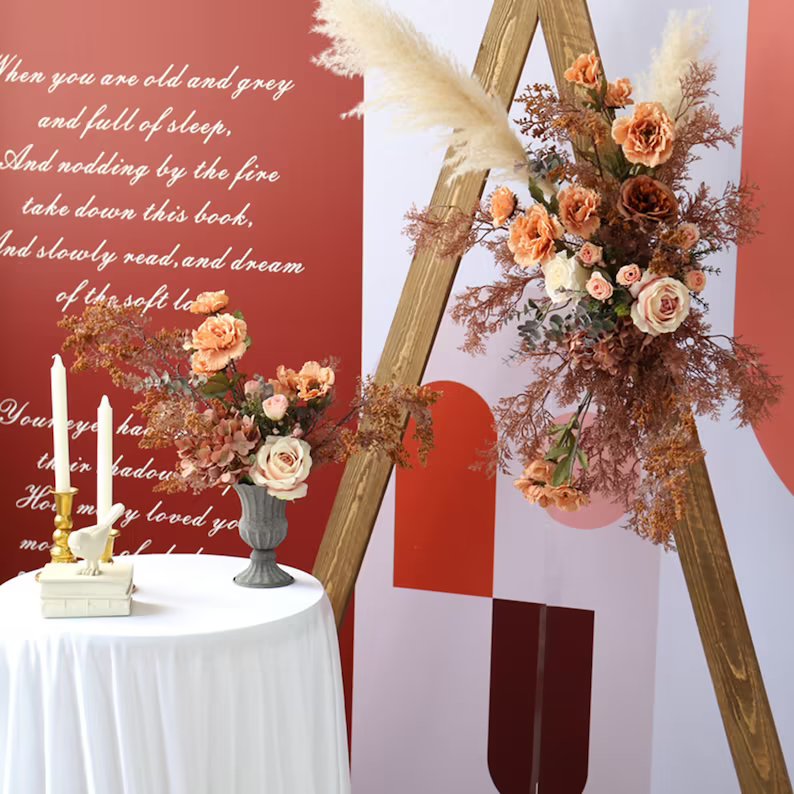 This custom handmade fabric welcome sign with copper stand makes for a warm and romantic touch of softness. It also makes for a stylish accent piece to great your guests on your special day. This welcome sign comes in your choice of size and with or without the copper stand.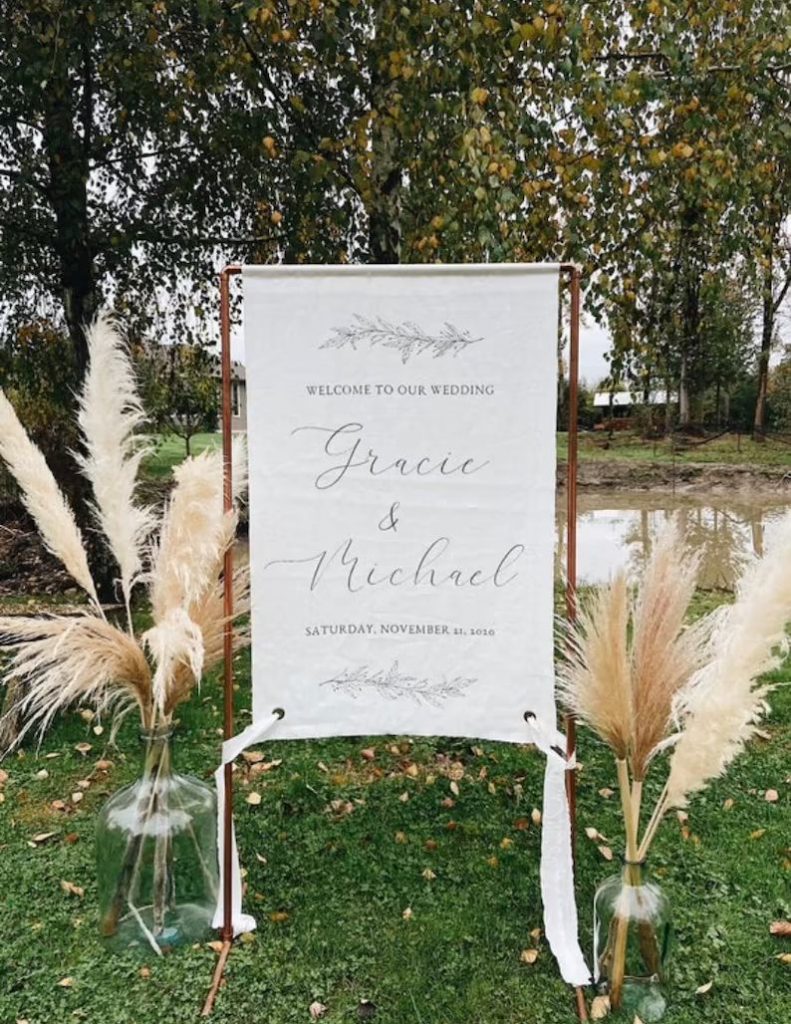 Soften the overall look and add a romantic feel to your table decor with this rust gauze table runner. The combination of cotton fabric with metallic decorations will create a unique and multi-textured tablescape.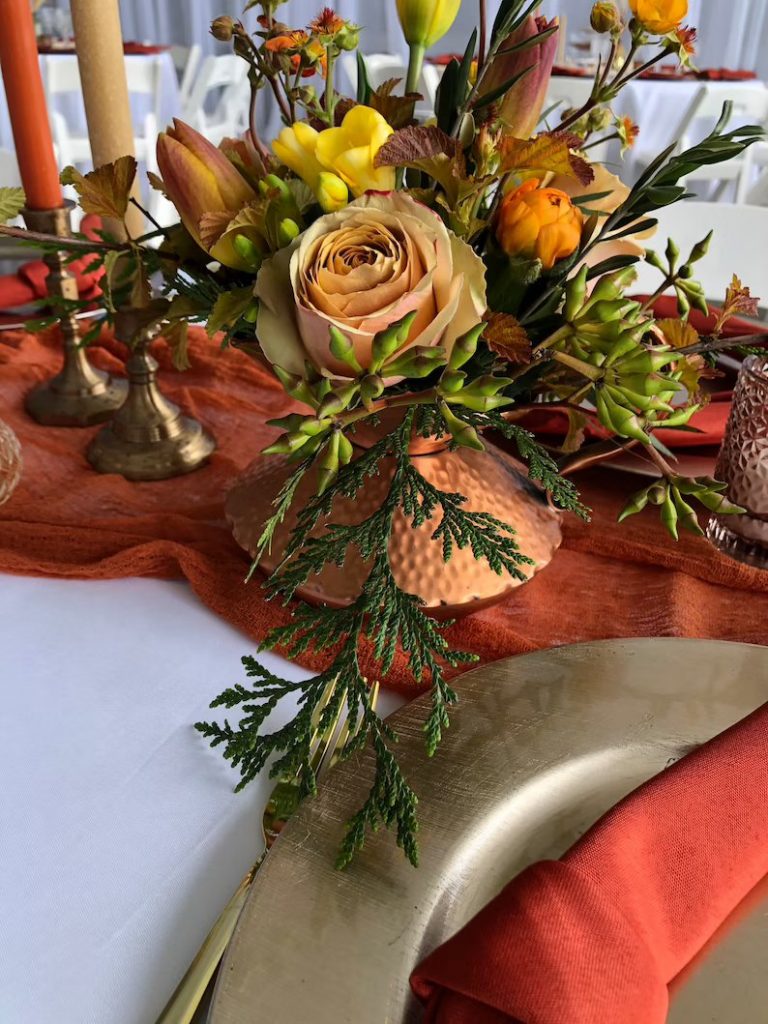 For a stylish addition to your decor, these copper wooden table numbers will guide your guests to their place seating. They're made of birch wood which is a perfect idea to confer warmth to your copper colored theme. Vertical, 3D and shiny, these surpass the practical into an elegant statement piece.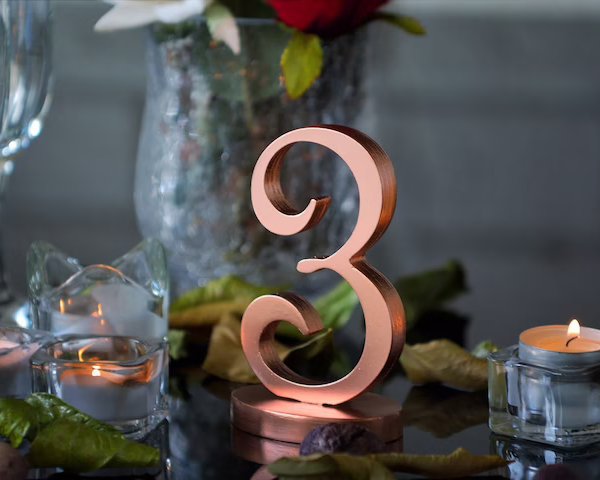 This geometric place card holder is formed from carefully woven custom metal tubing into a sophisticated 3D triangle. Choose from a variety of metallic finishes to find the one best suited for your table decor. Of course we recommend copper!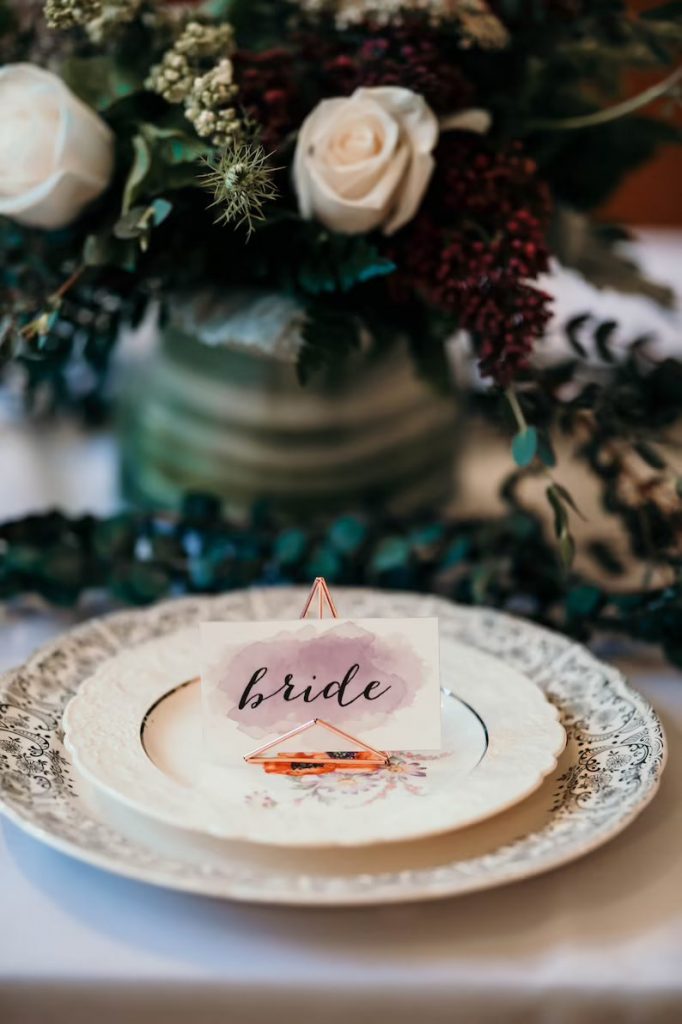 In your choice of gold, silver and copper, these stylish glass candle holders are available in 3 sizes. The mirror at the bottom cleverly enhances and projects the warm glow of the lanterns. They make for stunning centerpieces with our without added flowers/greenery and can be used to accentuate any table that needs a touch of prominence!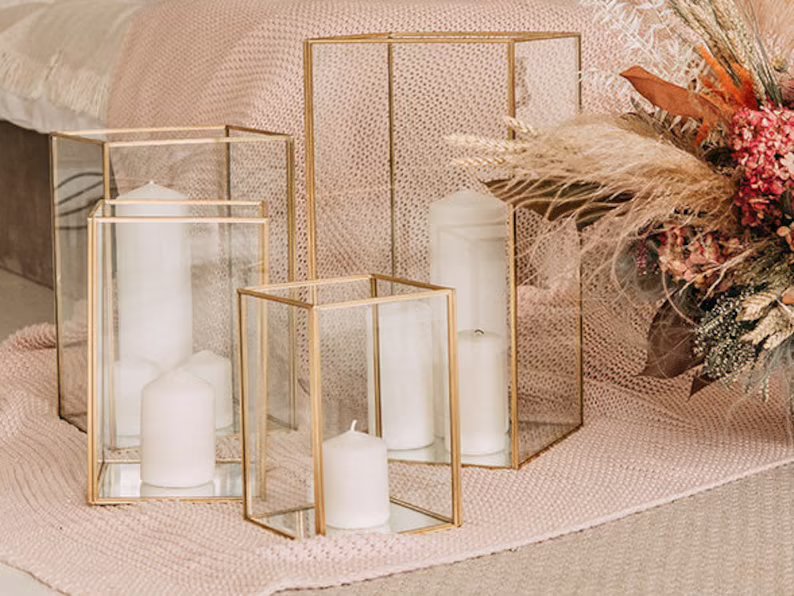 Add a dreamy and magical flair to your table decor with fairy lights! Choose the perfect length and color of the wire to find the one in perfect harmony with your dreams! Seeing as they never get hot, these fairy lights are conducive to tables as well as heights.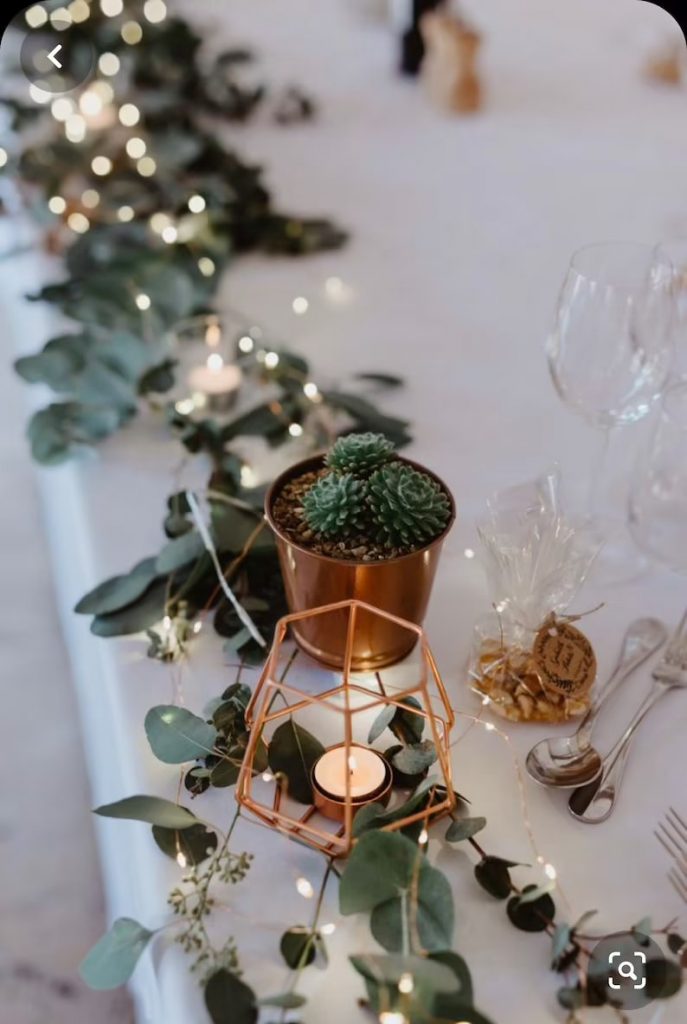 For unique and original copper candlesticks, these are handmade and the 2 are joined at the base with more copper tubing. Lovely, creative and unique, these candles will really 'stand' out. From the same collection you can find a trio of joined candlesticks.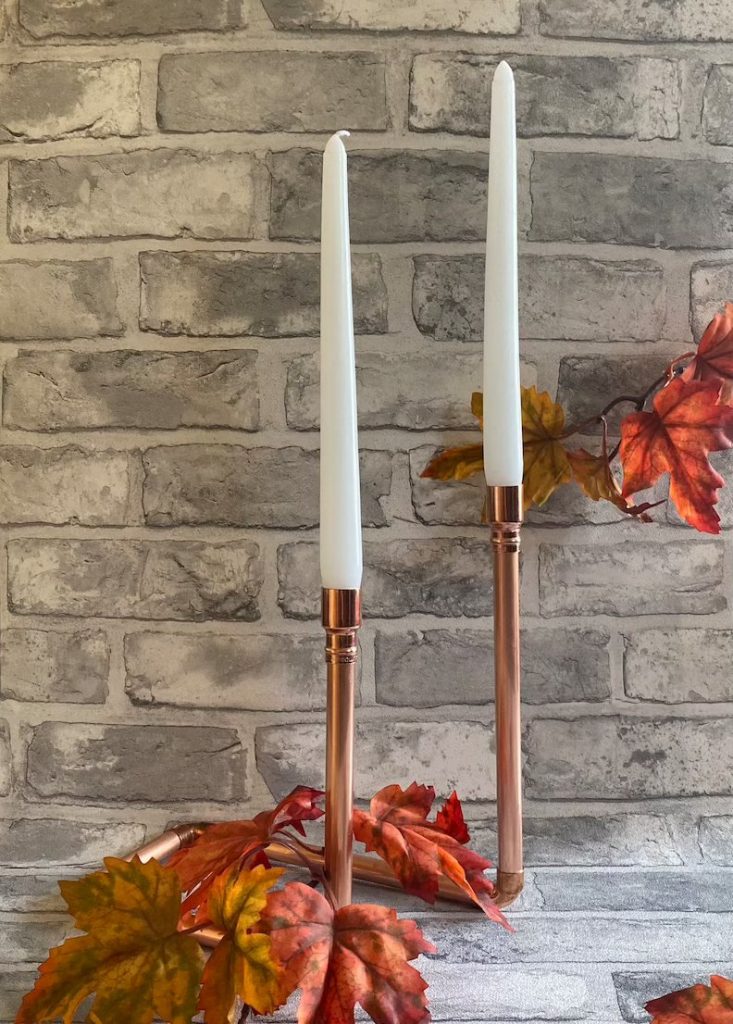 Enhance the lighting of your table decor with these rose gold frosted glass votive candle holders. They'll not only add a beautiful glow but infuse a romantic and vintage flair as well. Rose gold can be a perfect pairing with copper!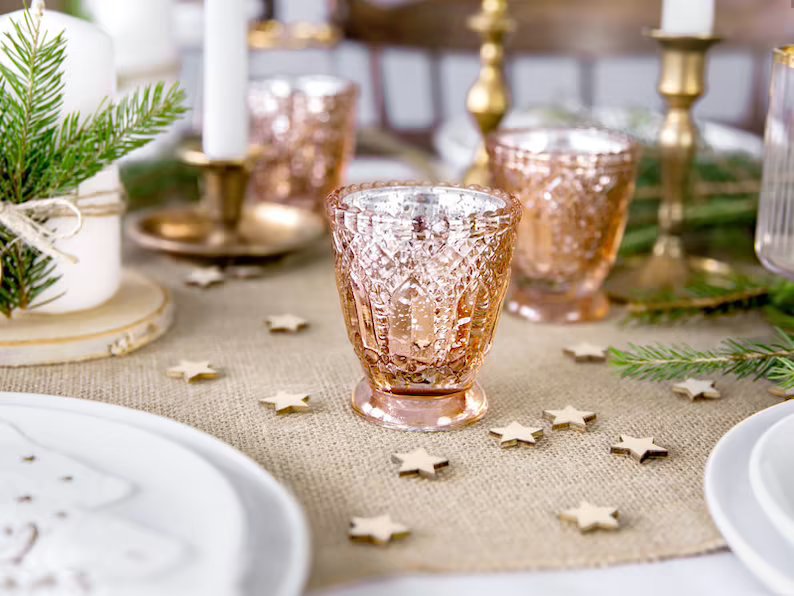 Have your friends and loved ones sign this alluring heart shaped guest book alternative. The heart board is made of wood, available in 3 sizes and comes with or without the stand. The floral arrangement set on top really makes the guest book pop out! What a wonderful and imaginative idea!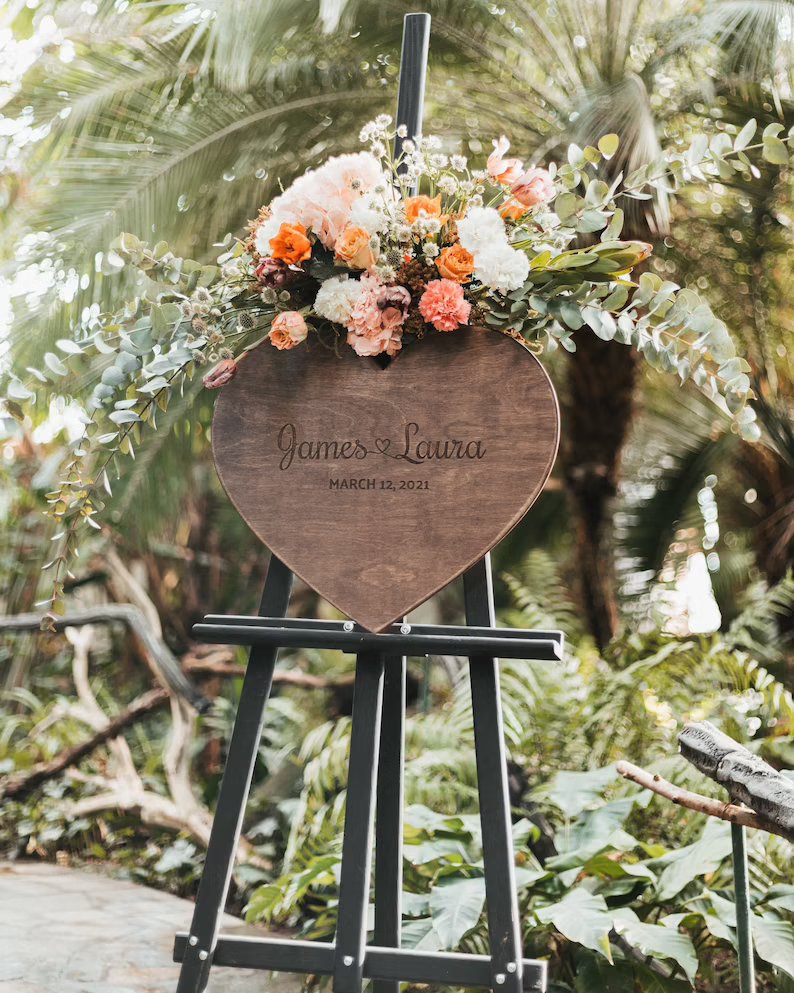 Also available from this beautiful Laura's collection:
Add the perfect finishing touch to your cake with this rust flower cake topper. Featuring faux greenery and artificial flowers of rust orange, brown and cream, this floral topper lends a delicate and classy feel while still being contemporary and stylish.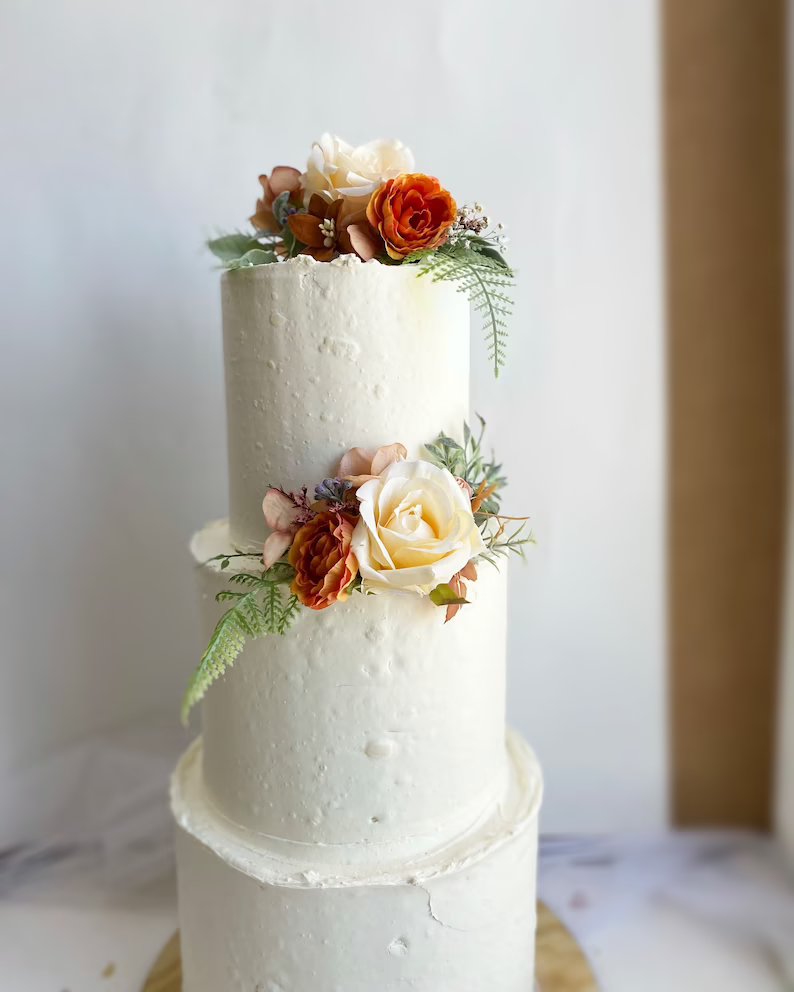 Celebrate your special day by drinking champagne in these personalized copper toasting flutes. The delicate and superb design of the flutes are beautifully handcrafted and make for a cherished keepsake you'll be using long after. Intricate and glamorous, you can't go wrong with choice!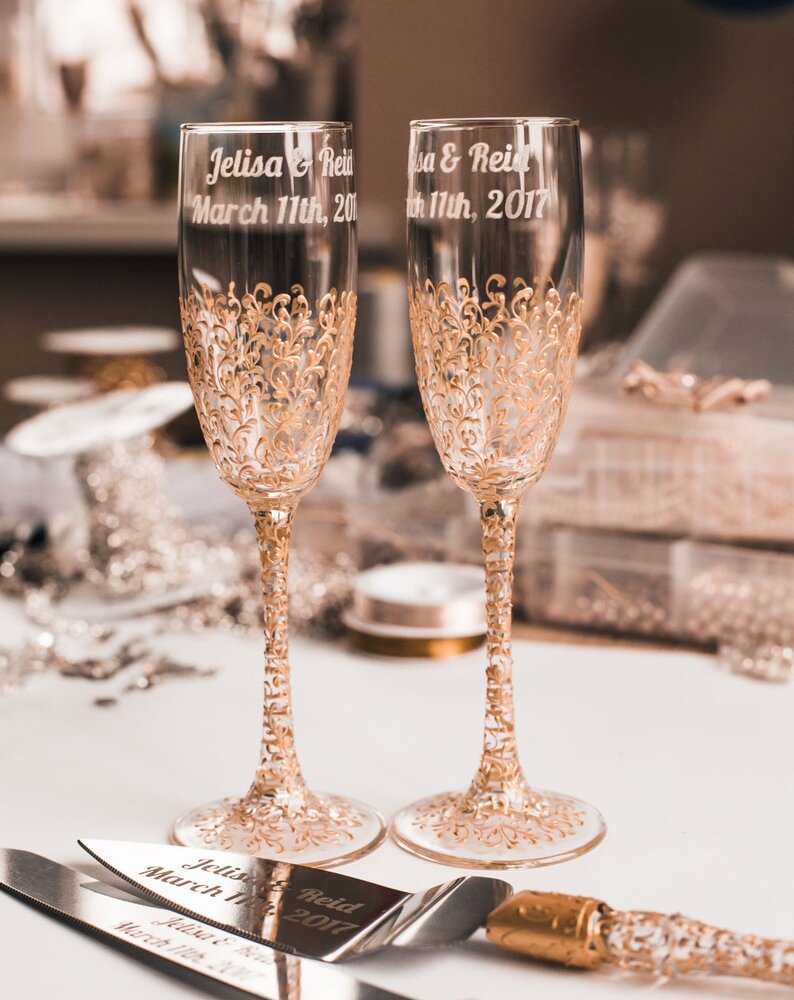 This handmade copper glass card box terrarium makes for an elegant way to collect your guests' best wishes. It's a decorative piece you'll want to display in your home after to safely store cherished mementos. Being see-through, knowing what's inside adds a preciously special touch!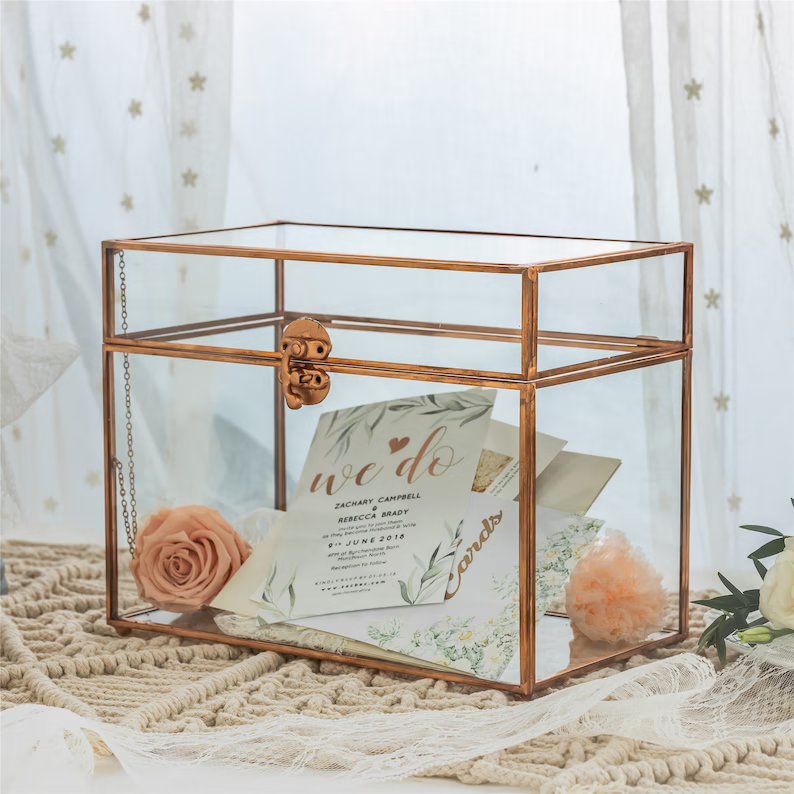 You may also like: