Add an exciting exotic vibe to your event with a pineapple tropical wedding theme. These spiky fruits are fun and easy to integrate into your decor and they will make everyone feel welcome attending your special day!
Symbolic of friendship and warmth, the pineapple has become the ultimate symbol of Southern hospitality. It is no surprise why pineapple themed weddings are so popular! It's a surprisingly youthful and glamourous setting that fuses a bit of tiki along with classic, shimmering gold.
There is a huge availability of pineapple decorations on the market, making perfectly themed décor and favors very easy to find and combine. With cake servers, place card holders and practical favors, you'll have no difficulty finding what you need to pull off your theme perfectly.
Scroll down below and get inspired by our favorite decorations that are must-have to enhance your pineapple tropical wedding theme.
Don't forget to pin your favorites!
---
Pineapple Tropical Wedding Theme Ideas
This palm and pineapple personalized directional wedding sign is just what you need to point guests in the direction of your tropical wedding! Decorated with a sprinkling of falling pineapple leaves and palm fronds and featuring a hot coral arrow points to your ceremony or reception, this sign is easy to install with the included yardstick. Whether in the ground or sand, this personalized sign can have your names and event date displayed underneath and it looks beautiful in every setting!
Help your guests easily find their seats by using these charming pineapple bottle openers as escort cards. Made of high quality metal alloy, they can also double as practical favors for your guests.
Decorate your venue with these adorable pineapple string lights. Wrap the lights on your sweet heart table, bar station, or any area requiring a tropical vibe. Being waterproof, they can also be hung outdoors. This shimmery and glowing piece of décor is a brilliant way to add illumination to your already fun and lively theme!
For a glitteringly-classic and exciting addition to your table decor, these gold pineapple place card holders are a must! They'll contribute to immersing your guests in the tropical paradise venue of your big day.
Hand sculptured with quality resin, this elegant pineapple napkin ring is guaranteed to elevate your table decor. The napkin ring detail is truly a work of art and don't be surprise if your guests ask you to bring one home as a keepsake!
A perfect accessory for any tropical outdoor wedding, this elegant personalized pineapple wooden wine chest will keep your bubbly cool while celebrating. Made from fir wood, the cooler features a removable, galvanized metal bucket insert to keep ice from melting quickly. It's a practical decoration that makes sense both during your wedding and long afterwards in your home!
For a stylish way to cut your cake, this gold pineapple server set is hard to beat! Made of resin, stainless steel and glass, this piece once again fuses elegance with lightheartedness. This stylish set consists of two pieces and the handle of both the knife and server feature a lovely gold textured pineapple.
Create stunning table centerpieces with these crystal pineapple shaped decorations. Made of copper rings with crystal beads, the pineapple is hollow inside for you to add flowers, candles, or string lights, all of which contributing to your exquisite decor. A candle inside really creates a warm, romantic and tastefully glamorous vibe. The facets come to life casting various hues of illumination which act as a modern and fun Chandelier 2.0. 
Set these gold pineapple dishes throughout your venue to accentuate the tropical decor. Use them to decorate your cake and guest book tables or integrate theme to your centerpieces instead. These pineapple trinket dishes come wrapped in a gift box adorned with a bow and tag, making for a perfectly themed wedding favor.
Personalized wine bottle labels have a way to elevate any event table decor. To me this is a clear sign to all that you've thought of every minute detail and planned to perfection! The design of falling pineapple leaves and palm fronds will catch the attention of your guests each time they reach for a refill! Not to mention, you can definitely customize the labels with your names, monogram and wedding date! If you don't want to cover the labels of your fine wine, these labels are perfectly multi-purposed for vases and other tubular objects.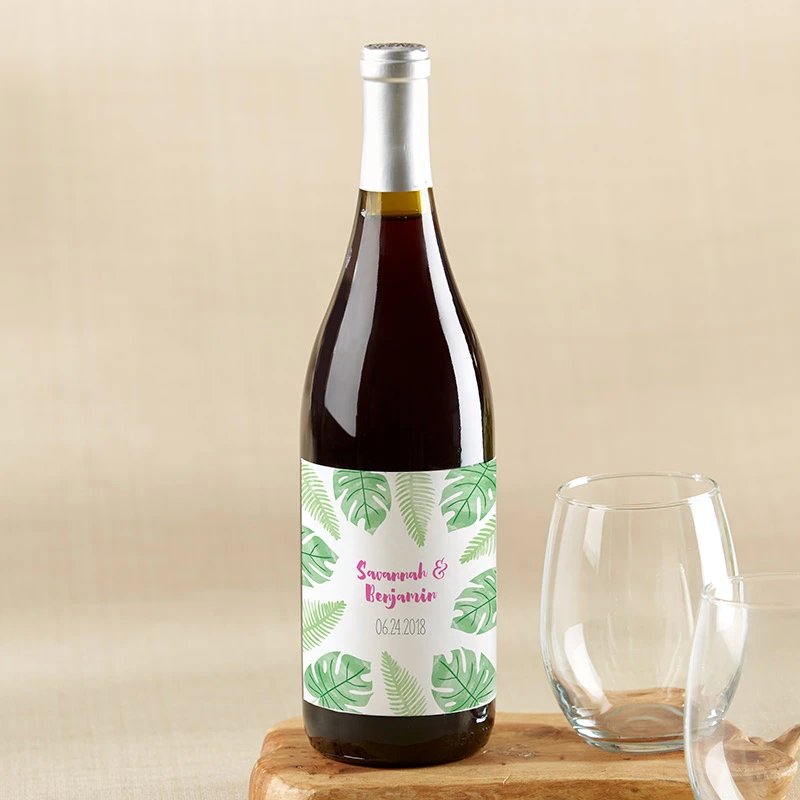 If you're looking to accentuate your flower bouquet, boutonnieres, cake table, these miniature pineapples makes for lovely decorations! The pineapple is made of metal and features a hole at the top making it easy to create strings of pineapple to hang throughout your venue.
Pineapple Tropical Wedding Theme Favors
Staying true to your pineapple wedding theme, these lovely favors are sure to be a hit with your guests! We're talking pineapple shaped favors to the max! On the practical side, these bottle openers and key chain favors won't be left behind!
This crystal pineapple ornament also makes for a lovely memento on your special pineapple-tropical wedding theme. Your guests will love finding that perfect spot to display this beautiful ornate ornament.
You may also like: