Learn the secrets of planning an ultimate DIY wedding candy bar. As you read this blog, you'll quickly realize that there is a lot more to consider than simply filling and setting ornate candy jars on a table.
In case you're wondering … the difference between a candy bar/buffet and a sweet table is that in addition to candy, a sweet table also includes desserts and baked goods.
Like anything else, planning is the key to actualizing a candy bar that is not only attractive, but where the candy is fresh and the layout and accessories are functional. The key to remember is that your guests need to be comfortable scooping candy out of jars with ease and pleasure.
Originality is a cornerstone so don't shy from looking through your mothers' kitchen to find unique and stunning containers. Clear jars however are the best since they let the color of the candy show through. On that note, your candy bar should match your wedding color scheme. The tricky part with this is that colors are associated with specific flavors. In other words, keep in mind that if you want your candy bar to mirror a purple theme for example, the taste will be almost exclusively grape! Offering a fairly diverse selection of tastes and textures is essential to maximizing the enjoyment of your guests. That being the case, try to incorporate more than one color; it might seem difficult but a complementary color will add to your venue rather than detract!
From calculating the amount of candy you'll need to the '10 no-no's of DIY candy bar, we've written a lot of articles covering all aspects of creating a candy bar that not only looks fabulous, but is practical as well.
Continue below to view our favorite wedding candy bar ideas and more tips on selection the perfect supplies. For additional information on any of the products, simply click the provided link and you'll be directed to our favorite affiliate partners.
Don't forget to pin your favorite candy bar ideas for later!
---
Our Favorite Ideas for an Ultimate DIY Wedding Candy Bar
There's no doubt that candy bars create excitement among guests! This wedding candy bar directional arrow sign will get your guests salivating and will surely create anticipation for the delightful pleasures to come! The sign is made of wood and includes a stake and hardware in your choice of dark walnut, chestnut, slate grey or ebony.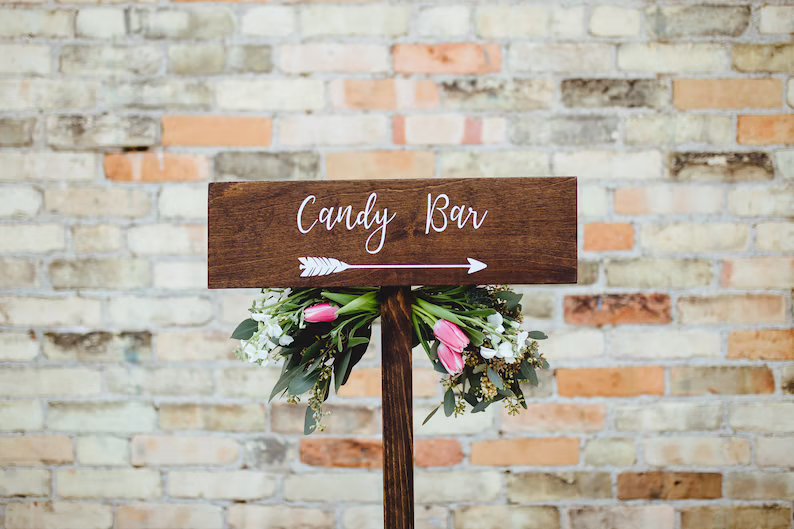 Make your candy jars sparkled using a sequin tablecloth. The reflection of the glitter highly enhances the sophistication of the overall decor. This tablecloth has no seam and features finished edges with a smooth surface. A sequin tablecloth is what we most often use for our candy bars.
Accessorize your candy table with this printable 'Love is Sweet' sign. You'll instantly get a downloadable file that lets you print in 4 different sizes without any extra effort. A listing is also available if you would prefer having the sign printed and mailed to you.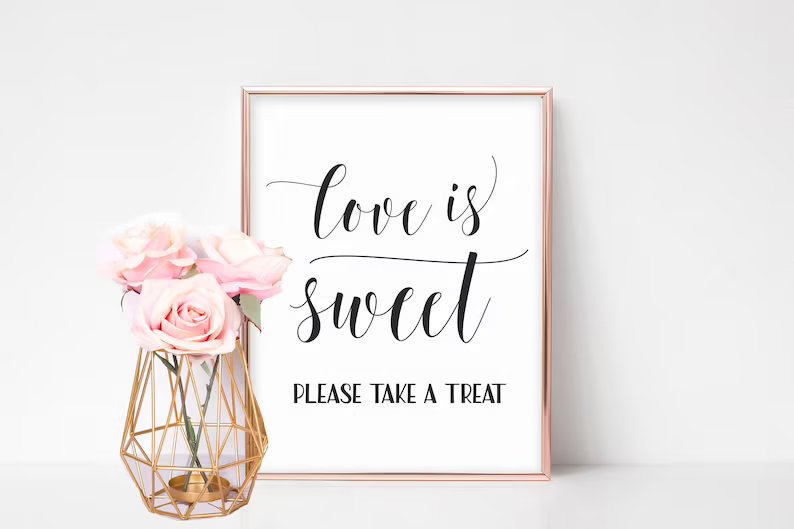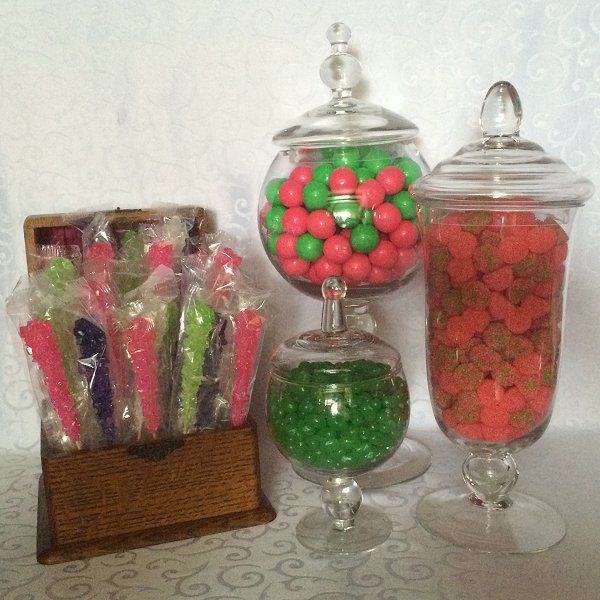 Displaying candy in beautiful glass jars is the first step in helping you add elegance and style to your table. Attractiveness however is not the only quality to consider; the shape and size of your jars must be just as practical as they are alluring. Imagine a gorgeously ornate vase filled with delectable treats but inaccessible to all but those with small hands and tiny fingers!
From the vast array of sizes, choose according to the number of guests attending your wedding. Small jars are perfectly sized for a guest list under 60. Above that, consider using larger sizes to have enough candy to please the sweet tooth of all your guests. Stay away from tall and enormous candy jars … your guests will first need a ladder and then reach in their arms! Huge jars may be showpieces but they're not intended to be candy bar-friendly!
In addition to using apothecary glass jars with lids for your candy bar, you can find low cost martini glasses at the local dollar store along with heart shaped bowls, and other interesting shapes to play around with. One of our favorites is placing a cheese dome in a clear glass salad bowl. This gives you the ability to create an amazing cake-like display with a wide variety of candies.
All the jars shown below are excellent choices except for the first jar shown in photo A. Quick quiz: Why is the first jar problematic? If you said that the opening is inconveniently narrow, 100% to you! The recession at the neck makes it almost impossible to scoop out candy. We still recommend the kit however because the set is affordable and worth buying for the other two jars. (You can always make use of them all later.)
The small apothecary glass jar set (A) and classic apothecary glass jar set (C) are just what you need for a small-sized candy bar. The LOVE plates (B) are fairly large and better suited to an event with many guests. The set makes for a beautiful addition to a wedding candy bar; it always gets us many compliments at events and we enjoy filling the dishes with small candies such as Jelly Belly beans and Sixlets.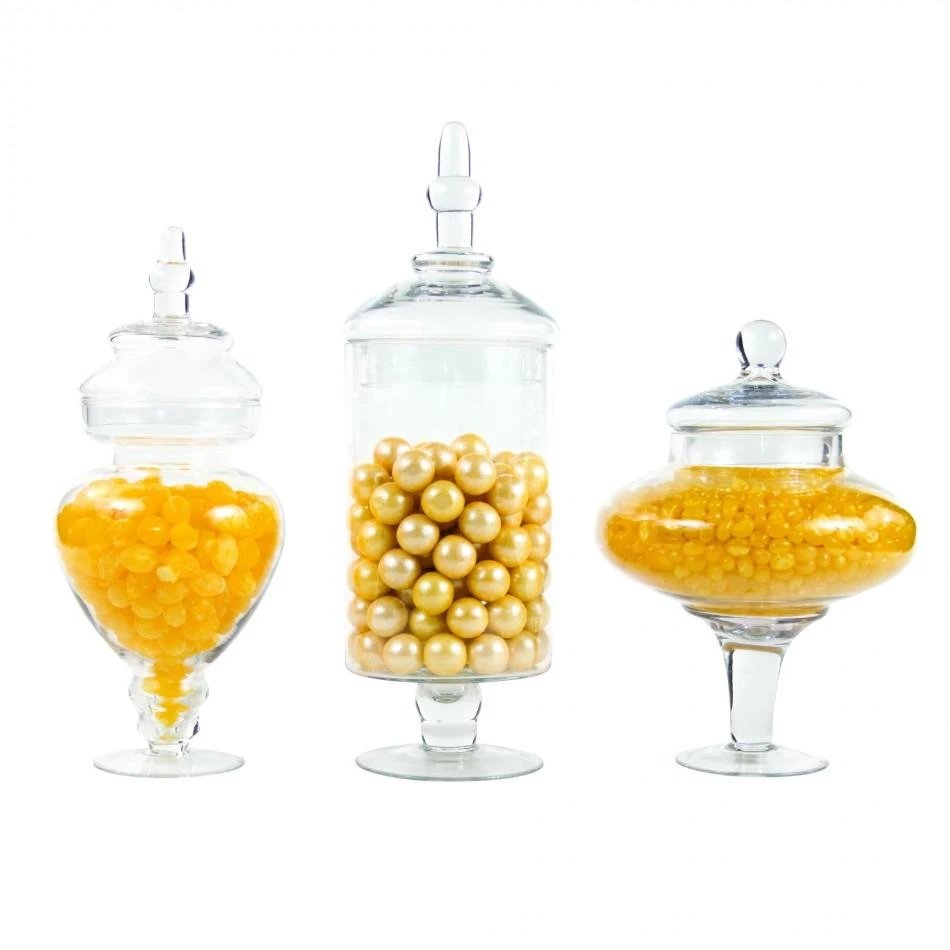 Pro tips: Avoid having candy fall in the foot base of your jars simply by cheating it with a piece a paper to block the opening.
For a small candy bar, the apothecary candy jar (D), tall cylinder vase (E), and acrylic globe jar (F) will look lovely set upon your table. You can fill them with everything from gummy candy to bulk! Cylinders are also fun to work with; they're wonderful to create interesting displays by layering candies in a variety of hues and colors.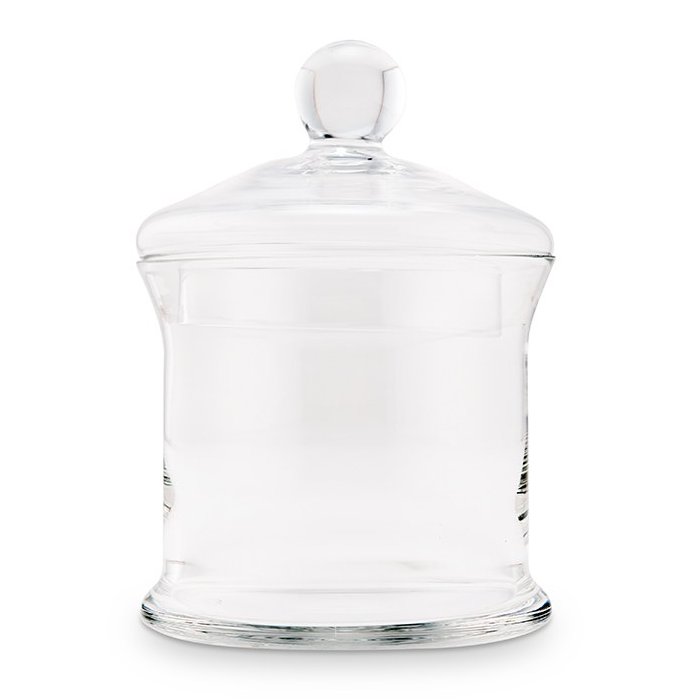 Pro tips: To reduce the quantity of candies for larger glass jars, you need only insert an upside down small clear glass bowl. As you fill the jar the candy will fall around hiding the smaller jar.
These large size apothecary glass jars with lids are by far our favorites. The footed globe bowl (G) and vase shaped (I) are an elegant way to serve gummy and bulk candy. The footed cylinder (H) is pretty big so is best suited for filling with cotton candy, pretzel, individually wrapped or large pieces such as marshmallow.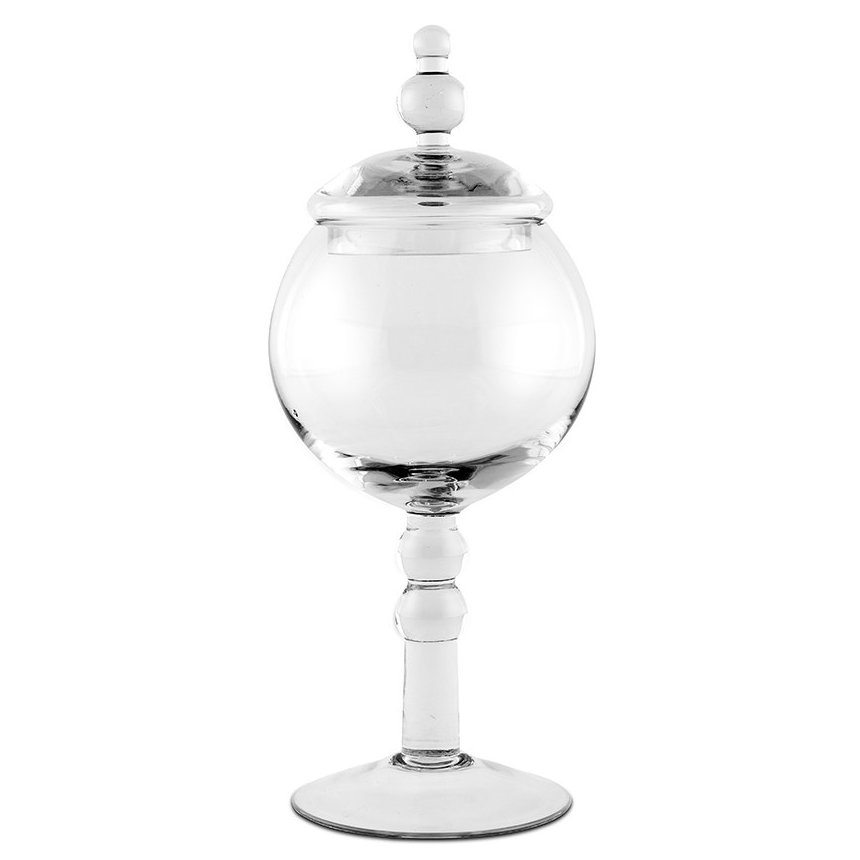 For an elegant way to label your candy jars, these candy buffet tags are a wonderful idea! Featuring a vintage style, they're handmade and come with a satin ribbon. The listing is in pink but you can contact the shop owner if you require a different color.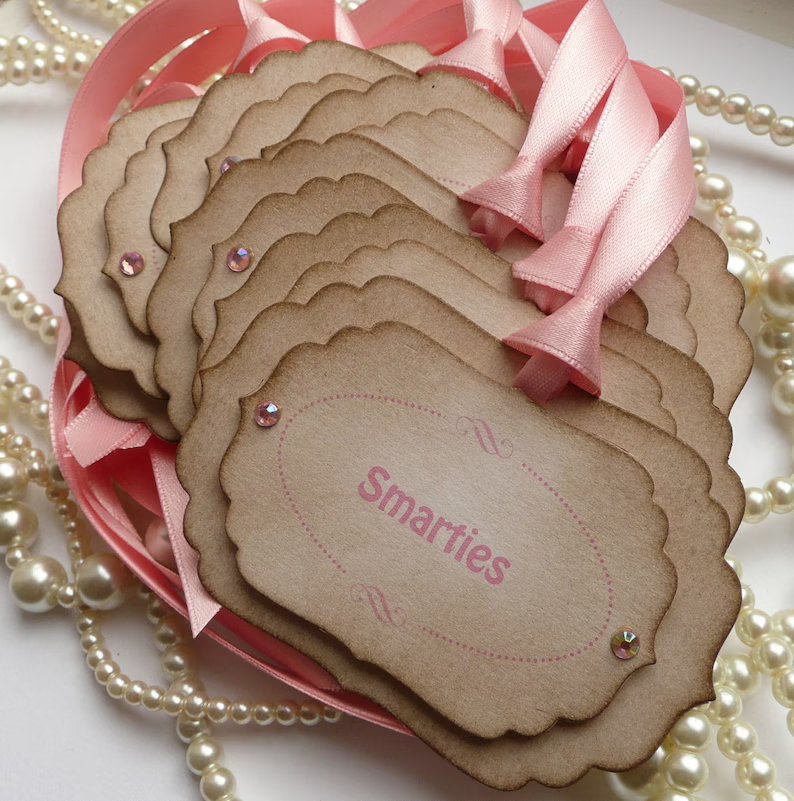 From cake stands, trays, display birdcages, you need only choose your favorite candy bar accessories from this collection. These stands are made of metal and work beautifully with apothecary glass jars to create a unique candy bar decor.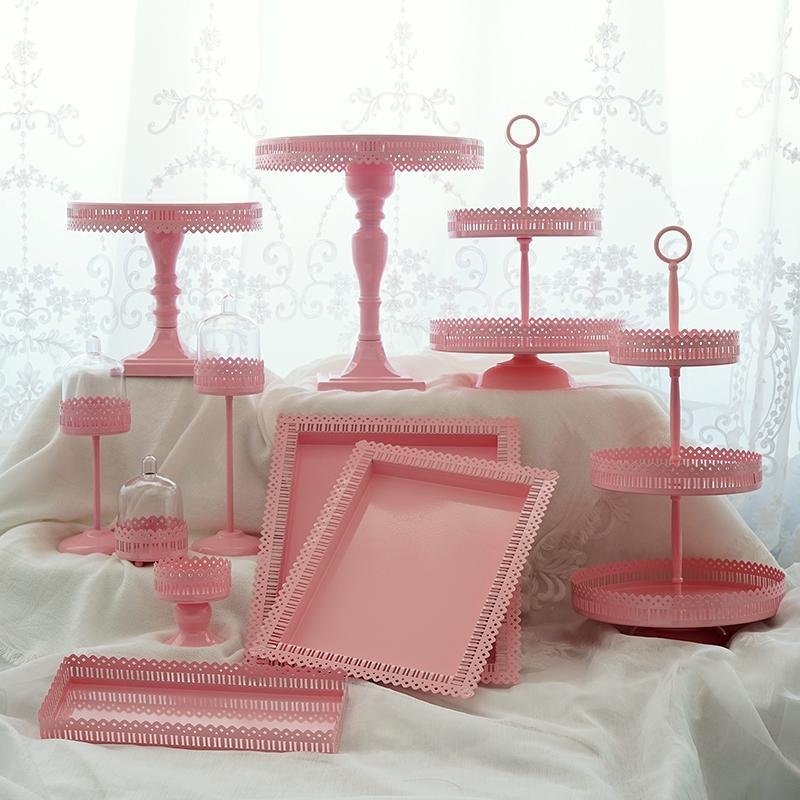 Diversifying the shapes and textures of your table decorations make for an interesting multi dimensional look. A great example is this wooden heart shaped chocolate display stand. Wood works very well with glass and the heart shape breaks the rigidity of lining up only jars.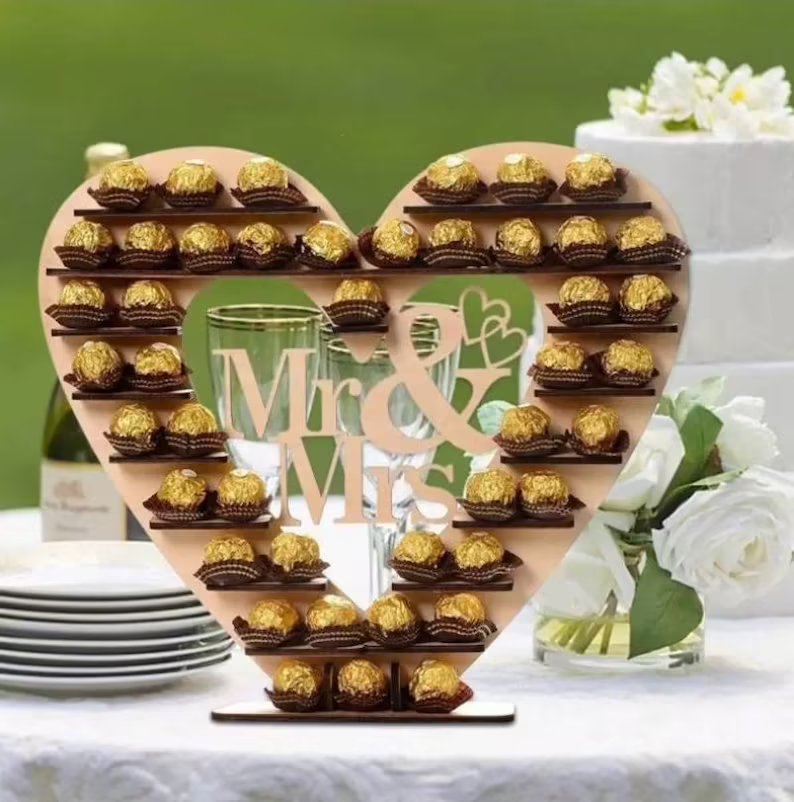 Cake stands make also for great candy bar decor. Use it either to display treats or to elevate a candy jar. This pink cake stand is handcrafted from metal and is available in 3 sizes.
Serving tools are extremely important and choosing the right ones will definitively make your candy bar practical and enjoyable for all. Keep in mind that tongs are perfect for picking up soft chewy candy such as gummy while scoops on the other hand are to be used for smaller hard candy such as chocolate M&M's. The size of your serving tools needs to be appropriate and proportionate to the size of your candy jars. For the safety of all, don't use stainless steel! The risk of chipping the rims of your glass jars is too eminent.
Available in a wide range of colors, these bling plastic serving tongs are an excellent choice. Combining practicability and glam, the tongs measure 6.5 inches and make for a perfect size for your guests to easily pick their favorite sweets.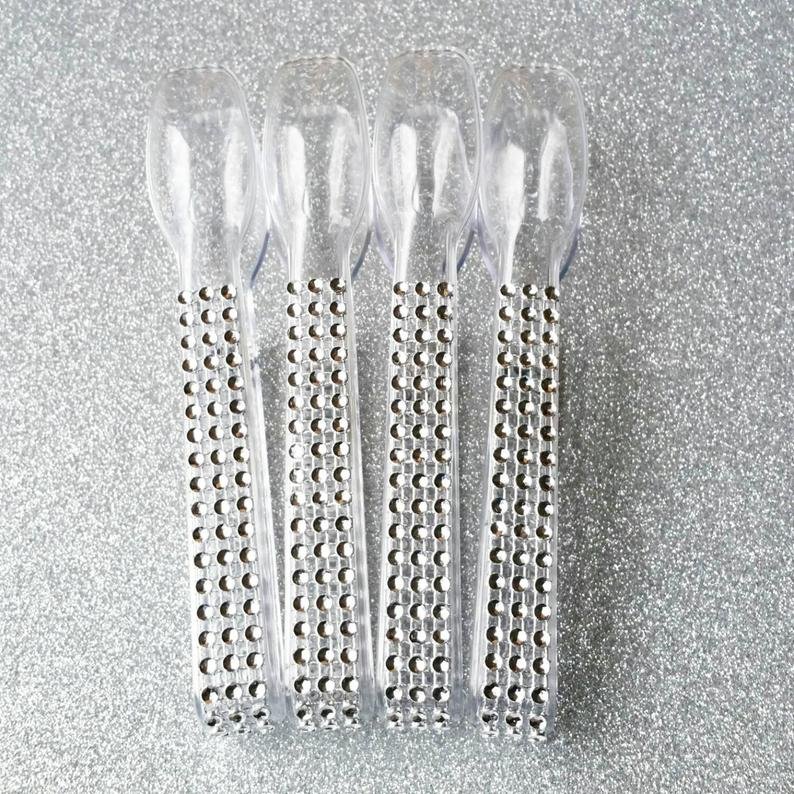 Plastic candy scoops are just as important as candy tongs. This practical set of clear candy scoops is made of durable plastic and comes in a choice of sizes. Different shapes of jars require different sizes of scoops. Our favorites are the medium size measuring 1.75″ x 1″ x 5.75″ and the large one, 2.25″ x 1.25″ x 6.5″ (the two middle scoops shown in the photo below)
Provide your guests with plastic containers or treat bags. These 'Love is Sweet' candy bags make for lovely favors for your guests to bring back home. The paper bags are available in two sizes and in a white or kraft color. Personalize with your names and the date of your wedding for unique favor bags.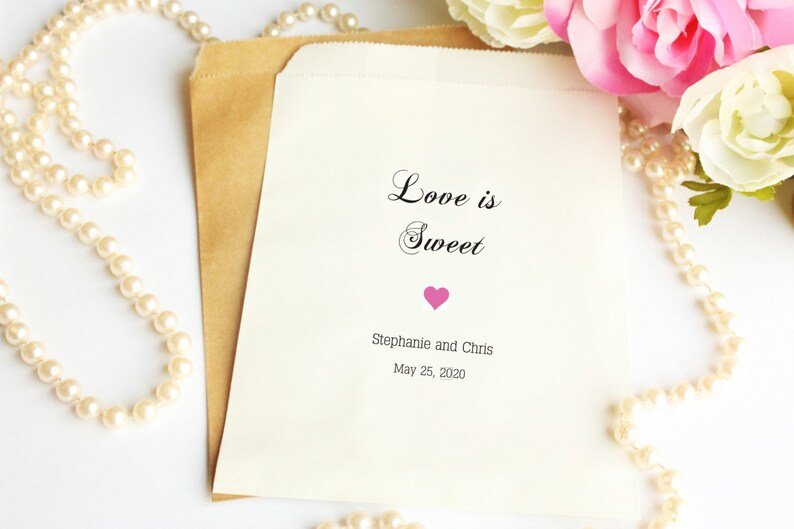 Read more on how to plan the ultimate DIY candy bar:
How to calculate the amount of candy you'll need
Saving money tips for your candy bar
The 10 no-no's of DIY candy bar