Vintage skeleton keys are a treasure, aren't they? To see them is to be reminded of times gone by and their unique configurations make each key very special. Beyond that, they convey romance and love such as the sayings; 'The Key To My Heart', or 'The Key To Happiness Is Love'.
There's a lot more to vintage skeleton key wedding favors than one would think. They not only make for practical favors, they are also really useful when used as part of your table seating plan.
Escort Cards
Vintage keys are a wonderful idea to use as escort cards to let your guests know which table they are assigned to. Remove the keys for their packaging and write the name of each guest and their table numbers on the tags. Beautifully display the escort card keys at the entrance of the venue, neatly place on a table, or a peg board. Once your guests pick-up their keys, they are a take home gift to remember your special day!
Place Cards
For a smaller event, where a seating chart or escort cards are not required, use the keys as place cards instead. You need only write the name of each guest on a tag attached to a key and set at each place setting.
Decorations For Favors
Vintage skeleton keys by themselves make for lovely favors. But you can add a romantic touch to other favors by complementing your primary gift with a decorative key. For example, if your main favor is a personalized mini bottle of wine, a key dangling to the neck will enhance its charm. If you are a key lover don't be afraid to incorporate them into your decor everywhere you can!
Scroll down to view our specially hand-picked vintage skeleton key wedding favors. For additional info on any of the style, simply click on the link provided to visit our trusted affiliate partners.
Don't forget to pin your favorites!
---
Vintage Skeleton Keys
These gorgeous vintage key bottle openers are made of solid metal and are available in your choice of bronze, silver, and gold. The decorative tassel conveys a stylish touch to this favor. Use these keys as elegant escort cards, at each place setting as place cards, or kept in their individual gift boxes for thoughtful favors for your guests.
For an extra sturdy skeleton key, these high quality vintage gold bottle openers include a chalkboard-looking tag, and a gold decorative ribbon. With electroplating to prevent rust overtime, the key's unique antique gold color will age naturally through use after 5 to 10 years.
Awe your guests with these stylish old-fashioned silver key bottle openers. The keys include a gift tag with the words 'The Key To Happiness Is Love'. To use as escort cards or place cards, simply add a label at the back of the tag with the name of each guest.
Made of metal in a gold finish, these antique key bottle openers make not only for practical favors for your guests, they can also be used as escort cards, or place cards for your table setting.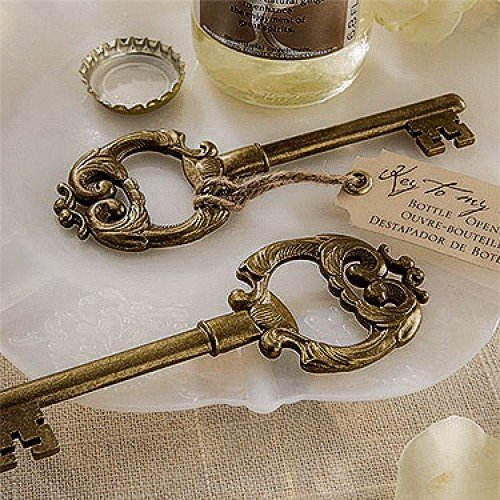 Use this shiny rose gold vintage style skeleton keys as escort cards, or place cards, and let your guests bring them home for a lovely wedding favor. Its intricate design is perfectly suitable for any wedding theme.
Of a Victorian-style, these solid-chrome silver key bottle openers include a white box with a clear display window, a white-satin ribbon and bow, and a "For You" Tag. Give them to your guest as is in the gift box, or unwrap them and use them as escort or place cards.
Intricately designed with a variety of flowing, looping features, this Victorian style key bottle opener comes with a tag that can be personalized. The keys are package in a stylish box making for a lovely table planning decor and favor for your guests.
Help your guests easily find their tables by using these lovely silver vintage style skeleton key bottle openers as escort cards. Each key includes a tag with the words 'Thank You' printed on one side making for a practical gift for your guests.
For an antique addition to your table decor, this ancient red copper key bottle opener will intrigue your guests. The key includes a tag and chain and can be use as escort cards simply by adding the name of each guest and table number at the back.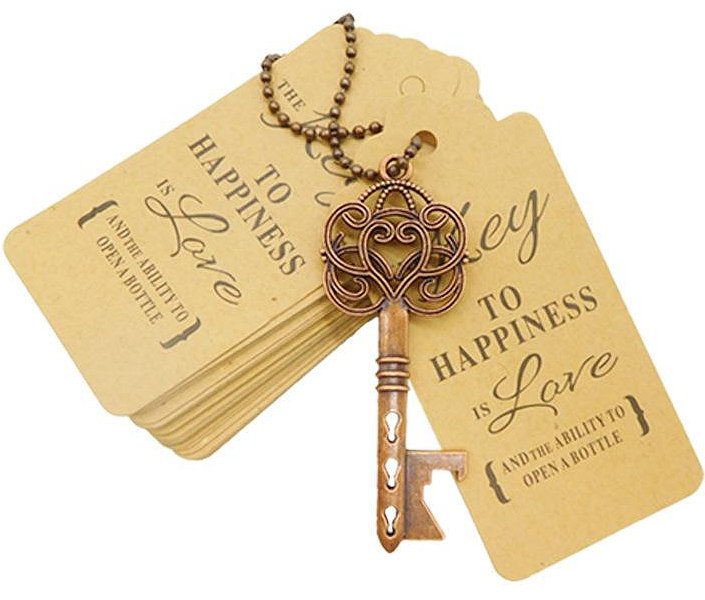 This rose gold 'LOVE' vintage skeleton key includes a tag that can be use as place cards or escort cards for a functional seating plan. The keys make for lovely mementos for your guests to bring home as favors.
As an alternative way to collect guests' wishes, these bronze and silver key tags are for you to keep and cherish after your wedding. The tags feature the words "The Key To A Happy Marriage Is" across the top and a space for guests to write their advice and sign their names at the bottom.
For a DIY kit, this one includes a vintage key bottle opener, a pillow favor box, a tag and twine. Use the complete kit as favors or divide the kit and use the bottle openers and tag as escort cards, and fill the pillow favor boxes with a treat and set at each place setting.
You may also like: