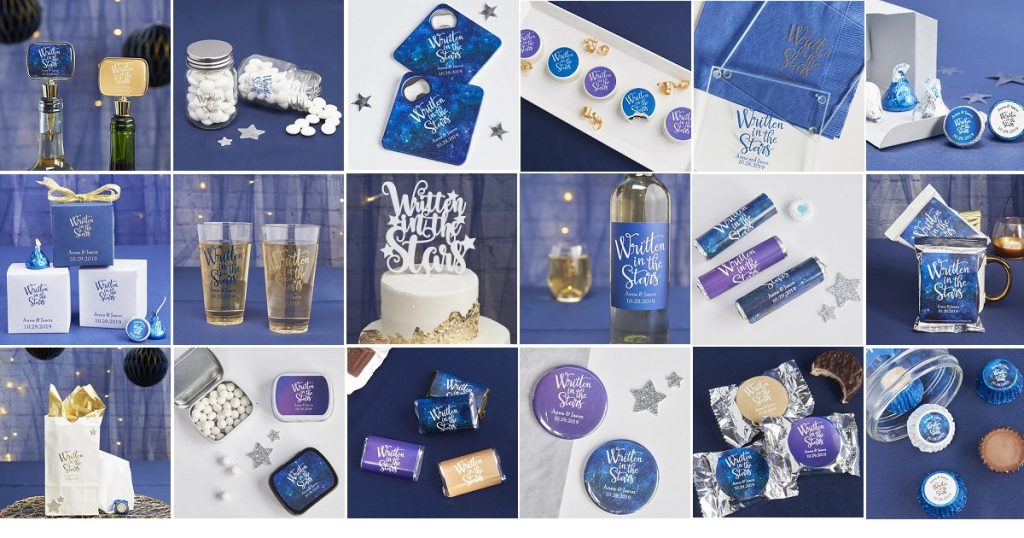 Fate and destiny. You meet someone unexpectedly and fall in love. The meaning of the 'Written In The Stars' wedding theme favors and supplies is so romantic and dreamy! This celestial collection of wedding favors and supplies is very attractive and the options are endless! In order to show them all to you, we had to divide this theme in three sections.
'Written In The Stars' Wedding Theme
Part 1 – Edible Wedding Favors
We hope that will enjoy this beautiful wedding theme as much as we do, and don't forget to pin your favorites!
Part 1 – 'Written In The Stars' Edible Wedding Favors
These personalized York Peppermint Patties are the perfect treat to share with your wedding guests. Each refreshing patty comes individually wrapped with a personalized label already attached.
---
Wedding Tea Bag is a terrific way to say thank you for sharing in our special day. Next to water, tea is the most popular beverage in the world. The tastefully designed, personalized tea bags present an idea that's right in sync with current consumer tastes and gives bridal couples a new alternative to traditional wedding favors!
---
These individually decorated Chocolate Covered Oreo Cookies are wrapped in cello bags and finished with a curled and colored ribbon. Available in either white or milk chocolate these cookies will surely be a treat for your guests.
---
Send your guests home with a sweet memento from your wedding. These pocket sized Mint Tin Favors are personalized with your names and the date of your wedding. Mint tins come filled with your choice of candy.
---
Weddings are a great place to meet people and Personalized Mint Rolls are a sure way to make sure your guests have what they need to make a great first impression, including fresh breath!
---
Each delicious Personalized Life Savers arrives packaged neatly in its own individual wrapper, complete with a pre-attached personalized label with up to 2 lines of 18 characters each. These personalized Life Savers come in peppermint or assorted fruit flavors.
---
For couples looking a classic American treat to pass out on their wedding day, look no further. The Personalized Wedding Hershey's Miniatures takes the traditional Hershey's miniature bars and wraps them up in beautiful personalized wrappers for wonderful wedding favors!
---
These Hershey's Chocolate Kisses are bite-sized, cone-shaped and are great wedding favors. Enter personalized text, such as your names and the date of the event, to make your favors even more special.
---
A romantic and unique idea for coffee lovers, the Personalized Coffee Favors are sure to wow your guests. The coffee favors come in many wedding designs and can be personalized with the bride and groom's names and a wedding date or a monogram.
---
Everybody loves a Reese's! And your wedding guests will love personalized wedding Reese's Peanut Butter Cups. Each delicious chocolate and peanut butter cup is adorned with a personalized label.
---
'Written In The Stars' Wedding Theme
Part 1 – 'Written In The Stars' Edible Wedding Favors
Part 2 – 'Written In The Stars' Wedding Theme Favors
Part 3 – 'Written In The Stars' Wedding Theme Supplies