A boho chic wedding engenders a feel of elegance and romanticism. Far off from all the chi-chi, the free-spirited style of the bride inspires to a more natural, feminine and dreamy look for her dress, make-up and bridal vine hair crown for her big day.
The decor is an amalgamation of vintage styles and interesting ethnic accessories, geometric shapes, wooden accents, floral patterns, and natural and flowy textures. Adding accents of shiny copper mixed with succulents make for a warm and natural decor setting. And as a bonus, by tradition, copper brings prosperity and good luck.
The casual look of your guests combined with an ethereal decor will create a cozy and relaxing feeling reminiscent of a circle of love. Continue below for creative ideas that lend themselves perfectly to your boho chic wedding.
Don't forget to pin your favorites!
---
Hand painted in watercolor, this wedding invitation features cacti, proteas and succulent foliage designs which is perfectly themed for your boho chic desert wedding. Personalize the invite with your name, wedding date, and make sure to include a special message.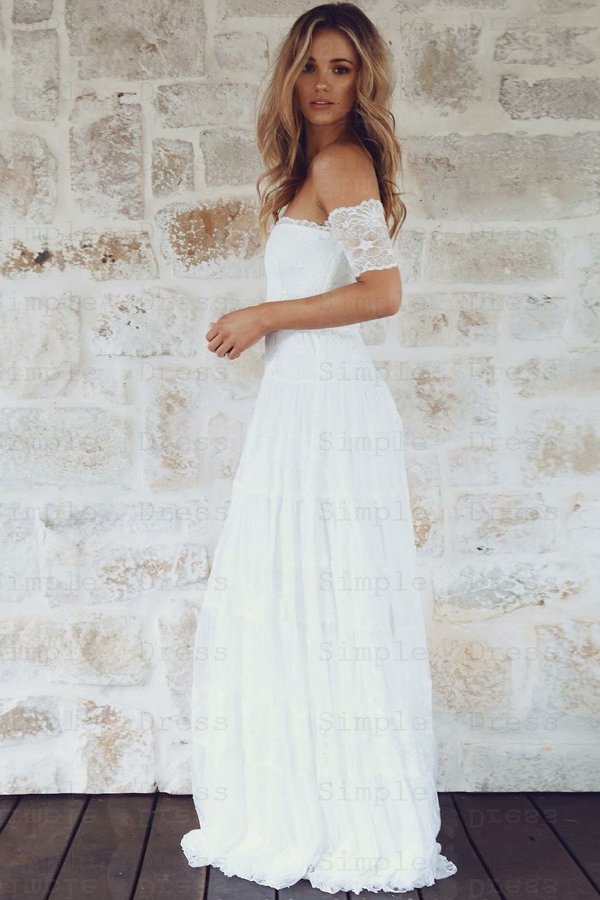 Could this romantic Boho wedding dress be for you? Featuring a natural waistline, and off-the-shoulder neckline, this beautiful lace dress is comfortable for moving and dancing all night long!
Complete your natural bridal look with this handmade bohemian bridal hair crown. Made with artificial vine and green leaves, the headpiece looks realistic and is a great choice for a child of nature bride looking for simplicity.
Boho Chic Wedding Decor
Handmade with natural cotton cord, this lovely macrame hanger can be used to create a stunning background for your wedding ceremony. Its minimalist feel makes for an inexpensive way to enhance your decor and give a relaxing vibe to your event.
Incredibly unique, these fabulous Protea flowers are comprised of fuzzy leaves that create a cup shaped bloom. Perched on tall, sturdy stems, these flowers have oval shaped leaves that add a perfect contrasting green making for stunning flowers for your bridal bouquet and centerpieces. A member of one of the oldest families of flowers on earth, Proteas date back 300 million years and, according to Greek legend, are named after Proteus the son of Poseidon.
Add to your romantic and enchanting reception decor with this gorgeous lace teepee. The tent is woven with sheer, ethereal lace forming a 5-sided shaped pentagon. Set it indoors or outdoors for a truly unique and romantic decor idea.
Boho chic dream catchers are a greatly customizable decoration items. Make them unique as you are by adding your own accent color ribbon, flowers,feathers, beads and more for a look that perfectly fit your wedding theme. Handmade by skilled artisans, combine sizes and mix and match colors to create diversity.
Give a natural feel to your boho sweetheart table by adorning your bride and groom chairs with these macrame decorations. Handmade with 100% cotton, these macrame decorations can also be use on a wall to create a lovely backdrop.
This geometric copper love cake topper is a unique choice to make your wedding cake stand out. It features a detailed circular design surrounding the word "love" written in a beautiful calligraphy font. It's such a simple way to make your wedding cake truly stand out.
For unique centerpieces, these copper geometric tealight holders will add just the right amount of shine to your boho chic wedding! Add a tealight in the color of your choice to perfectly complement your theme.
A must-have for nighttime celebration is this hanging clear glass jar with fairy lights. Hang them indoors or outdoors to add a warm glow to your decor. This glass jar with cork lid and silver metal swing handles is filled with battery powered fairy lights. 
Wedding Favor Ideas
Fill each copper mule mug with a live cactus for a gift your guests will never forget. The mug can also be used as a shot glass to enhance your table decor. Paired with a live cactus however makes for unique wedding favors.
If you're creative by nature, with jute burlap ribbon you could easily decorate ordinary objects and turn them into awesome wedding decorations. Decorating jars, chair bows, table centerpieces are only a few ideas you can use the ribbon for.
You may also like: