A champagne brunch bridal shower makes for an animated and sparkling themed party! To plan a great event there are so many details to consider besides setting up a mimosa bar! Read on for great decor, menu, and game ideas!
Planning Your Mimosa Bar
Your mimosa station is most likely to be the focus point of your bridal shower! For starters, choosing different types of bubbly will help you please the taste buds of all your guests. From a sweet to extra dry champagne , your guests will have no difficulties finding a favorite to prepare their cocktails. Calculate approximately one third to half of a 750 ml bottle of bubbly per guest. For a group of 20 people, I would go for at least 8 bottles of sparking beverage.
The preferred ratio for a delightful mimosa is one part bubbly for two parts of juice. Don't be surprise however if your guests reverse that ratio!
Offer a variety of at least four chilled fruit juices that pair well with bubbly such as orange, grapefruit, raspberry lemonade, peach, and cranberry juice (a favorite of mine!) Orange juice is an all-time favorite so make sure to get a large bottle. Choose your fruit toppings according to what's in season. Raspberries, strawberries, lemon or lime wedges are excellent choices.
Mimosa simple recipe:
Pour the bubbly

Add some fruit juice

Top with fresh fruits
Mimosas are best served in a champagne flute. If you're expecting a large group at your event, see below for our practical, and affordable plastic flutes that can be personalized.
Champagne Brunch Bridal Shower Menu
Belgian waffles, French toasts, crepes, croissants, muffins, donuts and other pastries make for a diversity of fun foods for your brunch menu.
A favorite of mine are toasted bagels, smoked salmon, and cream cheese where you let your guests assemble their own delectable lox.
A quiche filled with spinach, tomatoes, mushroom and pieces of ham can be prepare the day before and reheat at the last minute.
My daughter's potato brunch recipe is also a great choice. Small diced potatoes, onions, and red peppers seasoned with salt, pepper, and Italian spices roasted in the oven on a bakery sheet with a bit of olive oil. They are extremely yummy!
An assortment of fine cheeses, nuts and a colorful fresh fruit plates always make it at the top of my list when preparing a brunch menu.
Continue below for more ideas on how to plan for a memorable champagne bridal shower.
Don't forget to pin your favorites!
---
Champagne Brunch Bridal Shower Decor Ideas
A mimosa bar kit makes your champagne bridal shower focal point come together effortlessly! Your guests will enjoy creating their own cocktails by mixing the bubbly with a favorite fruit juice and decorate their glass with fresh sliced fruits. This 10 pieces bar kit includes a gold glitter banner featuring the words "but first mimosas", a mimosa bar floral poster, and a set of 8 white tags with floral print along the edges. You'll be able to set up a classy champagne station in no time!
Add a pop color and dress up your walls with these gigantic champagne bottle and flute balloons. The balloons can either be filled with helium or by using a straw to fill them up with air. The balloons are really inexpensive and make for an awesome addition to your champagne brunch decor. Delivery can take up to two months so order early!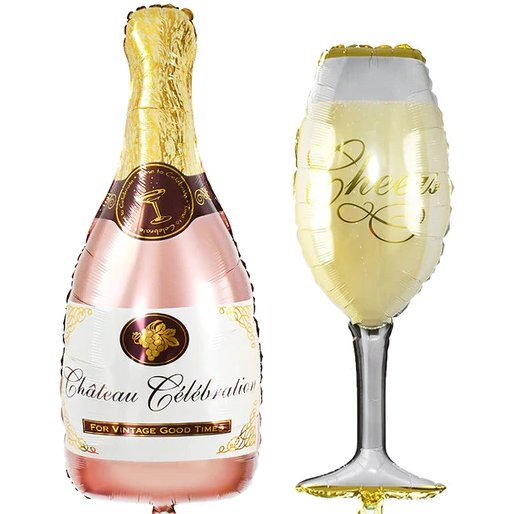 Featuring a flared 'tulip' rim and a long, classic stem, these personalized plastic champagne flutes are a practical idea for serving champagne to a large group. The sturdy flute is BPA free and can be reused for many event to come. And because they're plastic, you don't have to worry about breaking the flutes.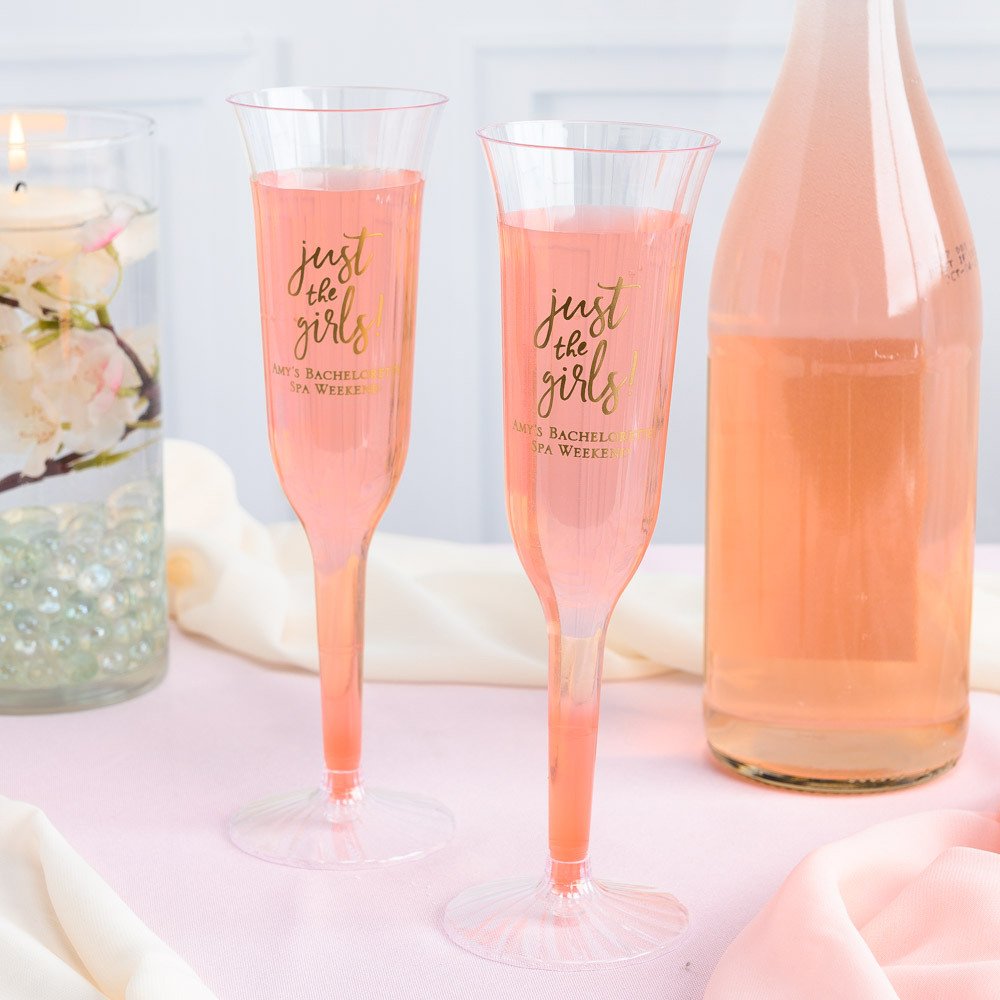 For a practical and unique way to display your champagne flutes, this bubbly drink wall holder makes for a perfectly themed decor accessory. The wall has a gold foil scripted spelling ' Bubbles' and holds up to 10 champagne flutes.
Who doesn't like a tasty donut for breakfast? Decorate your brunch table with this fun "Treat Yourself" donut wall. The color of the wall is neutral making it easy to select delightful donuts while keeping in mind your color scheme.
Cupcakes and pastries are a popular choice of foods to serve at a champagne bridal brunch. Serve yours in style with this floral 3 tier cake stand and elevate your table decor at the same time. The stand features an all over pretty watercolor floral design with gold foil around the edges.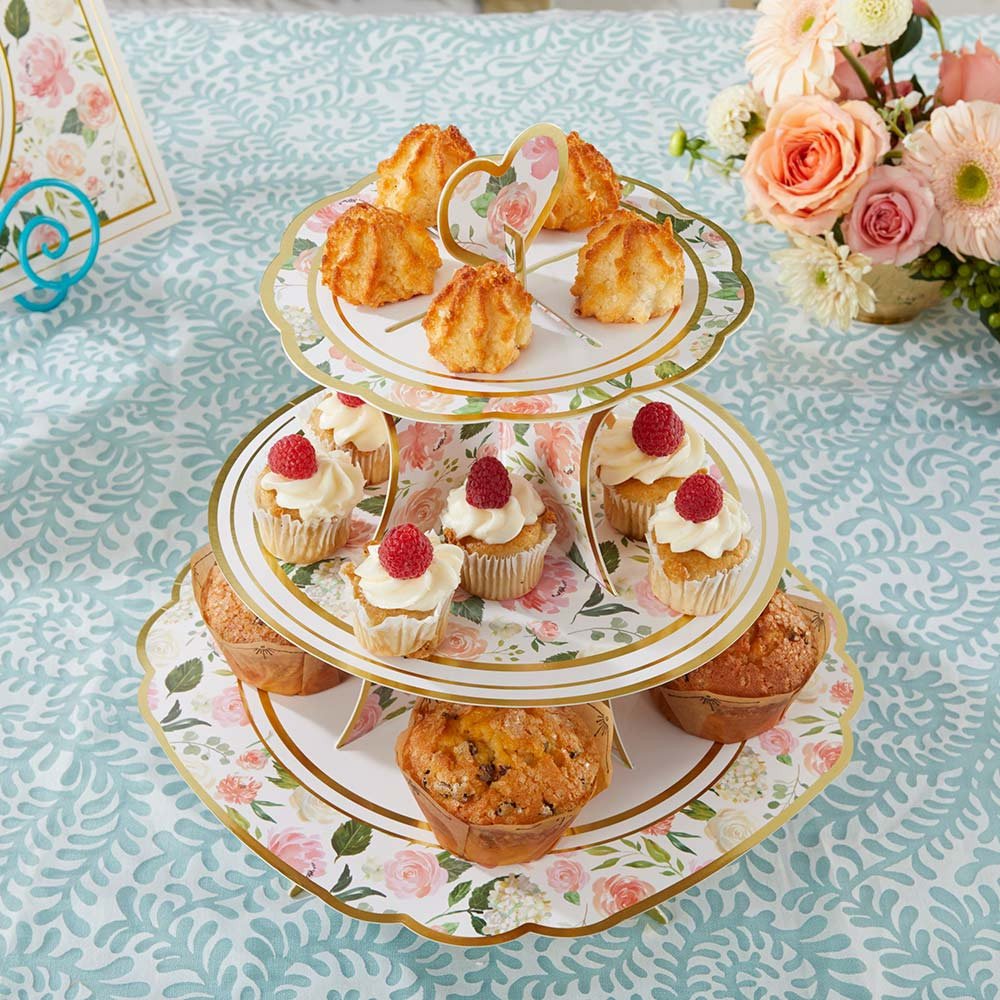 Find all your floral bridal shower champagne brunch party essentials! The lovely flower design will add a romantic flair and enhance your table decor.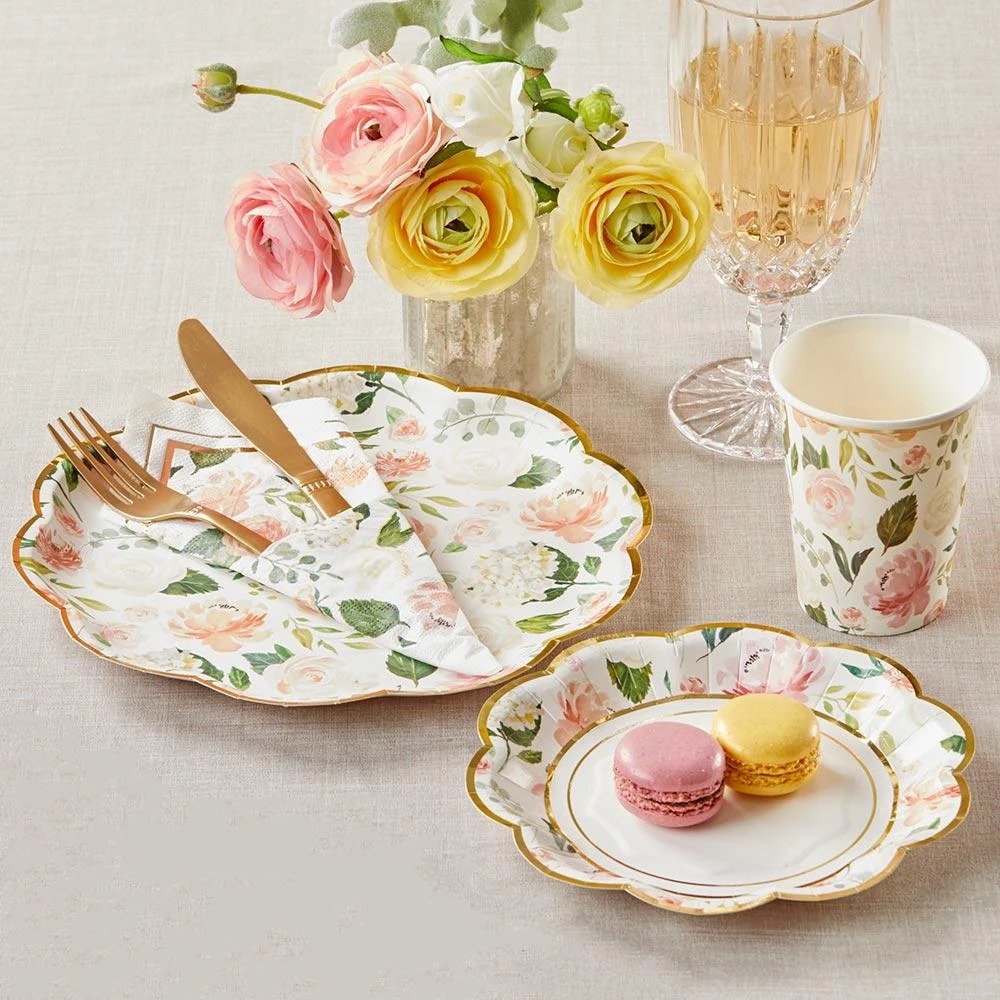 These gold wreath hoops have absolutely nothing to do with a champagne brunch bridal shower but they make however for a romantic decor idea. The 3 piece set includes different sizes for you to add your personal touch by decorating them with flowers and foliage. Decorate a wall or hang them from the ceiling for a very pretty background to your celebration!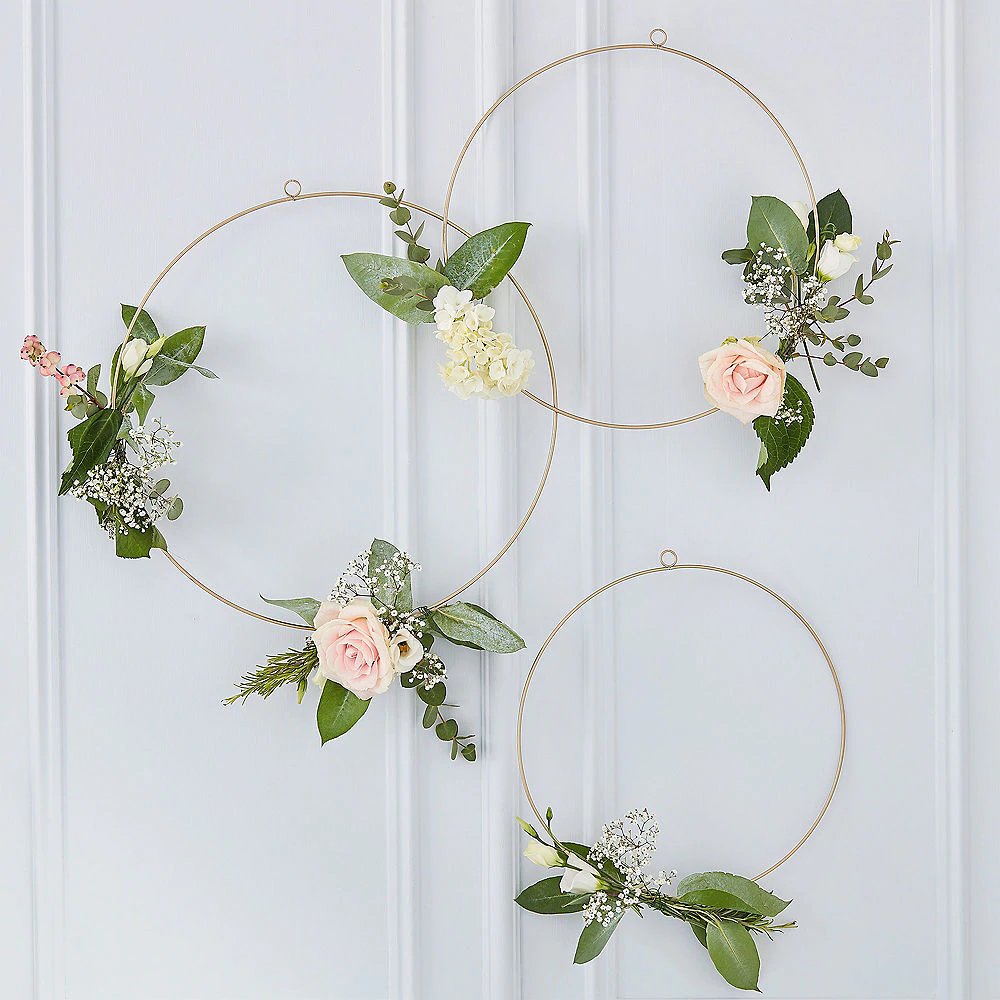 Paying attention to small details is what makes for a successful bridal shower! This inexpensive paper cake topper is a good example. This "bride to be" cake topper is printed on both the front and back and features a pretty pink, green, and yellow floral wreath making for an effective way to elevate the look of a simple cake.
Champagne Brunch Bridal Shower Game Ideas
You don't necessarily have to play games at a bridal shower. It does however help break the ice and encourage your guests to mingle. After a few glasses of mimosa, keep in mind that you won't be able to stop your guests from giggling and mingling! If you choose to play games limit yourself to one or two games only. A bridal shower is after all to shower the bride-to-be with gifts and make her feel extra special!
Once your guests had a few glasses of bubbly, invite them to play the Prosecco pong game. The objective of this game is all about landing your pink ping pong balls in other guest's glasses. You'll quickly get your guests to participate without having the risk of something getting damaged in your home or venue.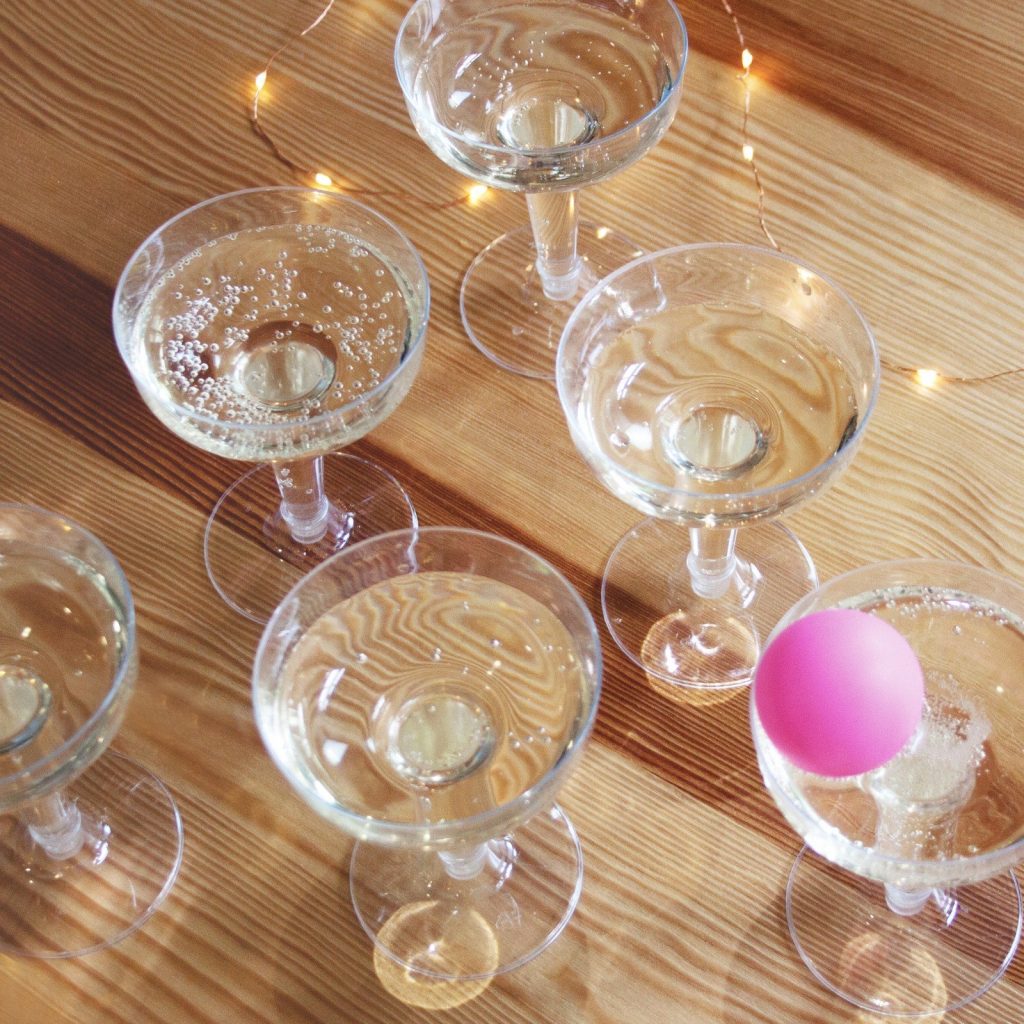 Another fun way to entertain your guests is the ring game. Each guest holds on to a ring and for the duration of the bridal shower they cannot say the word 'wedding'. If someone hears it from a guest they simply take their ring. The winner is the person that collects the most rings. A nice touch is to have a small gift ready to congratulate the winner!
Champagne Brunch Bridal Shower Favor Ideas
Fill these perfectly themed champagne bottle containers with candies or a treat that matches your color theme. The container opens from the bottom making it super easy to fill them. For a custom touch decorate with ribbons, and add a personalized label to make your bridal shower favor truly unique.
You may also like: