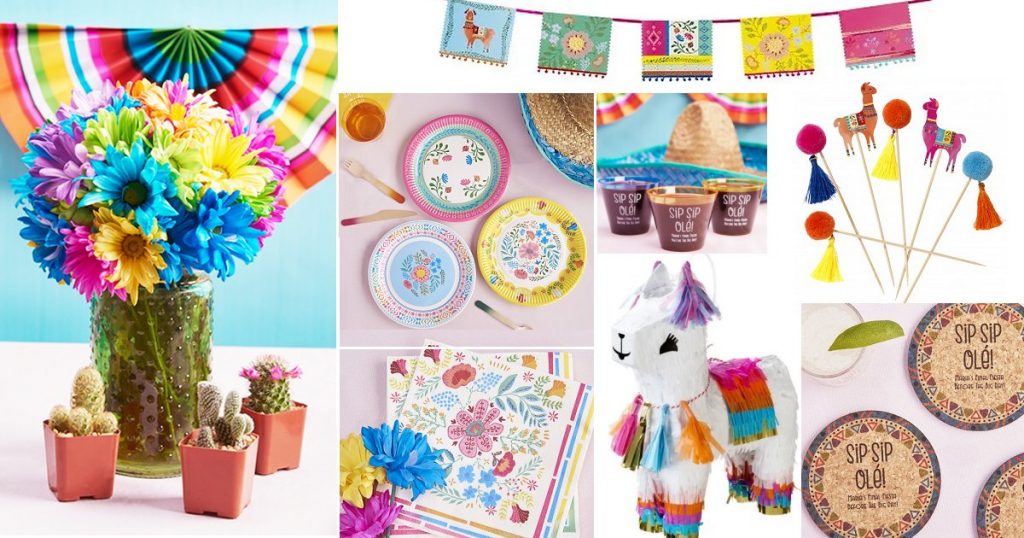 Are you into bright and happy celebrations? Then you might've selected a Boho Fiesta Bridal Shower! With these vibrant and colorful party supplies, your theme with come to life! A Boho fiesta setting is quite unique and will generate lots of excitement at your party!
You can create a fun and authentic Mexican vibe by mixing and matching vibrant color decorations such as tassels, pom poms, and party fans. To elevate your Boho fiesta decor nothing beats adding a combination of fun llama designs and colorful flower patterns set throughout your venue. Fresh colorful cut flowers set in vases is also a nice touch to add to your decor.
Have you give some though to what kind of food will you be serving? Some great party foods are tacos, fajitas, and of course, a favorite among guests… nachos with tasty salsa and guacamole! Ay Caramba!
On a hot summer day, serving beer and fresh lemonade is quite delightful and refreshing. For a Mexican touch, don't forget to serve a wedge of lime with the beer. Your bridesmaids will also appreciate tequila based drinks. I'm feeling margaritas… Sip Sip Olé!
Serving food and drinks in vibrant party plates and cups is another great way to enhance your table decor and will give it an extra fiesta vibe!
Don't forget to pin your favorites!
---
Boho Fiesta Bridal Shower Decor
Bring to life a trendy Boho fiesta decor with these bright and beautiful tassels. The decorations are sold in packs of 12 which is ideal to decorate a large space and create maximum visual effect. Imagine these tassels hanging around your venue making the ceilings and walls pop!
---
Set the vibe of your Boho fiesta bridal shower by decorating your party room with a colorful Boho pennant pom pom banner. It features vibrantly tinted pennants with llamas and lovely floral accents. Do you find the walls a little bare and lackluster compared to the rest of your setting? No problem! These quick and easy banners will do the trick! And if you're hosting this fiesta outside-imagine the effect as a gentle breeze brings this decoration to life.
---
Have fun by entertaining your bridesmaids with an adorable llama pinata. Fill it with your favorite sweets and trinkets or simply use as a decorative prop.
---
Add a splash of color to your fiesta with these colorful party fans. These paper pinwheel decorations are easy to install and clump together for a wonderful backdrop. They easily turn drab walls into lively backdrops for your party!
---
Simply fill these mini bud vases with colorful flowers to enhance your table decor. You can also insert a special message in each vase and give them to your bridesmaids as a thoughtful favor. Or, fill them with treats and use them as a bring home container!
---
The Boho llama snow globe is a fun idea and a perfect addition to your table decor. The globe lent itself perfectly to your trendy bridal shower theme. It can be used as a paper weight to hold placement tags, or as a playful centerpiece for your tables.
---
These cute Boho llama pom pom picks are a fun way to dress up your cocktail glasses. Mix and match these bright and colorful picks to complete your Boho Fiesta celebration! You can even use them at your food table to hold sandwiches together or to conveniently pick up tasty hors d'œuvres!
---
Set these practical and decorative personalized cork coasters at each place setting for the girls to use. After the event, offer them to your bridesmaids to take home as memorable keepsakes. During your shower they will also add to the table decor, matching perfectly with your theme.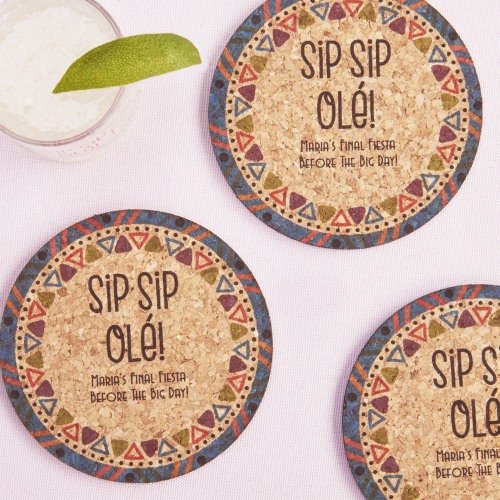 ---

Boho Fiesta Party Supplies
Add splashes of vibrant tints everywhere throughout your venue with these useful, and colorful must-have party accessories. These plates, napkins and cups are a must have! You don't want drab white plates diminishing your fun-filled Boho theme! A funny added bonus is that the variety of colors will help your guests recognize their own plates instead of scooping up someone else's taco.
---

Boho Fiesta Party Favors
Enhance your Boho Fiesta decor with an assortment of live cacti. After the party, give them to the girls to bring home. Rest assured, cacti don't require much water to survive and are fairly easy to take care of. It's not required for your bridesmaids to have a 'green thumb' in order to enjoy their live cactus favors. This green, environmental touch will surely contribute to the authenticity of your Boho fiesta!