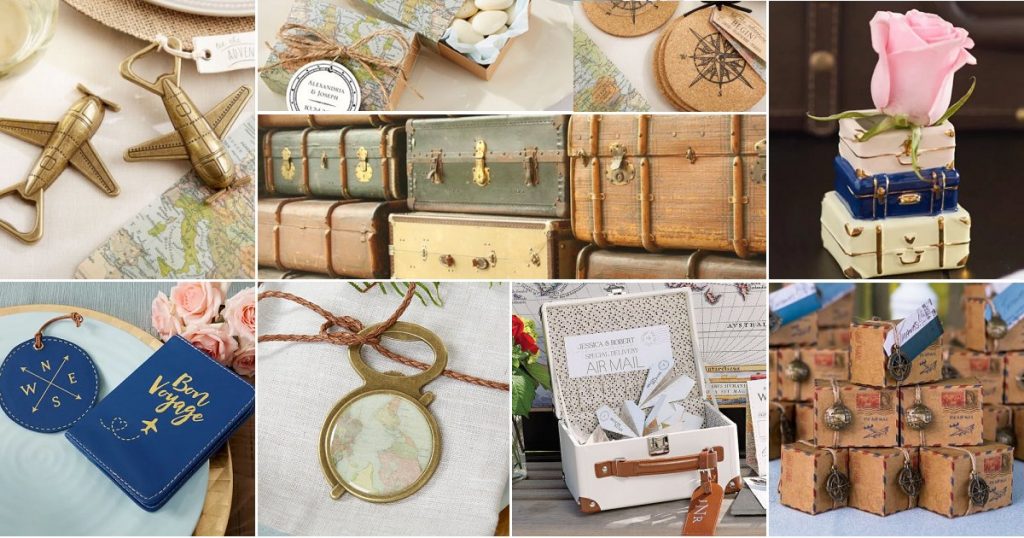 A vintage inspired travel wedding theme might be perfect for you! It's a wonderful theme especially for lovebirds who truly enjoy travelling together. Perhaps you were even planning a destination wedding to tie the knot, and after consideration, you realized this was not the best idea for you. Well if this is the case, who says you cannot recreate a wonderful wedding travel theme closed to home!
A travel wedding theme can be a lot of fun to organize. You'll appreciate the possibility from letting your imagination go wild, and finding ideas based on your travelling experience. It's a theme that works well if you're creative and enjoy do-it-yourself projects.
Our inspiration is a combination of two different wedding themes. With the primary theme being travel; it opens the door to an array of different possibilities. Are you more excited by a travel around the world theme or perhaps prefer targeting a specific destination? Do you enjoy travelling by plane, train, boat, car or bicycle? Your first objective is to narrow down your choices to a few ideas and pinpoint what will be predominant throughout your event. A vintage inspired wedding is a secondary theme that confers a specific style and mood to your travel theme.

There are a wide variety of fun vintage accessories that lend themselves perfectly to your travel wedding theme. Items such as world globes, world maps, old suitcases, old cameras, postcards, airplane, train, or boat replicas are only a few ideas. Explore below for more creative possibilities!
Don't forget to pin your favorites!
---
Travel Wedding Theme Decor Ideas
A world globe can be an important decor accessory for your travel wedding theme. This set of three antique finish mini globe features a wood base crafted of mango wood and different color combinations. Add a realistic vintage feel to your decor by displaying these globes together amongst other vintages items such as an old world map set in a vintage frame, old leather cover books, an antique camera, or wood airplane replica.
This decorative set of brown travel suitcases is made of cardboard and is a wonderful decor idea. Display the suitcases on your cake table, or used them to collect guest wishes and cards. You can also used them as centerpiece, stack them on a table close to the entrance of the venue and top with other vintage travel themed accessories. This will really set the tone of your event right from the get go.
'Our Greatest Adventure' birch wood cake topper and vintage inspired hand painted porcelain cake topper are the perfect match for your theme and either one will look wonderful on top of your wedding cake. Combine them both for an amazing cake decor!
.
---
Enhance your tabletop decor with adorable suitcase ceramic bud vases and place card holders. These accessories are not only useful, they will also boost the intensity of both your vintage and travel themed at each reception table.
---
This adorable mini suitcase wishing well is such a charming container to collect wishes and keepsakes and matched your travel theme perfectly. In faux leather, this well designed suitcase features a matching tag that can be embroidered with your monogram. The paper airplane wishing well notes feature a blank side for writing and a side with folding lines to make it easy for your guests to fold as an airplane. Another clever way of using these paper airplane is to pre-fold them and use as place cards.
---
Decorate the walls throughout your venue with these fun travel sign cutouts. Instead of assigning table numbers while planning your seating chart why don't you give each table a name of a city or country?
---
This beautiful assortment of Cavallini vintage world map postcards can be used to augment your table decor or as unique place cards.
---
Travel Wedding Theme Favor Ideas
The 'Bon Voyage' getaway gift set in navy and gold style includes a luggage tag and passport cover. Neatly packaged in a gift box, this makes a great newlywed or bridal gift set and perfect favor for a travel themed wedding!