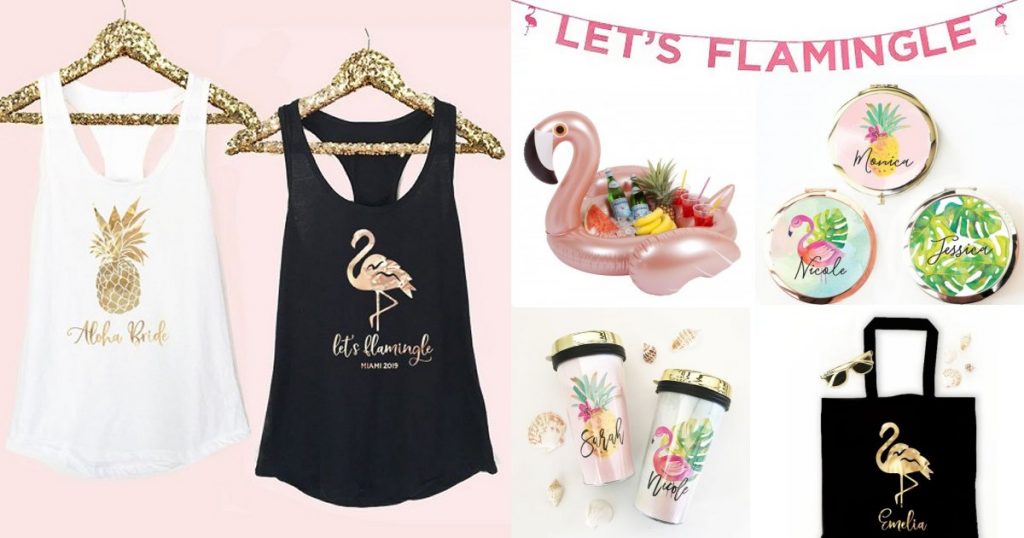 With a "Let's Flamingle" bachelorette party you and your squad are in for a great time! Girls wanna have fun! If you're able to secure a beach or pool venue that would idyllic. Wherever you choose to host the party, make sure you get thematically perfect flamingo party accessories.
According to urban dictionary, the meaning of the word "flamingle" is "The act of trying to flirt or mingle but you are so awkward that you become a flamingo! It is also said that pink flamingos symbolize femininity and innocence, and represent confidence, and flirtatiousness . Interesting!
To stay in tune with your theme, be consistent as well with the choice of food you'll be serving. A tropical flair is probably the only way to go! I'm thinking pineapple chicken served with a wonderful salad of greens topped with an exotic vinaigrette. To keep the energy of the bride's flock high and happy, make it easy for them to quickly grab something healthy to eat by having on hand plenty of fresh exotic fruits and nuts served in a gorgeous tropical basket.
Scroll down and explore great flamingo themed party supplies and decor ideas for a celebration that everyone will remember !
Don't forget to pin your favorites!
---
Set the tone right from the get go of your Let's Flamingle bachelorette party with these perfectly themed invitations. The left digital invite features fun flamingo pattern columns, and the one on the right features a pink flamingo standing above a neon style sign that reads "let's flamingle". Both of these invitation offer full customization options.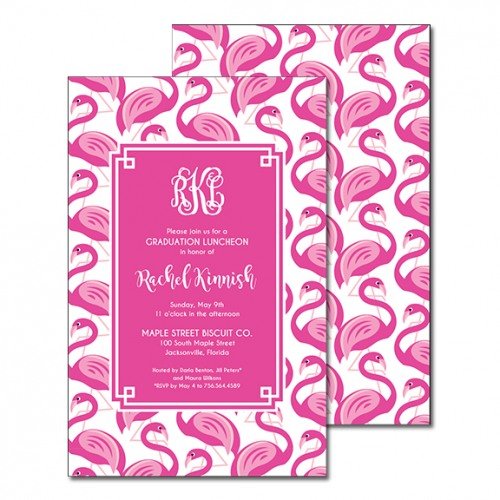 Travel in style with your squad wearing personalized clothing. You will definitely set to tone of your party and create unity with your crew for the same price.
These stylish tropical t-shirt or tank tops are great ideas! Both feature your choice of color and shiny foil designs. The t-shirts are of a fitted nature so if you prefer a looser fit you'll need to order a size up.
This personalized canvas tote bag is a nice touch especially if you and your squad will be spending a week-end together. For a wonderful gift, fill each bag full of party gifts such as a tank top, tumbler, compact, and something sweet!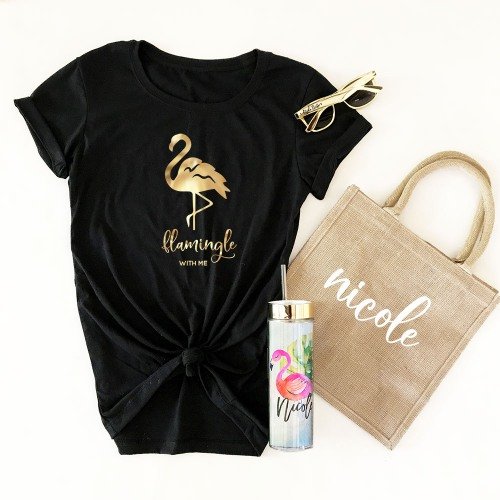 "Let's Flamingle" Party Decor Ideas
Create a stunning focal point at your party with a balloon arch decoration kit. This set includes an assortment of 70 color coordinated balloons and can easily be set with the tape and glue dots provided. It's an excellent idea to easily decorate your head table, food and drink stations, or candy bar and sweet table.
Featuring the "Let's Flamingle" saying and two glitter flamingos at each end, this glitter banner is a creative and inexpensive way to enhance your themed decor. String along a table or wall to create a pop of color.
A must- have for your beach or pool bachelorette party! Let the rose gold flamingo pool bar float among the girls so they never have to get out of the water for a drink… or snack! The center of the flamingo is reinforced to stand up and the back features three integrated cup holders. This is a fun addition to your party even if you don't celebrate close to a body of water. Simply use this flamingo on land as a cool centerpiece to enhance your table decor.
Decorate your venue with these perfectly adorable mini flamingo lights! Perfectly themed for your tropical scene, these lights feature bright pink LED string lights in a mini flamingo shape.
"Let's Flamingle" Party Supply Ideas
Party accessories are essential to celebrate in style. Not only functional, they will also set the mood of your party theme and enhance your table decor.
For a bridal shower, champagne is a beverage of choice for cheering the bride! What better way to serve it than in these stylish personalized champagne flutes? After the event, let the girls bring their flutes home for a fun memento of your special night.
Keep the girls awake and alert all day long by filling these beach travel tumblers with strong coffee! Practical and easy to carry around, the fun tropical designs available make these tumblers a favor of choice.
Personalized these pint clear plastic glasses for a convenient, care-free way to serve tasty refreshments. The glasses are available in five different cup sizes.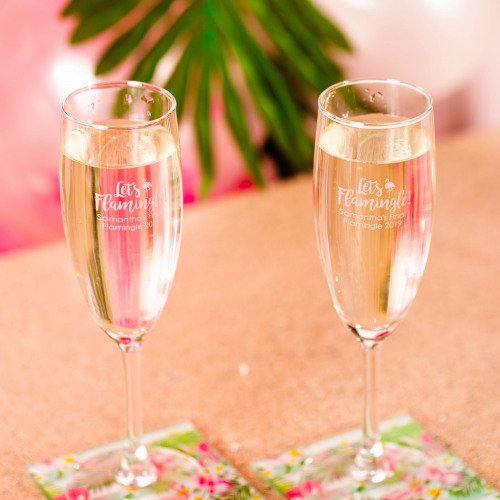 Carry the "Let's Flamingle" party theme throughout your entire celebration with these cute flamingo paper plates, cups, and napkins! These party accessories will clearly demonstrate how you thought about every minute detail!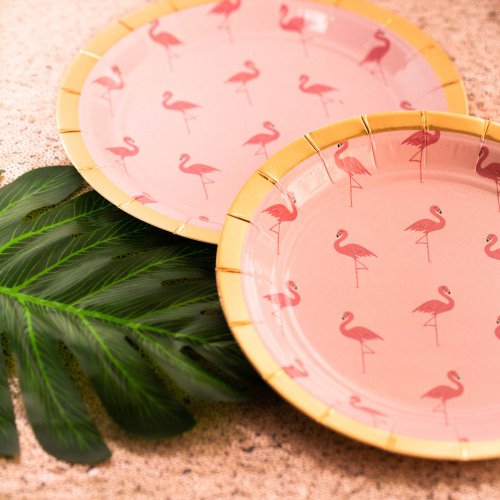 Have a ball at your bachelorette party with these adorable flamingo 3D beach ball. The clear ball is filled with a 3D flamingo inside. This is a cool and fun party accessory!
"Let's Flamingle" Party Decor Ideas
To satisfy the sweet toot of your girls, think about serving scrumptious treats during the party or to take home as favors. Our favorites to accentuate your flamingo theme are decadent chocolate covered Oreo cookies, beautiful butter cookies, and dark, milk or white chocolate lollipops. Any one of these delicious treats will add excitement to your festivities!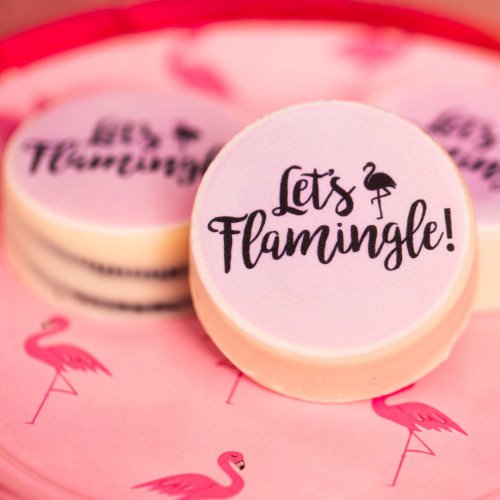 Personalized tropical beach compacts make for a fun and stylish gift for your squad. Each compact mirror comes in your choice of a gold, silver or rose gold mirror and is personalized with a custom name on a tropical background of your choice. For a unique favor at my wedding I gave each woman a personalized compact mirror. That turned out to be such a great and practical idea that I still keep one in my purse at all time! Your guests will surely agree and do the same long after your party!
At the end of the night, packaged goodies or special treats in these personalized flat bottom goodie bags. Add a touch of elegance to these favor bags by punching two holes at the top and inserting a matching colored ribbon.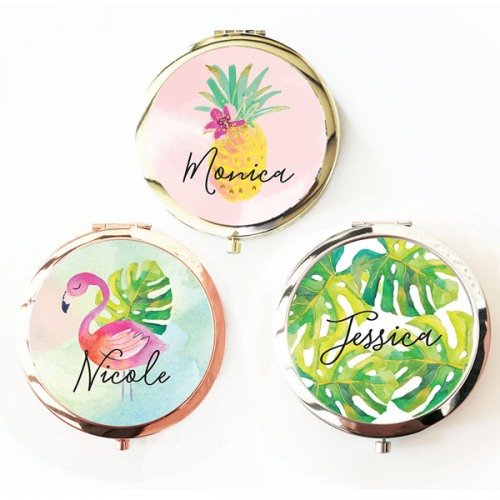 This party hat has nothing to do with flamingos! It's however ridiculously hilarious! What a great way to make the new bride blush and add humor to your event! I can just imagine everyone walking around the hot bachelorette bursting in laughter! Don't be bashful and get more info about this hot bachelorette party hat! Unfortunately this hat is no longer available … we were able however to find another style of penis party hat!