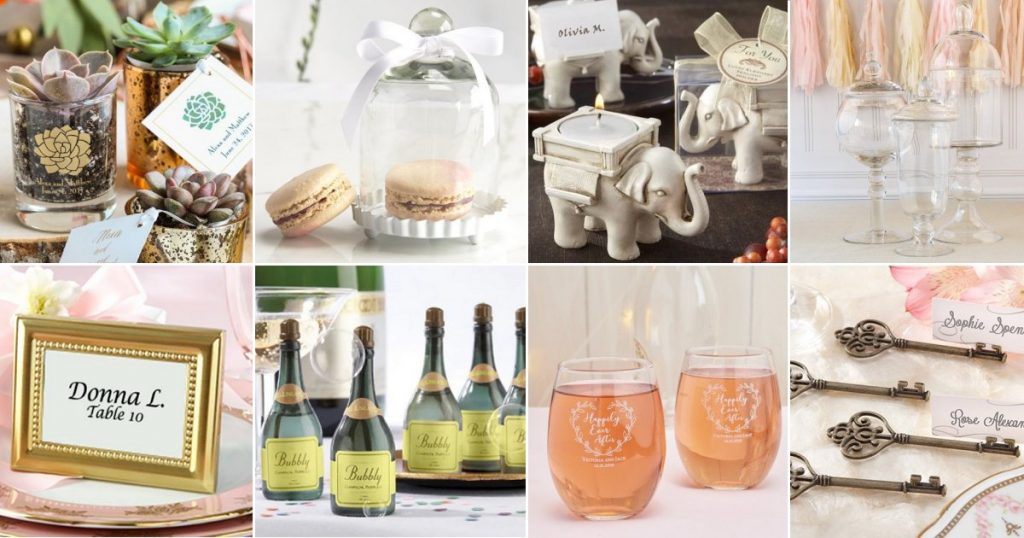 Multi-function wedding favors will help you save money! Prior to offering them to your guests, any favor that can have the dual purpose of also adding to your reception decor, is well worth considering. These types of favors are practical and financially sound while still being stylish and classy!
Here's a good example on how you can save money with table centerpieces. Flowers are expensive, and will account for a big chunk of your allocated budget. Instead of flower centerpieces at each table, group small containers of succulent, cacti, or any other plant. Set them on risers to create heights and add candles or other decoration. You'll have not only a gorgeous table decor, you also have eco-friendly favors for your guests to bring home!
There is however a word of caution when going this route. Make sure you inform your guests to take home their favors after the event. A great idea is to include a thank you note with the favors to ensure they don't get left behind. After all, you or a designated bridesmaid will not find it amusing to bring them all back home.
The overall cost of a wedding reception is such that anyone might wish to reduce these expenses simply by being clever. Continue below and you'll discover wonderful multi-function favor ideas that will not only contribute to your table decor but will also be a big hit with your guests.
Don't forget to pin your favorites!
---
Multi-Function Wedding Favor Ideas
Personalized stemless wine glasses are a popular and wonderful multi-function wedding favor. Personalized these glasses with your names, wedding date and/or a special message along with the icon of your choice which is available in a variety of colors. The wine glasses are not only a wonderful decor idea for your tablescape they will also be enjoyed by all throughout the event. At the end, remind your guests to bring the glasses home for a sweet memento of your special day.
The multi-function elephant statue is detailed and crafted from resin with an antique-ivory finish. Each box includes a standard tea light candle fitting in the elephant saddle. The lipped rug under the saddle can hold a place card or photo on either side. Once use as part of your table decor and seating arrangements, the elephant becomes a wonderful favor for your guests. In Asian cultures, an elephant statue with a raised trunk is considered to be a good source of luck and good fortune!
Enhance your tabletop decor with these elegant brushed metal beaded picture frames. Available in a gold and silver finishes, this classic style frame features a Tiffany's beaded edge and a black velvet backing. The picture frames include table place cards for guest seating during the reception and add glamour to your decor. After the event, invite your guests to take them home as practical wedding favors.
Thank your guests for attending your big day with these succulent favors. For an outstanding display, insert the succulents in tealight holders and cluster them to use as table centerpieces. Your succulent favors will serve dual purpose; table decor and trendy favors!
Vintage keys are popular collector items and enjoyable favors to receive. Set these heart shaped vintage keys as place card holders to elevate your decor, or use as escort card holders for guests to easily find their seats. These romantic and antique looking keys will make for nice decorations in your guest's homes!
Heighten your table decor by setting these adorable mini lanterns at each place setting. Made of glossy aluminium and standing 5 inches tall, the lantern is a charming accessory that will definitively create height and truly stand out on your tables. Without a doubt, your guests will be pleased to bring these thoughtful favors home.
Bring out the kids in your guests with champagne bubbles. Nothing else screams "let's celebrate!" like champagne bubbles at a wedding! Invite everyone to pop the bottles open after the ceremony to get the party underway or to take home as a favor.
Offered in a wide selection of colors, these personalized paper fan favors are also perfect to keep your guests cool at your beach or summer wedding. Fill a lovely basket with the fans and set it somewhere special to enhance your decor. The fans can be personalized with two lines of text such as your names and wedding date to make the fans extra special.
Looking for a creative way to display desserts at your wedding reception? Add these miniature glass bell jars to your dessert table! They make the perfect cover for miniature cupcakes and candies and will look beautiful as table decor. Or fill them with wedding decorations to match your theme and use them as centerpieces. After the event, invite your guests to bring them home for a unique keepsake. 
Create excitement at your wedding with a candy bar! It's the ultimate favor that is sure to be remembered for many years to come. A candy bar is not only to dazzle the taste buds of your guests, it's also an impressive way to enhance the decor of your reception venue. If you'd like to learn more about creating an outstanding candy bar, we recommend you read our article on The 10 "No-No's" of DIY Candy Buffet!
Summer Themed Wedding Favor Ideas
Fall Themed Wedding Favor Ideas