Nautical themed wedding favors will enhance the seaside charm of your event. Whether your planning a wedding at the beach, in a picturesque seaside town, or on a sailboat, reel in your guests with a practical, and thematically perfect favor.
Adding a nautical flair for your wedding theme favors completely make sense to me! So many elements related to a nautical theme ties in perfectly with symbolism's in relation with weddings. Drawing ideas from these associations will help you find a perfect favor that is meaningful to you.
The Boat
As newlyweds, you and your spouse-to-be will be in the same boat! As you travel through life, side by side, you'll be weathering some storms and experiencing smooth sailing under the stars!
The Fisherman's Knot
A nautical theme represents a lot about the wedding union itself. For example, the fisherman's knot is one of the strongest man-made knots. It symbolizes the strength in the bond uniting the newlyweds. It is a knot that grows stronger under pressure as the couple weathers storms which they encounter in their life together.
The Anchor
A boat is out of danger from a storm when it is safely anchored. When two people get married, the stormy life of being celibate is over. It's a new anchored life for the newlyweds symbolizing safety and stability. To each, the other is their anchor, keeping them stable in trying times.
See below for a compilation of our favorite favors that tie in perfectly with a meaningful nautical wedding theme!
Don't forget to pin your favorites!
---
The Lighthouses
Lighthouses help you navigate your way safely through rough water. Once married the stormy life of been single is over!
These lovely lighthouse tea light holders make for thoughtful, and practical favors for your guests. Set at each table setting, and they will also enhance your nautical decor. Made of metal, the cream hued lighthouses with handles include a tea light candle.
Nautical Themed Tea Light Holder Favors
Seaside Glass Votive Holder: Intricate and shimmery, these holders will light up your decor and truly bring a seaside vibe to your event.
Personalized Glass Votive Holder: These matt opaque and personalized votive holders are a beautiful reminder of your union!
Nautical Glass Teal Light Holder: Accentuate your table decor and color scheme with these holders and watch the room illuminate with the glow of your anchored love.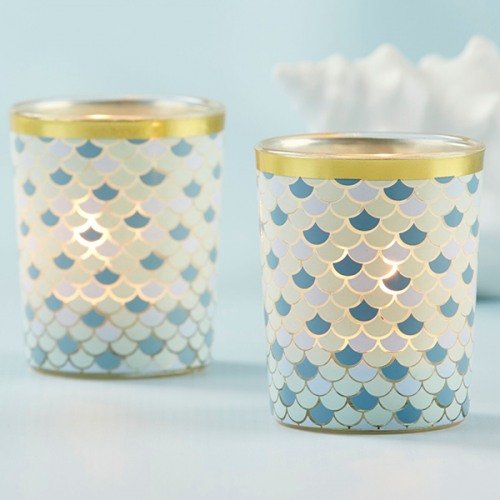 Sail away on many adventures as a couple with these charming tea light holders. The sail will always keep you moving in the right direction as a couple. Even in troubled waters, your relationship will never be blown off course!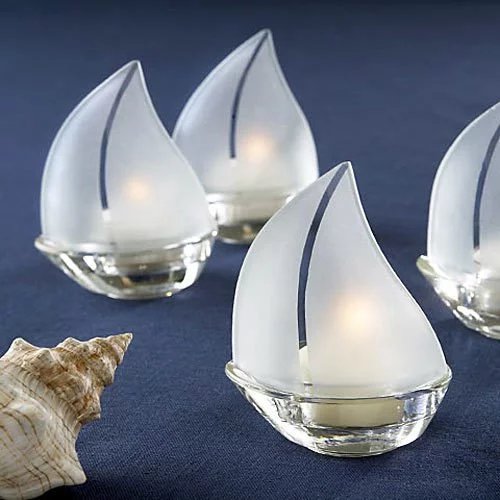 The Ship's Wheel
A ship's wheel represents the ability to navigate between obstacles and find a safe harbor. For the newlyweds, its symbolize constant change of directions in life, striving to navigate the sea of life into calmer waters.
Practical and always a guest pleaser, you can never go wrong with a bottle opener wedding favor. This gold metal ship's wheel bottle opener favor features nautical rope details. Your guests will enjoy taking it home for a cherished memory of your special day!
Nautical Themed Bottle Opener & Bottle Stopper Favors
These bottle opener favors are sure to be used and cherished by your guests. From the anchor of unity to your names or initials, these customizable favors are beautiful and consistent with your theme.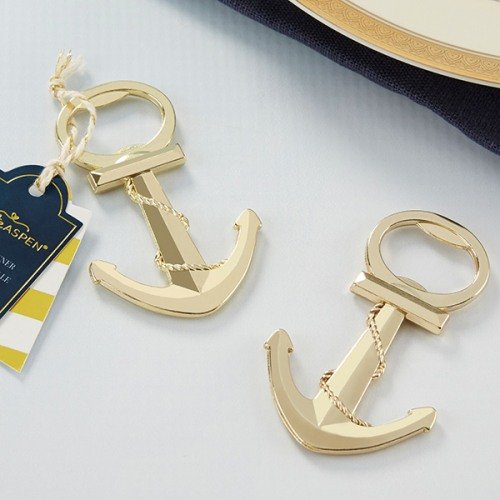 These anchors, in a choice of silver or gold, embrace your theme beautifully and symbolize a great deal. They are the opposite of a meaningless favor!
Compass bottle stoppers aren't just practical; they symbolize the inner compass that keeps your relationship moving in the right direction and prevents you from losing each other. You'll always find your way back to your loved one!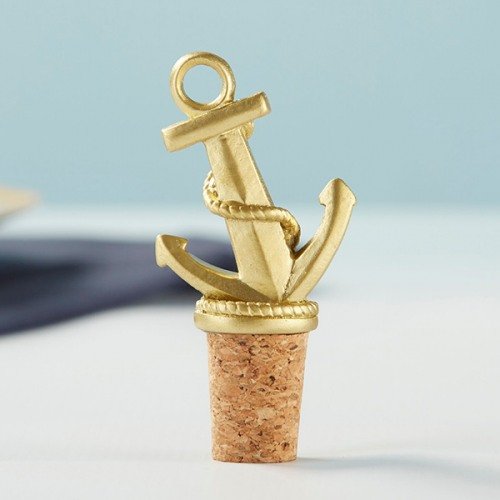 Nautical Themed Place Card Holder Favors
The knot place card holders are a delightful reminder of your strong bond as a newlywed couple and is perfectly consistent with your theme. These anchor place card holders are beautifully weathered and perfectly represent the symbolism behind your chosen theme!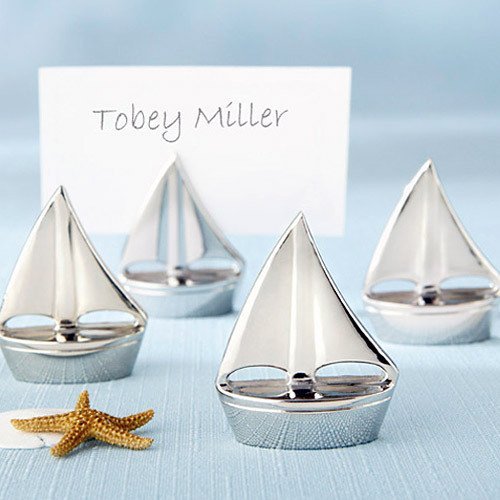 These origami styled mini metal sailboats make for adorable nautical favors. The set includes an assortment of six boats with alternating polka dots and stripes in blue and white. They also make for a seaworthy table decorations!
Nautical Themed Glassware Favors
Nautical Stemless Wine Glass: This lovely glass will keep each guest as anchored as your relationship! It will serve as a reminder of your union for years to come.
Custom Glass Coasters: These stylish and classy coasters add to your decor and are sure to be put to good use in your guests' homes!
Personalized Stemless Wine Glass: Wine glasses are a lovely accent to your table decor and are practical for your guests to take home. They'll be drinking to your happiness long after your special day!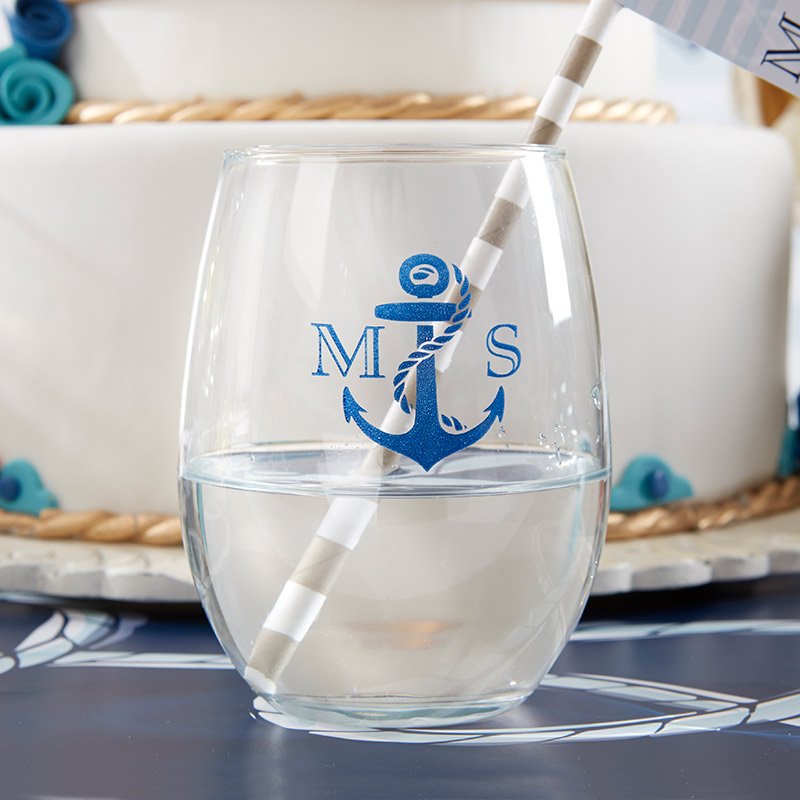 Nautical Themed Wedding Favor Ideas
This lovely anchor bookmark is made of high-quality metal fashioned into the shape of an anchor, and features a nautical themed blue-and-white striped ribbon. Each anchor is individually gift-wrapped in a coordinating envelope, ready to hand out to guests. (This item is no longer available)
Boat Wheel Magnet: Adorable wheel magnets that your guests can keep on their fridges as a reminder of your special day!
Anchor Shaped Soap: These edible looking anchors are eye catching for your tables and make for a unique favor to give to your guests!
Anchor Muslin Favor Bag: Filled with delectable treats, these bags can later be used by your guests to keep previous items. At the same time they will remind your guests of your special day!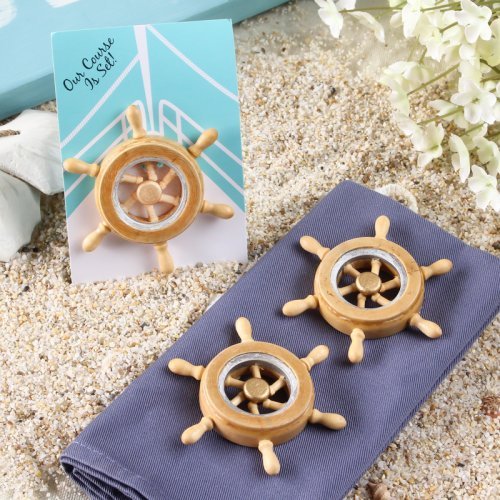 You may also like: