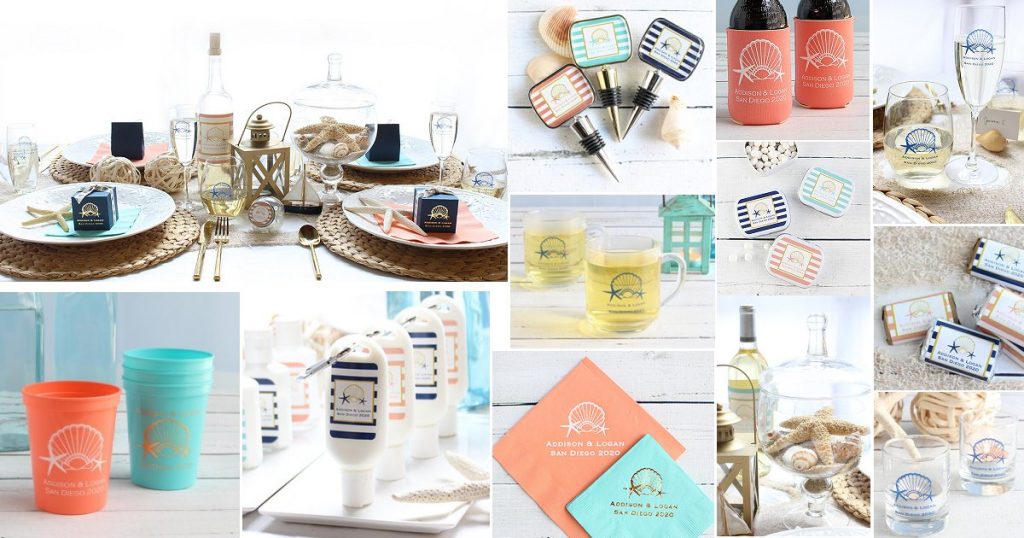 A seaside wedding theme is such a wonderful idea. Everyone enjoys that happy, relaxing feeling when walking on a beach on a warm sunny day. While planning your wedding you should definitively consider every details to reflect a vacation vibe. You'll achieve not only your dreamy and romantic seaside wedding, you will also inspire a peaceful and happy event for everyone to enjoy.
Combine neutral colors with coral, blue and sea foam green to bring about the color of a sea shore. Your choice of decor should reflect as well the natural beauty of a sandy shore. Add personal touches such as seashells, driftwood, and other treasures from the beach.
Your guests will remember your wedding as being the best one they ever attended if you surprise them with something unexpected and practical. Keep your guests cool and comfortable by having plenty of refreshments available. Other thoughtful items are inexpensive sunglasses, hand fans, and sunscreens. A favorite of mine is to provide a basket full of flip flops for your beach venue.
For your seaside wedding theme draw inspiration from our decor and favor ideas. Don't forget to pin your favorites!
---
Seaside Wedding Theme Decor Ideas
Gorgeous Glass Apothecary Jars are sure to steal the show at your wedding reception regardless of what you put in them. They are elegantly designed in eye-catching styles and sizes with matching lids. Simply fill with sand and seashell to complement your seaside wedding theme decor.
---
This stunning Gold Lantern features a classic geometric design and is finished with a matte coloring. Use these lanterns to decorate centerpieces, entryways, and buffet tables for your wedding reception.
---
Quaint and romantic, these vintage blue Lantern Tealight Holders won't just illuminate your reception—they'll set hearts aglow! Each lantern is crafted from metal and glass. Simply slip a tea light inside and set atop a tabletop or hang from a treetop.
---
These Personalized Shot Glass Votive Holders function both as a decorative accent and a favor that keeps on giving. Encourage guests to take them home after the wedding is over.
Seaside Wedding Theme Glassware
---
Personalized Stemless Champagne Flutes are a gorgeous and practical table accessory or favor for your wedding. Use these stunning and modern glasses for a festive champagne toast. Or hand out at the end as favors for guests to take home.
---
These classic Champagne Flutes will never go out of style, making them a household staple for you and your guests for years to come. Each flute is personalized with your custom message and design, making it a unique favor to either bring home or to use at the event.
---
These Personalized Stemless Wine Glasses will be a stylish addition to your seaside table decor. After the reception, let your guests know to bring their wine glasses home to enjoy!
---
Whether serving a beverage or dessert that's hot or cold, these Personalized Glass Mugs are a fun way to serve your wedding guests in style. Also great as a practical wedding favor! Simply add your favorite design and personalization to complete the look.
---
Seaside Wedding Theme Party Supplies
For your big day, have Personalized Bridal Stadium Cups at the ready for guests. These cups are the ideal party supply for a seaside wedding and perfect for serving up a signature drink. Complete the look with clear lids so guests can sip worry-free.
A practical and fun idea for your seaside wedding reception are these Neoprene Can Sleeves. Personalized them with your own custom artwork, wedding logo, or monogram for a unique look!
---
These Customized Napkins add a sentimental touch to an otherwise overlooked item. Simply add your special message, names, or date for further personalization. Napkins are not only practical, they are fabulous to add colors to your wedding theme.
---
Seaside Wedding Theme Favors
Personalized Sunscreens with Carabiners are terrific favors for a seaside wedding theme. Each refillable bottle measures approximately contains 1.5 ounces of fresh, tropical scented sunscreen. The SPF 30 sunscreen is made in the USA, PABA-free and includes organic aloe vera and vitamin E.
---
These Personalized Bottle Stoppers feature an epoxy dome with your choice of design and messaging. Use them at your reception than give away as thank you gifts to guests for a functional favor they're sure to use at home.
---
This elegant Personalized Square Favor Box is all you need to fill with special treats or trinkets for your wedding favors. Choose your box color, design icon, background color, and then specify the custom text to be printed under the icon for a truly unique favor.
---
These pocket sized Mint Tins are personalized with a custom printed label with your choice of romantic designs. Add your names and the date of your wedding and this favor becomes a reminder of your wedding for all who attended.
---
Edible wedding favors are always a big hit with guests. The Personalized Wedding Hershey's Chocolate Miniature takes the traditional Hershey's Miniatures and wraps them up in beautiful personalized wrappers for wonderful wedding favors!
Visit WeddingConnexion.com Shop to view other stylish Beach Wedding Favor Ideas