As you may have already heard, and if not-surprise! … Our daughter Karina got engaged to her boyfriend Aaron who she's been with for almost four years. He proposed to her on a beach which was very romantic and picturesque.
Our Restaurant Venue
I could not be more excited and delighted for them and how I can bring to bear my love of celebrations! They make a lovely couple and we decided to host the most incredible engagement diner party to celebrate them. After much consideration, we settled on an intimate gathering held at a quaint local restaurant named Lezvos. We simply adore the wonderful Greek cuisine they serve and thought it would be the perfect setting to host our party. We invited only close family and friends, making a group of 12. Instead of having a large celebration, we concentrated on a small, high quality event with no detail spared!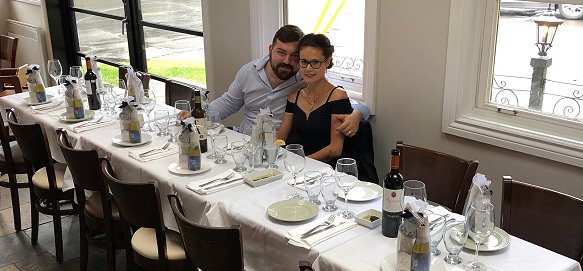 Engagement Party Cake
We went to a local breakfast, brunch and pastry shop called La Farandole, to create our cake. It was simply gorgeous. We put out heads together using design plans and a tape measure to custom create our very own sweet masterpiece!
The base was navy blue with a cushion pattern and was adorned with silver candy pearls. This layer was 12 inches in diameter. The top layer was pure white and had a diameter of 8 inches. Ribbons of blue and white creme au beurre embellished the base of both layers. On each level we had white flowers and the top had a large Lilly flowers with a cascading vine of white flowers partially cascading down the cake.
We debated on a cake topper but we decided against it in favor of these delectable flowers. The result was simply breathtaking. It looked wedding-worthy! We got a ton of compliments on the cake, including that it was better than any wedding cake they had ever seen.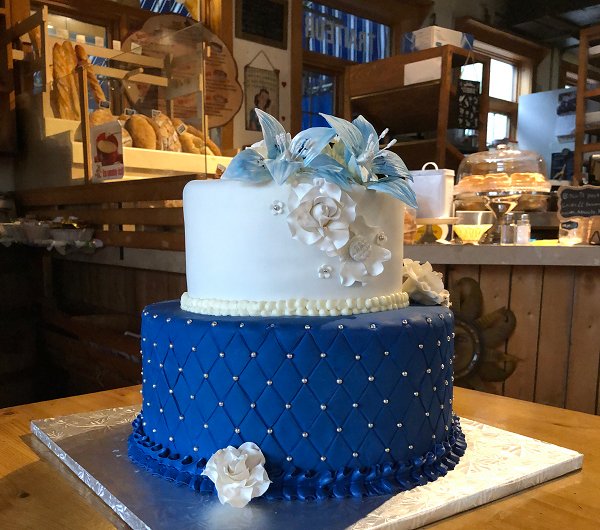 Engagement Party Favors
No engagement party would be complete without favors for the guests, and let me just say-we pulled out all the stops! We arranged a silver trinity heart bottle stopper with a bottle of Italian champagne. But we didn't stop there… balanced on top, we added a heart shaped box filled with Sixlets and a Baci chocolate, and all this was enveloped in an organza bag. We tied the bags and adorned them with navy blue ribbons and strings of silver gemstones. We also affixed silver tags to each favor with the names of our guests. These served to identify the favors and act as place cards for our seating arrangements. Our guests were very impressed and said they couldn't even imagine what our wedding favors would look like if this was for the engagement party! Quite a compliment, and I have to admit it'll be hard to outdo ourselves when the time comes.
Venue Decor
With our choice of a family style menu, a flower bouquet would have been a space issue with the service of the many dishes. Instead, to enhance our venue decor, we did not hesitate getting this adorable silver script love balloon! It was amazingly easy to blow with the straw provided, and it made for a romantic addition!
Did we mention the foods?
We opted for a family style menu. We pre arranged the menu to remove the stress of guest's ordering for themselves. We've been to the restaurant before and know which dishes are the very best! So we planned a five course meal that everyone found mouth-wateringly delicious. We began with Greek salad, followed by spanakopita and plates of fried zucchini and eggplant with tzatziki. Then we had grilled peppers and mushrooms, followed by calamari and grilled octopus. For the main course we ordered racks of lamb and grilled chicken. Of course, we topped off the meal with our gorgeous cake, served with fruits and specialty coffees. The entire meal was truly 'to die for'.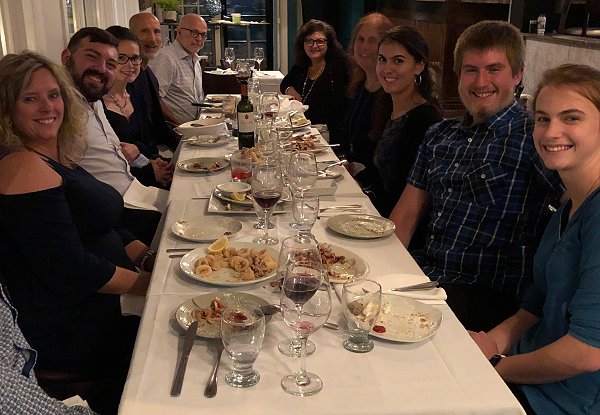 To say that the engagement party was a complete success is an understatement! We had great food paired with fine wines, themed decor and favors and we enjoyed each other's company in a warm and friendly ambiance. My husband and I are very happy for our daughter and Aaron's engagement. It's going to be hard for us to let go of our Babygirl but we are thankful that she found her soul mate. We wish them both a life filled with happiness, love, and mutual respect.