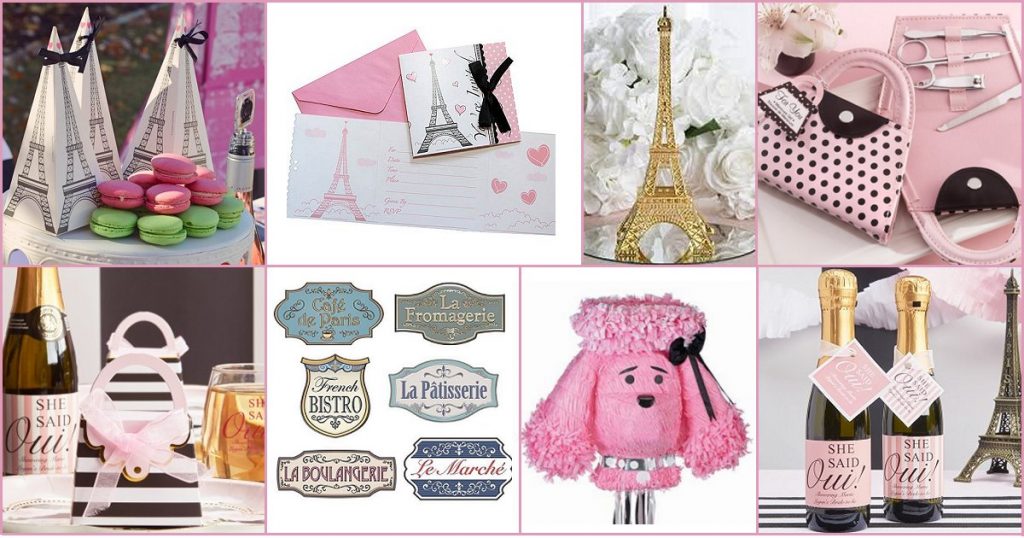 Are you dreaming of a Parisian Chic Bridal Shower? It's quite an exciting idea… n'est-ce pas? When we think about Paris, the city of lights, we immediately think of fashion, culture, gastronomy and fine wines. This particular theme opens the door to countless possibilities.
Parisian Chic Color Scheme
For many years, the Parisian theme has been a popular and loved choice for bridal showers. We've seen a high tendency of black, white and pink color palettes which creates an elegant and romantic feeling. In truth however, there are no specific rules regarding colors. This gives you 'carte blanche' to decide on a color scheme that is exciting to you!
Parisian Chic Decor Ideas
Consider adding 'je ne sais quoi' to your Parisian Chic decor with items reminiscent of a stroll down the enchanting streets of Paris. The 'Tour Eiffel', 'Arc de Triomphe', and Jardins du Luxembourg are historical sites from which you can draw inspiration. The remarkable amount of cafés, bistros, pâtisseries, fromageries, et boutiques de vins found on the streets of Paris are another means for you to gather wonderful ideas. When you think of Paris, images of charming street lights, stroller carts, carousels, fresh flowers, and pink poodles come to mind! These iconic features can be beautifully incorporated into your decor. Feel free to accent with tulle, laces, and pearls … it's a French thing! And lest we forget-Parisian are quite fashionable! Invite your guests to dress up for your event!
Parisian Chic Food Specialties
If you're wondering what kind of food to serve then look closely at what Paris is renowned for… freshly baked baguettes, and pastries of course! Some classic favorites include crepes, croissants, macarons, madeleines, meringues, chocolatines, truffles and St-Honoré … just to name a few!
The city is also famous for their escargots (snails), foie gras, quiche lorraine, steak-frites, boeuf bourguignon, and confit de carnard. Fine cheeses are another 'noblesse oblige' part of Paris's fine cuisine. Brie, Camembert, Pont-l'Évêque, Beaufort, Maroilles, and Raclette are just a few of the delightful choices which pair deliciously with warm baguette. I'm making myself hungry! Being French, and writing these lines, I'm finding myself craving melted cheese on a baguette!
From these tantalizing gourmets food options, you can select your favorites and plan for an exciting buffet style menu. Offer your guests the pleasure of discovering an array of specialty dishes and fine pastries from Paris. Paired with fresh lemonade, fine French wine, champagne, and gourmet coffee, your Parisian Chic bridal shower menu will be one that your guests will remember forever!
Scroll down below to whet your imagination, and don't forget to pin your favorites!
---
These adorable Party In Paris invitations will definitively set the tone and get the girls thrilled to attend your Parisian Chic bridal shower. These invites feature the Eiffel Tower, hearts, polka dots and a black ribbon on the front and include space on the inside for you to write in For, Date, Time, Place, Given By and RSVP.
---
Parisian Chic Bridal Shower Theme Decor Ideas
Your Parisian Chic bridal shower theme would not be complete without these Eiffel Tower centerpieces. These stunning, metal decorations feature France's Eiffel Tower om exquisite detail! They also come in two sizes in your choice of either black or gold.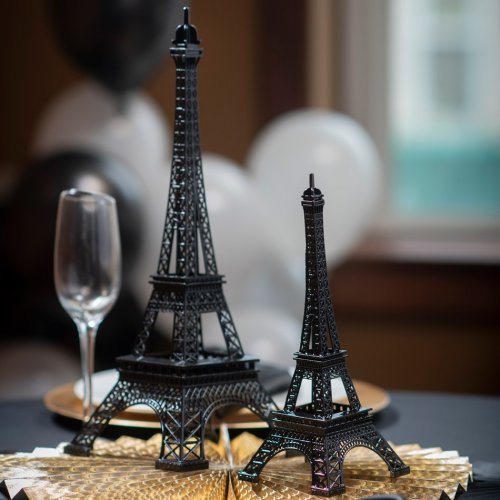 ---
These vintage street light place card holders are both charming and functional – the perfect addition to any Parisian themed table decor! They are crafted with black painted metal and resin with white "glass" windows, and include place cards reminiscent of Parisian street signs.
---
These lovely market sign cut-outs are two-sided and measure 12 1/4″ by 17 1/4″. They are perfectly sized for display on a food table to enhance your decor. They represent the market signs you would see strolling down the street of Paris and will add character to your venue!
---
A pink poodle pinata is quite appropriate for your Parisian theme bridal shower! A pinata is not only fun for parties … it's also a great idea for decor. This one has the cute look of a fluffy pink poodle adorned with a black bow in her hair, and silver / black string danglers. Simply fill the pinata with treats, and when busted, have your guests filled a Party in Paris Eiffel Tower treat box (shown further down)
---
Parisian Chic Bridal Shower Theme Table Supply Ideas
France is 'an incontournable' when it comes to fine wine. From champagne, rosé, to Cabernet Sauvignon, the selection is such that you'll have no difficulty finding the perfect 'cépage' for your guests to enjoy. If you're looking to add a personal appeal to your table decor, these elegant personalized wine bottle labels are just what you need.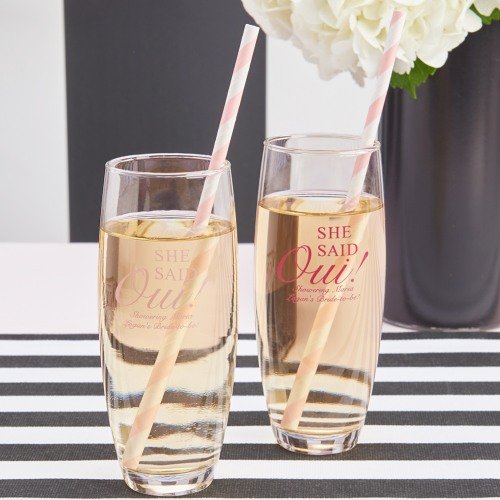 ---
Parisian party paper plates are another must for your bridal shower. This floral striped motif lends itself perfectly to your chosen theme.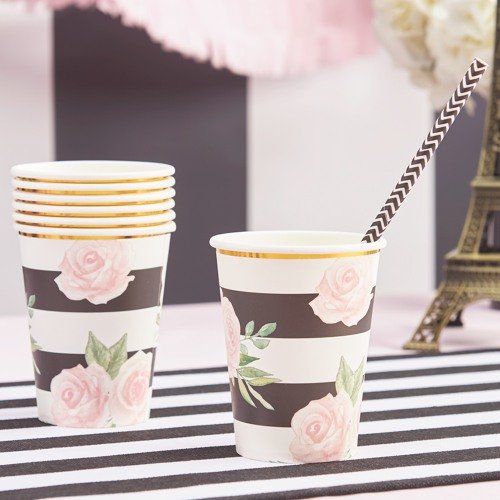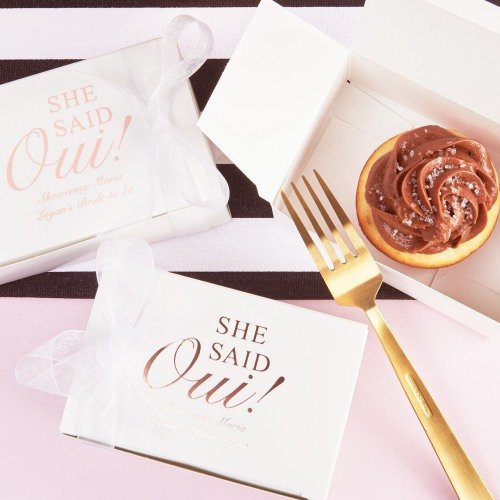 ---

Parisian Chic Bridal Shower Theme Favor Ideas
Look at these fun favor boxes! These Party in Paris treat boxes are sure to be the talk at your bridal shower! Measuring 7 1/2″ high x 3″ wide, these treat boxes are sure to stand out! Now available as a printable digital file.
---
Custom macarons will send the taste buds of your guests on a delightful Parisian experience. Noblesse oblige! This sought-after tasty treat can be found in every pastry corner shop of Paris. The options for customization options make these light and airy cookies extra special.
---
A Parisian Chic Theme requires lots of pastry! These lovely individual two tier mini cake are perfect for adding elegance to your food table. They are made with your choice of moist double chocolate pudding or vanilla cake, with a coating of white chocolate icing in the color of your choice.
---
Add these champagne flavored gummy bears to your sweet table for a delicious treat for your guests to munch on! The label can be personalized for your bridal shower favors.
---
Your girls will appreciate this lovely perfume bottle key chain featuring a mirror back. It's a practical and fashionable accessory that is perfectly in sync with your Paris theme.
---
With so many famous designers located in Paris, the city is considered to be one of the most fashionable in the world. Perfectly appropriate for your Parisian theme, these mini purse manicure sets are such a wonderful favor idea. I can already hear your guests saying 'Oh là là!'
---

Parisian Chic Bridal Shower Theme Favors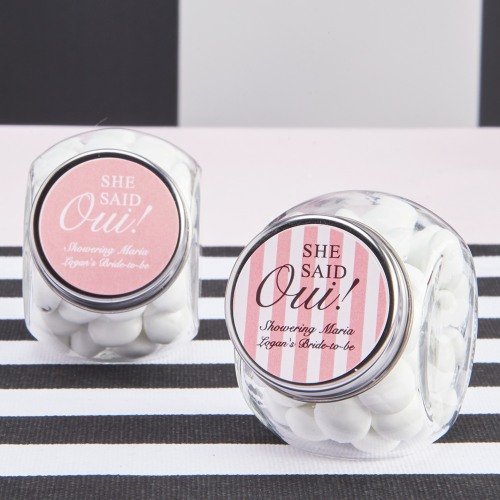 Parisian Chic Bridal Shower Theme Edible Favors