Discover wonderful ideas for a sophisticated blue and silver wedding color scheme. You can't go wrong with this beautiful color combination. A classy blue color paired with the glam of silver lends a sense of romance and elegance to any event.
Blue is suitable for all seasons, and adaptable to just about any wedding theme you can think of. It also happens to be a color of choice for your bridesmaids' dresses as there is no shortage of blue dresses on the market, and the color is flattering for all!
Selecting the new trend color of the year can be a little challenging to accessorize. In contrast, blue is in high-demand and you'll have no trouble finding what you are looking for to accessorize and decorate your event. Why not reduce the stress of coordinating the minute details of your event?
If you're considering blue and silver for your wedding theme, then explore some ideas below featuring soft, feminine choices that will surely accentuate the mood of romance at your wedding.
Don't forget to pin your favorites!
---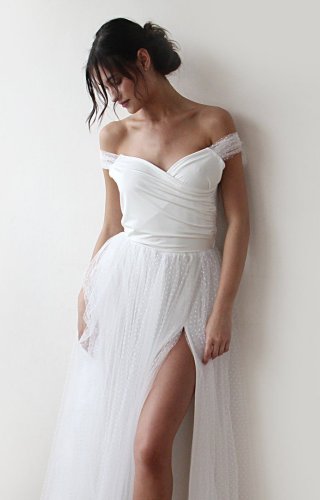 This wedding dress is absolutely gorgeous! Feminine and floor length, it features a wrapped style and off-the-shoulders tulle sleeves. The small straps will make sure the top will not move, and enhances the elegance as an added perk! With its tastefully sexy and romantic retro look – this dress will be unforgettable!
---
The origin of wearing something blue on your wedding day symbolizes purity, love, and fidelity. This attractive 'something blue' wedding anklet will lend itself perfectly to your blue and silver color scheme and is the perfect way to include this timeless tradition!
---
Decorate your bridal shoe soles with this pair of blue glitter stickers that spells "I Do." Stick them upside down on the shoe soles so the guests can read them when you, the bride is kneeling during the ceremony. Make sure you also get "She's Mine" stickers version for the groom. What a cute idea!
---
To enhance your table decor, this beautiful blue flower centerpiece features creamy white roses blended with periwinkle delphinium, white aster and ruscus to create a versatile and lovely look. This is a stunning combination of flowers that makes for a perfect floral arrangement.

---
This silver plated wine bottle stopper truly is a one-of-a-kind wedding favor. The top of the stopper is decorated with a series of beads alternating between blue and silver. If you wish to personalize the stopper with beads of your own, the existing beads can be easily removed.
---
A two piece square favor box is always an exciting gift to receive. Maybe it has to do with the anticipation of discovering what's inside! Fill this box with a special treat or trinket and dress it up with a fancy ribbon for a wonderful guest favor.
---
Romantic and functional, this 'Love' bottle opener is elegantly designed to feature the word love in a cursive font. Quite sturdy, it's a wonderful favor that your guests will be happy to use after your wedding.
---
These custom waterproof vinyl stickers will add a chic, unique touch to your favors. The circular self-adhesive labels are available in three sizes, dozens of designs and a variety of colors. Add custom text such as a name, date or a special message.