A romantic greenery wedding is a wonderful theme idea especially for couples who have a genuine love of nature. Imagine lush greens paired with a soft and romantic decor to create an ethereal feel that seems too perfect for this world.
Very trendy, many couples forgo flower centerpieces in favor of lavishing greenery throughout their venues. Incorporate lush greens into your ceremony arch and pathway, bridal bouquets, as backdrop for your venue, and hang them from the ceiling with wreath loops for a gorgeous and natural decor.
You'll save money with greenery since they cost less than flowers. From beautiful natural foliage wedding combo available, to realistic artificial plants, easily combine both to transform your venue into a botanical heaven.
Greenery being your primary color, choose different colored foliage to make your overall look as natural as possible. Enhance the romantic feel of your event with accessories that are neutral in color and texture such as white wooden decorative items.
Continue below to view our specially selected items we found that lent themselves perfectly to a romantic greenery wedding theme.
Don't forget to pin your favorites!
---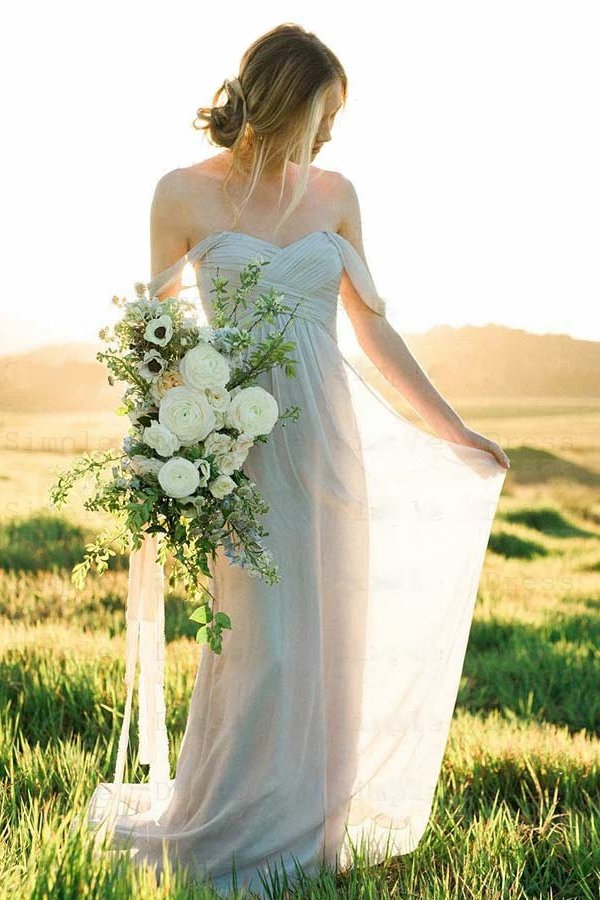 This elegant sage green bridesmaid dress is so romantic! Featuring an a-line silhouette with a sweep train, the dress made of chiffon has an off-the-shoulder neckline and is suitable for all seasons.
Romantic Greenery Wedding Decor Ideas
Wedding greenery combo box is a wonderful and practical idea to keep up with your theme and decorate your venue. Featuring an assortment of Baby's Breath, Ruscus, Lily Grass, Eucalyptus, and Leather Leaf, with this classic DIY wedding greenery combo box you'll be able to add the perfect finishing touch for all your bouquets and centerpieces.
For a romantic addition to your wedding decor, these white wooden letters that spell the word LOVE are extremely versatile. Use them to decorate your sweetheart table, or set them at your venue entrance amidst greenery to welcome your guests in a unique way.
Decorate these wreath hoops with foliage, ribbons, and flowers to create a gorgeous overhead hanging decor for your venue. Made of metal in a copper finish, this set of three wreaths includes clear twine for hanging.
Accentuate the decor of your venue with realistic looking decorative vines. They are an inexpensive way to add elegance throughout your venue.
For an alternative way to collect guests' wishes this personalized drop box is available in two sized. Have your guests sign the included wooden hearts with a pen and drop them in the box. After the event, hang on a wall at home for a memento you'll cherished forever.
Made of glazed ceramic with pearlized base, this stylish heart wedding cake topper makes for a unique showpiece. Elevate your cake with the topper or use it as a decorative piece on your sweetheart or guest book table.
Featuring an elegant double heart design accented with rhinestones, this silver-plated cake server set includes one cake knife and one cake server. Both pieces can be personalized with your names and the date of the wedding. A cake server set is a wonderful keepsake that you'll be using again and again after the wedding. So it's wise to choose that special one carefully!
From the same collection as the cake server set, personalized toasting flutes is a lovely addition to your sweetheart table. The stems feature an elegant silver-plated double heart design inlaid with rhinestones. Personalize the flutes with an etched single initial or your names and wedding date for a cherished memento of your big day.
Add a romantic flair to your table decor with these lovely rose vine placecards. The card features a beautiful and intricate laser-cut rose design and will make it easy for your guests to find their seats.
This romantic spindle candle holder set makes for elegant centerpieces to enhance your table decor. Nest them at the center of each table to create a focal point and decorate the base with fresh flowers. They can also be use along the aisle for a wonderful pathway leading to the altar. Use them with your favorite scent candle or with the battery operated votive candles as shown below.
Simplicity is often the key to elegance! Battery operated votive candles are the safe alternative to real candles and will add a soft glow to your table decor. Made of frosted white plastic, the votives include the batteries and will actually last longer than real tea lights!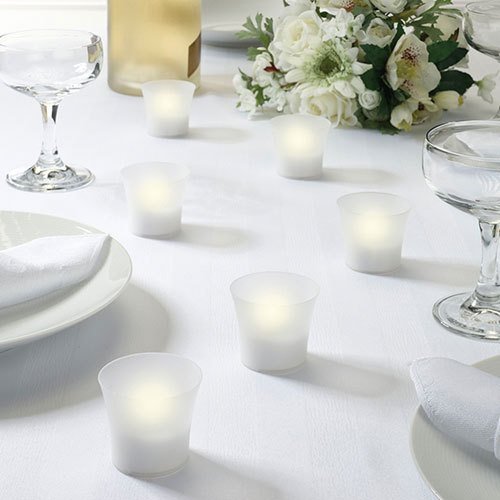 Romantic Greenery Wedding Favor Ideas
Perfectly themed for a romantic greenery wedding, this mini palm plant makes for well thought favors. Group them to create a gorgeous greenery scenery throughout your venue or on each guests' table to elevate your decor and create natural centerpieces.
Embellished your table decor with these adorable bride and groom favor bags. Fill them with confetti almonds or your favorite sweet for a classy favor for your guests to bring home.
You may also like: