Create an enchanting rose gold wedding theme with ideas that will convey elegance and sophistication to your event. Rose gold represents love and is a glamorous color that combines the elegance of gold and the romanticism of pink.
Pair white, champagne, blush floral, pink, taupe, gray, or navy blue with your rose gold to make for an exquisite color palette. Neutral colors and touches of a metallic color such as copper, will also help you make a statement!
Not likely to go out of style anytime soon, rose gold is the perfect choice to add a romantic note to your wedding. Scroll down to most bedazzling rose gold wedding ideas!
Don't forget to pin your favorites!
---
Rose Gold Wedding Ideas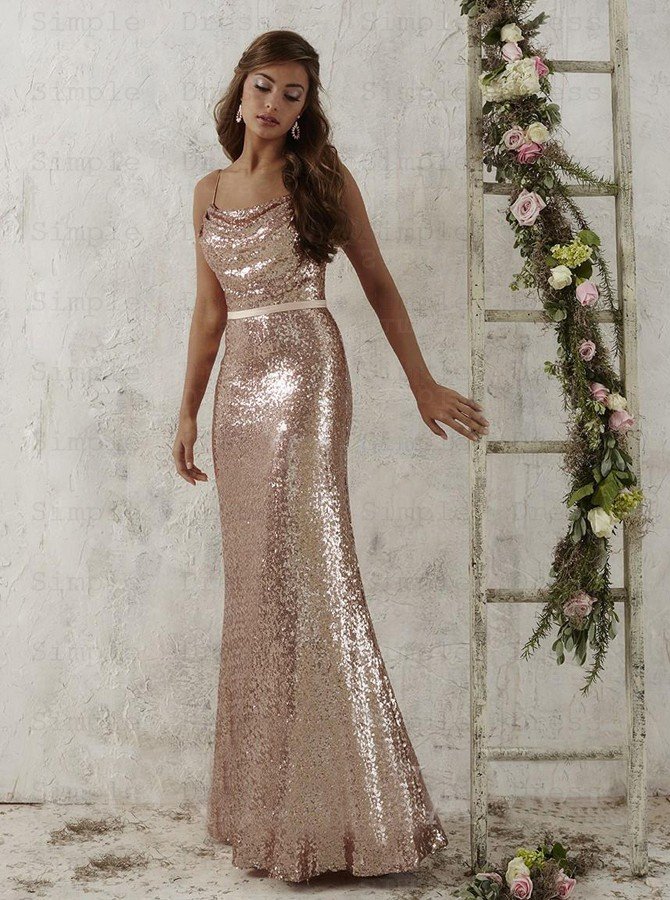 Your bridesmaids will look stunning wearing this glamorous floor-length sequined rose gold dress. Featuring a sheath silhouette with a spaghetti strap neckline, the dress natural waist conveys elegance and sophistication. Rose gold looks great with both warm and cool skin tones alike, and is suitable for those with olive and pink undertones.
If you're looking for stylish ideas of flower combination for your bridal bouquet and centerpieces, we invite you to download the free catalog of wedding flower montages from The Bouqs. You will find truly dreamy combination of flowers!
Convey sophistication to your table decor with this elegant rose gold lantern set. Nest the metal lanterns on your sweetheart table, guest book table, or to create unique centerpieces by arranging greenery around them.
For a trendy modern addition to your table decor, this vase set combines a glass tube terrarium and a geometric metal frame. Simply add a few blooms to create minimalist centerpieces that will stand out from every angle of your venue.
Metallic accents is the perfect complement to a rose gold wedding. These copper geo tea light holders are no exceptions and will add a modern flair to your table decor. They make for interesting centerpieces!
These rose gold decorative glass mosaic balls are wonderful to accentuate your wedding decor. They measure 3″ in diameter and are a stunning addition to your centerpieces.
Made with a beautiful rose gold textured finish, this sturdy card box makes for a gorgeous decorative piece. Use with or without the 'Card' label or personalize it to be stylishly unique. After the wedding, you'll want to use it and store precious memento of your special day.
Making for a cute way to display place cards or photos, these versatile rose gold heart shaped holders can serve different functions for your table decor. The holders are short so they won't be intrusive for your guests.
Create a glamorous and romantic table setting with these glittering rose gold table numbers. They are made of wood and the numbers are set on a base to make them easily shine amidst your centerpieces.
Attached a place card to these well made rose gold key bottle openers to help your guests easily find their seats. The price per key is incredibly low for a pack of 70 that includes seven different models. After the evening, your guests will bring them home as a useful and meaningful key to your love favor.
Accentuate your rose gold wedding theme with personalized stemless wine glasses. Choose from an array of design and personalize them with a rose gold colored script. Stemless wine glasses are perfect to add to your table decor and become wonderful favors for your guests after the event.
Carry your rose gold theme with personalized glass coaster favors by choosing a favorite design and personalize it with a rose gold colored script with your name, and the date of your wedding. The selection of design to choose from is phenomenal!
You may also like: