A charming rustic farmhouse wedding decor works just as well in backyards as it does in woodsy venues or for country style weddings. Your choice of venue should represent a simple life in harmony with Mother nature.
If you do a simple search on the internet, you'll quickly realize that farmhouses, barns, and sugar shack wedding venues are available in abundance due to the popularity of this theme. These venues offer a wide array of options. They offer full service packages or will charge you a certain amount for renting the venue if you wish take charge of organizing every detail of your dream wedding.
Draw inspiration for your decor from what comes to mind after a day spent in the countryside amidst nature. Carefully choose accessories that are simple, yet stylish and that are reminiscent of days gone by. Wooden accessories like old crates, distressed lanterns, wild flowers and lots of greenery make for alluring and thematically perfect decorations. Your tablescape should reflect warmth and coziness, making each one of your guests feel relaxed and at ease.
A rustic farmhouse wedding is a wonderful theme if you want explore your creativity and follow a vision that involves do-it-yourself decor using burlap, twine, and other natural fiber fabrics such as cotton and lace. Weather permitted, outside sitting lounges are becoming a favorite among couples. Setting up full hay bales to create relaxation nooks makes it possible for your guests to sit and enjoy a breath of fresh air in a heart-warming area.
Continue below to view our favorite ideas for a charming rustic farmhouse wedding decor.
Don't forget to pin your favorites!
---
Rustic Farmhouse Wedding Decor Ideas
You've carefully chosen your wedding venue and realize that there's an area that needs sprucing up. This white flower hanging backdrop really comes in handy to camouflage a wall or accentuate your sweetheart table. The backdrop features a beautiful cascade of white flowers that will go perfect with your dream rustic farmhouse wedding theme.
Practical to hand-write a special welcome to your guests or to display your signature cocktail menu, this self-standing rustic frame chalkboard sign will be absolutely perfect to decorate your farmhouse venue decor.
An easy and affordable way to add an old classic charm to your sweetheart table are these cheeky 'Mr. Right' & 'Mrs. Always Right' chair signs. Complement the signs simply by draping burlap fabric over your chairs to enhance the rustic feel of the overall look.
Lanterns make for gorgeous decorations for a rustic themed wedding! These white distressed lanterns are perfectly sized to accentuate a welcome sign set at the entrance of your venue. They can also be used to create a lovely pathway as you walk down the aisle or to add a glowing warmth when hung from the ceiling and used with a votive candle.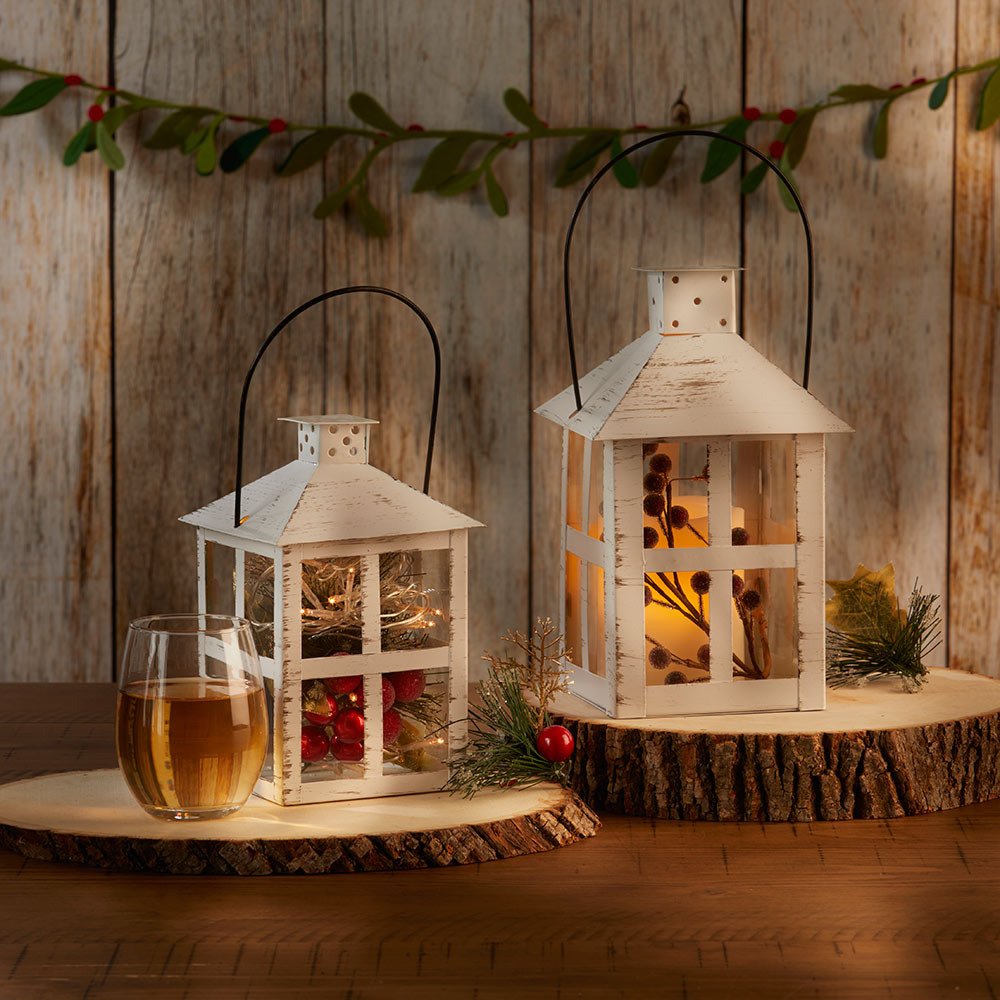 Display your cake in a most unique and gorgeous way with this rustic wood crate stand. Made of pine, the crate can be engraved with your names and the date of your wedding making for a wonderful keepsake for your home later on.
Accessorize your wedding cake table in style with this charming and lovely rustic cake server set. Each handle is wrapped with twine and features a small wooden heart engraved with your initials. You can also personalized the blade of the spatula!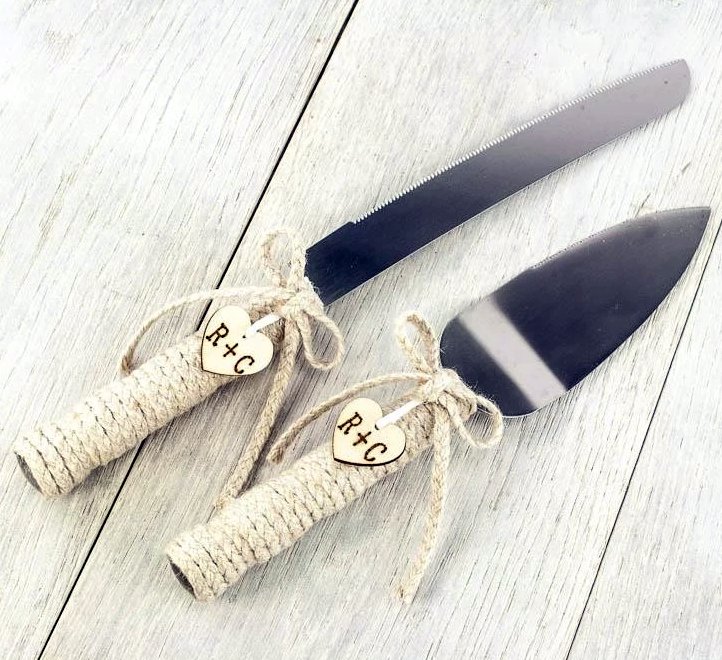 Made of real wood, this heart shaped Mr. & Mrs. cake topper is engraved and hand-burned for an authentic rustic feel. Cake toppers are not only to decorate your cake, they can also be used on your sweetheart table or anywhere in your venue that requires a special touch. Have topper, will travel!
Add a modern spin to your rustic farmhouse themed wedding with an alternative guestbook. Have each of your guests write their wishes on wooden hearts, then stack them on the tower for a lovely memento you'll cherish long after your special day.
These real wood place card holders are so perfectly themed with your rustic farmhouse wedding theme! Use them to help your guests easily find their seats, as holders to display photos, or even as markers for your sweet table.
Making for an adorable rustic favor for your guests, this miniature vintage water can pitcher measures 4.5" high. Fill it up with sprigs of flowers and set them on each guest table for a lovely tablescape. Personalized with 3 lines of text and choose a colored ribbon to perfectly match your color theme.
Mason jar mugs are perfect accessories to convey a country feel to your table decor. Fill them up with a signature cocktail and place them at the entrance of your venue to welcome your guests. At the end of day, let your guests bring their mugs home for a special token of appreciation for attending your special day.
Chalkboard glass clings make a lot of sense to me. Now more than ever you want to avoid a guest taking someone else's drink by accident. They are affordable and come in a set of 20 pieces. Make sure every guests sticks one of these on their glass!
Add a personalized touch to your favors with these diamond tags. Choose from an array of colors, sizes and designs to find the best one suited for your wedding theme. Taking care of small details like personalizing your favors with tags that include your name and wedding date shows your guests that you really care.
Printed with the words 'Love is Sweet', this rustic burlap bag makes for a thematically perfect favor for your guests. Fill them with traditional personalized York peppermint patties as shown below or any other scrumptious treats for your guests to enjoy.
Treat your guests to an old time favorite with these personalized York peppermint patties. Choose your favorite design from a large variety and personalize with your names and the date of your wedding.
You may also like: