A stock the bar wedding shower is definitely the perfect theme for true connoisseurs! It also makes so much sense for couples that already have their home essentials. Help them entertain in style as a married couple by showering them with must-have bar accessories. It's a win-win situation for both the newlyweds. and the party guests! After the wedding you'll be sure of having great cocktails whenever you visit! (Sneaky but clever, am I right?)
How to Throw A Stock The Bar Wedding Shower
As opposed to a bridal shower, a wedding shower implies that couples will be intending the event. After all, the objective of this theme party is to help the future couple become properly equipped for a long life time gatherings between family and friends!
Request that your guests bring a bottle of liquor, wine, or beer for the party, and a bottle of top shelf liquor, wine, or a practical barware accessory as a shower gift for the couple. Another way of doing it, is for the guests to get together and contribute a pre-calculated amount of money that will cover the cost of booze for the party, as well as gifts for the couple.
Basic Liquor
While everybody probably has different ideas of what the best, well-stocked bar contains, the following bottles of liquor will certainly get the couple up and running in the cocktail department!
Vodka
Gin
Rum (dark & light)
Tequila
Whiskey (Rye, Bourbon, Scotch)
Cognac
Brandy
Vermouth
A few favorite liqueurs:
Grand Marnier
Sambucca
Coffee liqueur
Creme de Menthe
Essential Mixers
Fruit Juices: Lemon | Lime | Orange | Cranberry | Pineapple | Tomato | Clamato
Soda water | Tonic water | Ginger Ale | Cola | 7up | Diet soda
Bitters | Grenadine syrup | Tabasco sauce | Worcestershire sauce
Sugar | Salt | Pepper
Purchasing the smaller format bottle of fruit juices, and soda pop will make it easier for you to offer a wider assortment of mixers. Don't forget to plan for requiring salt, pepper, or sugar! An unseasoned Bloody Caesar? Have you lost your mind? All kidding aside, the more you plan for everyone's unique palate, the better it will be!
Cocktail Garnish Ideas
Make your guests prepare a cocktail that is as visually appealing as it is tasty by having on hand:
Lemons, lime, and orange slices
Celery sticks
Olives
Fresh mint leave
Cordial cherries
Ensure having on hand plenty of ice cubes in a self- serve ice bucket and provide drink chilling stones for those who prefer a chilled cocktail that never has its taste diluted. Truly a marvel of technology!
Cocktail making is an art (noblesse oblige), and providing the proper glassware for your guests is an important factor for a successful stock the bar wedding shower. If you have a favorite bartender, ask that person if they would be willing to come to the shower and show the guests how to make creative and fabulous cocktails! With the inhibition, conversations over cocktails and exciting crash course in bartending … everyone is sure to have a wonderfully memorable time. (Although your goal may very well be to have a non-memorable time, if you catch my drift.)
Foods & Snacks
No one should ever drink on an empty stomach. Unless you're planning on hosting a sit down dinner, serve your guests foods that are easy to eat such as finger foods. Here are a few delicious ideas:
Spicy nuts | Pretzels | Chips | Snack mixes
Cheese plate
Mini kabobs
Focacia
Stuffed mushrooms
Party Guest Favors
Thanking your guests for attending your wedding shower is a thoughtful gesture. It doesn't have to be costly but it should be something that will make for a lovely memento. You'll find amazing ideas on our following blog posts:
Scroll down below for interesting gift ideas for your stock the bar wedding shower that your love birds will love and enjoy using over and over again. For additional information on any of these items, simply click on the link provided and you'll be directed to our preferred affiliate partners.
Don't forget to pin your favorites on Pinterest!
---
Stock The Bar Wedding Shower Gift Ideas
This modern stock the bar couples shower invitation features a stylish bar cart with liquor and wine bottles as well as drink glasses set on a white background with a black backside. This invitation design will let everyone know the theme of your upcoming celebration without spelling it out.
If your love birds don't have a designated bar area in their home, a serving cart is a thoughtful shower gift idea that can be given by the group of guests. This antiqued black finished metal frame bar cart is extremely spacious! The three open shelves are guarded by metal rails which add strength to the cart and safely store all the couple's cocktail necessities.
The new couple will be entertaining in style with this personalized acacia serving tray. So practical for daily use and special occasions, this tray features practical metal handles and free engraving options.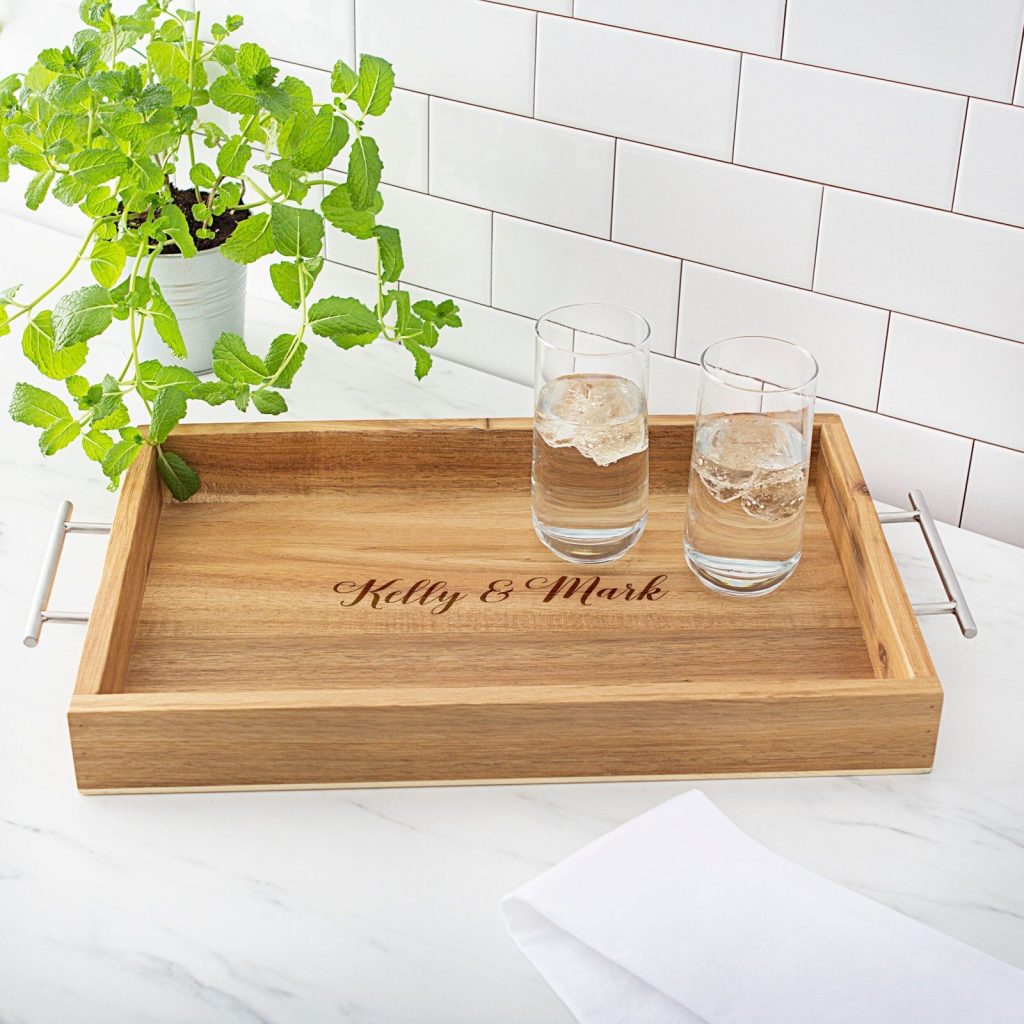 Set in a stylish natural bamboo stand, this gorgeous mixology bartender kit includes all the bar accessories required to prepare delightful cocktails. The kit is available in your choice of gold, silver, copper or black and makes for an impressive and practical gift ideas for a 'Stock the Bar' wedding shower!
Do you get annoyed by water puddles created from condensation of an ice bucket? Well this elegant gold ice bucket has a triple layered insulation to prevent condensation. The ice bucket features a unique pattern and texture and is designed to keep ice for cocktails cooler for longer. You can also chill your favorite bottle of champagne with ease.
A beautiful decanter is a must for any stock the bar wedding shower! The couple will adore this glass decanter engraved with your choice of titles and any two custom message lines. Decanters are timeless heirlooms to be passed on from generation to generation.
Let the newlyweds relax and sip in style with these modern personalized gold rim old-fashioned glasses. Choice a favorite design and personalize this set of four glasses with two lines of text.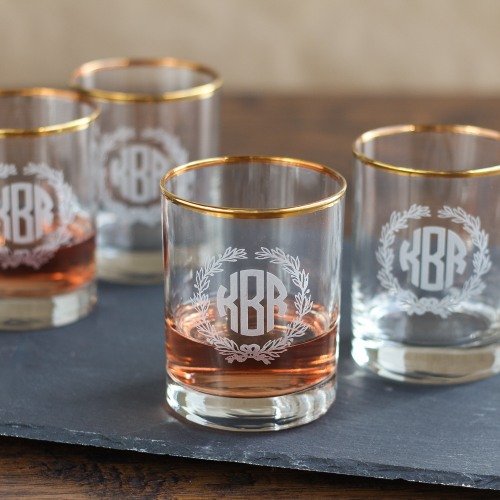 This has been a favorite of mine for so many years! A martini pitcher and glasses are an extremely elegant home decor gift idea …. not too mention how satisfying martinis are to drink! This beautiful timeless and classically shaped set (sold separately) is hand blown by glass artisans in Krosno, Poland. Every home should have a martini set!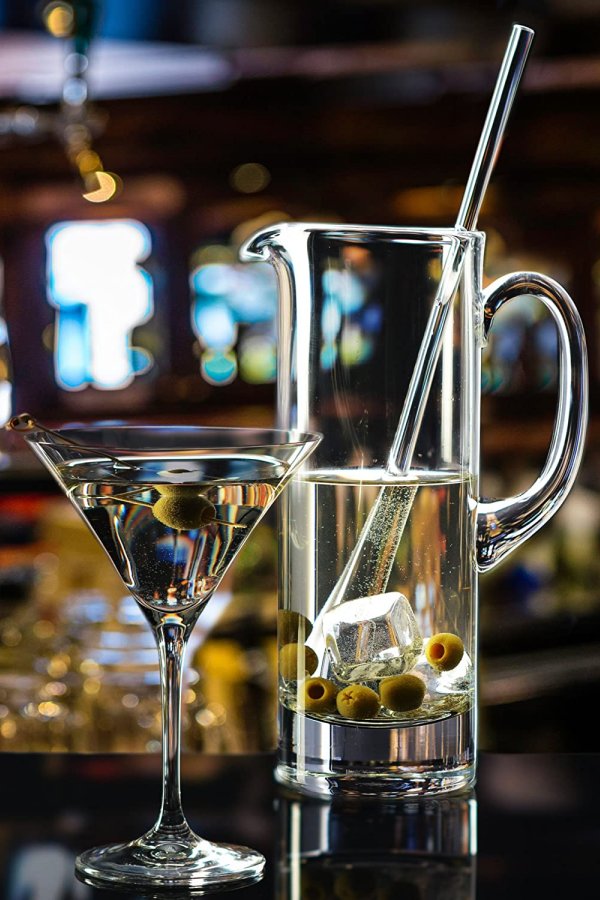 Romance and fine wine is exactly what a new couple needs for a life filled with happiness! For a charming gift idea, this elegant set of wine glasses is engraved with the couple's initials. It's a wonderful keepsake the newlyweds will enjoy using to celebrate their love.
For the newlyweds that are already living together, these unique square shot glasses hand-made by artisans make for a wonderful gift idea. From the same collection, martini and whiskey glasses are also available, making sipping your favorite drink an art form.
Why use regular ice cubes and water down your drink when you can easily use these drink chilling stones? They are re-usable and will keep your drink cold all while preserving every undertone of flavor. Whiskey stones are the perfect addition to your stock the bar wedding shower!
Entertaining guests and serving a cheese board go hand in hand. Serving cheeses, nuts, and fruits to my guests has always been a personal favorite when I host. What better way than this personalized acacia cheese board which makes for a wonderful and practical gift idea for the new couple. The set features a custom, swivel-style closure for storing the four included cheese utensils. Personalize the board with a single initial or custom text for a gift that will be used and cherished for many years to come!
Don't forget to save your favorite ideas on Pinterest for later!