Have you ever dreamed of a wedding unlike any other? If your love can't be contained on Earth, why not show it off with 'to the moon and back' wedding ideas?! From modern and romantic decorations to whimsically creative details, the journey to an extraordinary affair is closer than a few light years!
We'll explore how to make your wedding truly one of a kind with the best 'to the moon and back' wedding ideas. Each selection is sure to take your celebration to the atmosphere. From unique decor ideas to perfectly themed favors, you'll find the perfect way to wed and show love to your guests.
If you're ready to turn your wedding into an out-of-this-world event, strap in and prepare for blast-off!
For additional information on any of the items, simply click on the provided link and you'll be directed to one our favorite suppliers.
Don't forget to save your favorite ideas for later!
---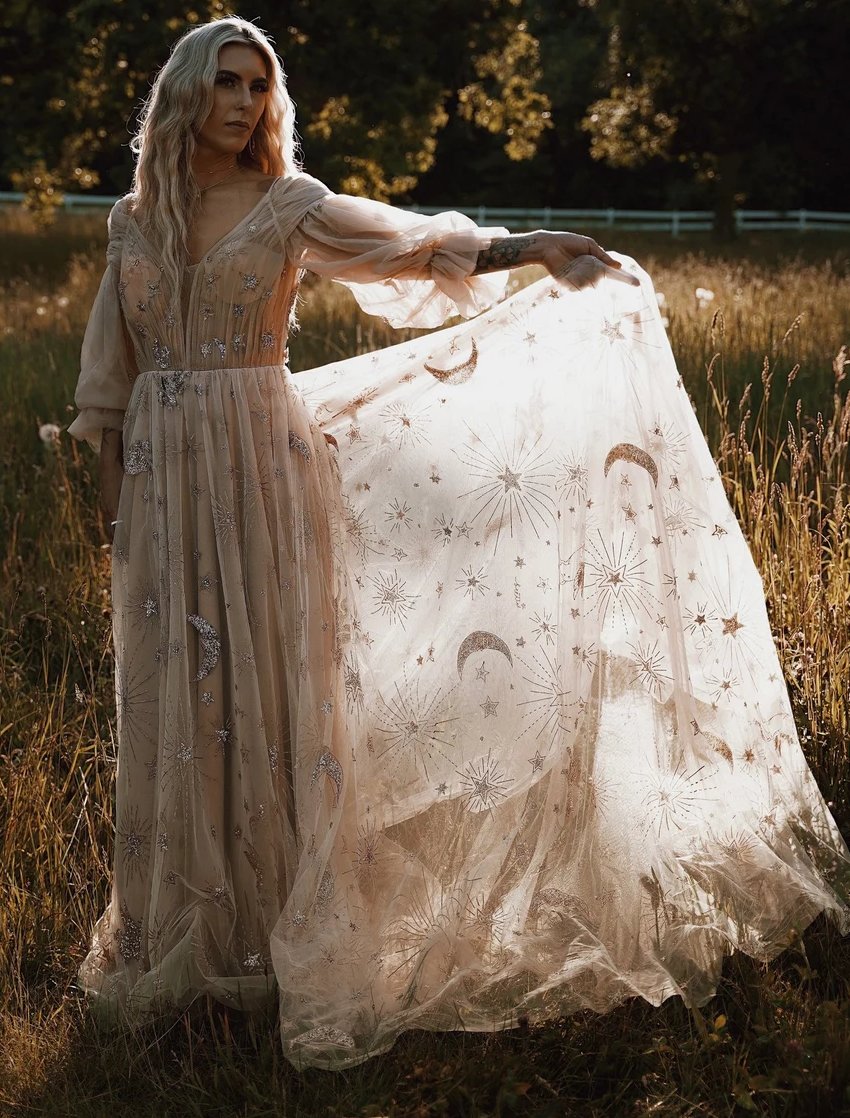 Float down the aisle in this unique and absolutely gorgeous moons and stars wedding dress. This romantic gown will convey that your love is written in the stars and as limitless as the universe. Please visit floraandlane (Etsy Store) for additional information.
Designed to be placed on an easel, this gorgeous wedding sign comes in your choice of gold, silver, or rose gold mirror finish. After the event, you'll want to find a special place for it in your home.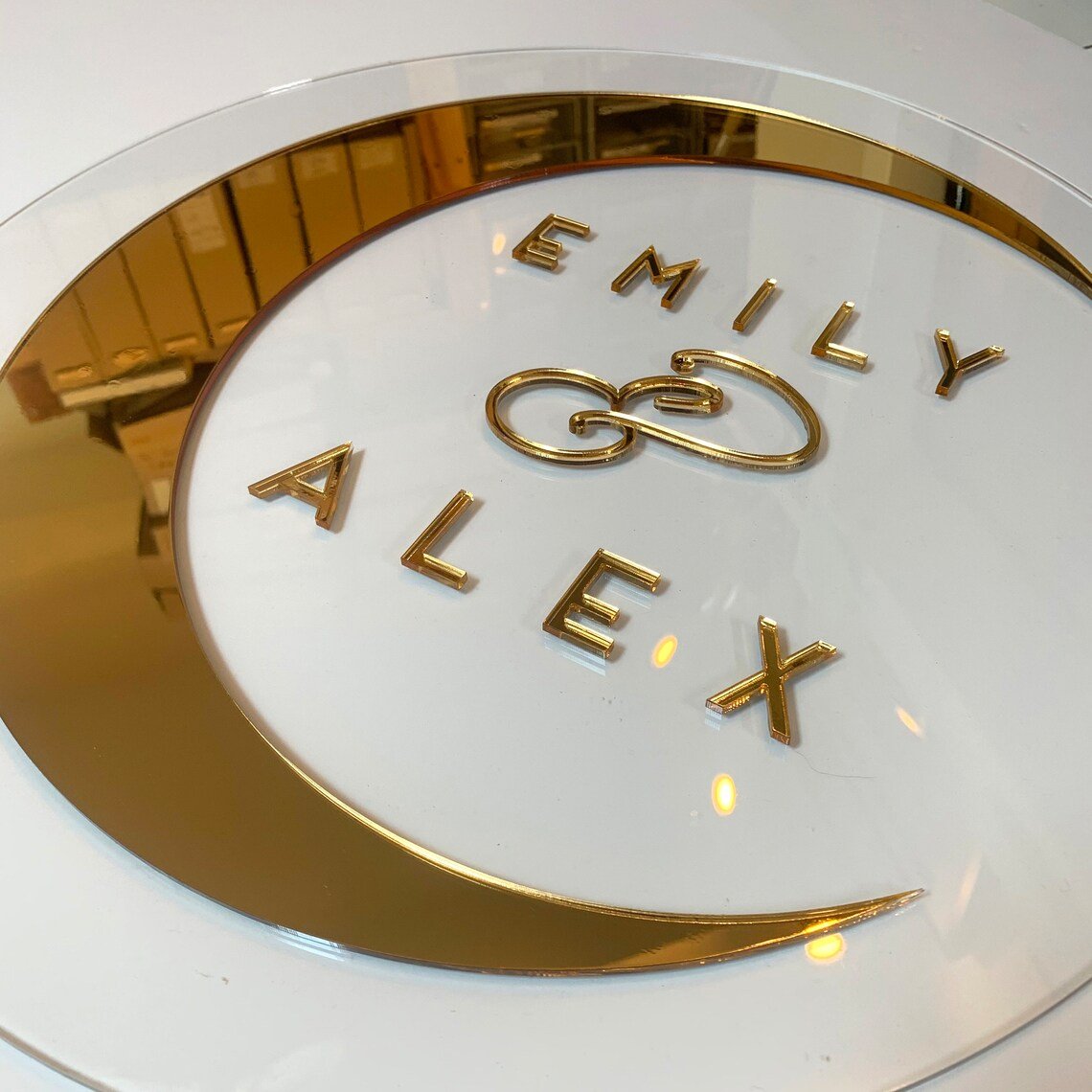 Printed on vellum, this moon and stars custom wedding menu has an incredibly dreamy and fairytale feel to it. The star design and text are written in copper foil which will add elegance to your tablescape.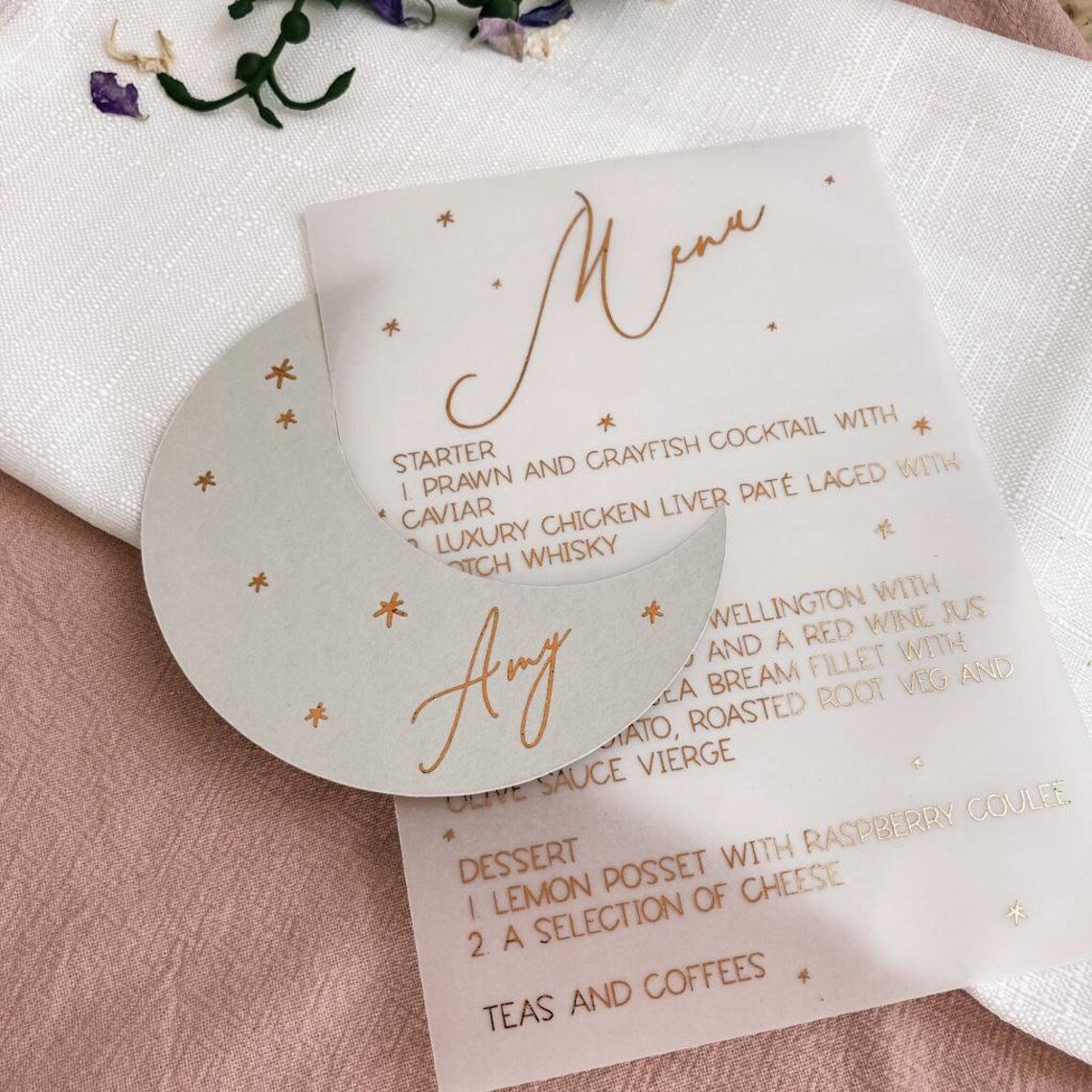 Perfectly suited for your theme, this moon shaped arch makes for a heartfelt way to exchange vows on your special day. Easy to assemble, the metal frame comes in several sizes and your choice of white, gold, silver or black. You need only decorate with flowers to perfectly harmonize it with your color theme.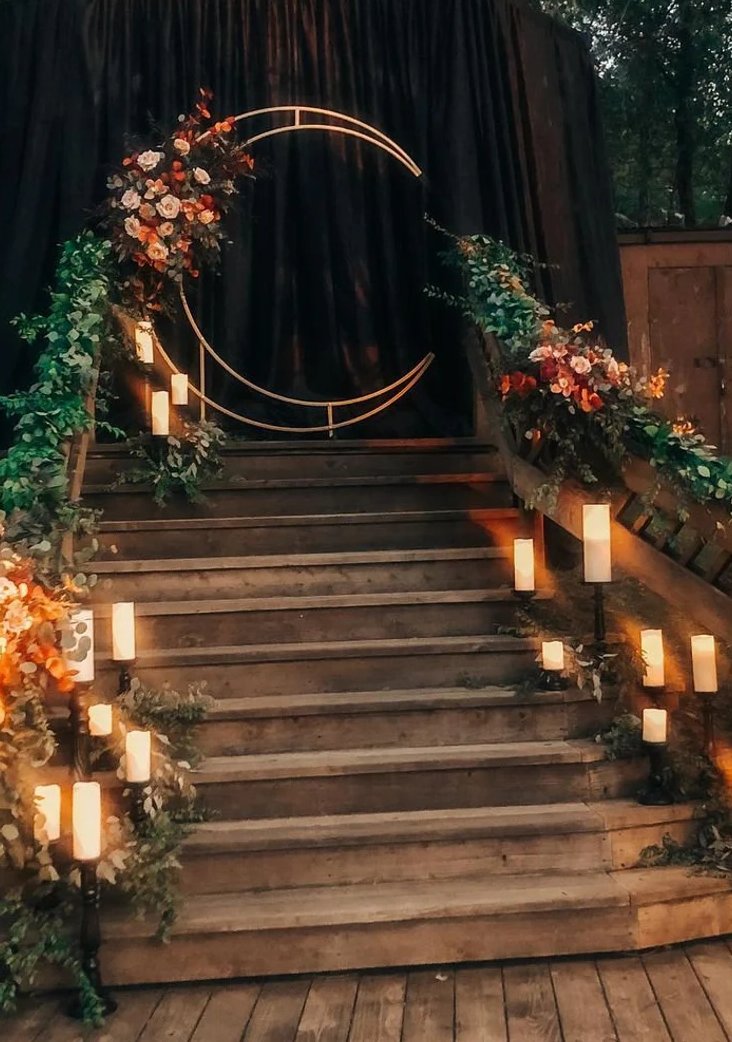 Assign your guests to their seats with this lovely moon & star seating chart printable. You need only edit the file, save, download and print at home or a nearby printer.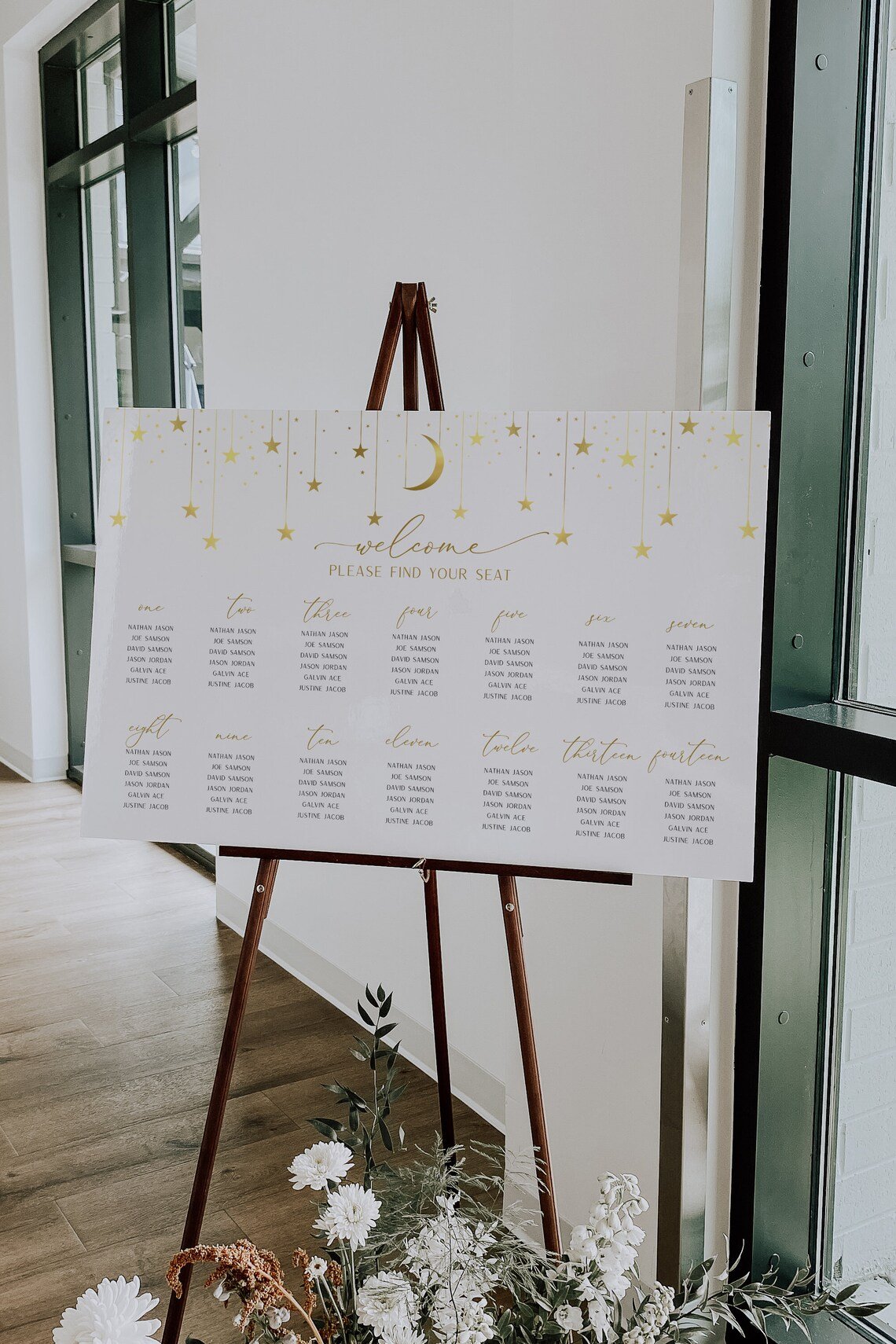 Enhance the celestial theme in your venue with this 'To The Moon & Back' neon sign. Shaped as a crescent moon, the sign is available in three sizes in your choice of a clear, silver or gold backing. New-wave? Festive? A clear statement piece? We think so!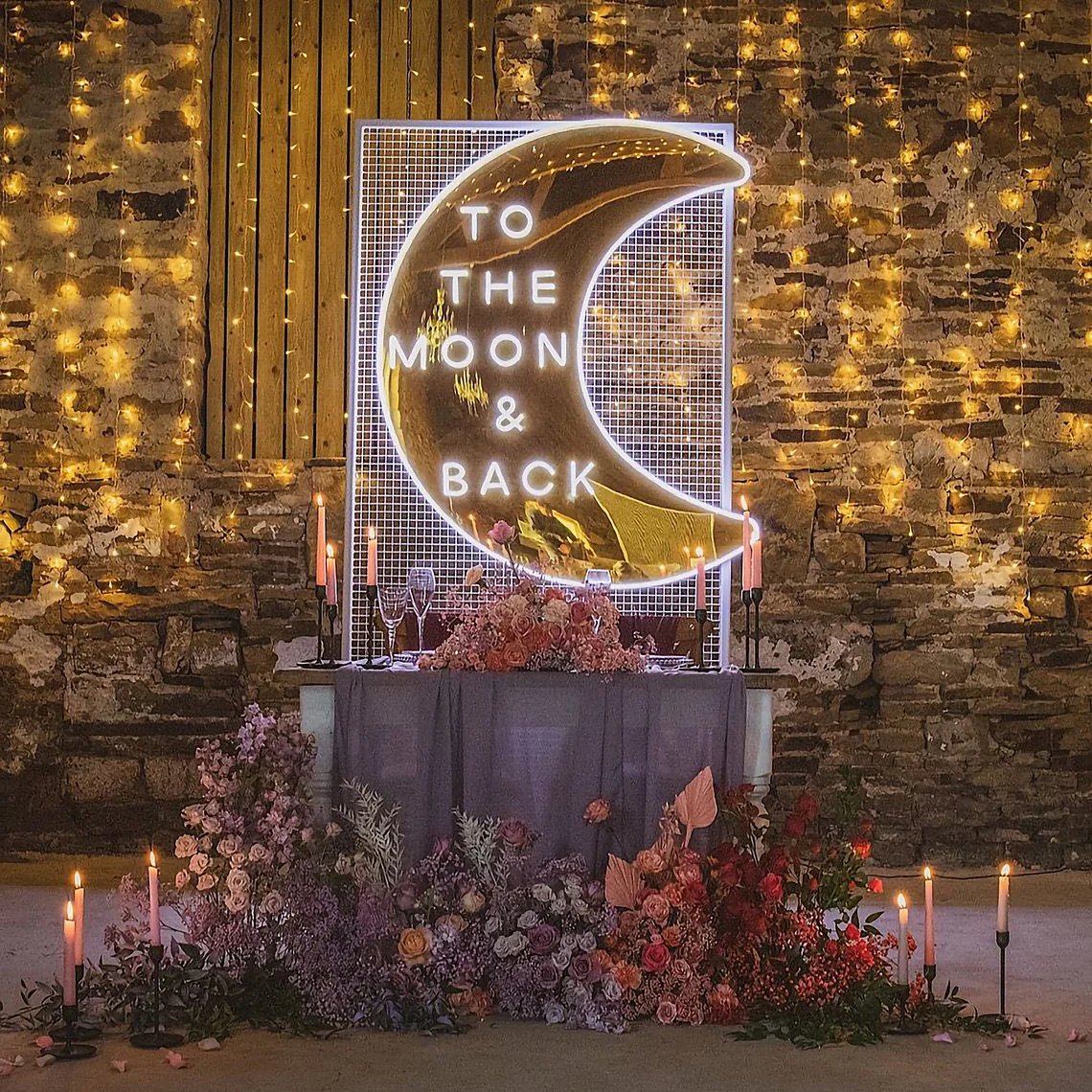 This 'Love you to the Moon and Back' topper is a must for your wedding cake. The crescent moon shaped topper is made of acrylic and comes in your choice of a silver or gold mirror finish. You can't go wrong with this stylish and classy accent!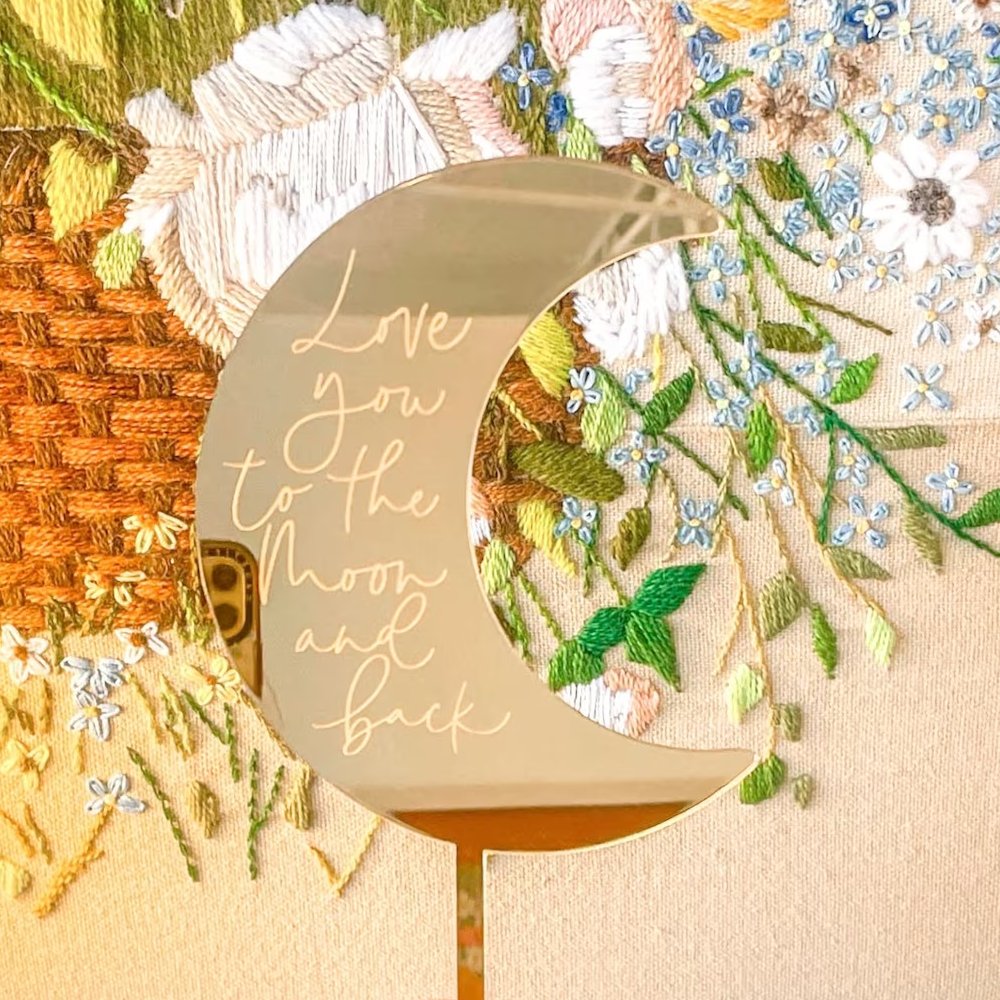 Elevate the celestial feel of your tablescape with these whimsical crescent moon table numbers. Available in your choice of oak veneer or shimmering gold, these table numbers are sure to impress your guests.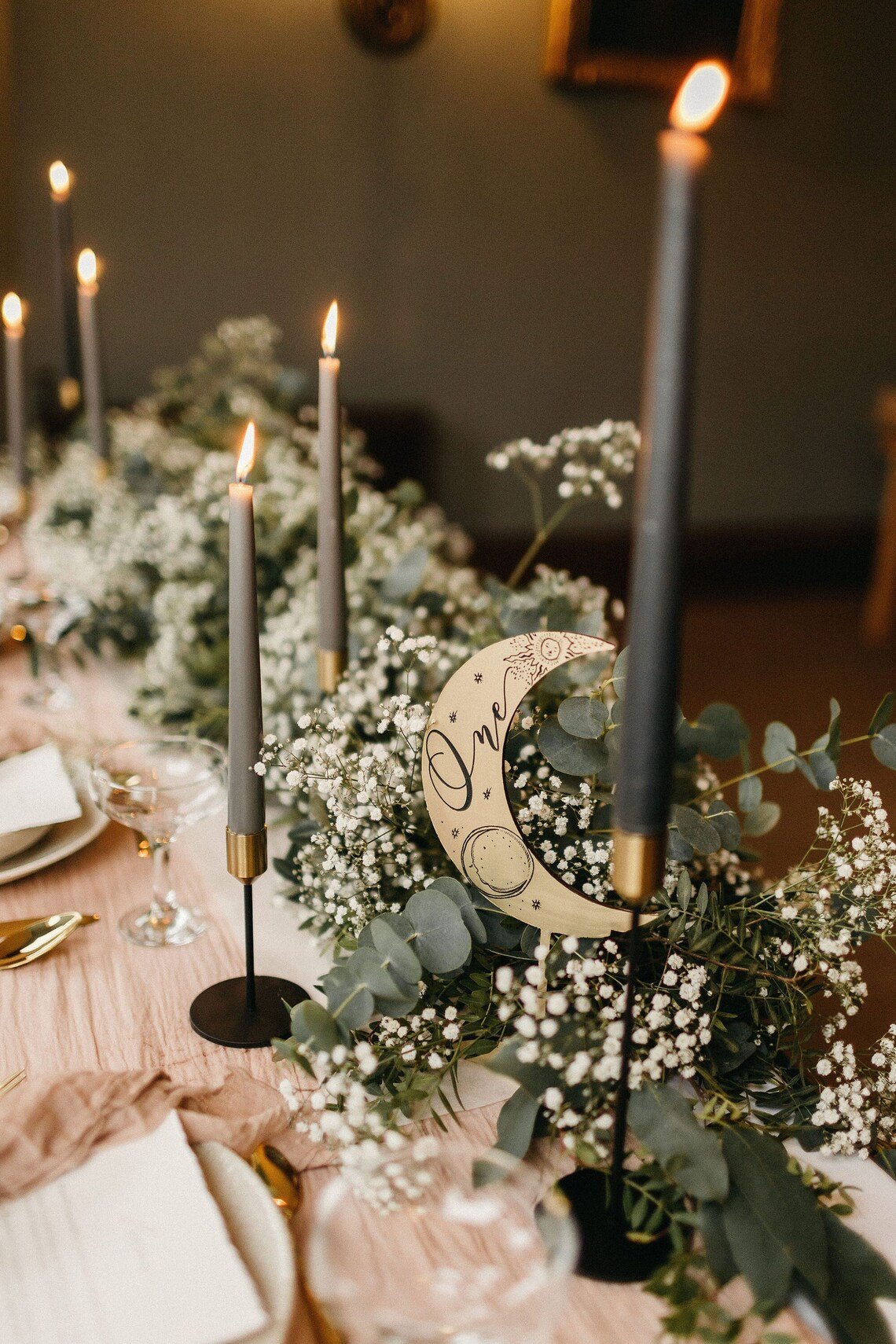 Create surprisingly stunning centerpieces by filling glass vases with these glitter gold floating stars. Each kit includes 22 stars in a variety of sizes, two sting lights, and floating gel. The stars are also available in white but we recommend gold for the best mood-enhancing experience. Your guests will be entranced by the slow movement and reflective quality of the stars.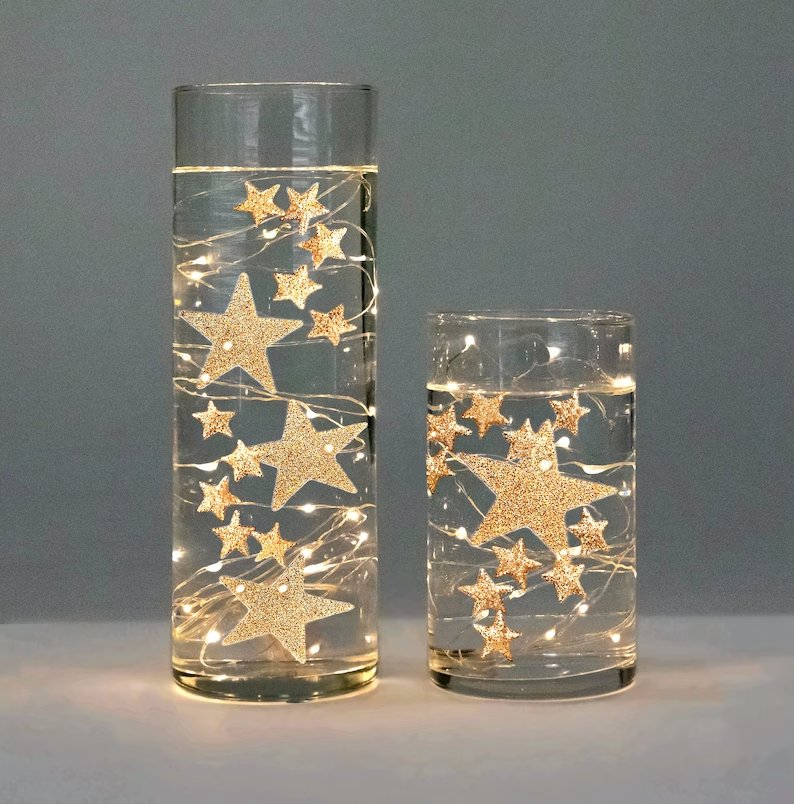 Aside from being the perfect complement to your theme, these place cards adorned with a moon are a wonderful way to assign a seat to each guest. Made of Birch and available in an array of colors, each place card is laser cut with a name. After the event, let your guests bring their place card home as a cherished memento of your big day.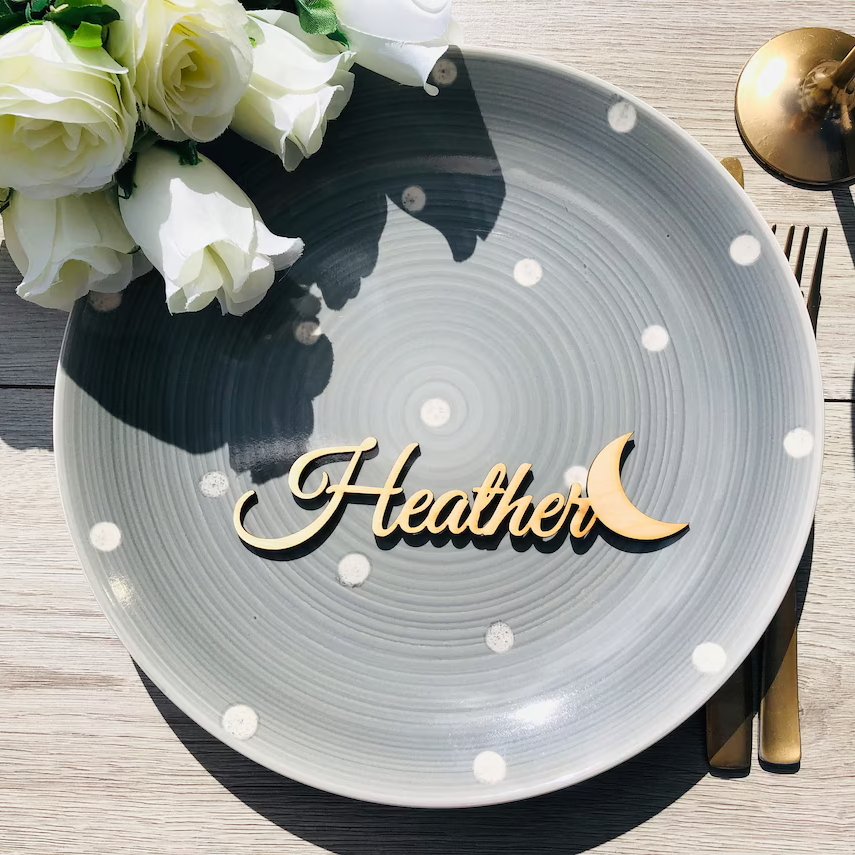 Sometimes it's the small details that add the most beauty and refinement; these alluring moons and star charms are a perfect example! The set includes 4 moons and 22 stars in your choice of gold, silver, rose gold, or a mix of gold and silver. With the charms spaced out on your cake, it'll match the starry sky! (Please note that the charms aren't edible.)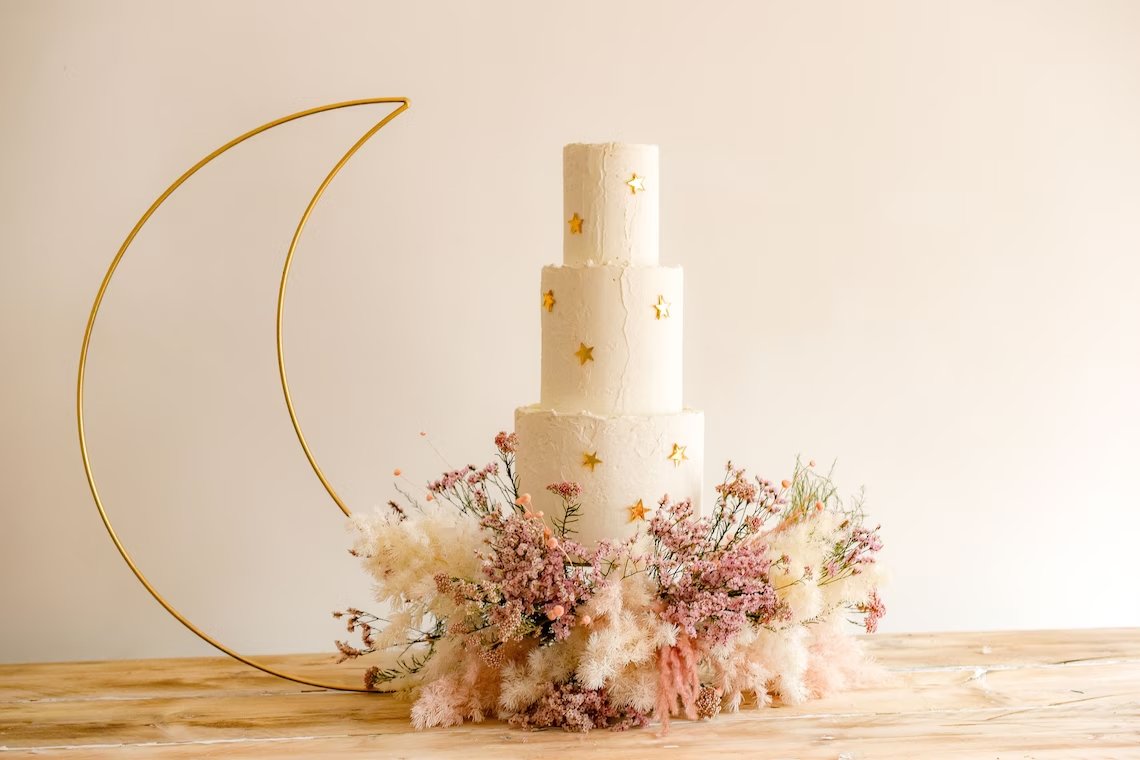 Custom made in an array of stylish colors, this moon and star guest book is engraved with your names and the date of your wedding. Guests' need only write their wishes and drop them into the box: You'll enjoy displaying the frame at home later as a precious keepsake of your big day.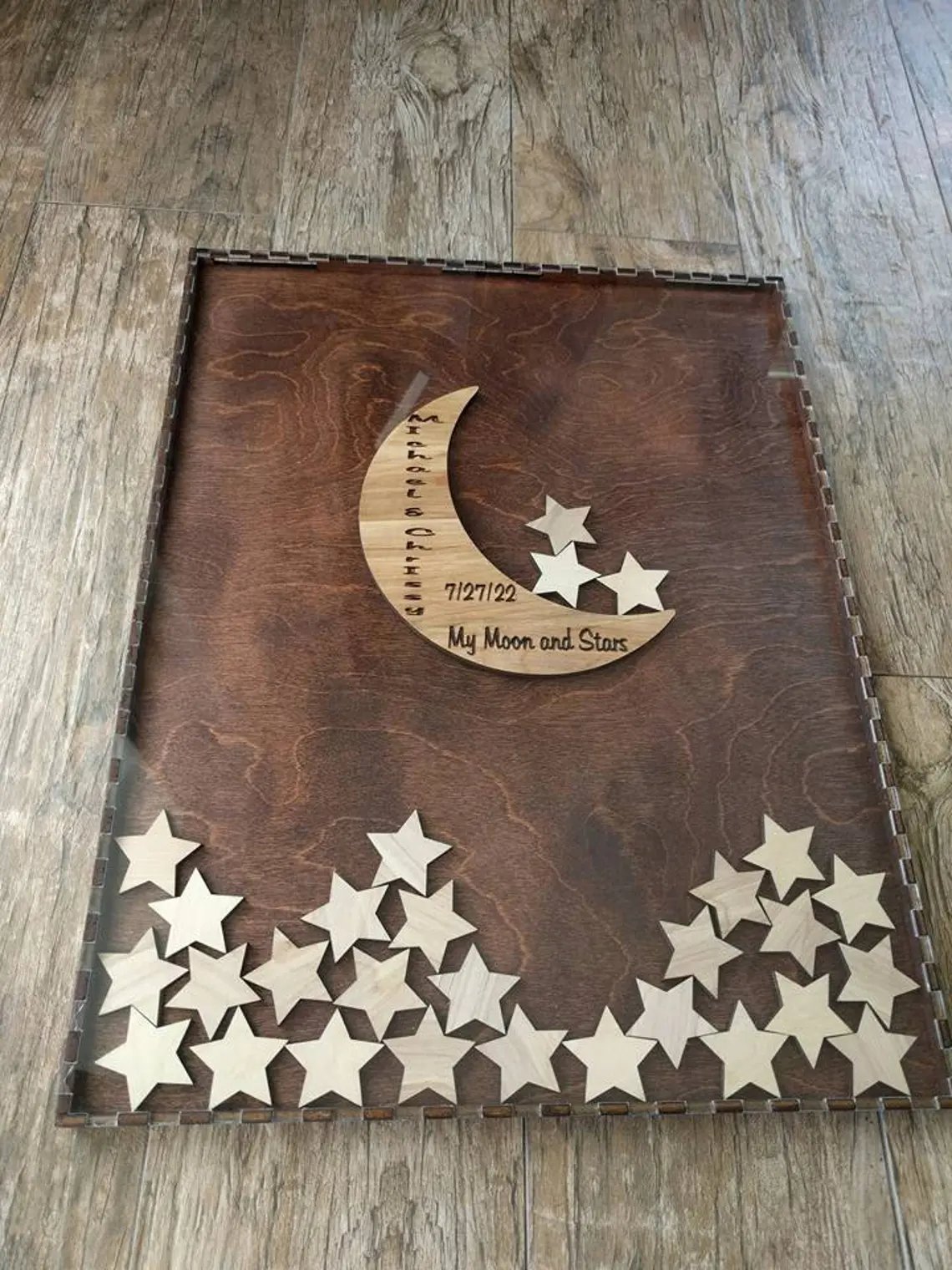 Elevate the look of your sweetheart table with this gorgeous moon lamp. The moon shaped frame suspends a ball, heart, or star ornament.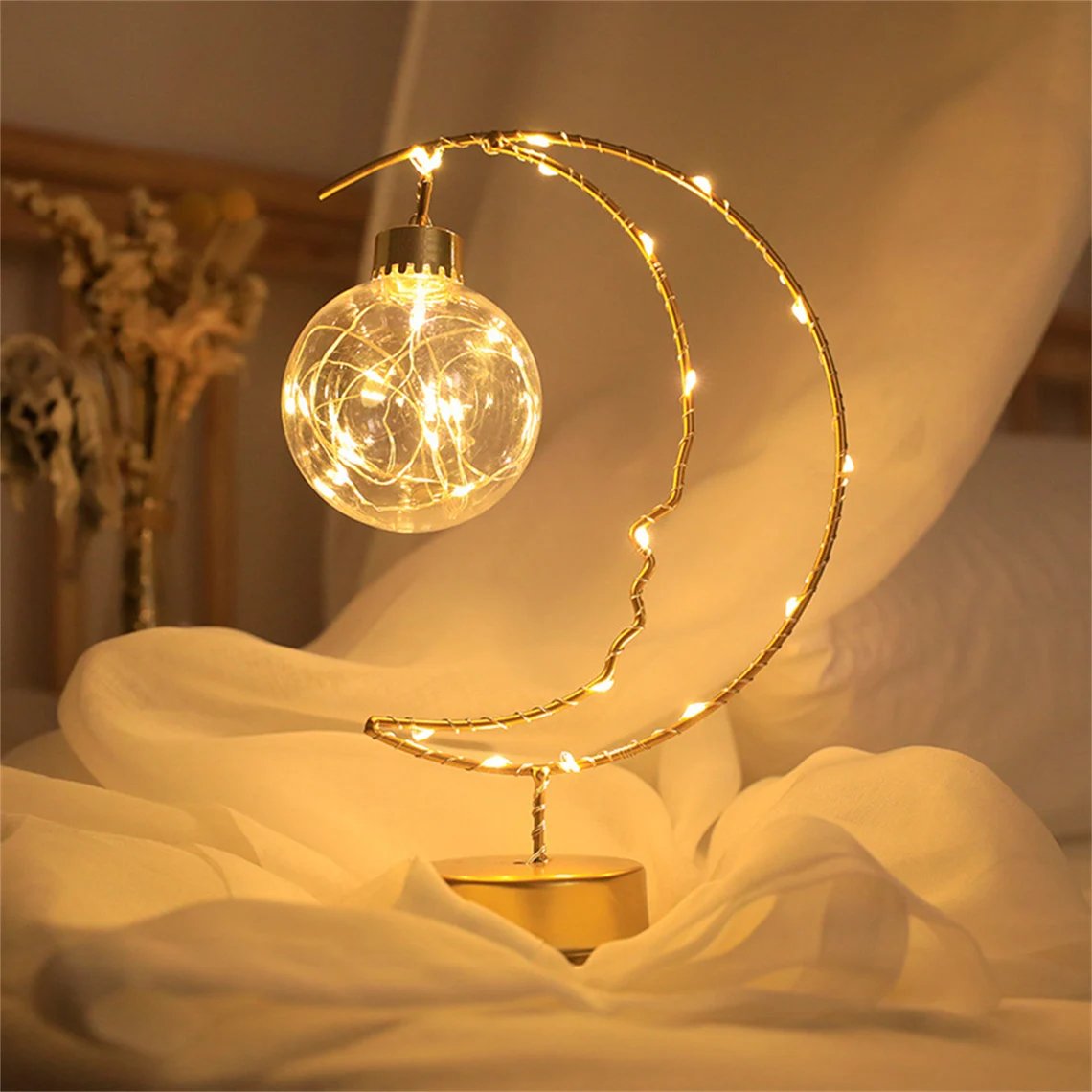 Add a magical feel to your sweetheart table by using these moon and star Led string lights for background. The string lights feature 8 light modes and can be hang on walls, windows, doors or ceilings.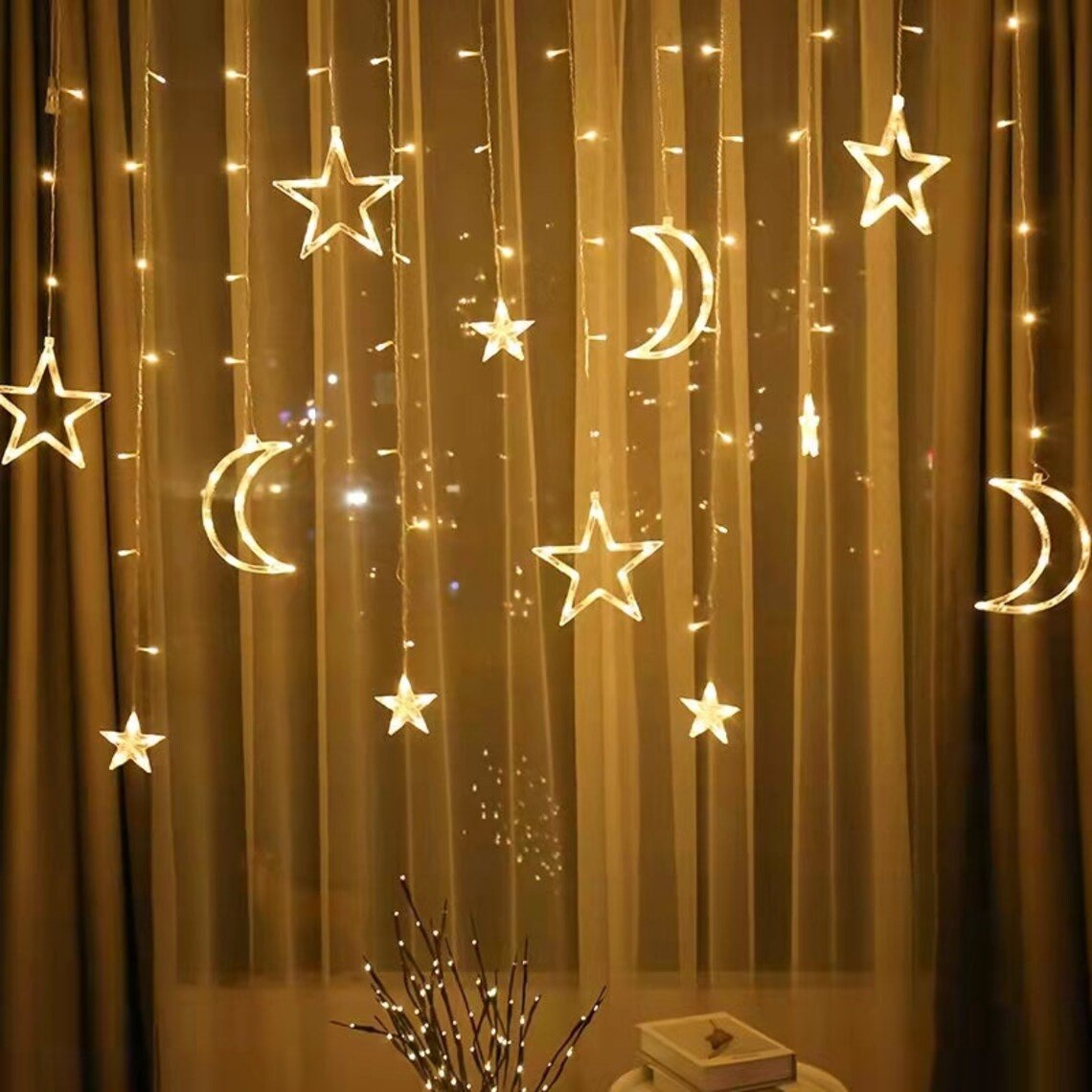 You may also like: