Discover meaningful unity ceremony ideas that go beyond simply lighting a candle. Exchanging vows is already a highly emotional experience. You can add an extra dimension of meaning by selecting a unity ceremony that best expresses your love, commitment and individual personalities. You'll know when you've found the one that rings true with both your spirits!
A unity ceremony ritual is performed right after the exchange of vows and rings. It's a beautiful way to uniquely express the promise you're making to each other, as well as a wonderful way to infuse ancestral tradition.
From a unity candle ceremony to love letters, we've compiled a list of meaningful unity ceremony ideas for the moment your lives become forever intertwined!
Scroll down for a glimpse at unique unity ceremony alternatives for adding an extra layer of meaning to your ceremony. For additional information on any of the product, simply click on the provided link and you'll be directed to our preferred artisans, who truly care about the quality of their work.
---
Unity Candle Ceremony
The unity candle ceremony comes right after the couple exchanges their vows. As a symbol of their commitment to each other, they each take a lit taper candle and simultaneously light the 'Unity candle'. (A pillar candle.) By tradition, the mothers' of the couple light the taper candles before the ceremony. Once the unity candle has been lit, the couple extinguishes their individual taper candle. This symbolizes how they no longer exist without each other. This ritual is a poignant, moving and romantic demonstration of commitment.
If the flame symbolism really got you, this tasteful and elegant unity candle ceremony set will be the perfect companion for making it happen. We wouldn't want such a profound gesture to be visually undermined, which is why the hand-stamped touches of personalization are classy and refined. The set includes a candle and monogrammed saucer for each of the newlyweds and a 'Unity Candle', with the couples' last name and wedding date stamped on the base. The couple's initials take the spotlight on a plaque hung in the middle of the 'Unity Candle'. The filling for this script is available in gold, silver, black or white.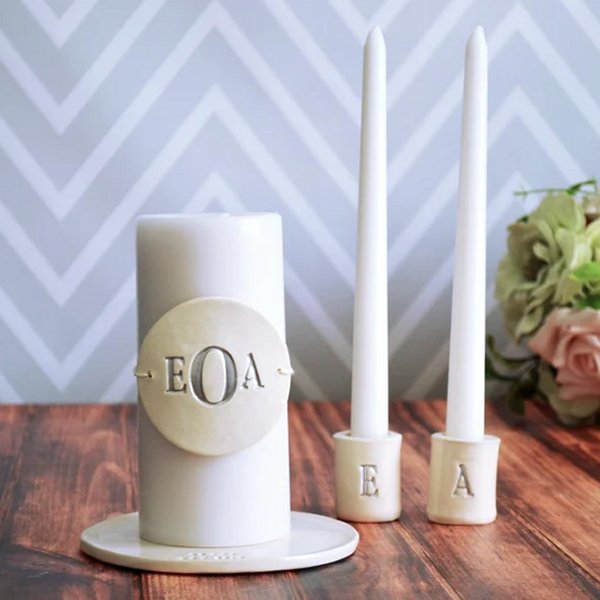 Unity Sand Ceremony
Symbolizing a joining of lives, the Unity Sand Ceremony is a ritual where each newlywed has a container of sand. Then they take turns adding layers of their sand to a larger communal bucket. The colors of sand can be meaningful for you (Ex: white symbolizing devotion, pink/red symbolizing love and passion), or they can simply match your color scheme. Since there are many styles of sand displays, consider if it'll work with your home décor. This tradition makes for a wonderful keepsake to display!
It's can also be very meaningful to include other family members in the ceremony, particularly in blended families. The kid(s) of each newlywed can take part, which makes for an even more heart-warming union!
This personalized photo glass block unity sand ceremony set is easy to fill during the ceremony and doesn't require a funnel. The set includes two personalized pouring vases and 3 lbs of sand in your selection of two colors. The display has a lid to safely bring home and place in a spot of prominence! (More containers and colors of sand are available through this vendor.)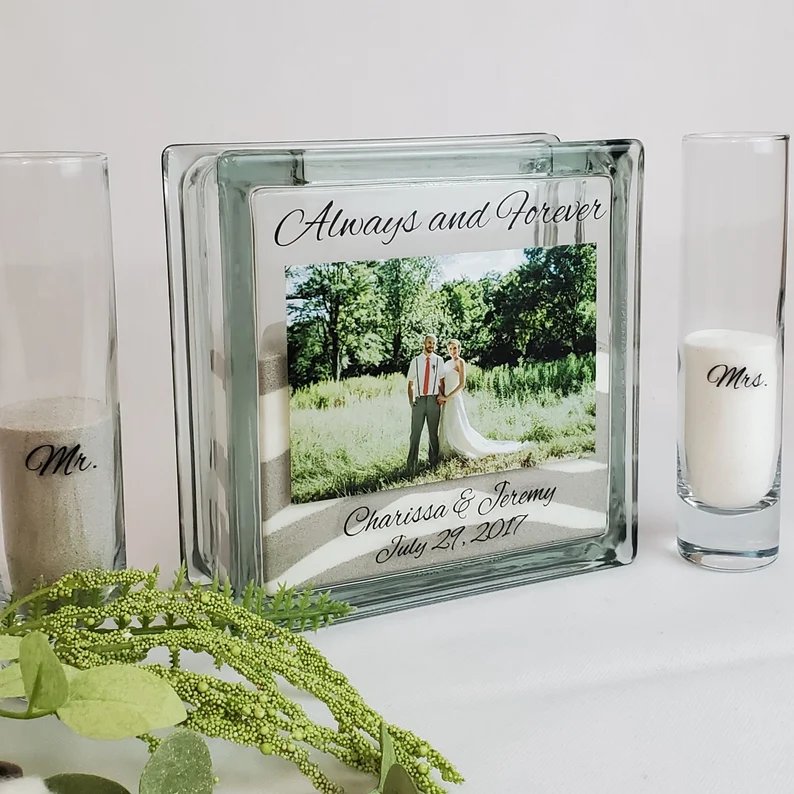 Love Letter Unity Ceremony
A love letter unity ceremony makes for a truly significant and romantic ritual that symbolizes the promises made to one another. Prior to the wedding, the bride and groom each write a heartfelt love letter and seal it in away in an envelope. During the unity ceremony, the couple places their sealed envelopes in a box containing 2 glasses and a bottle of fine wine. This box is to be opened on a milestone anniversary of the couples' choosing.
Perhaps you're wondering what will happen if the couple is struggling and it looks like the milestone won't be reached. Our best advice is for the couple to open the box early as a reminder of the reasons you fell in love with each other!
Parents of the couple, family members and close friends can also join in the ritual by writing their sentiments and locking them away in the same box.
If a love letter unity ceremony is appealing, you might fall in love with one of our favorite handcrafted, personalized wine boxes.
1. The natural wooden wine box features a compartment to fit a standard-sized bottle of wine, and a larger area to store love letters and wine glasses. ArtificerWoodWorks (Etsy Store)
2. Made of solid walnut, the Two Locks wine box has a beautiful monogram engraved at the top. What's especially unique with this box is that you'll also take part in the Love Lock Unity Ceremony. MossyHoller (Etsy Store)
3. Excluding the wine itself of course, the 'Personalized Wine Box' includes all you need to encapsulate your thoughts and feelings with a Love Letter Unity Ceremony. The wine glasses are etched with the inscription 'I do' and 'I do too', and the box includes stationery and wording instructions for the bride and groom LoveandLuxHandmade (Etsy Store)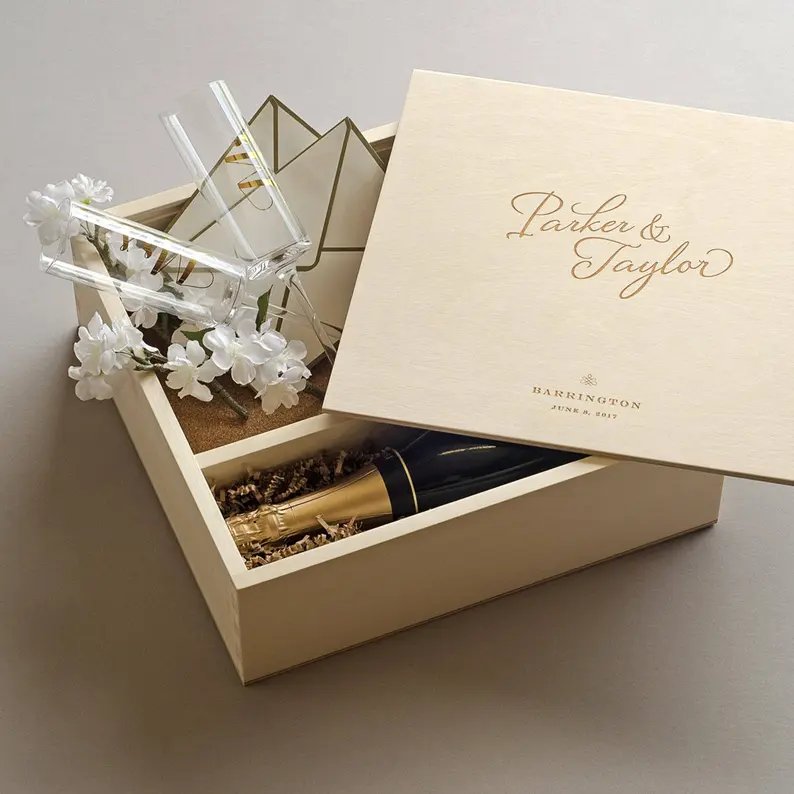 Love Lock Unity Ceremony
Padlocks have been used for centuries by lovers declaring their love for each other. Locking a padlock to metal railings of bridges around the world hold much romantic symbolism. A Love Lock Unity Ceremony allows the newly married couple to express their love and commitment along the same tradition. During the ritual, the couple locks their respective padlock representing the end of their separate lives. Consequently, their new journey is a unified path. If your wedding ceremony is in your backyard, try finding a permanent structure for the padlocks.
For a Love Lock Unity Ceremony, these padlocks come with 2 keys and are available in five sizes. They also come in your choice of antique looking gold, antique or copper. If you wish to display your locked padlocks at home, this tree structure makes for a wonderful keepsake. The wood frame comes in your choice of color.  TheLoveLockShop (Etsy Store)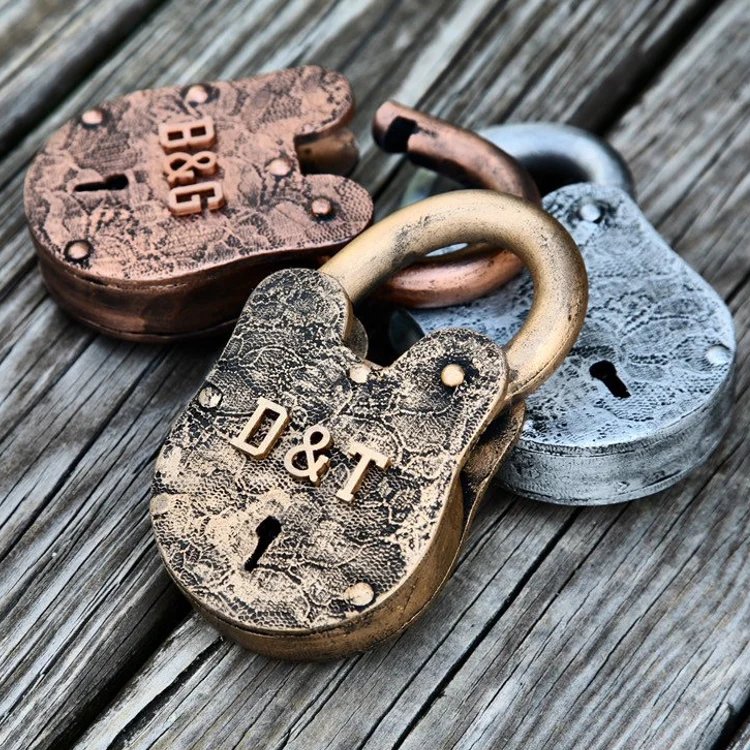 Tree of Life Unity Ceremony
This Unity Ceremony is like a Love Lock ritual with the difference of the couple affixing one padlock to a 'Tree of Life'. The padlock has no key so can only be locked once to symbolize eternal love.
This beautiful wood and metal tree of life is hand crafted and offered with an ivory or black finish. The lock is shaped like a heart and features your personalized script. This statement piece makes for a significant keepsake of your commitment as newlyweds.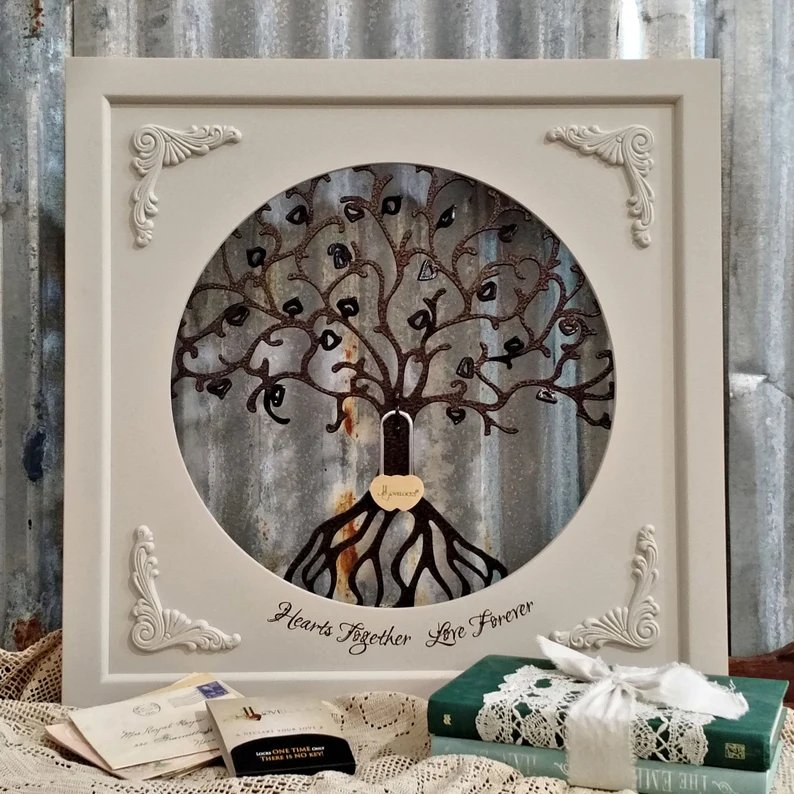 Hand-fasting Unity Ceremony
From Celtic origin, the Handfasting unity ceremony is a meaningful and visually appealing ritual that couples around the world are embracing. As they stand face to face to exchange rings and vows, the couple has their hands tied together with braided cords or ribbons. The standard hand-fasting braid consists of 3 pieces in various colored ropes and ribbons to symbolize some of the commitments they wish to make to each other.
This gorgeous hand-fasting cord is hand-made to order in a beautiful combination of greens, gold, and lace. The cords are available in a wide array of colors and textures to add the perfect special message to your wedding ceremony.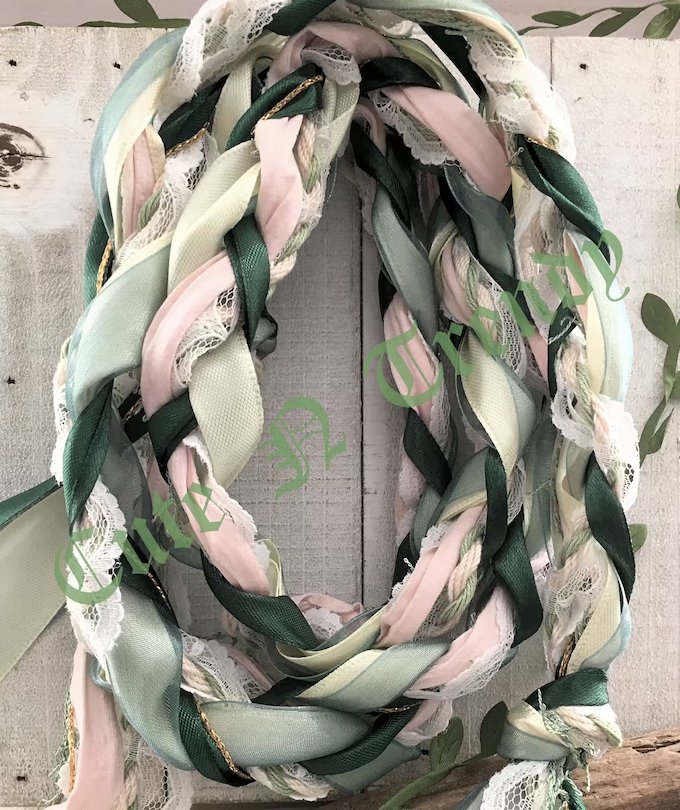 Lasso Unity Ceremony
The Lasso unity ceremony is performed right after vows are exchanged. A lasso/rope is placed over the shoulders of the couple either by the officiant or godparents to symbolize the couples' everlasting union. A lasso is also shaped like an infinity, which is absolutely perfect!
Made of two separate rosaries joined with a crucifix at the center, this lasso rosary features Czech glass beads and faux pearls. It can also be custom made with Swarovski pearls.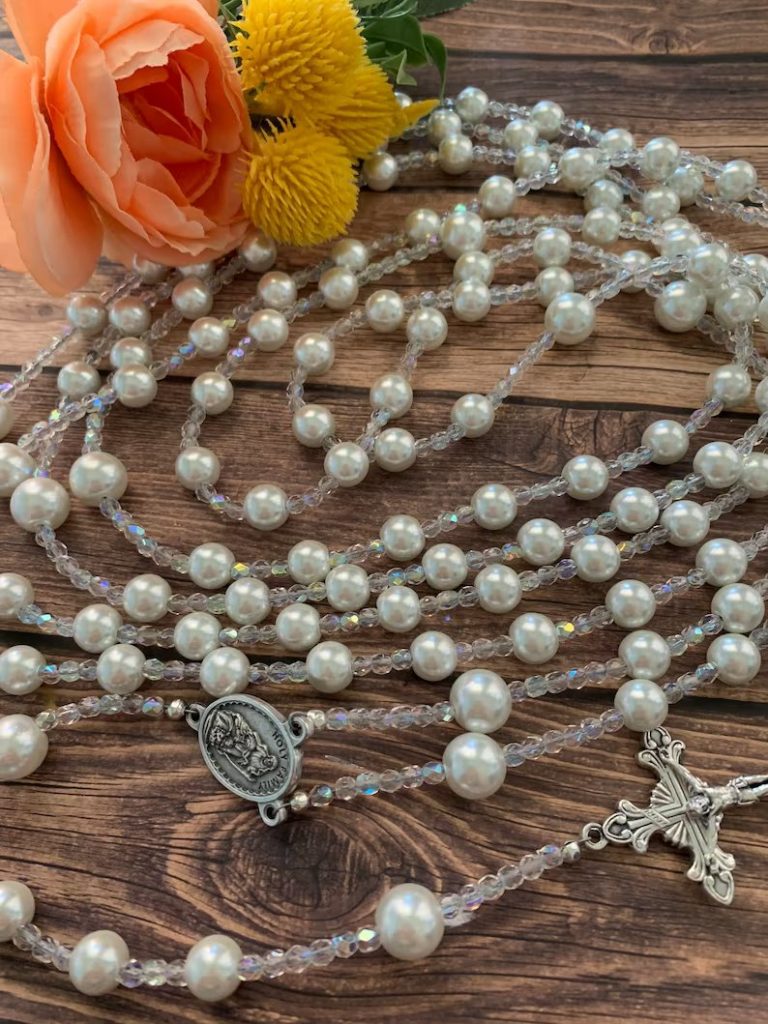 Unity Painting Ceremony
To add artistic flair to your ceremony, a unity painting ritual makes for a cherished memento of becoming one. The canvas represents the day of the wedding and the couple paints with their chosen colour. As the two colors blend, it symbolizes the couples becoming one.
This canvas comes in a 12″ x 12″ standard size but custom canvas sizes are also available. The first letter of the couples' last name's is imprinted in the canvas so when paint is applied, the letter pops out.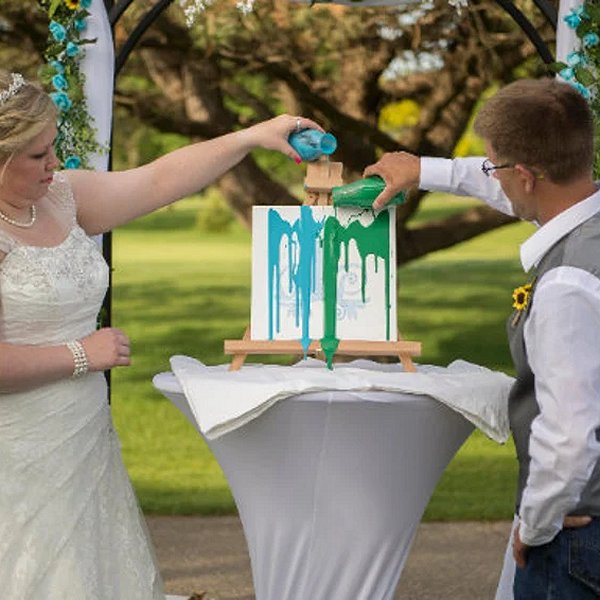 Wine Unity Ceremony
A meaningful Wine unity ceremony symbolizes the blending of two lives into one. Similar to a sand ceremony, after the exchange of vows and rings, wine is poured into two glasses. The couple then pours their wine into a larger glass for the wines to blend. Finally, they each drink from the Unity glass, making for a romantic gesture and ritual. It's custom for the bride and groom to each have a different bottle of wine for the ceremony, but if you're concerned about the taste, getting two the same should do the trick!
This beautiful set of wine glasses has what it takes to make your Wine Unity Ceremony extra special! Engraved with lovely grape ivy, the set includes three crystal wine glasses: Two smaller glasses with the first names and wedding date, plus a larger glass that includes both first names, a last name and the wedding date. Cherry wood charms are also included in a variety of shapes, making for a unique ceremony and keepsake!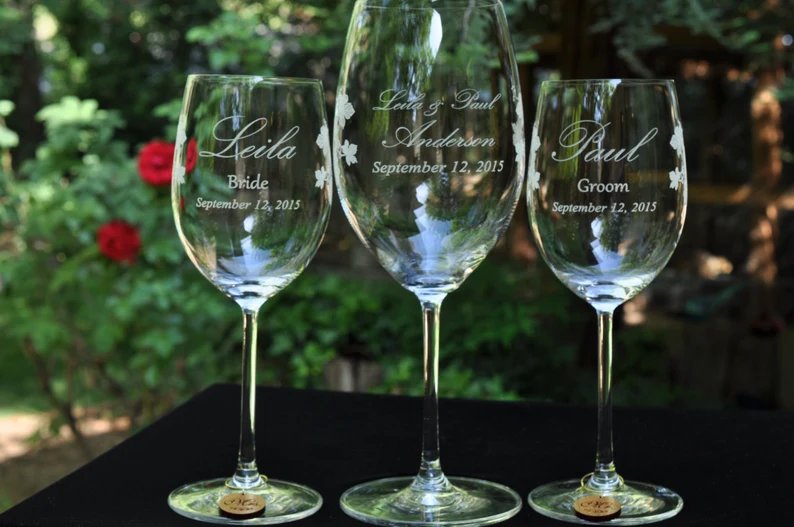 Jumping The Broom Unity Ceremony
The multicultural origin of jumping the broom dates back to the 18th century when enslaved African Americans weren't legally allowed to get married traditionally. As a symbolic ritual to celebrate their union, couples would hold hands and jump over a broom to celebrate the beginning of their new life. Jumping the broom is an important ritual today for couples who want to respect and honor their ancestors.
Custom made in the color of your choice and adorned with artificial flowers, ribbons, beads, and pearls, BroomsBaudlesNBrides is THE place to go to find your perfectly unique and exquisite jeweled wedding brooms!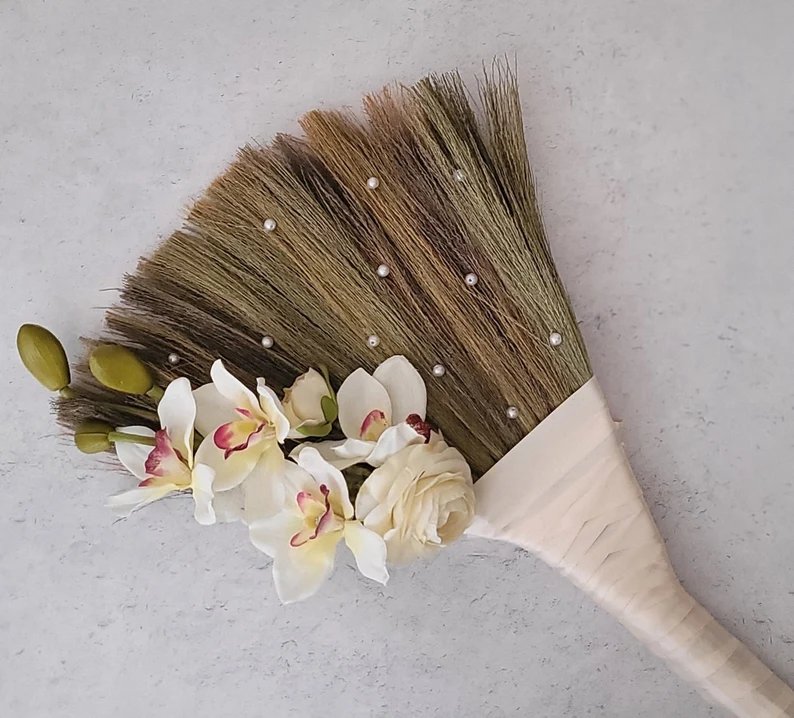 Cord of Three Strands Unity Ceremony
Also known as Unity Braid, the cord of three strands symbolizes lifetime unity is a meaningful ritual idea well-worth considering. The three cords each have a meaning. One represents God and the other two represent the couple getting married. Braiding signifies the joining of the couple before God and is a reminder that we're stronger together.
This wooden sign with the heartfelt saying "A Cord Of Three Strands Is Not Easily Broken" is available in your choice of a white wash or dark stain finish. The sign makes for a unique and meaningful unity ceremony and a cherished reminder of your special day.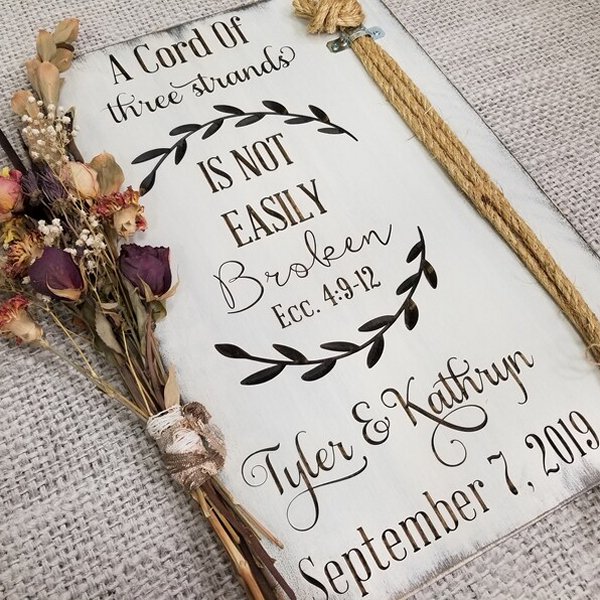 Blended Family Unity Puzzle Ceremony
Celebrate the joining of two families by having everyone take part in the ceremony with a meaningful blended family Unity Puzzle. Just as the family members are unique with their own special qualities, each puzzle piece is different. Once the puzzle is complete with every family member in place, it creates a beautiful picture to represent a strong and tightly knit family.
This blended family unity puzzle is handcrafted from wood and custom designed to express who you are as a family. Choose the shape, colors, font, theme and any other details you want incorporated into the puzzle. This idea truly makes for an heirloom-worthy piece to pass down to future generations!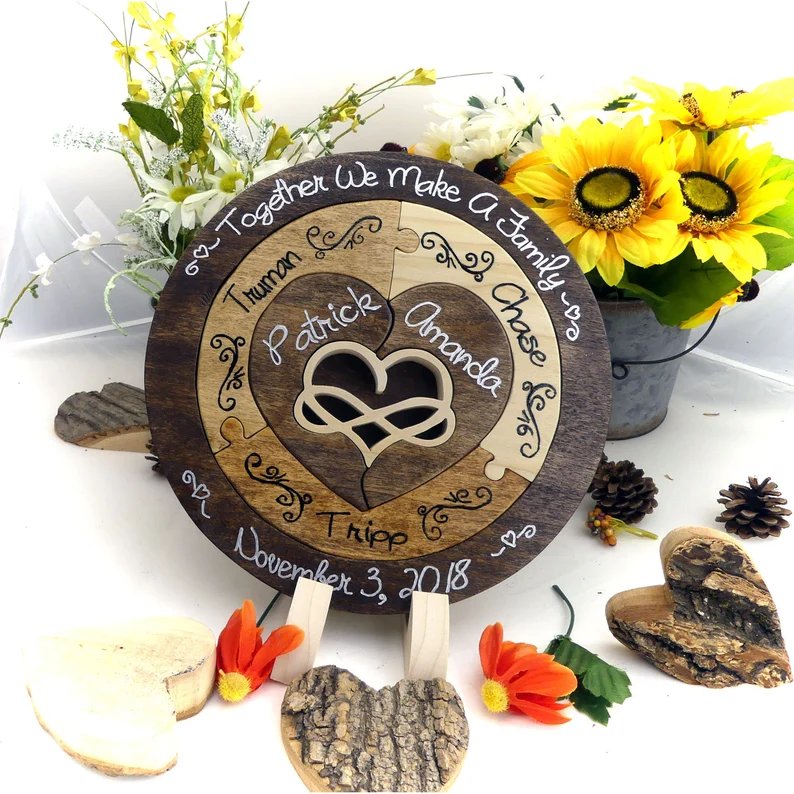 Infinity Heart Unity Ceremony
Commemorate your love for each other by assembling this infinity heart unity ceremony wood sculpture. Each piece of the infinity heart has meaningful symbolism: Traditionally, the outer heart represents the man with his arms protectively wrapped around his wife. The inner heart represents the woman who is the center of the home. The two hearts are joined as one to represent the couple's commitment to each other. Lastly, the joined hearts are placed upon the infinity symbol representing eternal love. (For a more modern spin, don't let the gender associations pin you down. The pieces can symbolize both members of the couple protecting and supporting each other. Either piece, alone, would be incomplete.)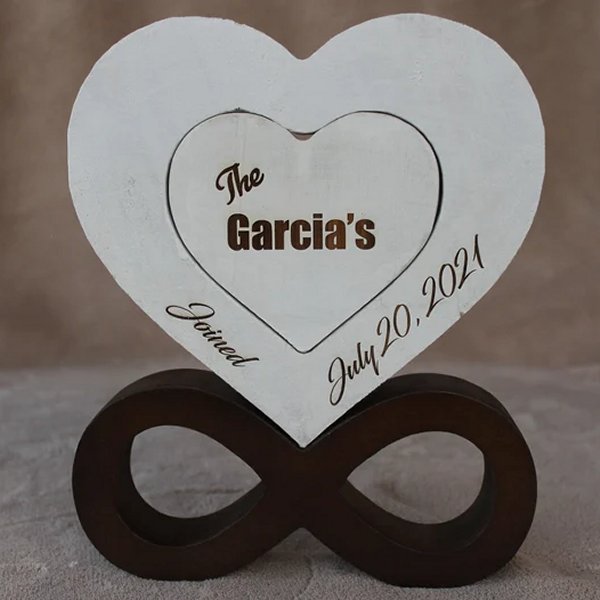 You may also like: