Highlight your walk down the aisle with beautiful decor to celebrate your personalities as a couple as you pledge commitment to each other. Exchanging vows is one of the most profound and amorous moments of your wedding celebration. The perfect setting will enhance the tremendous sentimental intensity that you'll cherish forever.
Keeping your ceremony aisle decor in a similar style and feel to your reception conveys a sense of continuity and harmony. You'll not only avoid clashes between wedding areas, but you'll also see the practical benefits! Arrange it so that close relatives or members of your bridal party carry ceremony decorations that can be used in the reception area. The welcome sign, lanterns, and flower vases can all be repurposed which saves money. The flower arrangement at the altar can be used to accentuate your sweetheart table for example.
Another great way to save on the cost of decorations for your ceremony is to decorate every 3 or 4 pews instead of decorating them all. The same logic can be applied with chair covers and sashes by setting them on every other chair. Sometimes less is more!
Continue below to view a round-up of our favorite decoration ideas to highlight your walk down the aisle! For additional information on any of the items, simply click on the provided link and you'll be directed to our preferred affiliate merchants.
Don't forget to save your favorite pin ideas for later!
---
Symbolizing love and romance, wisteria garlands can be used to beautify your wedding arch, or hung indoors or outdoors wherever needed. Made of silk, this wisteria garland is 1.8 meters long and is available in your choice of seven lovely colors.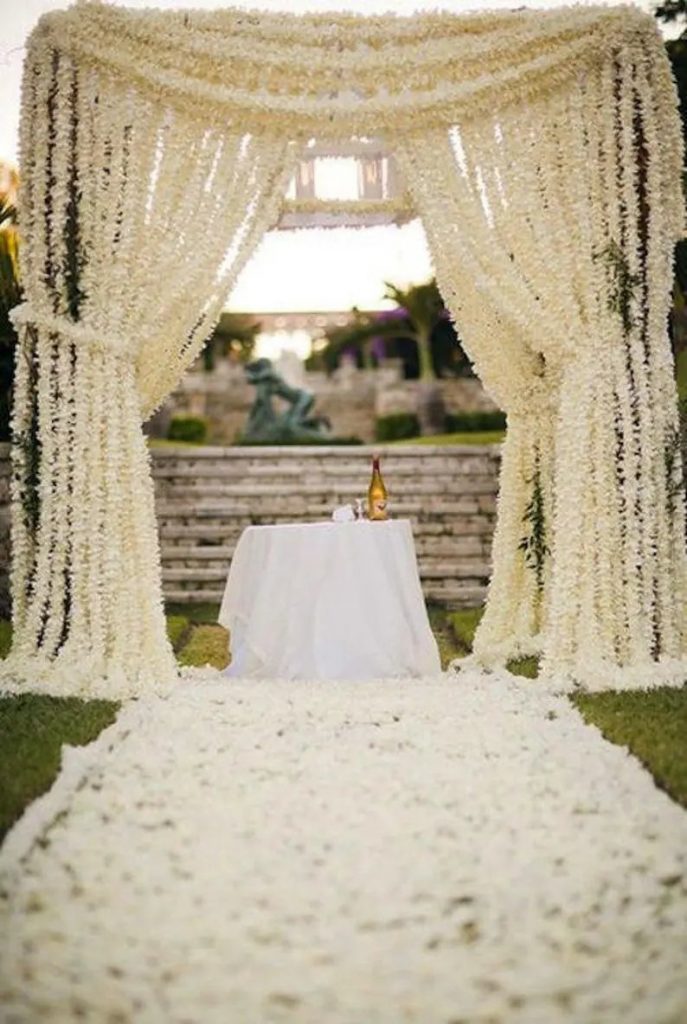 A personalized ceremony welcome sign make for a heartfelt impact when greeting your guests. Before deciding on a sign, consider these two options. The first is to choose a generic welcome sign that can easily be moved after the ceremony to enhance the decor of your reception area. The second option is a sign that informs your guests of your wish for an 'unplugged' ceremony. (No phones!) Both welcome options are suitable for highlighting your ceremony aisle. Theses personalized welcome signs shown below are hand-crafted from wood and offered in a choice of three stain colors. UImpress (Etsy Store)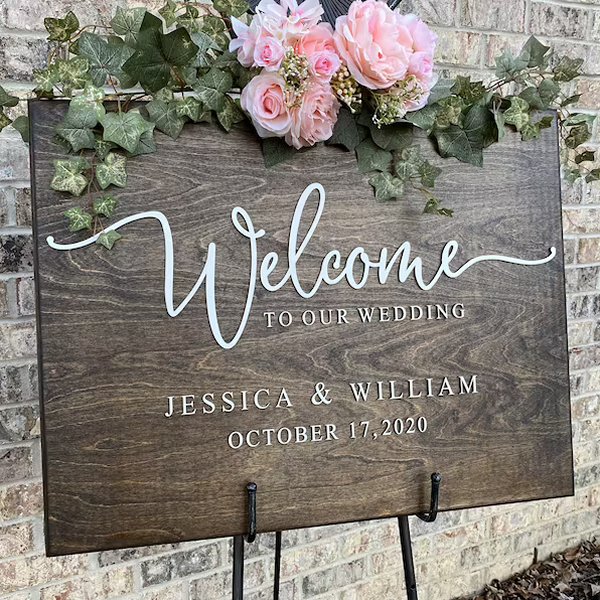 Add elegance to your ceremony with these chiffon chiavari chair sashes. Handmade from 100% high quality chiffon, they'll add a luxurious feel to your event. The sashes are also available in various colors to perfectly fit your wedding theme.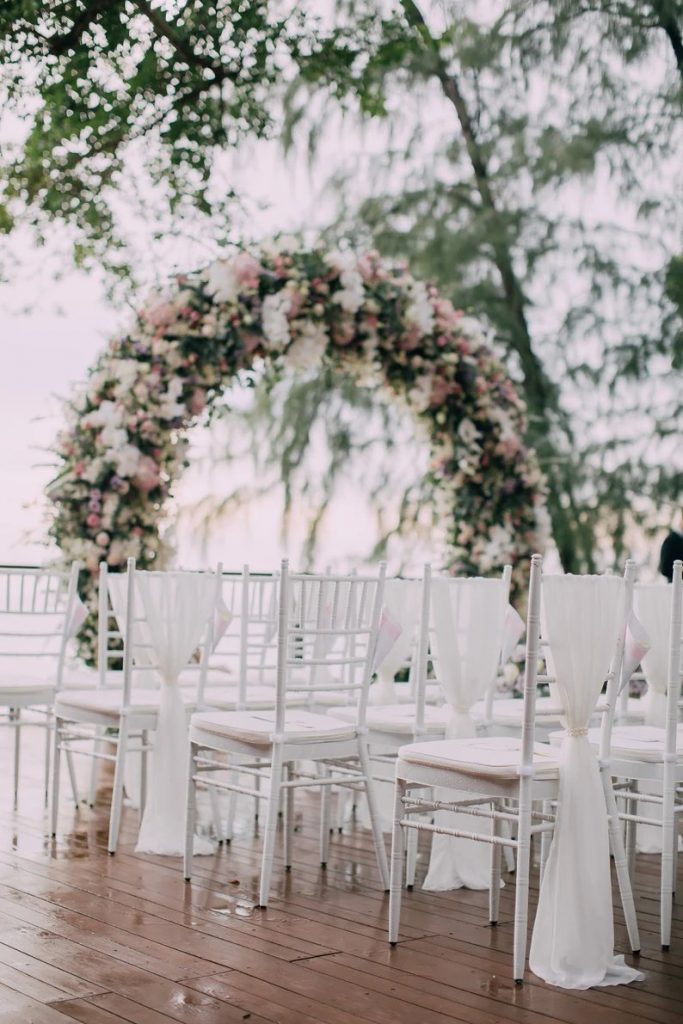 For an alternative to the traditional ring pillow, this lovely white ceramic leaf shaped plate is unique and useful after the big day. The delicate embossed pattern includes openings that allow you to thread twine or ribbon through to secure your rings while they make their walk down the aisle.
Wood lanterns make for exquisite ceremony aisle decor. These hand-crafted lanterns are made of reclaimed wood and come in a bulk set of 15 pieces with your choice of color stain. Strategically positioned on the sided of your ceremony path, the 3 sizes of lanterns (5 of each) will create a lovely and textured visual. Your walk down the aisle will literally be illuminated.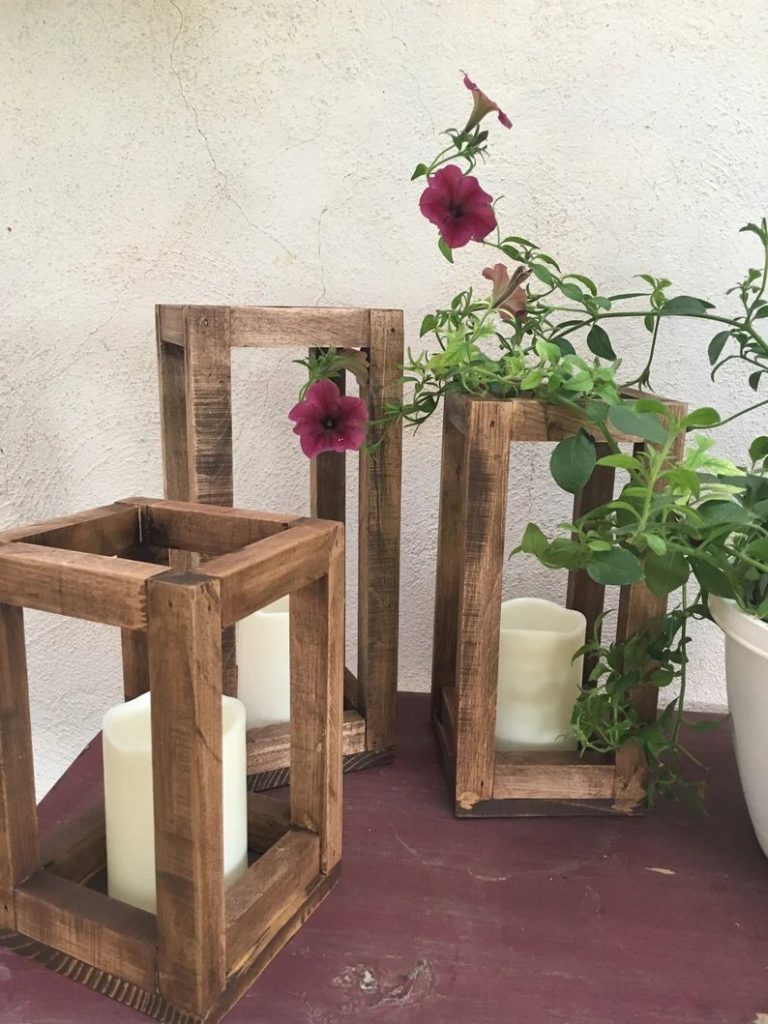 Handcrafted from poplar and in your choice of a finish, these ceremony aisle signs and flower boxes come in a set of ten pieces. Each sign features a unique and meaningful saying about love. Your heart will pound with excitement as you walk down the aisle!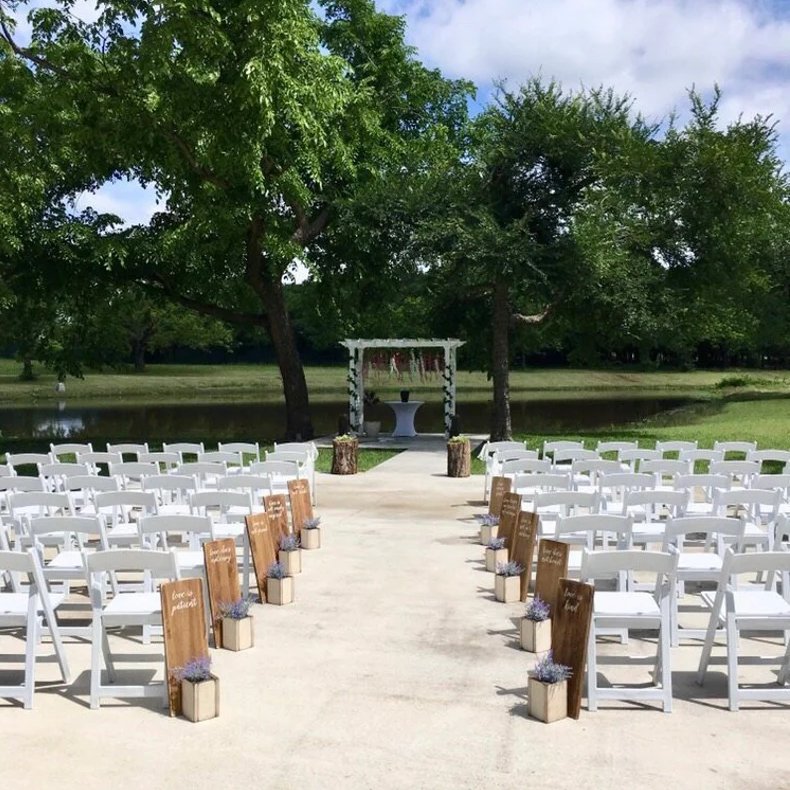 Wooden crates make for a charming and warm ceremony aisle decor idea. Stack them up at the entrance of the aisle and accessorize with lanterns surrounded by a cascading flower bouquet. This set is comprises of four sizes, making it easy to create a wonderful statement piece.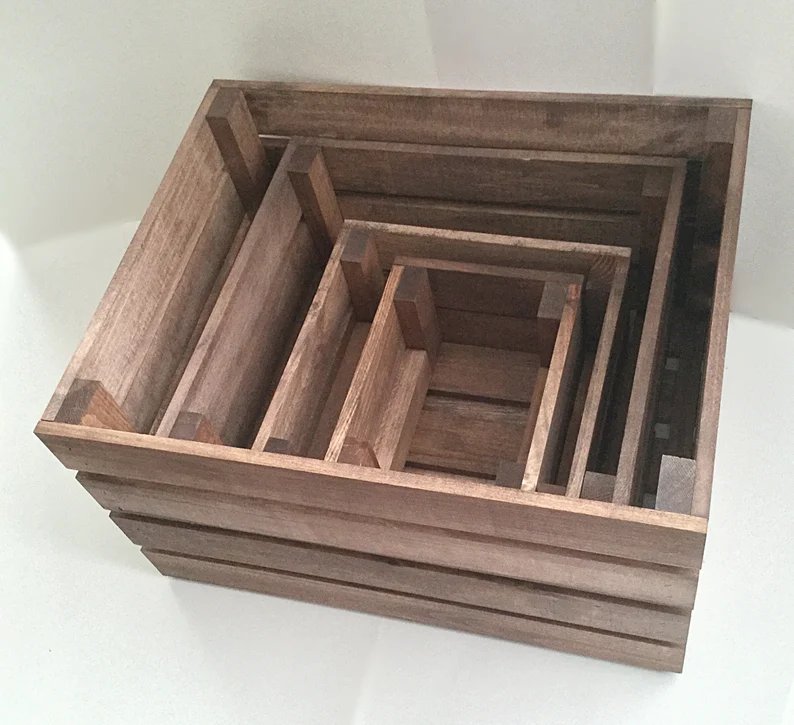 For a walk down the aisle that your father will never forget, the saying of this personalized ceremony aisle runner is deeply sentimental! It reads; 'Dad, Of all the walks we've ever taken, I will remember this one forever.' This lovely design can be modified to read "mum" or any other loved one who will be walking you down the aisle.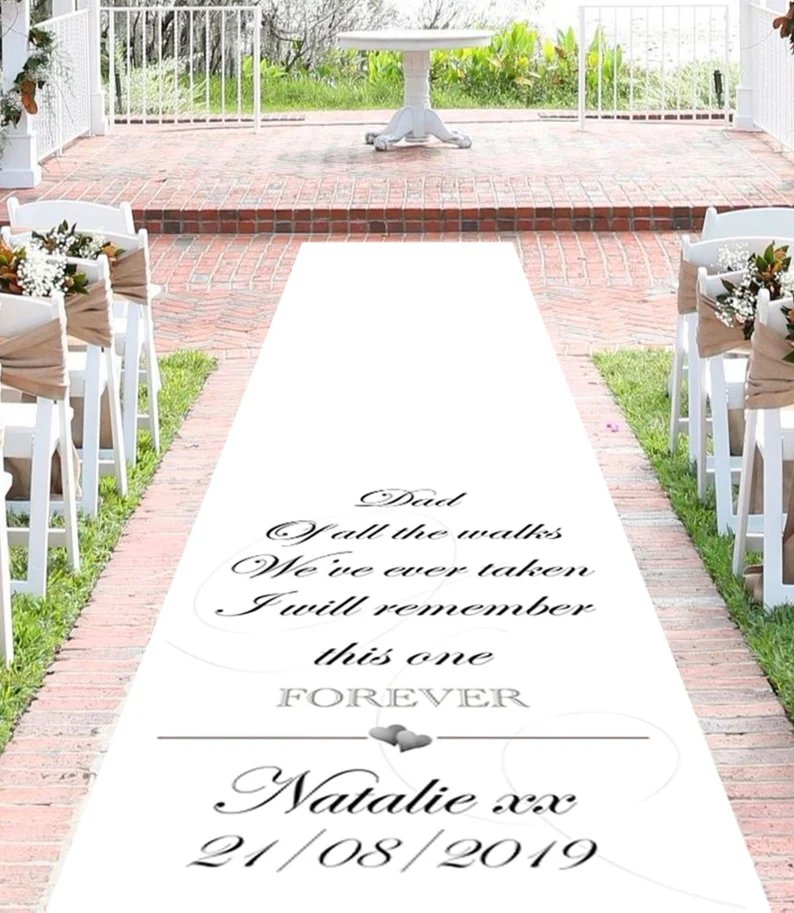 Add a flair of elegance to your ceremony chairs or pews with these lovely white metal flower cones. Embossed with an all-over rose pattern, the flower cones have a flat back design making them easy to use and quite versatile.
Decorate ceremony pews with these gorgeous cascading silk flower aisle hangers. they're handmade with pale pink and champagne-colored peonies, coral pink hydrangeas and delicate off-white cascading wisteria. Absolutely perfect for adding a touch of romance to your ceremony site!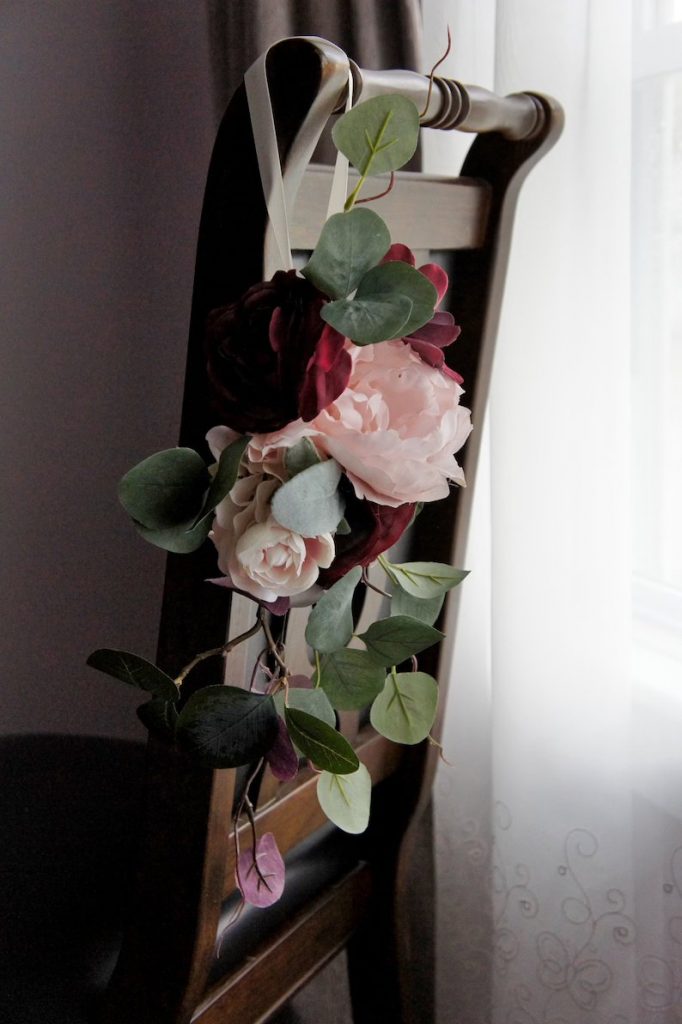 Make sure your bridal party has front row seats to your ceremony with these reserved seat tags. Handmade from kraft cards, each tag comes with a short or long ribbon to place on the seats or tie around chair backs.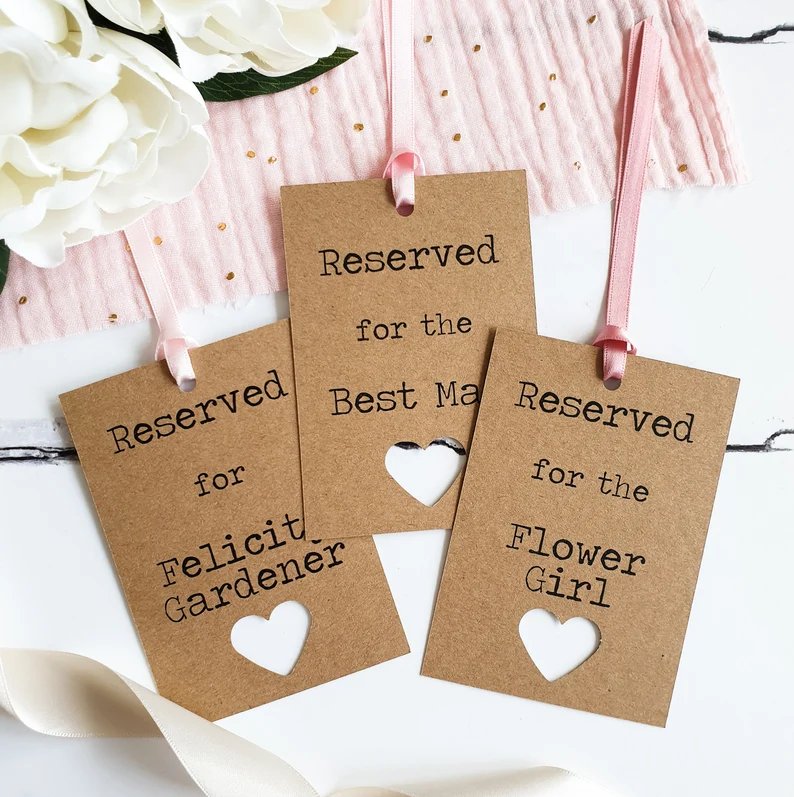 Tall flower vases and buckets make for a gorgeous way to highlight your walk down the aisle. These galvanized buckets are ideal for filling with long stemmed flowers and greenery. After the ceremony, use them to accentuate your ceremony decor. The buckets feature wood-accented handles and include waterproof plastic liner for practicality.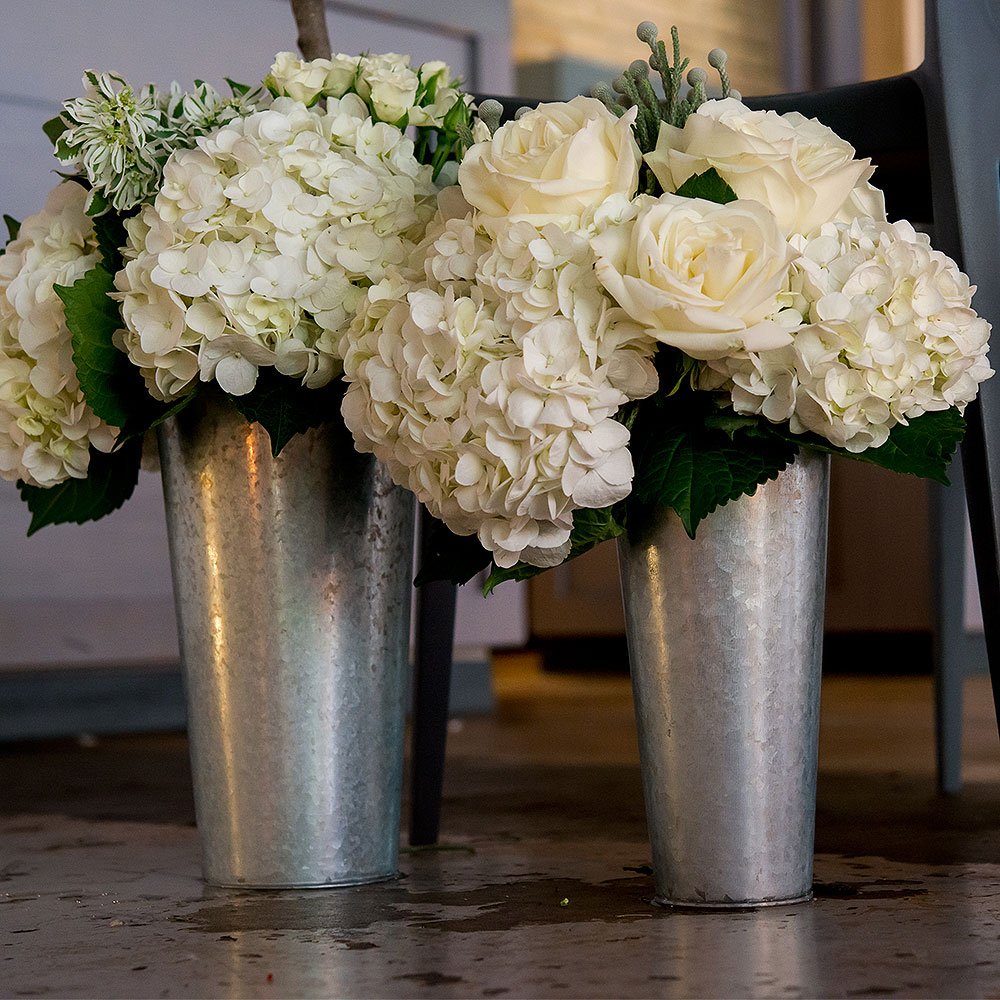 A wonderful addition to your ceremony decor, this personalized confetti cone holder makes for a fun idea. You need only select the number you need and personalize with your names and the date of your wedding. These confetti cones are also available in your choice of medium or large. Only one question remains: Do you want to be sprinkled or doused with confetti?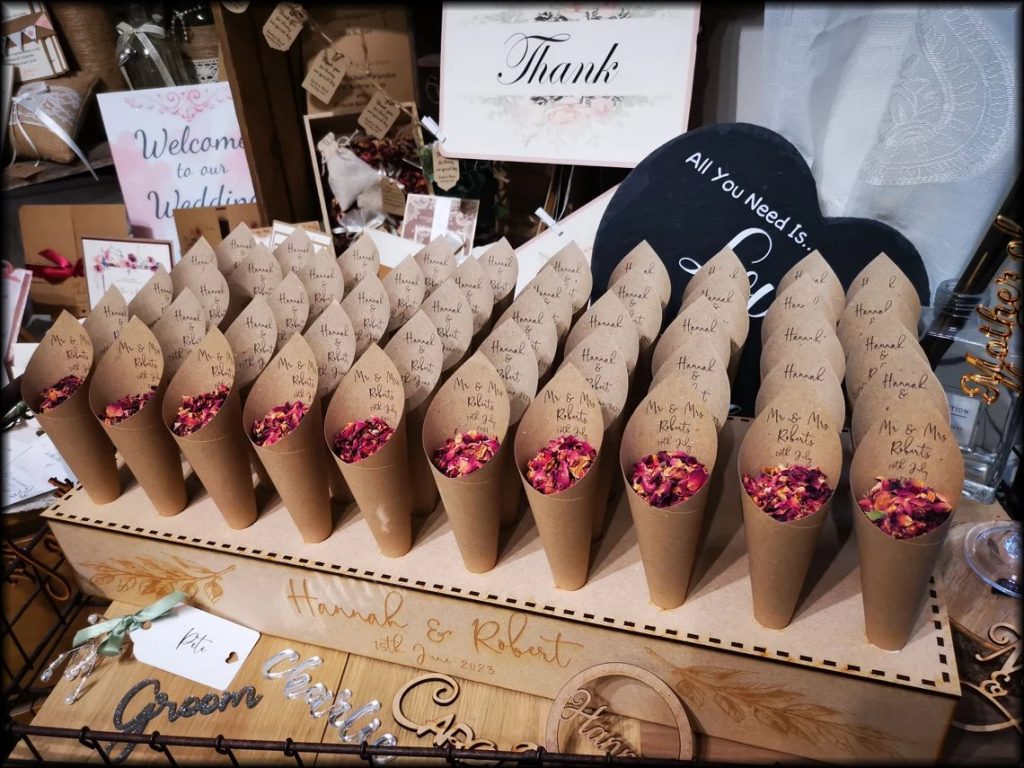 Set these program fans on each chair to keep your guests comfortable during a summer ceremony. Available as a printable template, you need only customize your program, print, and attach to a wood piece for a creative and cost effective ceremony decor idea.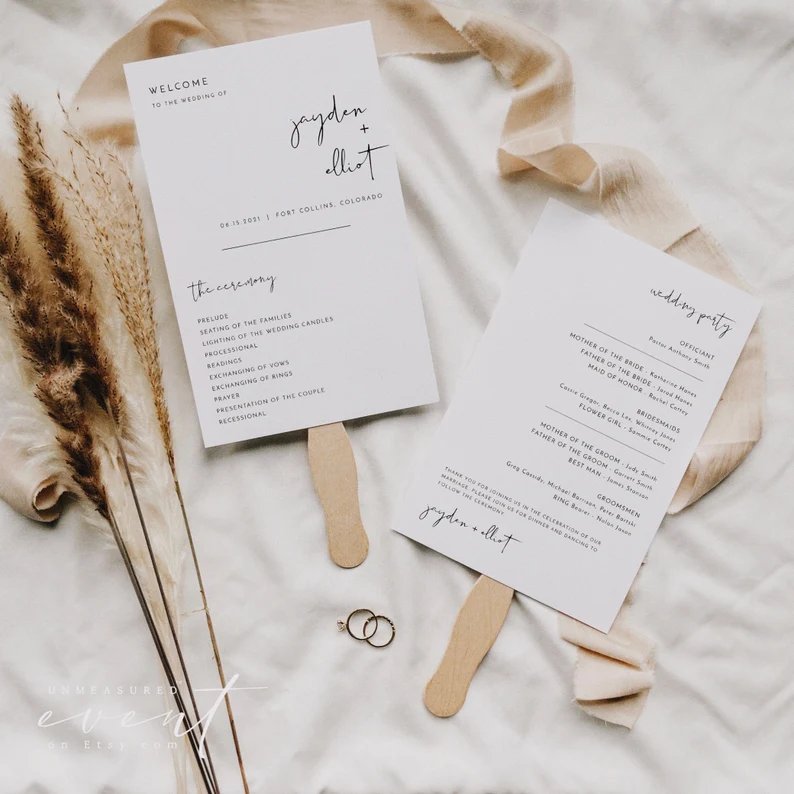 You may also like: