Dreamy macrame wedding decor is a unique way to incorporate a warm, natural and earthy feel to your celebration. Macrame decorations are trendy with Bohemian themes but are just as wonderful to accentuate rustic, backyard or beach events.
Most pieces are made to order which allows you to customize everything according to your specific size requirements. The quality and work that goes into the making of these fabulous decorations will be reflected in every part of your venue. Being skillfully handmade by artisans, rest assured that you'll be left with many heirloom-quality pieces! You'll enjoy displaying these macrame art pieces in your home as sweet reminders of your big day.
Continue below to get inspired by our specially hand picked macrame wedding decor ideas. For additional information on any of the decorations, simply click on the provided links and you'll be directed to skilled artisans who love theirs crafts.
Don't forget to pin your favorite macrame decor ideas!
---
Specially designed for round ceremony arches, this handcrafted macrame backdrop is woven from a 5 mm cord. The backdrop makes for a dreamy focal point to exchange vows or to highlight your sweetheart table, sweet table, photo booth, etc.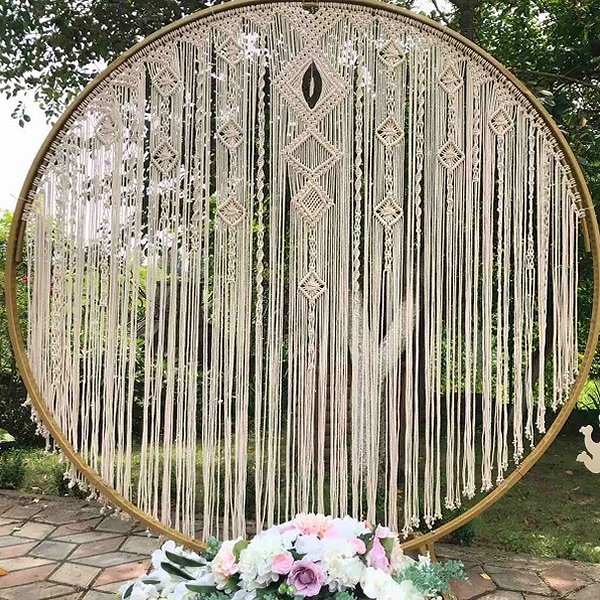 Created especially for adults, this macrame wedding swing is made of high quality 5 mm rope with a wooden seat. The swing comes with two strong metal carabiners for hanging indoors or outdoors. A macrame swing is a wonderful idea for your wedding photo shoot while also enhancing the overall decor!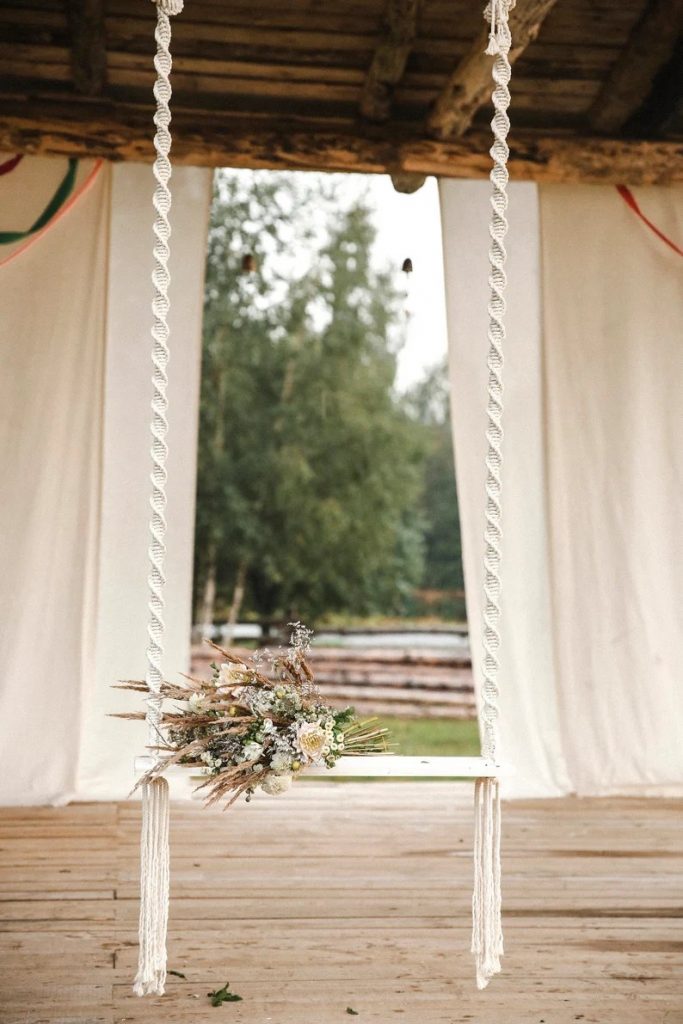 Create a beautiful wedding nook decor with this custom made macrame teepee. Handmade with natural color cotton cord, it's the perfect photo prop and statement piece.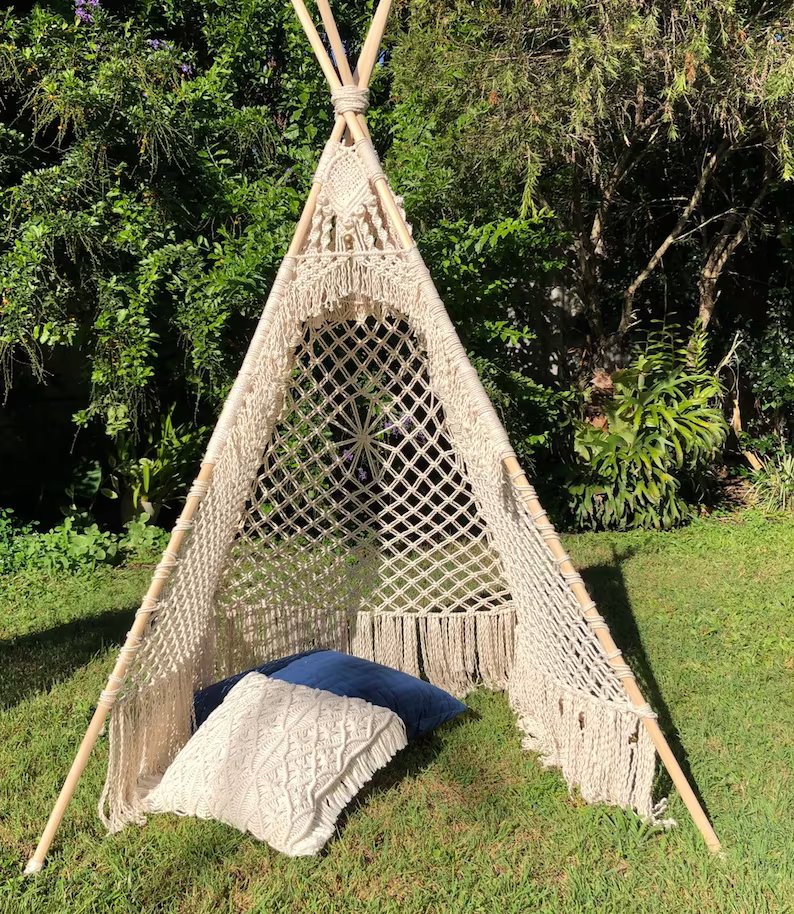 Elevate your dreamy macrame wedding decor with these chair covers. They're handmade with cotton cord and make for an excellent choice to spruce up ceremony or sweetheart table chairs. The natural elegance is beautiful and versatile for many wedding themes.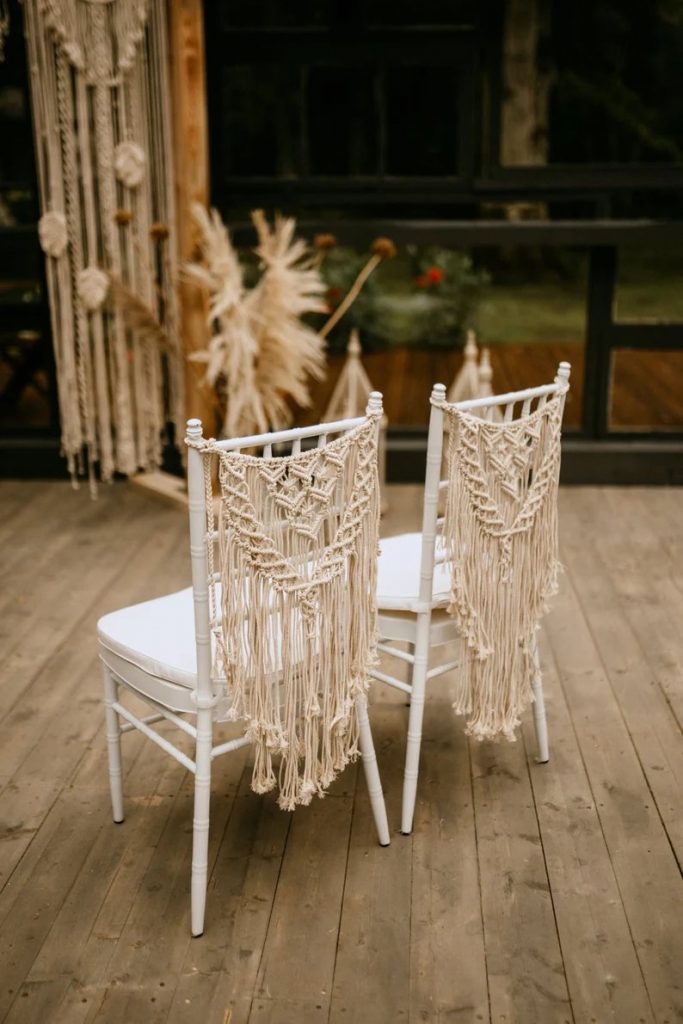 Adorn the entrance of your venue with this beautiful macrame dream catcher. Handmade with silk, driftwood, quartz crystal, wooden beads, hand carved beads, and yarn, this dream catcher is equally stunning as a backdrop for your sweetheart table. Each one is made to order using natural elements, making each one unique. You can also specify the color of driftwood for added personalization.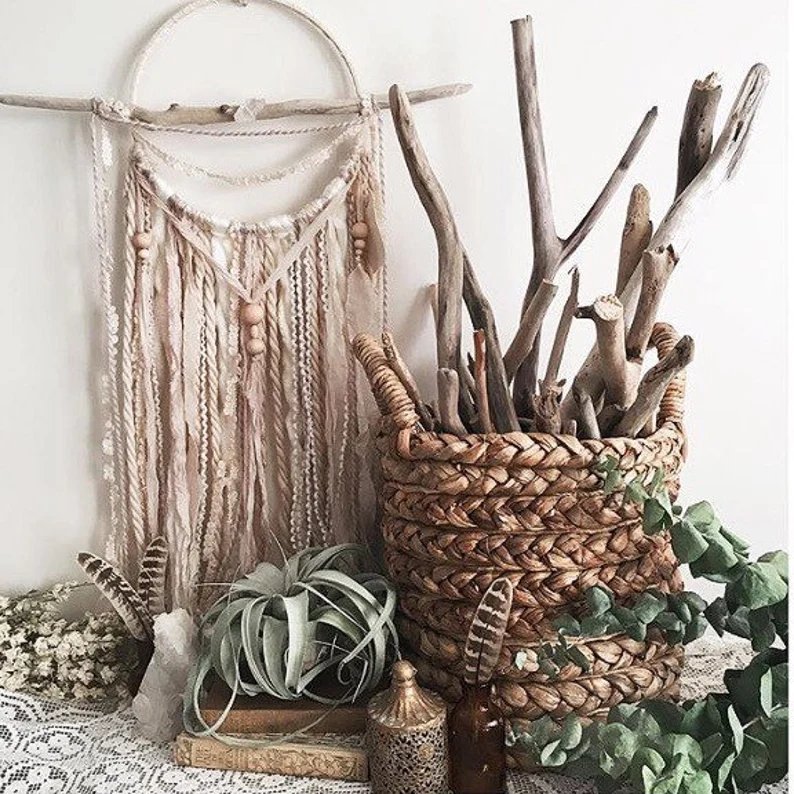 Add a whimsical touch to your bridal bouquet with this macrame wrap. After your walk down the aisle, use this macrame flower bouquet wrap as decor on your sweetheart table.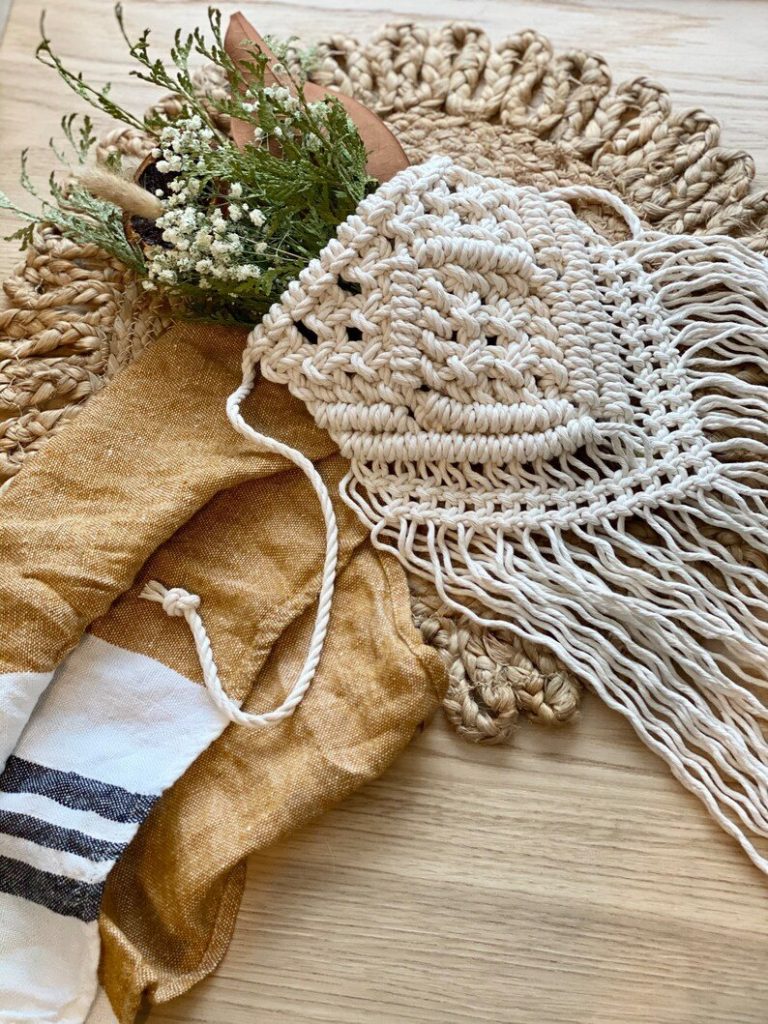 Customize to look just like the couple, this unique macrame cake topper really caught our attention! The hand painted figurines are made of beech wood and stand on a wood slice pedestal. Behind the couple lies a bamboo arch decorated with cotton macrame and adorned with a wood flower, dried flowers and preserved eucalyptus leaf. This cake topper is simply amazing and will make for a previous memento if your special day.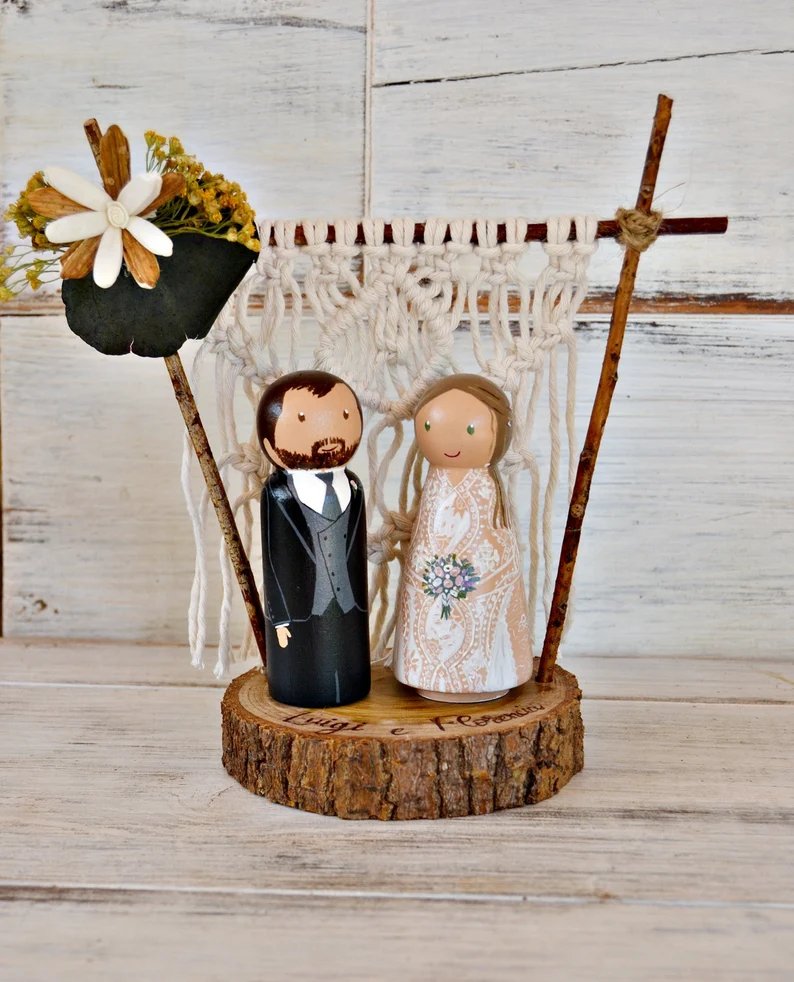 Decorated with a stylish handmade macrame cover, this bottle is perfect for using as a flower vase or as a carafe for single servings of wine or juice. It makes for a charming addition to your sweetheart table decor while also being practical.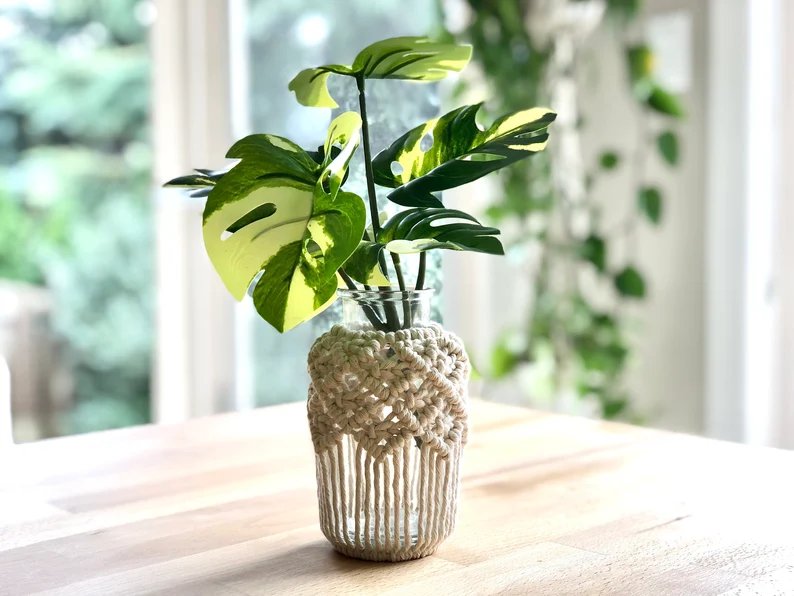 For dreamy centerpieces, these macrame wrapped glass jar candle holders are made with natural untreated cotton. You need only add tea lights or pillar candles to add a warm and cozy glow to your tables. Offered in your choice of seven sizes, choose a favorite or mix and match to add a multi-dimensional feel to your decor.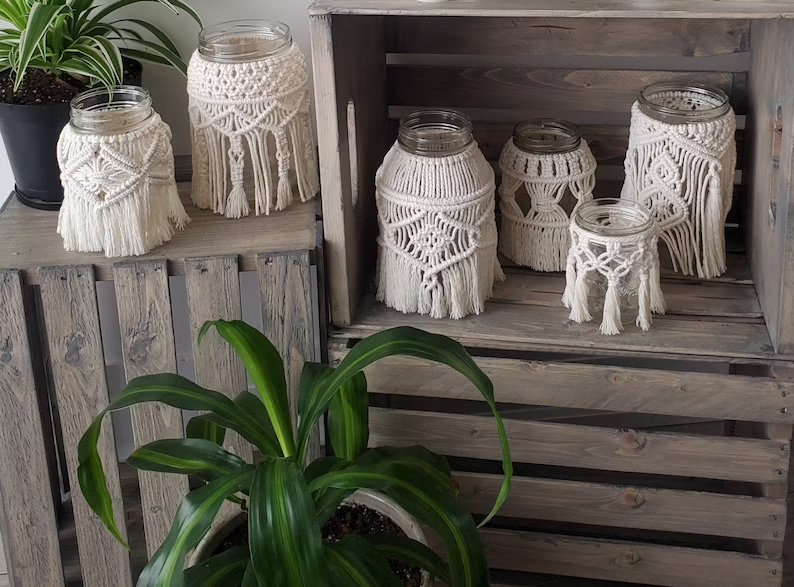 Custom made to order, this macrame table runner is offered in white or natural (undyed) and in multiple lengths. Its beautiful design will confer a warm and earthy feel to your tablescape decor!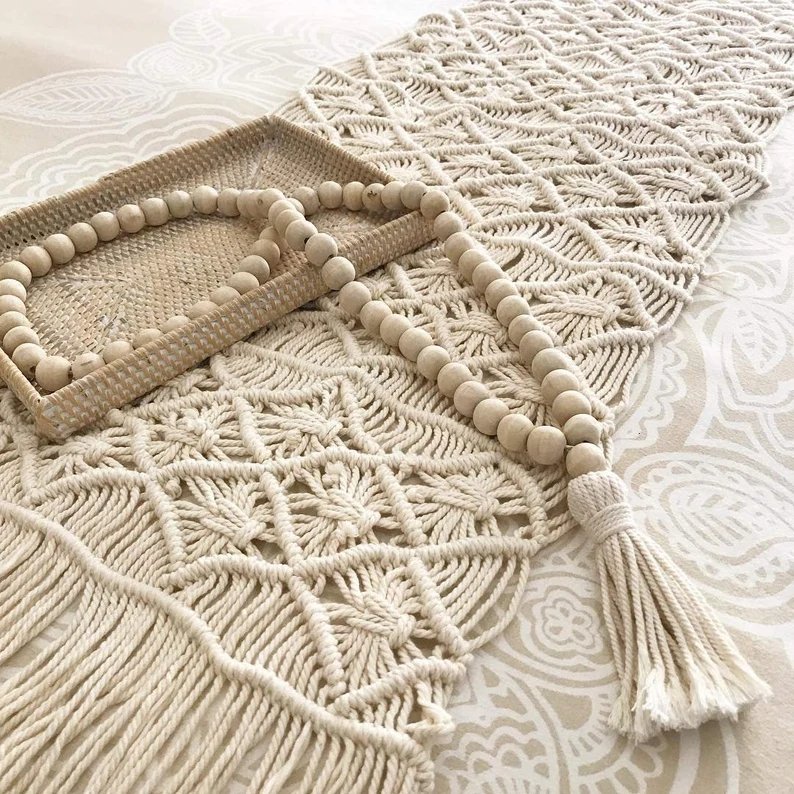 Macrame napkin rings and charger plates make for a charming addition to your decor. They'll add an earthy textural element to your table setting and pair beautifully with other macrame decor.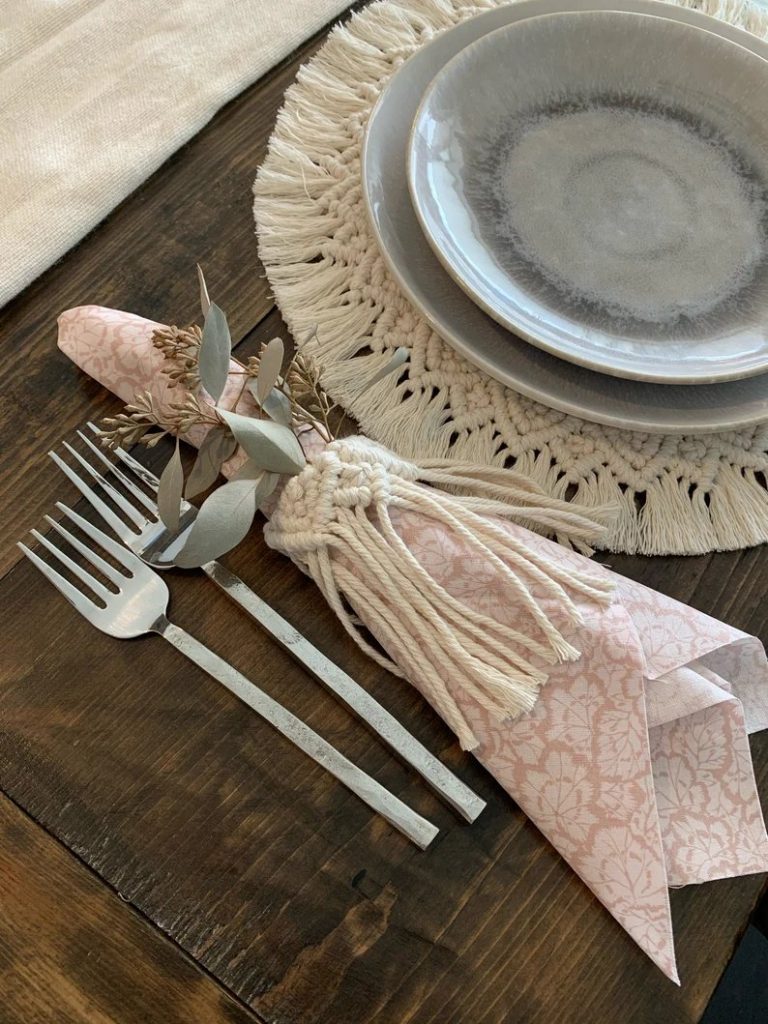 This adorable macrame heart garland features five hearts in a natural cotton tone and wrapped with light pink. Each heart is about the size of your palm. The garland can be used in many ways such as a trim for your sweetheart table, to decorate your cake and guest book tables and so much more!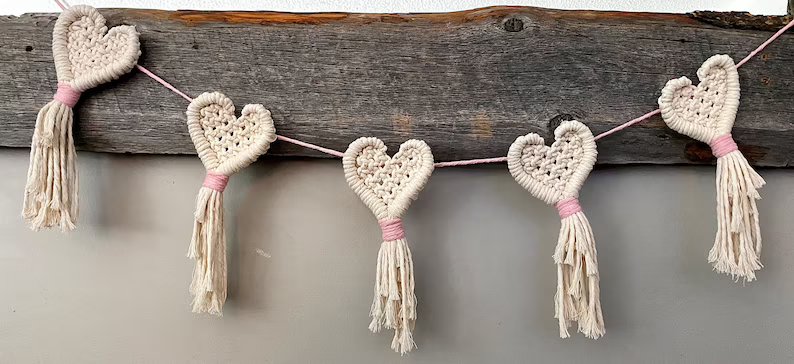 As a special memento of your big day, send your guests home with these lovely macrame key chain favors. Put them at each place setting as a sweet and thoughtful token of appreciation. Choose a favorite from three macrame styles and personalize the favor tags with your names and the date of your wedding.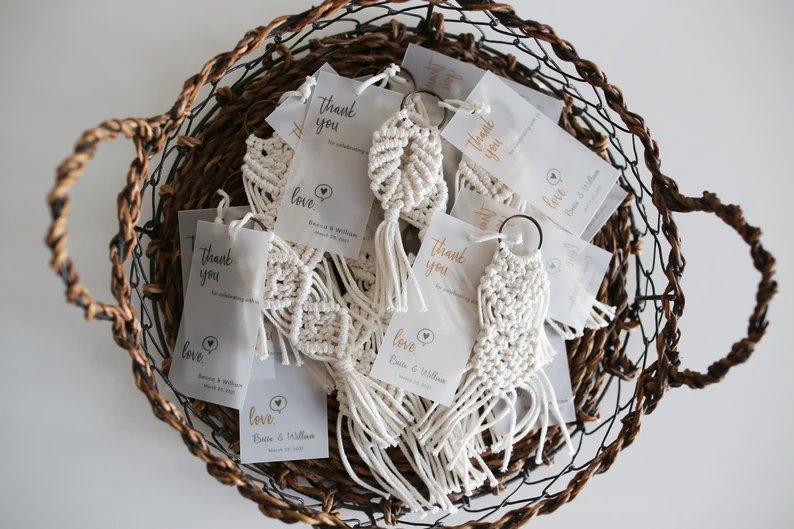 These biodegradable macrame paper clip bookmarks make for practical favors for your guests. They're made of 100% recycled cotton and come beautifully packaged on card stock and wrapped in a cello. Available individually packaged or in a set of three, there's a wide array of colors to pick from!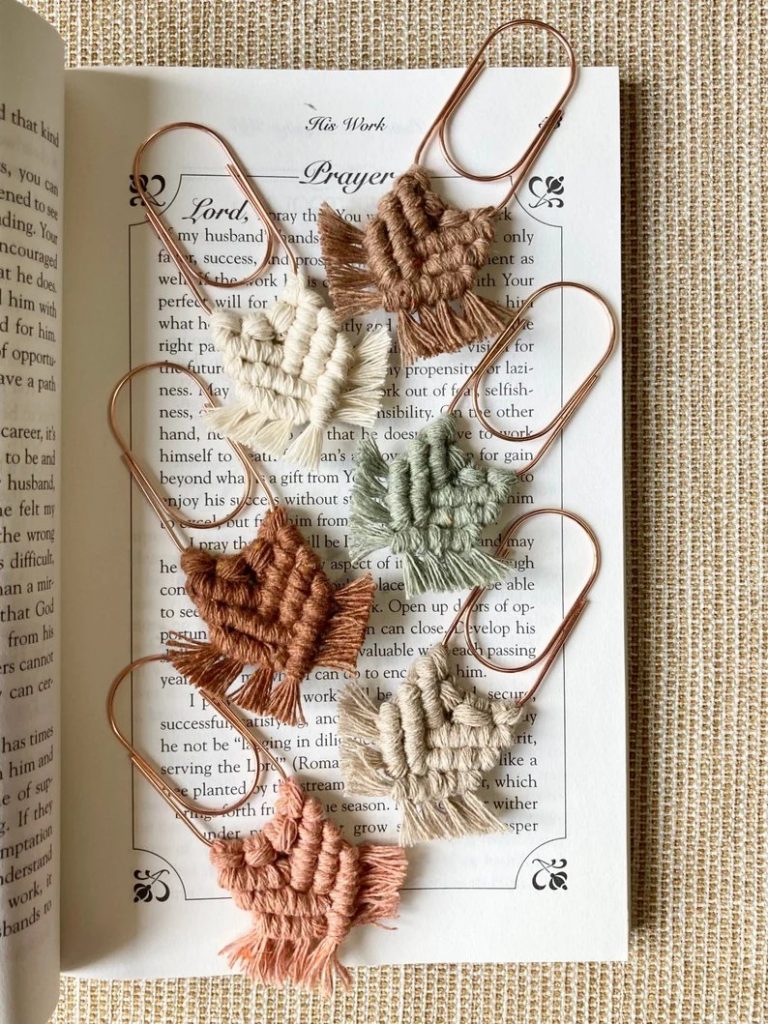 You may also like: