The essence of a silver grey and blush contemporary wedding is the compromise between maturity and youthfulness. After all, nothing in life is black or white! The overall feel will confer to your celebration a sense of confidence and maturity balanced with a cheeky romantic undertone.
There was time when grey was mostly associated with mature, middle-ages couple getting remarried. Today, grey is a neutral color that pairs beautifully well with practically anything. As such, it's your secondary color choice that will bring your event to life.
Grey is also a great choice if you enjoy silver but have reservations due to its flashiness. Alternatively, it can serve to balance an otherwise 'loud' or bright color.
This week we've selected silver grey and blush to fill you with inspiration! Continue below to view our favorite picks; for additional information on any of the items, simply click on the provided link and you'll be directed to our amazing affiliate partners.
Don't forget to pin your favorite ideas!
---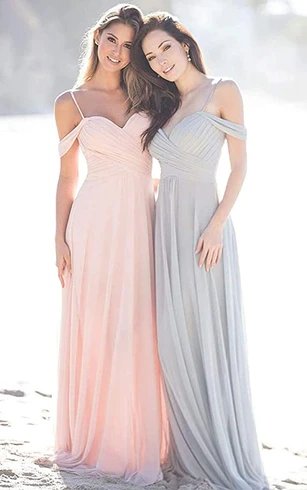 For a soft, contemporary look for your bridesmaids, this off-the-shoulder chiffon dress has a simple yet romantic feel to it. Quite affordable, this dress falls softly on the floor and features a lovely crisscross ruching at the torso.
This gorgeous bridal bouquet features silver grey, blush, and white artificial flowers embellished with crystal brooches and lovely strings of faux pearls. This piece is perfect for serious, upwardly mobile couples that also enjoy the more refined things in life.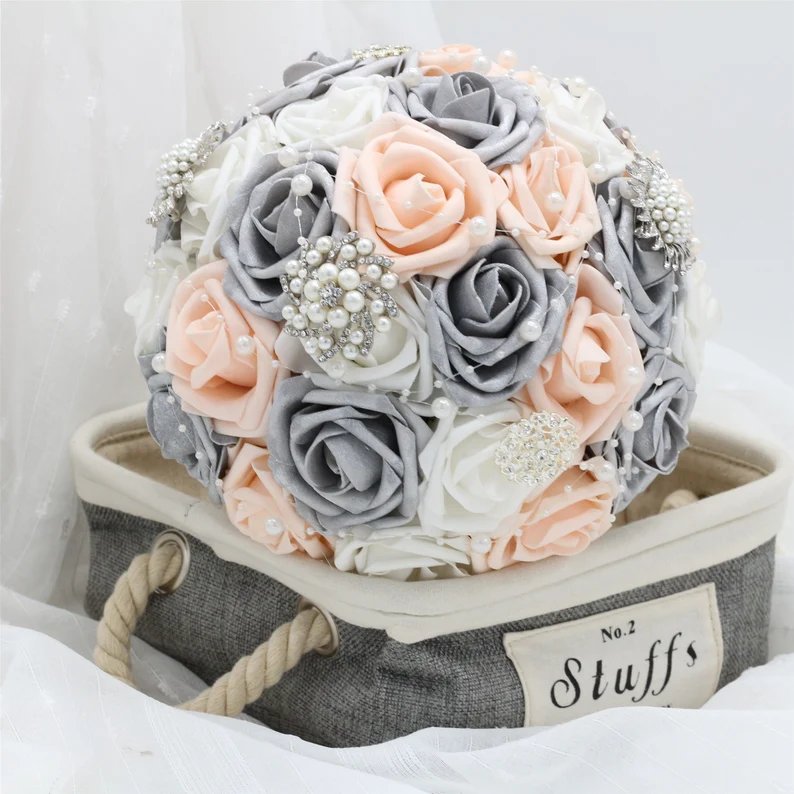 Handmade with high quality materials, this ring bearer pillow and flower girl basket is embellished with chiffon roses and pearls accents. The set is simply gorgeous and makes for a memorable keepsake!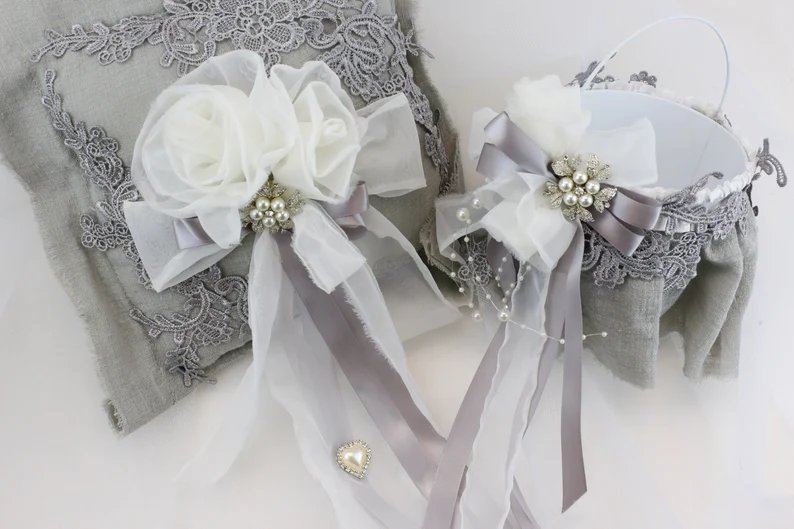 For a celebratory toast perfectly suited to your color scheme, these gorgeous grey lace toasting flutes are the perfect addition to your sweetheart table. Handmade, the glasses are adorned with a beautiful lace design accentuated with crystals.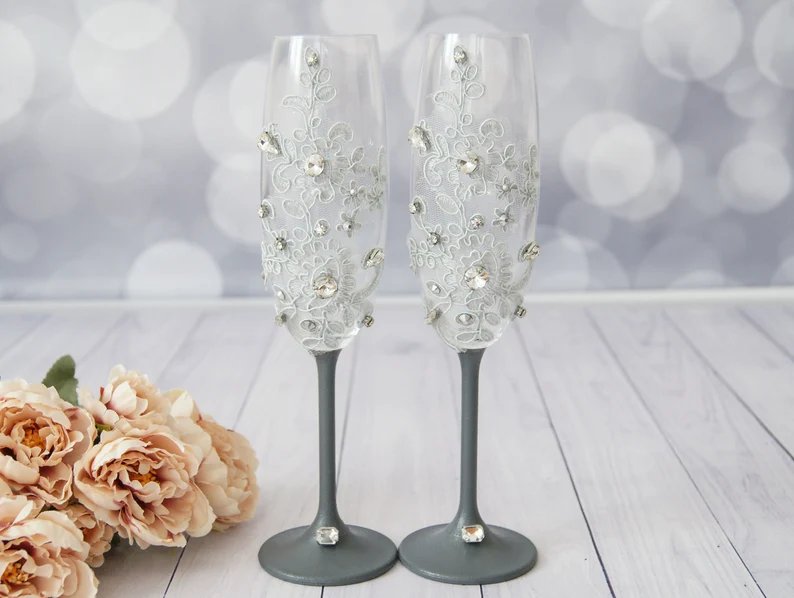 These love birds are adorable and make for a stylish wedding cake topper. Eco-friendly, the birds are hand sewn from natural linen. The heart and flowers frame makes for the perfect accompanying backdrop and the embroidered ribbon comes personalized with your initials. This is definitely a keeper long after your big day!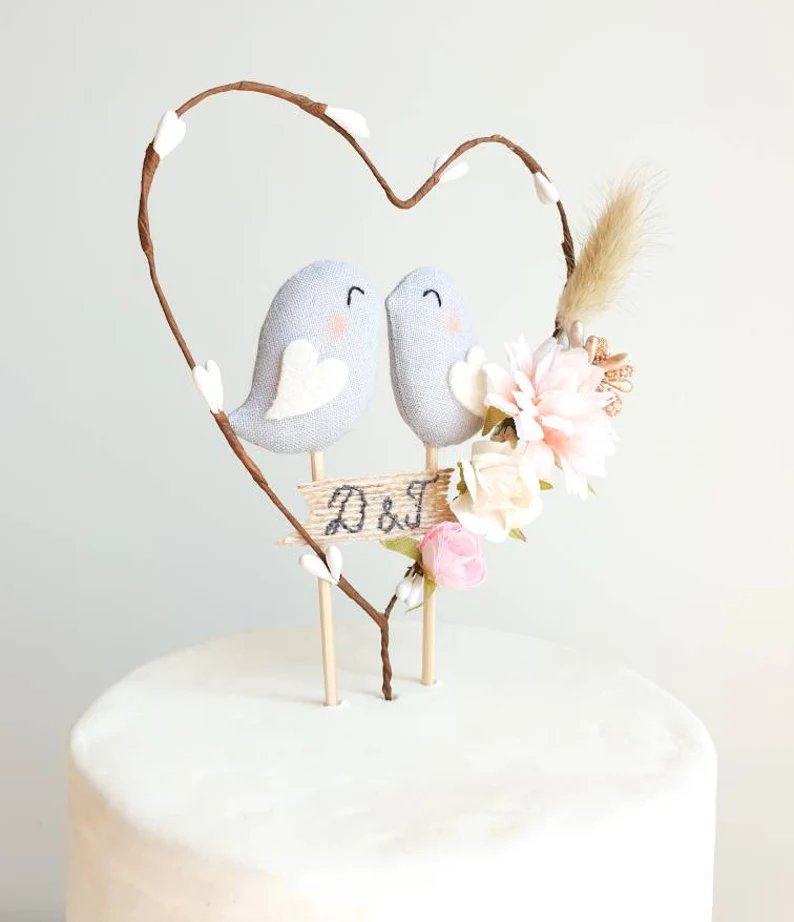 Made of birch plywood and coated with acrylic paint and varnish, this creative house card/money box is lit with a LED wire lights. Personalize the heart on the front door with your names and the date of your wedding for a cherished memento you'll proudly want to display in your home.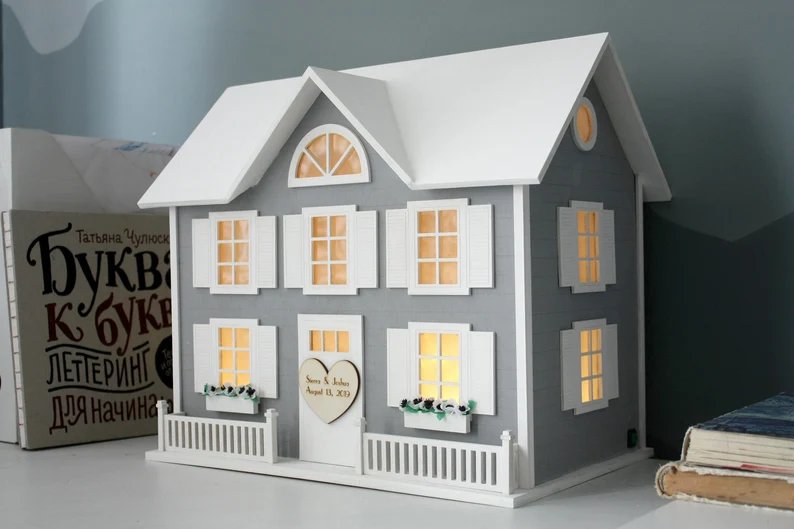 Personalized with your names and the date of your wedding, this signing tree wooden guest book alternative makes for a lovely and meaningful choice. After your big day, you'll want to hang it on a wall at home as a cherished memento.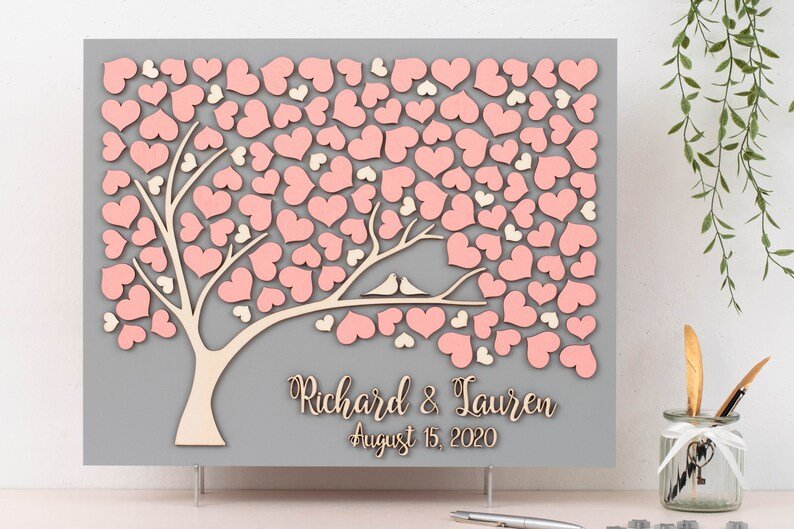 Add elegance and a romantic flair to your tablescape with this light grey shade table runner. The soft table linen has finished edges and will drape gracefully across your tables!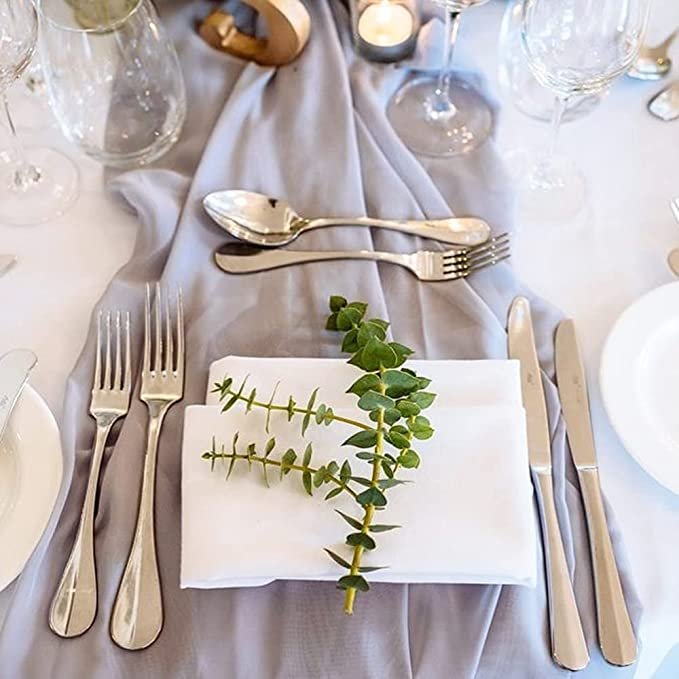 Handmade out of satin, these blush, ivory, and silver grey flower petals can be used many different ways. Use them to fill up your flower girl basket, toss on the ceremony aisle carpet, decorate your wedding cake, or to enhance your table decor. The petals come in package of 100 pieces.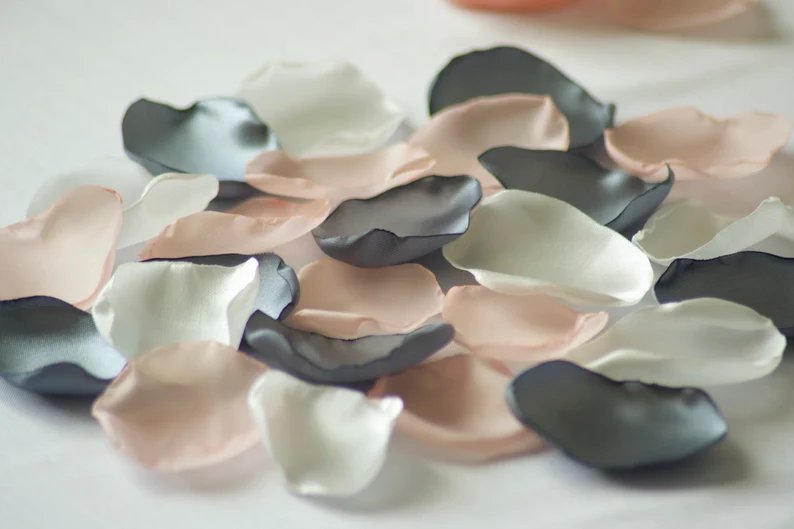 Create classy centerpieces using these pillar soy wax candles accentuates with raw concrete and gold detailing. Available in a selection of sizes, the contemporary look of these candles will elevate your table decor.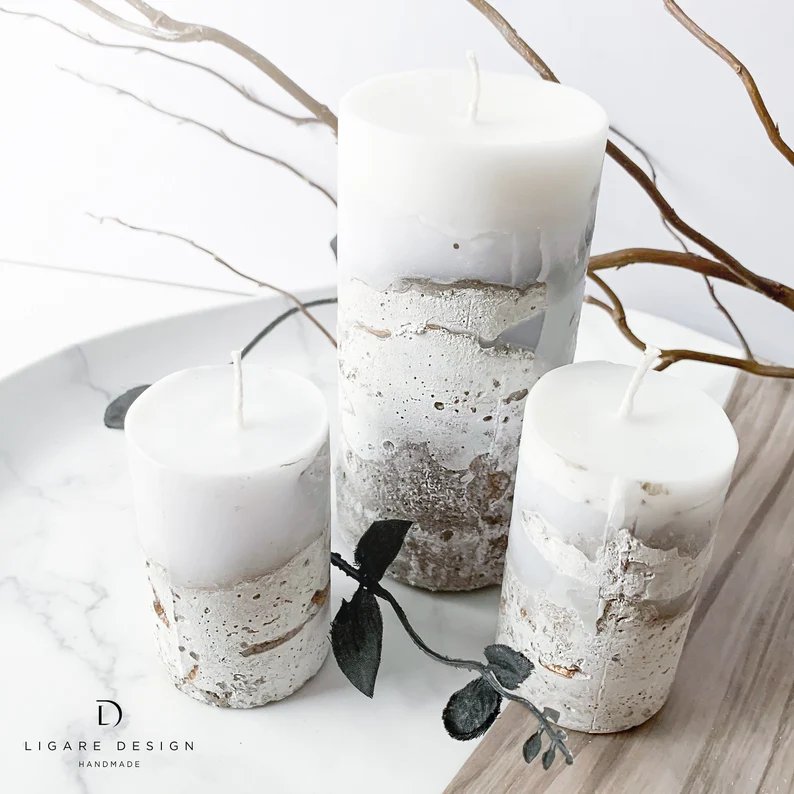 Choose a font and style to customize these clear acrylic table number signs to your exact liking. A stand is also provided to make it easy setting up your tables.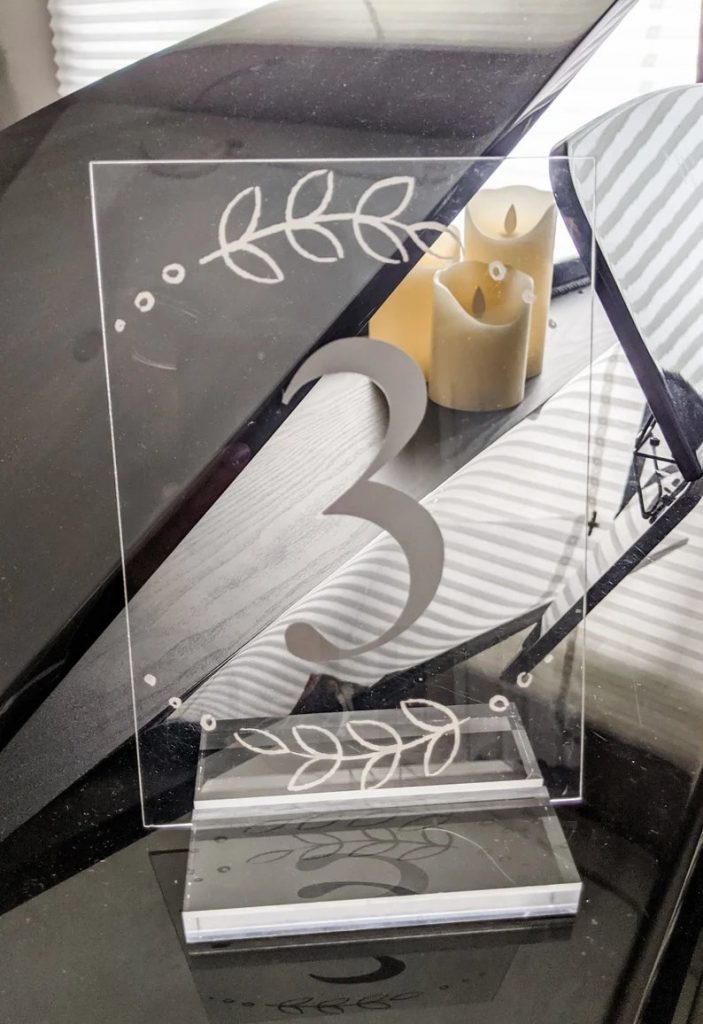 This blush place card editable template includes the convenient option of adding a meal choice. You need only download the template, edit the place card to your liking and print.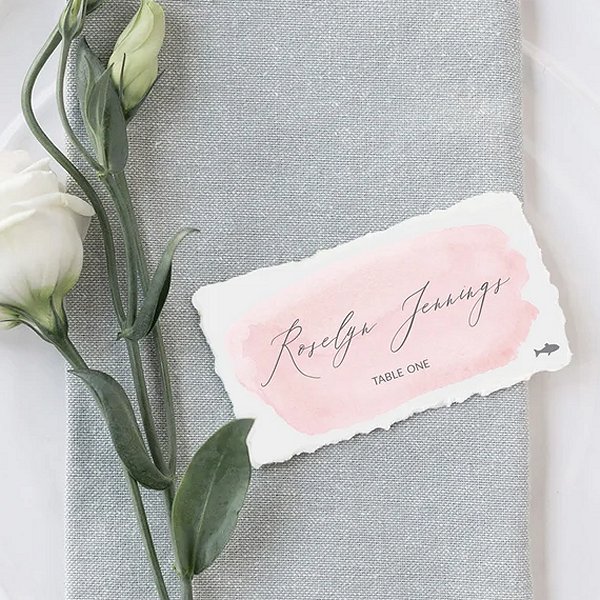 These grey and blush pashima scarfs are sold in bulk making for an affordable but high-quality gift for your guests. Perfect for outdoor events, set the scarfs in a large basket and have your guests take one to warm up as the sun goes down. Choose a favorite band from the many designs and personalize it with your names and the date of your wedding.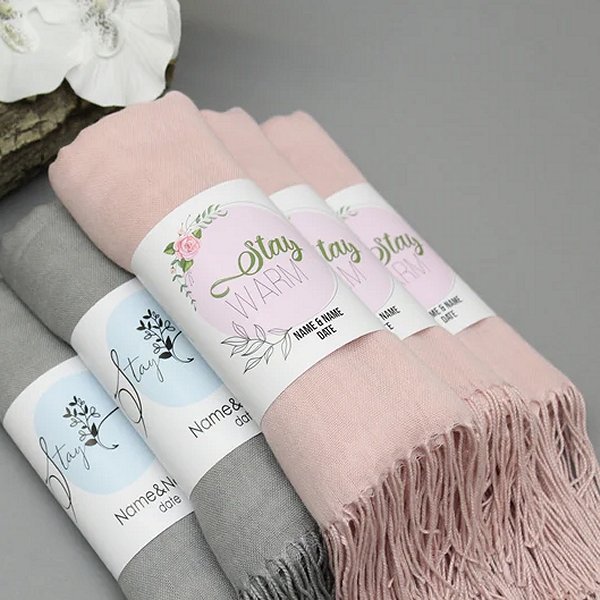 Add a touch of elegance to your packaging, place cards, or invitations and envelops with these sweet 'With Love' wax seals. Handmade in your choice of color, no two seals are alike, and you need only peel and stick on the desired surface.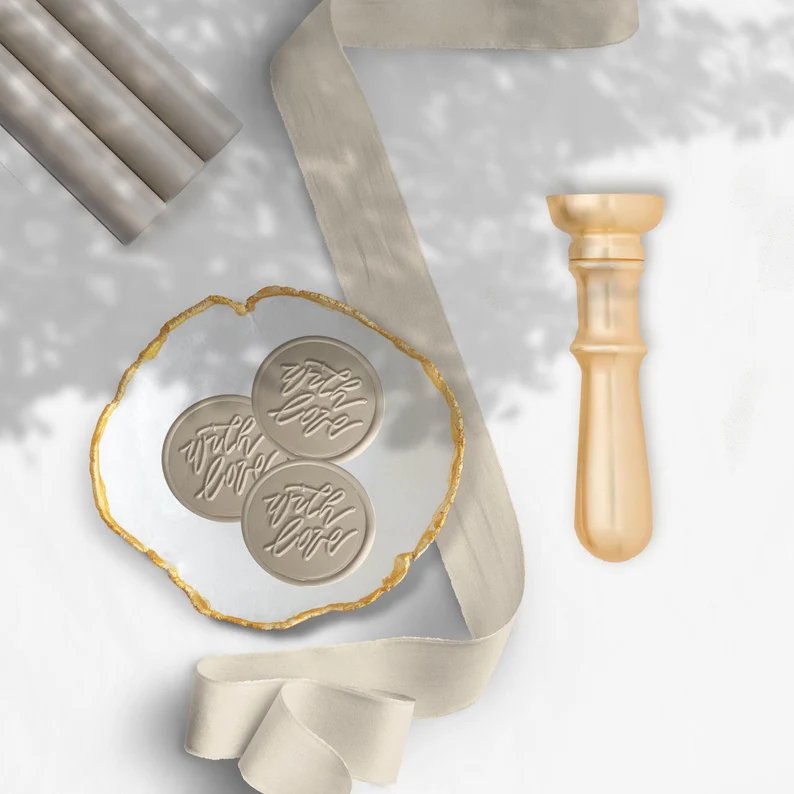 You may also like: