An around the clock bridal shower is a practical and helpful theme idea particularly for couples setting up a home for the first time. Moving in a new home requires much expenses so instead of receiving impractical gifts, ones that will give the new couple a leg up in the world are thoughtful and useful! The theme works equally well for all-women bridal showers AND co-Ed celebrations.
Based on the 24 hour clock, each guest is assigned a specific time of day and brings a gift to be used a that time. For example, if your time slot is 7:00 am, your gift needs to be something the couple will be using the early morning such as a coffee maker or alarm clock. For guests assigned hours from 5:00 pm to 8:00 pm, gifts related to cocktail hour or meal preparation make for excellent choices.
If you'd like to simplify things, break down the day in larger segments an assign your guests a broader time zone: Morning, afternoon, cocktail hour, dinner, evening, and bedtime.
If you have fewer than 24 guests, we recommend removing more difficult time slots such as those in the middle of the night. If more than 24 guests will attend the shower, double the easiest time slots such as meal times and evening hours.
Pick a favorite color scheme and spruce up your venue decor with clocks, alarm clocks, hourglasses, and any other fun accessories you think will pair well with your around the clock bridal shower theme.
Explore below our specially hand-picked around the clock bridal shower invitations and gift ideas for every hour of the day. For additional information on any of the items, simply click on the provided link and you'll be directed to our favorite sources.
Don't forget to pick your favorites!
---
Around The Clock Bridal Shower Invitations & Gift Tags
Invite your guests to the 'Around The Clock' bridal shower with this stylish printable invitation. Simply personalize this custom file and print it yourself or bring it to a printer nearby.
Also available from the same collection, a 'Love is Sweet' printable sign, and an 'Around the Clock' tag. Send one to each of your guests to advise them of their gift time slot. The tag also includes instructions for your guests to attach the tag to the gift. Quick and easy!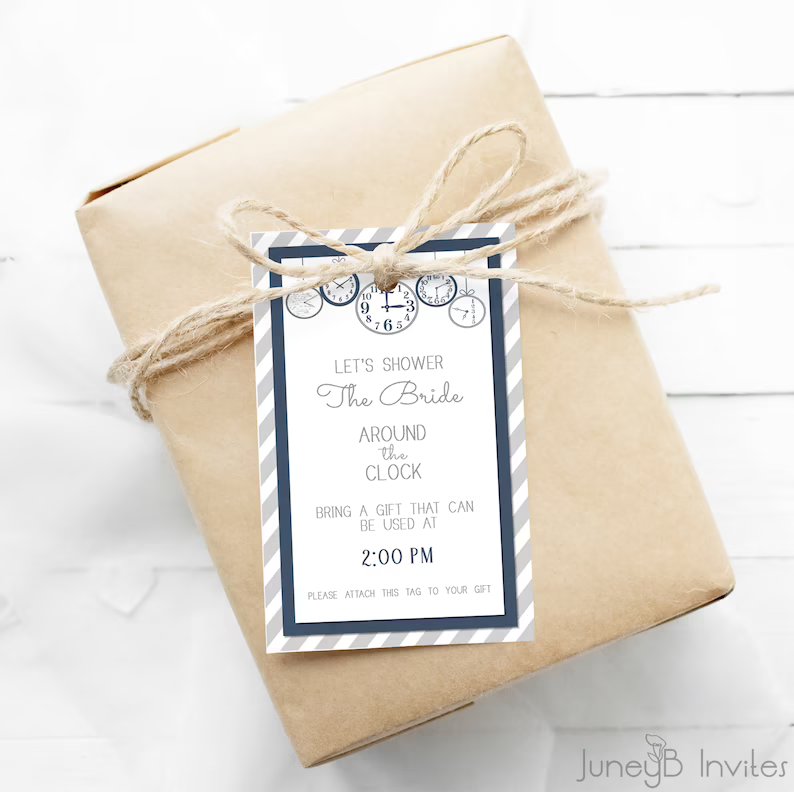 Around the Clock Bridal Shower Gift ideas for Every Hour
From 6:00 am to 12:00 pm
On sluggish mornings, the newlyweds will greatly appreciate having informal 'breakfast in bed'. This unique couple breakfast tray comes in three pieces: A large serving tray with antique brass handles and two plates. Each plate has three clever compartments to hold a glass or mug, utensils and features a larger area for a bagel, pastry, toasts, etc. The couple can also use this practical tray for snacks throughout the day or in front on the TV.
This handcrafted wooden coffee mug stand makes for a practical around the clock gift idea for early morning hours. The free-stand is made from sturdy wood and holds four coffee mugs.
Time is precious especially while getting ready for work. The Hamilton Beach dual sandwich maker gets the task of preparing breakfast or lunch done in under 5 minutes. It an essential for food lovers who don't like to get a bunch of dishes and pans dirty!
From 12:00 pm to 5:00 pm
This set of personalized water bottles will remind the new couple that they are travelling life hand in hand. Suitable for both hot and cold drinks, the bottles are spill-resistant, have a screw-on lid and feature a carabiner for easy transport.
For a couple that enjoys romantic outings in nature, this handmade picnic basket kit makes for a wonderful gift idea. Handmade from natural willow, leather, and fabric, the kit includes all the necessities to enjoy a carefree afternoon lunch amidst nature! The basket includes ceramic plates, wine glasses, stainless flatware, cotton napkins, a food cooler, an insulated wine pouch, a hardwood cutting board, spill-proof, salt & pepper shakers, a cheese knife and a stainless corkscrew. Definitely not your typical picnic basket!
From 5:00 pm to 9:00 pm
Using traditional mouth-blowing techniques and durable borosilicate glass, the couple are in for classy cocktails with this uniquely designed martini glass set. A marble made with 24k gold and pure silver is nestled in the stem of the glass to create a pattern of iridescent swirls. These martini glasses are the epitome of quality craftsmanship!
Ideal for cocktail hour, romantic candlelit dinners or for entertaining guests, this personalized charcuterie board features amazing craftsmanship! Each board is made from solid, high quality black walnut that decoratively incorporates the natural flaws and grain of the wood. Personalize it with an engraving for a bridal shower gift the newlyweds will be using time and time again!
Handcrafted of american cherry hardwood, this personalized S'mores station holds all you need to make delightful treats and easily carry the presentation wherever need be. From small to party-sized stations, many sizes are available, and include a sturdy concrete roasting grill. Personalize the station with the name of the couple for a unique gift they'll enjoy using long after!
A chocolate fondue set is a must for any home! This lovely set includes a practical charcuterie board, a fondue melting pot, decadent chocolate and cocoa truffles, ice wine chocolates, trail mix, mocha chocolate, chocolate almonds, milk chocolate, biscotti, and marshmallows. This fondue set makes for a delightful and romantic gift for chocolate lovers!
From 9:00 pm to 1:00 am
Once settled in their home, the newlyweds will enjoy spending quality time soaking in the tub. A bath tray is an excellent gift idea for late evening hours. This rustic style bath tray shown below is custom made of Eastern hemlock wood and features two end compartments made of an anti-rust aluminum screen.
What does every couple need for movie nights and cuddling? A popcorn maker of course! It's a convenient gift the couple will enjoy using over and over. This one is the original Salbree collapsible popcorn maker. Highly rated, it's easy to use and clean and it requires minimal storing space. Available in an array of colors, this popcorn maker makes for an affordable around the clock bridal shower gift idea for evening hours.
From 1:00 am to 6:00 am
A matching couple pajama set makes for a great wedding shower gift idea if your designated time falls at night. This cozy flannel king & queen matching pajama set comes as crew neck tee in short or long sleeves for the King and tank top or crew neck with short or long sleeves for the Queen.
Help the couple stay organized with these His & Hers bathroom towel hook signs. Handcrafted from pine in your choice of wood stain, these stylish signs are perfect for towels or in the entryway to hang his and her coats.
This set of pillowcases makes for a lovely gift idea for the soon to be married couple. Good Morning Handsome & Good Morning Beautiful is how all newlyweds should wake up to early mornings! The pillowcases are also available with other fun sayings.
As a humorous gift for the couple, this set of His & Hers toilet paper rolls take the cake! The embroidered design is on the outer layer and the rolls are neatly packages in a cello bag and tied with ribbon. The paper rolls can also be personalized with the date of the wedding. There's a 99% chance the couple will use these comical rolls as bathroom decor!
You may also like: