Straight from a fairy tale, a 'shades of purple' wedding color scheme is whimsical and yours to customize! I love purple but I never would have imagined the number of shade combinations at our disposal. Each blend conveys gorgeous subtleties which truly makes this theme unique and filled with fantasy!
Purple is an amazing color as it has so many associated meanings; some of which date back to castles and royalty! Do you want to convey gracefulness, femininity, elegance and beauty? If so, lighter shades such as lavender are the way to go. Brighter shades can convey playfulness and magic. The deeper shades of purple, such as plum, wine, eggplant and royal, tend to convey sophistication, wealth, prosperity, luxury and are associated with nobility.
Fun fact: Why is purple so highly revered in history and has become associated with these meanings? It's due to how difficult it was to produce purple dye. It required a large quantity of materials and only the wealthy could afford it. A combination of several shades can help you achieve the perfect balance of romance, elegance and glamour!
Continue below to whet your imagination with our specially hand-picked favorites! They are thematically perfectly for your whimsical shades of purple wedding color scheme.
Don't forget to pin your favorites!
---
Whimsical Shades Of Purple Wedding Ideas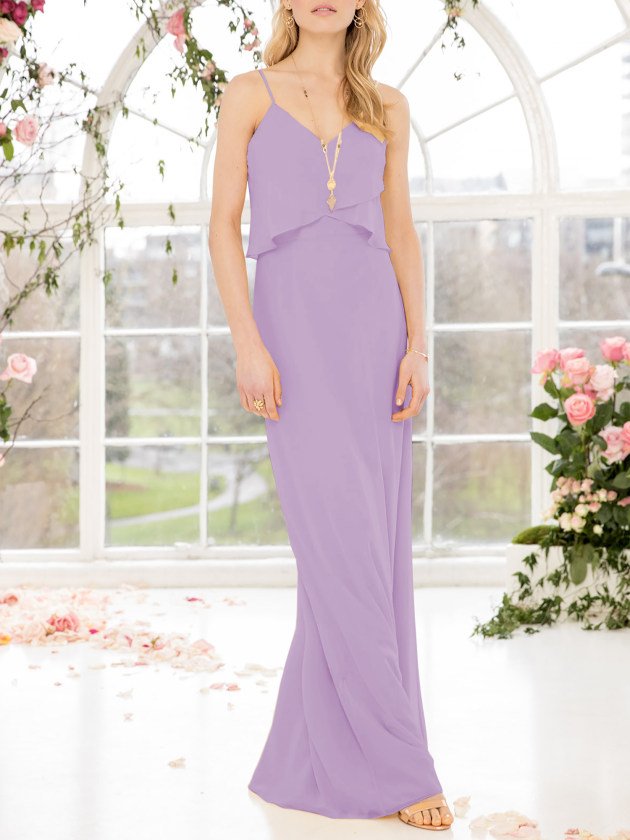 Elegant and displaying a romantic vibe, this pastel lilac bridesmaid dress is made of a comfortable stretch chiffon. The spaghetti straps and v-neck will bring a feminine look to your bridesmaids and serve as a perfect background for your dress.
These whimsical shades of purples wedding flower arrangements include unique and natural varieties such as succulents, veronicas, snap dragons, eucalyptus, playful disbuds and lovely, loose garden roses. From this lovely collection choose from pre-made bouquets for the bride and everyone in her bridal party to have a DIY flower assembly for decorating your venue.
Antique mercury glass compote bowls are extremely versatile and are perfect for creating stunning centerpieces! Available in your choice of two sizes and a variety of colors, feel free to mix and match them. When filled with flowers they will truly add a whimsical feel to your table decor!
Whether you're looking for an elegant prop to enhance the background for your photos or simply want to decorate a corner of your venue, this stunning purple lace parasol is exactly what you need. With its lovingly crafted details, the parasol features a sturdy metal frame and a natural wood stem with handle. It's simply gorgeous with its intricate and delicate design!
For your sweetheart table backdrop, these giant handmade paper roses are stunning and will add a fairy tale vibe to any ordinary wall. Paper roses can also be use to create an extravagant wedding arch. Another perk to these practical, no-mess decorations is that 'no flowers will be harmed in the making of this wedding.'
Perfectly matched for your shades of purple wedding theme, this elegant ring bearer pillow and flower girl basket are just what you need. Decorated with purple satin ribbons and double hearts crafted from rhinestones, this set makes for a wonderful addition to your ceremony.
Handmade with high quality soft white satin, this wedding guest book and pen set will complement your purple decor and demonstrate that you have perfect attention to detail! Each piece is decorated with double rhinestone hearts and is in perfect harmony with the ring bearer pillow and flower girl basket. After all, nothing says perfection better than a perfectly coordinated decor!. This guest book includes fives pages for the bride and groom, and bridal party, and contains 67 pages for your guests to write their special wishes for you.
For an alternative way to collect guest signings, this lovely purple drop frame includes wooden hearts for your guests to sign and insert into the frame. The drop box is available in two sizes and can be personalized for a unique keepsake after your wedding that can have a place of prominence in your home!
Another wonderful idea for your sweetheart table is this personalized ceramic plate. It would look just as beautiful on your wedding cake or guest book table. This table decoration will make for a lovely memento in your home after the wedding.
Add pops of colors to your indoor or outdoor venue with this set of purple shades paper lanterns. They come in a set of 12 and include 4 different sizes of each color that range from white, light purple, purple, and dark purple. Paper lanterns not only make for a wonderful decoration idea, they have the ability of filling up empty spaces.
An elegant wedding is absolutely impacted by the venue decor, and these chair sashes are the perfect way to add a special touch! This purple chiffon chair cover has a lovely bow and a whimsical cascading ruffle trailing. You can use them for the chairs during your ceremony the reception- OR BOTH!
Candle lighting is a tried and true way to add a mystical glow to your wedding venue. These vintage glass candle holders feature fancy diamond facets that accentuate the reflection of the candle lighting. The candle holders are available in a choice of colors so feel free to mix and match them for a unique illumination setup! After all, every detail counts!
Add a wow factor to your table decor with personalized stemless wine glasses. None of your guests will expect that! After the evening, you can even get sleeve boxes for your guests to bring home a glass as favor. I just love how unconventionally classy they are! It fits perfectly with the uniqueness of purple.
From the lovely collection 'This is forever', these printed mason jar mugs can be personalized with your names and the date of your wedding. These mugs are not only a charming table decor, they become excellent favors for your guests to bring home!
After an evening of drinking, it happens too often that guests forget of forgo having a piece of your deliciously gorgeous wedding cake. No problem: Personalized wedding cake slice boxes were created to provide your guests with the option of bringing their pieces home. It's a sensible way to show your guests how much you care about them! After all…they're likely to be stuffed!
For a delectable treat for your guests, these Hershey's miniature, mint tins, or tea bag wedding favors are sure to be a huge hit! All can be personalized with your names and the date of your wedding and let's be honest, edible favors are never left behind!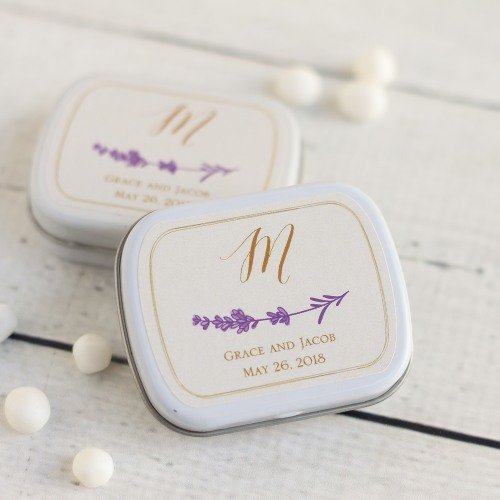 You may also like: