Are you confused about planning your wedding day timeline? You're not alone! For many couples, it's a dilemma and many of you are may even be wondering if it's really a necessity.
You surely have the vision of your perfect big day clear in your mind … a natural and spontaneous progression of events is one of the top priorities. You probably want your day to run its course smoothly without the rigidity of having to follow a strict schedule. I hear you! If that's what you really want then you absolutely need a wedding day timeline! Getting married is a wonderful however stressful event, and if you're thinking that one function will effortlessly lead to another, you are going to be in for a bit of a nasty surprise!
Let me let you in on a secret; this blog post would have helped me with my wedding and the mistakes that could've easily been avoided if only I had created a timeline! Hopefully having and sticking to your wedding day timeline will help you come to the conclusion that timing really matters! I sure wish I had taken that step…
The Danger Zones of NOT having a Wedding Day Timeline
You've probably heard the phrase 'action before satisfaction'. Well this is a perfect example; before enjoying the magic, you've gotta help make that magic happen! There are so many tasks to be done on the actual wedding day and with a couple of timing / scheduling errors you'll all end up with an extremely high stress level.
If this happens you may have to forgo or cut short certain tasks in order get to your wedding ceremony on time! You many not be able to have the 'first look' that you were dreaming of, or the amazing bridal photos you were planning for. And on a simple level, all that running around may force you to forgo a rest period and an energizing snack that will keep you going until dinner.
Here are a few functions (I call them danger zones!) were you absolutely need to be organized because mistiming any of them will create delays that can impact the rest of you big day!
Hair & Make-up
Not allocating enough time to get your make-up, and hair done, and of course putting on your gorgeous dress, can be problematic. This become even trickier if you and your bridesmaids plan to do everything together. What I'm saying is that without enough staff assigned to your group, anticipate that it will take more time than expected! It's best to allocate extra time for this one, and the perk of having extra time are the complements and wow's you'll be getting from your bridesmaids! It's a special moment in itself to take in your dress and then the look of everyone combined in perfect harmony!
Extended Photo Shoot
Another pitfall that will rob you of your time is the photo shoot. It takes time for a photographer to capture the perfect location, lighting, and positions for everyone to look fantastic on photos. Have a serious meeting with your photographer and videographer to discuss what you expect of them. They have experiences and they will guide you with the time they need to create memories you'll cherish long after the wedding! This isn't a step you want to rush, then again none of this is!
Prolonging Cocktail Hour
Getting married is quite emotional, and right after the ceremony you'll be glowing with a deep feeling of excitement. You may want to hang to that special moment as long as you can and may not feel quite ready yet to make your big entrance at the reception to great your guests. Like they say 'the show must go on' and without a timeline, you may alternatively extend cocktail hour and push dinner at a later time. This create a momentum of delays for everyone, including the dinner staff, DJ, photographer … everybody! (P.S. Hungry guests do not = happy guests!)
–At my wedding, while our guests were enjoying drinks and hors d'oeuvres during cocktail hours, my husband and I, our closest family members and friends were having our own party in the bridal suite. We completely lost track of time! We were so engaged with reflecting on our emotions, that our master of ceremony had to finally come and get us ready to make our entrance in the reception hall. As time passed by, our guests were getting more and more inebriated! Perhaps not the best idea…
Endless Cheers & Toasts
Having members of your bridal party, and guests share their memories and best wishes for you the newlyweds, is a heart warming feeling. You however need to put a cap on how long wedding toasts should last. Get the DJ and master of ceremony on your side to come to your rescue. (Especially if you sense that Uncle …. has had a few too many! We all know that relative, don't we?)
Planning your Wedding Day Timeline
Every wedding is different and there's no wedding day timeline that fits all. Scary? Maybe. Unique and precious? DEFINITELY! This is why organizing your thoughts by writing down each task your day entails and then allocating an estimated for each, is a wise idea indeed!
Starts with what you already know
You booked your ceremony, and you know at what time your reception venue is expecting everyone for cocktail hour. You also know at what time dinner will be served and the time the reception is to end. It's a good start, as everything will be built around that window.
Schedule the photographer's arrival
Your photographer is your best ally for working the logistics and figuring out the time required to take the different photo sessions you've requested. Photos as you're getting ready, of you in your robe with the bridesmaids drinking champagne, sharing a loving moment with your mom, and so much more!
Schedule Hair & Make-up Appointment
Once you know when your photographer is going to arrive, figure out what will be the best time to schedule your hair and make-up appointment. If your bridesmaids are joining you at the salon, play it safe and allocate extra time to anticipate any kind of delays. You'll never regret having extra time!
Take the time to grab a bite to eat!
Taking the time to slow everything down and sit down to have an healthy lunch will be a life saver! How do you expect to enjoy such a beautiful, emotional but ACTIVE day?! If you're exhausted by 9 p.m.…eek. And just imagine having a glass of champagne to celebrate your new status, but on an empty stomach!
First look
The 'first look' is an experience you'll cherish for the rest of your life. Plan for enough time to truly connect with your soon to be life partner. You definitively don't want to rush this extremely special moment!
Bridal Photos
Bridal photo sessions that can be taken before the ceremony will save you time later on that day. Try to avoid a jam pack photo session between cocktail hour and your grand entrance in the reception hall. It's less stressful and as an added bonus your smile won't be one of quiet panic!
Estimate driving time to the ceremony site
How far do do you need to travel to get to the ceremony site? Is the road you'll be taking usually traffic free, or does it get a little packed? Don't forget to pay special attention to the traffic during the time that you'll be travelling! Every small details you can foresee will help you stay on target with your timeline.
Traveling time from the ceremony site to your reception venue
You probably know the answer ti this one if you already booked your ceremony and your reception venue in different locations. Provide easy instructions for your guests to easily find where it's located. The last thing you want is to have guests being really late because they couldn't find the place! But, thanks to cell phones, this probably won't be an issue. If however you're in a remote area, dead-zone or poorly recorded area, pay special attention to make sure everyone arrives safely and in a timely manner.
Cocktail hour
Cocktail hour is like an interlude. It allows your guests to get to the reception venue and mingle with each other while sipping a delicious cocktail! Many newlyweds use that precious time with the photographer not only to capture their happiness on film but also to catch an intimate breathing moment with each other.
Grand entrance of the bridal party
This is it! The moment you make a grand entrance! Its nerve-racking… trust me! Everyone will be applauding and all eyes will be on you and your significant other. This can also be the perfect time to have your first dance!
Dinner and toasts
Staying on schedule with this one will earn you major points not only with the kitchen and serving staffs, but also with your hungry guests!
Party time!
After the father and bride dance, joined by the mother and the groom, everyone will be invited on the dance floor. It's party time!
Cutting of the cake | Bouquet toss & garter removal
When you're having so much fun on the dance floor, these functions can easily be forgotten. Yep! It happened to me! I completely forgot about our wedding cake! When I finally realized what was happening, our cake had been cut and was being served to our guests. Can you imagine?!
Last dance – end of reception
That magical day you dreampt of since you were a kid is now coming to a beautiful end. As newlyweds you will step onto the dance floor for your last dance. Following that, you'll be thanking everyone for attending your special day, and at this time following your charming and romantic exit plan. Don't overlook this detail since everyone loves a spectacular couple exit!
On your wedding day, you'll be amazed when you realize how fast the time slipped thought your fingers! Even after a year of planning, it's so easy to forget about something you had plan for. By being well organized with a well thought out wedding day timeline, you'll feel in control all day long knowing what needs to be done every step of the way. The comfort of knowing what you're doing truly allows you to savor each second without pulling your hair out! This will ultimately result in a wedding free of regrets…. only great memories that you'll cherish for the rest of your life!
Wedding Day Timeline Editable Template
Here's an example of a wedding day timeline. Feel free to download an editable Word copy of the timeline and customize it with your unique wedding details.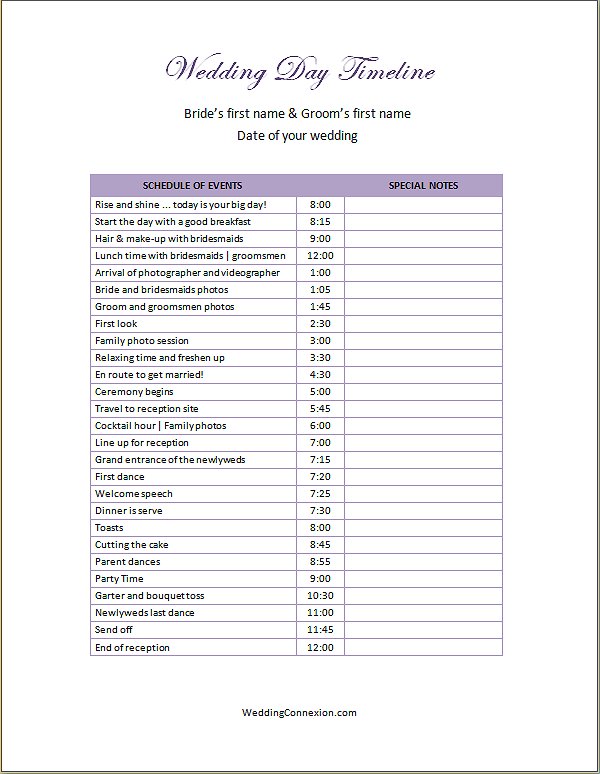 You may also like: