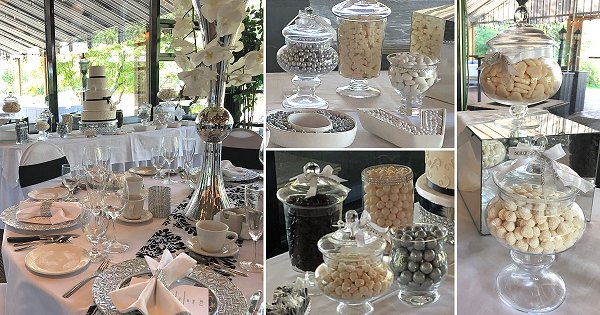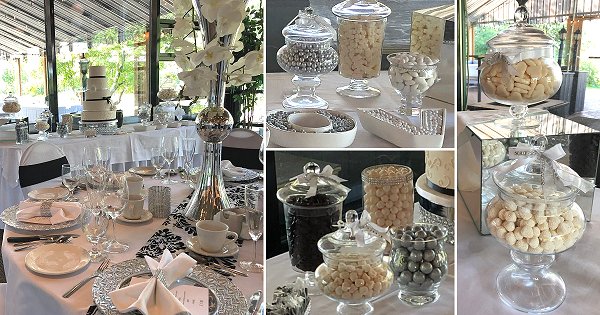 A white, silver, and black candy bar is a delectable way to add excitement to your wedding! Get inspired with Myriam and Stephane's candy bar served at their wedding reception held at Golf des îles de Boucherville.
The newlyweds had clearly defined their wish to create an elegant and stylish event. To elevate the elegance of the candy bar, we added extra sparkling touches to the apothecary glass jars by adding rhinestone edges and silver ribbon bows. While staying true to their color scheme, we carefully selected a delicious candy assortment of candy satisfying a diversity of tastes, and featuring interesting textures.
Guests had no difficulty helping themselves to the candy bar. We left enough space around the jars for everyone to safely remove lids and place them on the table. Perfectly sized plastic scoops and tongs placed near the glass jars made it easy for them to pick-up their favorites. For those wishing to bring candy back home, we provided clear, round plastic bowls with covers.
It's always a real pleasure to tend to a candy bar. It is not only a great way for us to evaluate our work based on the delighted smiling faces of the guests, but also a tool to adjust or improve certain aspects. I'm happy to report, the candy buffet was a success! Everyone enjoyed the visual display as much as tasting the candy!
Continue below for our favorite white, silver, black, and personalized candy that we enjoyed serving as well as some key suggestions for accessories that create a professional looking wedding candy bar.
Don't forget to pin your favorites!
---
Being from Canada, we get most of our candy from BonbonsConnexion.com, a well established affiliate partner candy distributor that ships across the country. If you are located in the USA or outside Canada, we strongly recommend visiting CandyStore.com for their great reputation and wide candy selection.
Pro Tip: The best way to shop for M&M's chocolate candy is to order directly from the manufacturer!
Champagne Bubbles

Pina Colada Sour Balls

Strawberry Banana Bears
Jelly Belly Vanilla

Gummy Lambs

Minty Hearts
M&M's Chocolate Candy

Rock Sugar Sticks

Confetti Almonds
Silver Gumballs

Silver Foil Chocolate Hearts

Silver Pearls
Silver Sixlets

Silver Foil Hershey's Kisses

Silver M&M's Chocolate Candy
Black Cherry Gummy Bears

Old-fashioned Licorice Sticks

Black Cherry Sour Balls
Favorite Personalized Candy
Personalized candy is the perfect way to infuse originality and uniqueness to your candy bar. Our favorites guest-pleasers are M&M's chocolate candy, chocolate mint candy, and delectable Hershey's Kisses. Your guests won't be able to resist and nor will they want to!
For a stunning addition to your candy bar decor, these ceramic character dishes are a must! Fill these large sized dishes with small candy such as M&M's or Sixlets. For weddings we love using our plates spelling LOVE. They always create a big impact with the guests. However you can choose other letters that spell your initials for example, or any other words that are meaningful to you.
This stylish set of three apothecary glass jars is suitable to hold smaller sized candy. To balance both sides of our candy bar, we suggest using two set of jars placed on each side of the table. Jazz them up by decorating the covers with beautiful bows.
These pedestal apothecary glass jars are perfectly sized for filling with larger candy. They look great on candy bars! The globe and straight jars are statement pieces and we suggest using only one of each model on your table. For the bell jar however, we recommend setting one on each side of your table for an eye-pleasing, balanced look.
Adding glitz to your candy jars is so easy to do and well worth it! With this silver faux jewels quickly enhance the look of your jars. Cut the amount of rows needed and simply use a glue gun to secure the faux jewels on the glass jar. To decorate your apothecary glass jars, we also suggest using a single strip of ribbon incorporated with organza ribbons and bows to make them much more interesting.
For our candy bars, we also love using sequined tablecloths. They add so much glam to a candy bar!