These creative 'save the date' ideas are a perfect way to tell your family and friends that you're getting married. Without being a formal invitation, they're meant to be general and request that a special date be reserved.
When to send
Usually a 'save the date' envoy is done 4 to 6 months prior the wedding. For destination weddings send the message much sooner; guests need enough time to schedule time away from work, make travel arrangements, etc.
What to include
Include information such as the couple's name, the date of the wedding, and the venue location if this has already been decided. If you don't have a specific venue, simply include a generic location such as the city or the overall travel destination in you'll be tying the knot.
Pro Tip: Many couples today have a wedding website to better plan for the wedding and convey info to their guests. This is great but requires a special understanding: You can include the site on your'save the date' messages, but we strongly recommend not including your registry. Announcing your gift wishes too early can come across as pretentious… you're assuming everyone will make it to your special day.
Send to whom?
Your 'save the date' needs to be sent to everyone you wish to attend. There's no priority list with closest family and friends getting a 'save the date' before others. Therefore, this includes parents, siblings, close family members and friends, as well as everyone you invite to make up your bridal party.
Play it safe
Keep in mind that the 'save the date' isn't a formal invitation so you're better off playing it on the safe side. When the time comes to send the real invitations, it'll be easier for you to decide whether a guest gets a plus-one than having to uninvited someone. As a precaution, only send your 'save the date to those you're absolutely sure you want to see at your wedding. As we've learned over the last couple of years especially with the pandemic, we never know what can happen!
Dealing with 'plus-one'
Are you wondering if should include a plus-one option on your 'save the date'? Generally, if a guest is married or in a steady relationship, your 'save the date' will be addressed to both members of the couple. Another guideline is that everyone in your bridal party gets a plus-one and can be addressed like this for ex: 'John & Guest'. For those in new relationships you'll need to consider if a plus-one is called for at that time. That depends on your personal guest limit and desire for large or intimate. If in doubt of the seriousness of relationships, simply address the envelope to your invited guest without a plus-one.
Creative save the date ideas
They are many ways to let people know of your upcoming wedding such as by phone call, text message, or mail invite, but there are many other creative save the date ideas. From 'put me on the fridge' magnets to 'pencil us in' personalized pencils and calendar key chains, we scouted the markets looking for fun ideas that are simply outstanding! The following 'save the date' ideas all make for lovely reminders of your upcoming special day. For additional information on any of the items, simply click on the provided link and you'll be directed to one of our favorite merchants.
Don't forget to save your favorite ideas for later!
---
Creative Save The Date Ideas
Set the tone of your big day with these lovely save the date heart shaped magnets. Made of solid wood, your guests will be thrilled to put them on their fridge. The magnet makes for a practical and lovely reminder of your upcoming event.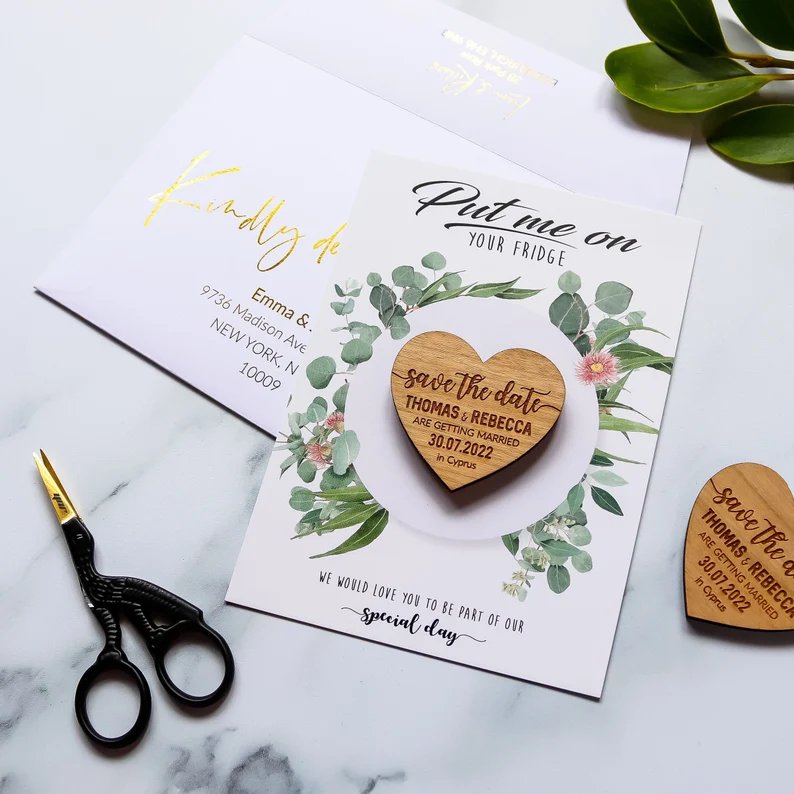 Made of 100% natural cork, this cute 'save the date' wine cork set in a wood box is available with or without a magnet. Choose from a wide variety of style and personalize for a unique reminder of your upcoming wedding.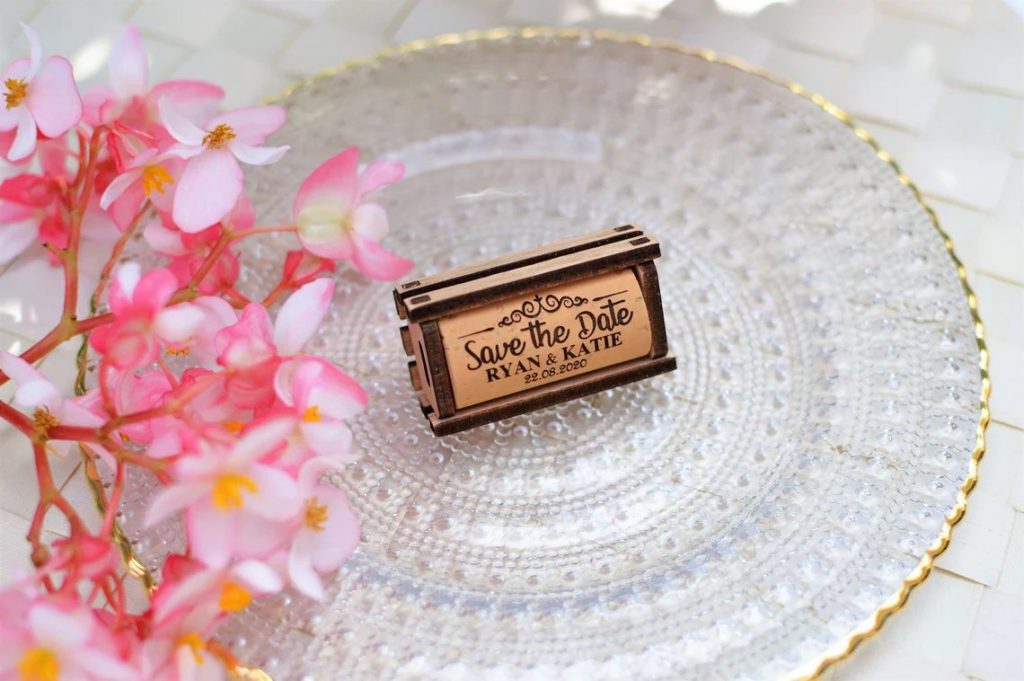 Featuring a backing card with the words 'Pencil Us In', on a background of greenery this 'save the date' engraved pencil makes for a creative surprise for your guests. An envelop is also included in your choice of white or black.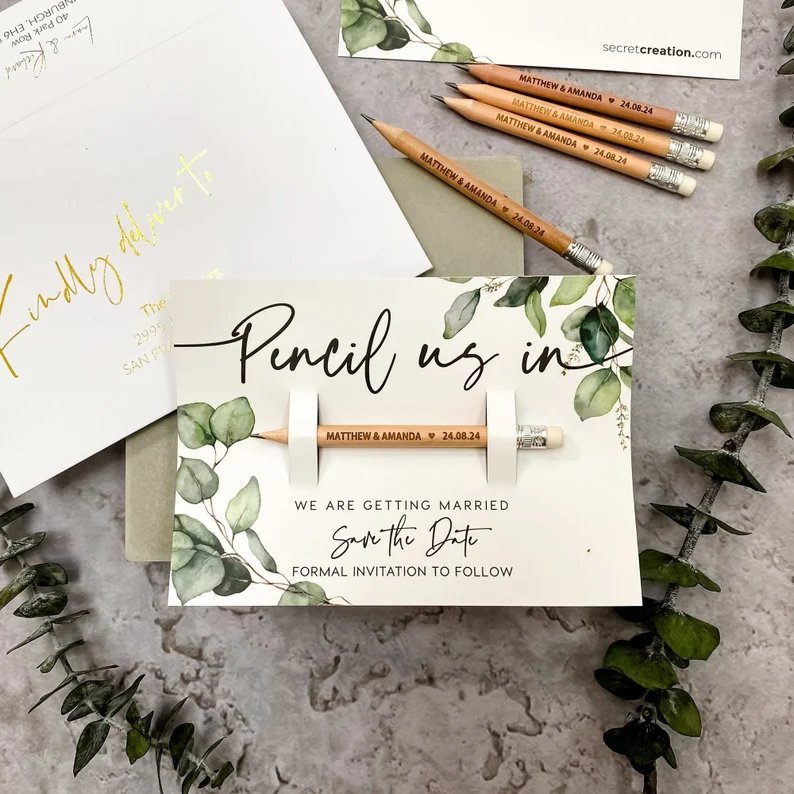 Making for a creative 'save the date' idea, this vinyl record made of plexiglass features a picture on the envelope of the couple with a pencil drawing effect or a gramophone image printed on the outside.
Plantable seed sticks make for an eco-friendly 'save the date' idea. Your guests need only plant the stick indoors or outdoors and watch it bloom while the card can be used as a bookmark. Nothing gets wasted and there's something precious about the number of plants that have grown between the time of announcement and your big day!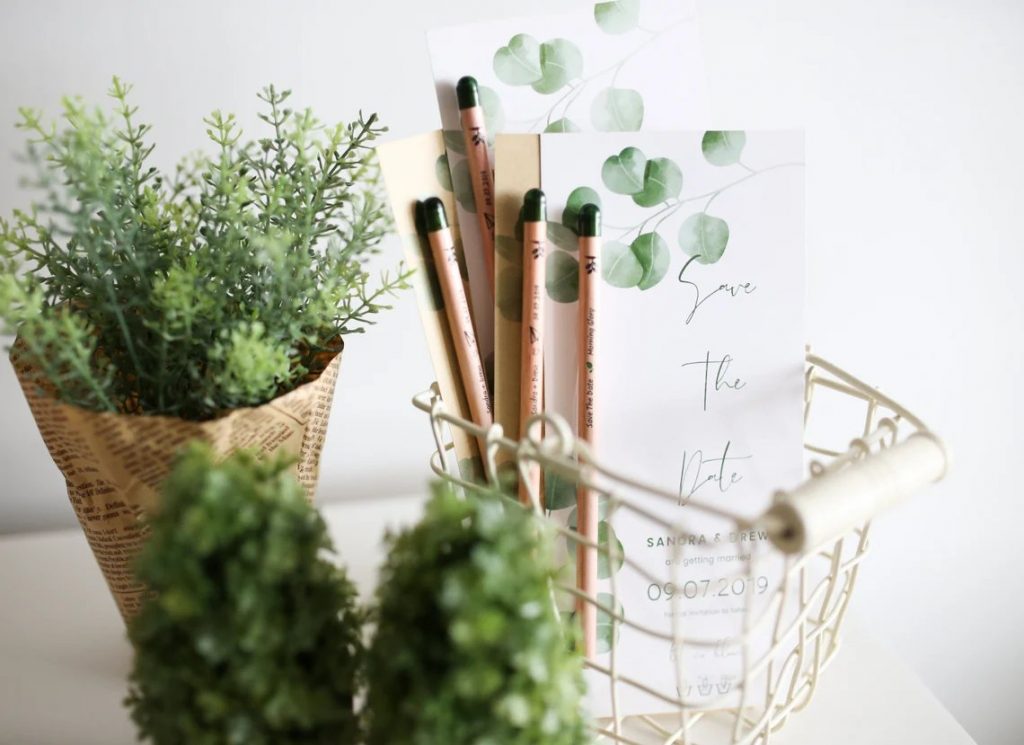 For a economical 'save the date' idea, this funny Free Drinks card come as a download printable. Personalize the file and print as many copies as needed either from home or a nearby printer.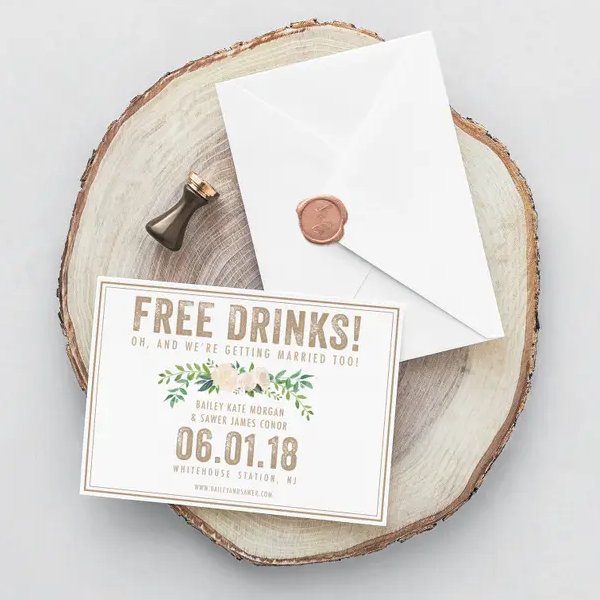 If you're planning a destination wedding, this 'save the date' luggage tag makes for an awesome idea. The tag magnet is made of wood and comes with many options for personalization.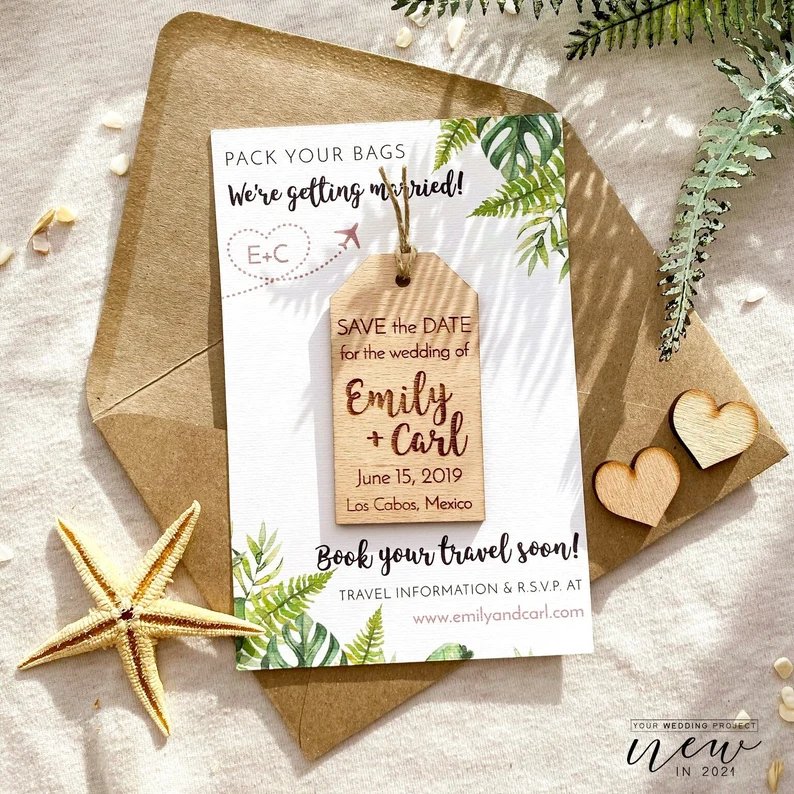 Announce the upcoming wedding to your inner circle with these lovely 'save the date' luxury scented mini candles. Choose a favorite scent, personalize the writing and simply have them shipped directly to everyone on your list.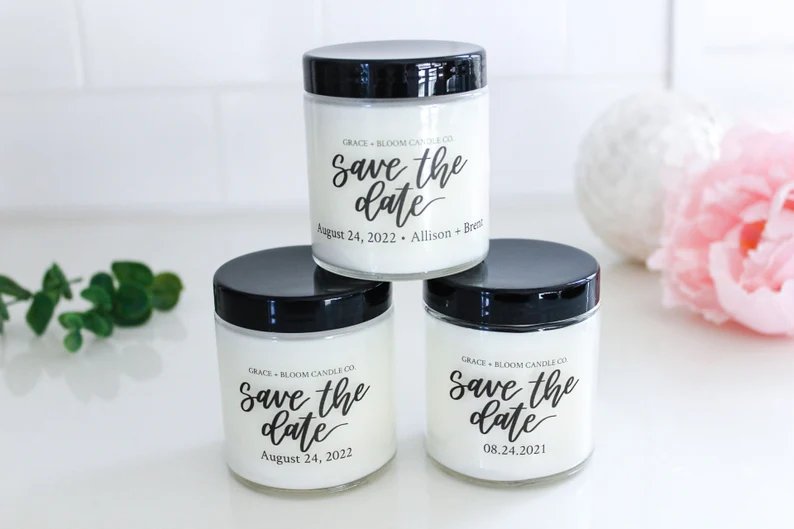 Get instant access to this printable newspaper 'save-the-date' template. There's no software to download and the the template is very easy to use; simply edit the template on your web browser or phone. This creative 'save the date' idea is at the top of our list!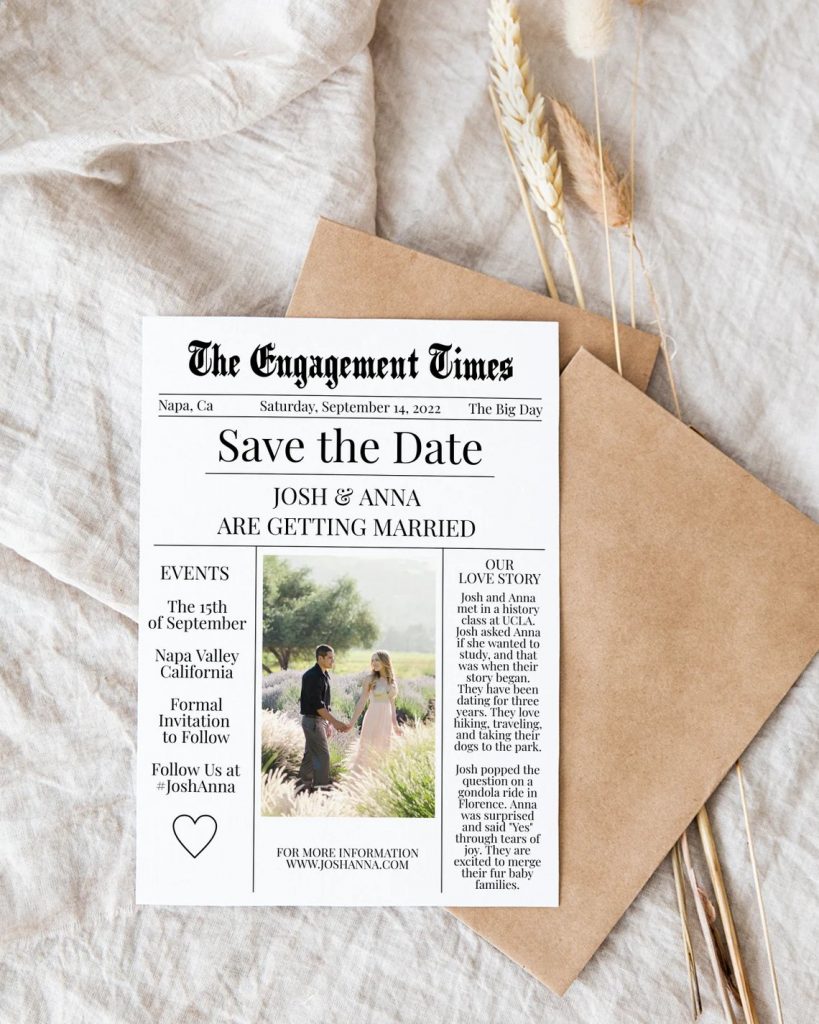 Personalized wine bottle stoppers make for a practical 'save the date' idea. It's something that your guests won't throw in a drawer and forget about it. Made of wood and cork, the stopper features a lovely greenery design personalized to your taste.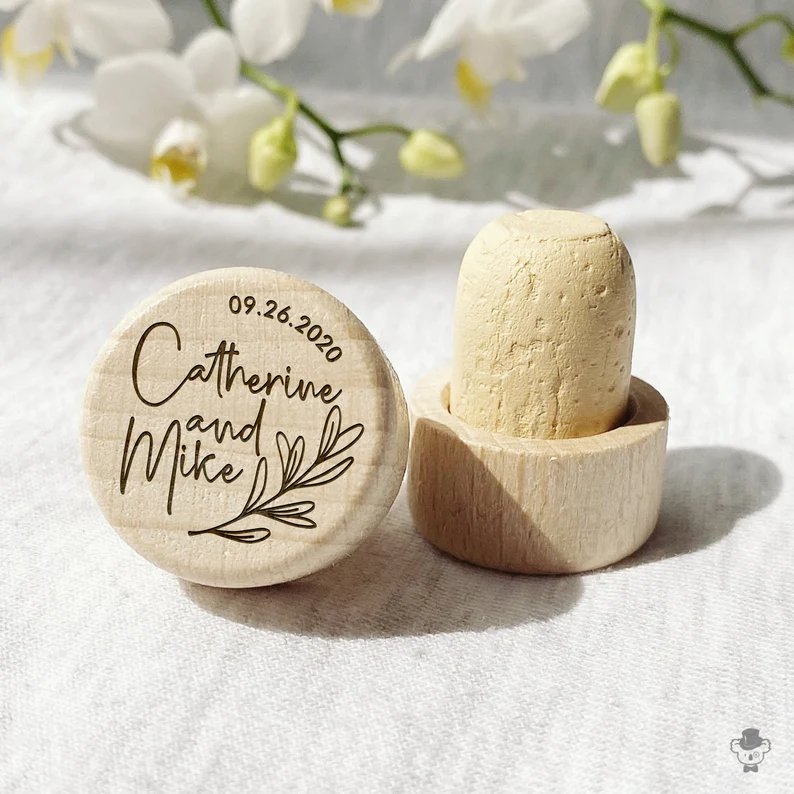 Made of Bamboo, these laser engraved chopsticks are a unique way to let your loved ones know of your special event. The design is burned into the surface of the wood making for a high quality gift.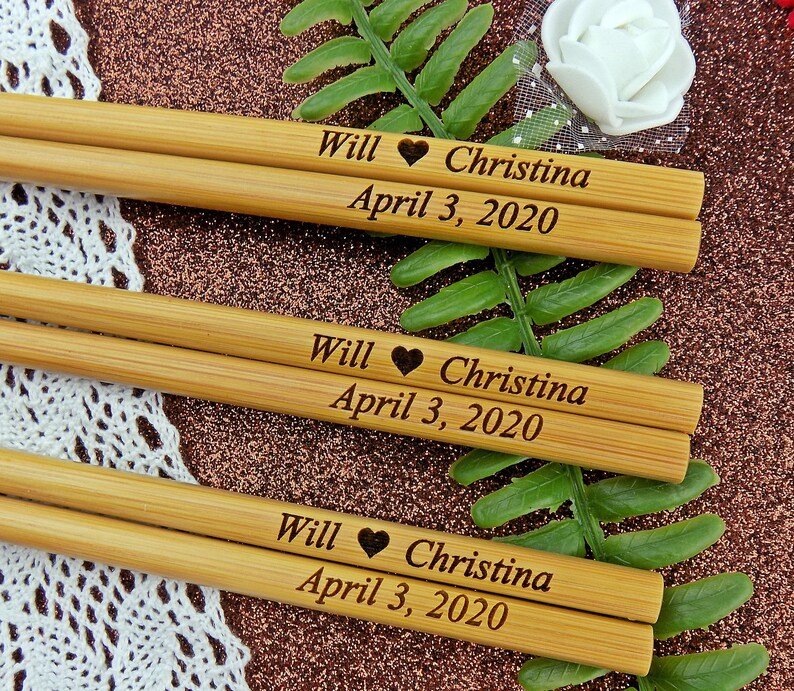 Sometimes less is best and this 'save the date' wax seal might be just what you're looking for to announce your upcoming wedding. Your design is hand stamped into real sealing wax and comes with clear adhesive on the back for easy assembly. The seal is available in a wide range of colors to perfectly complement your color scheme if you already have one.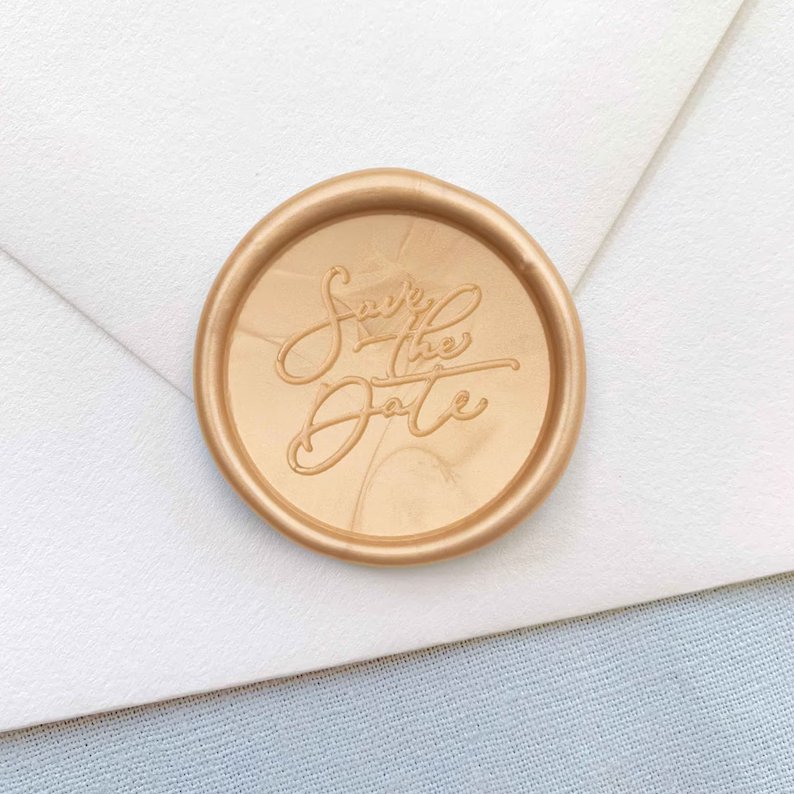 This creative 'save the date' library card is a wonderful idea. The card includes heartfelt information for your guests to let them know the date of special events leading to your big day. The format is unconventional and sure to be remembered!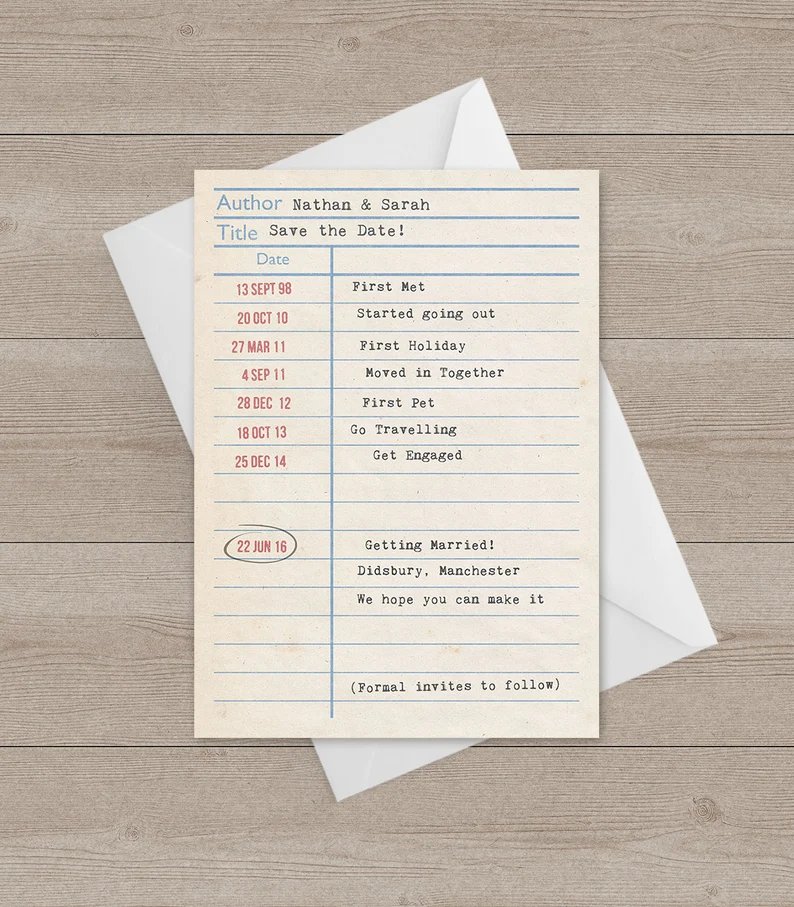 This calendar key chain is also a creative 'save the date' idea. Made of aluminum, the square is stamped with a calendar month of your choosing with a heart marking your special day. This makes for a unique 'save the date' idea for your closest family and friends.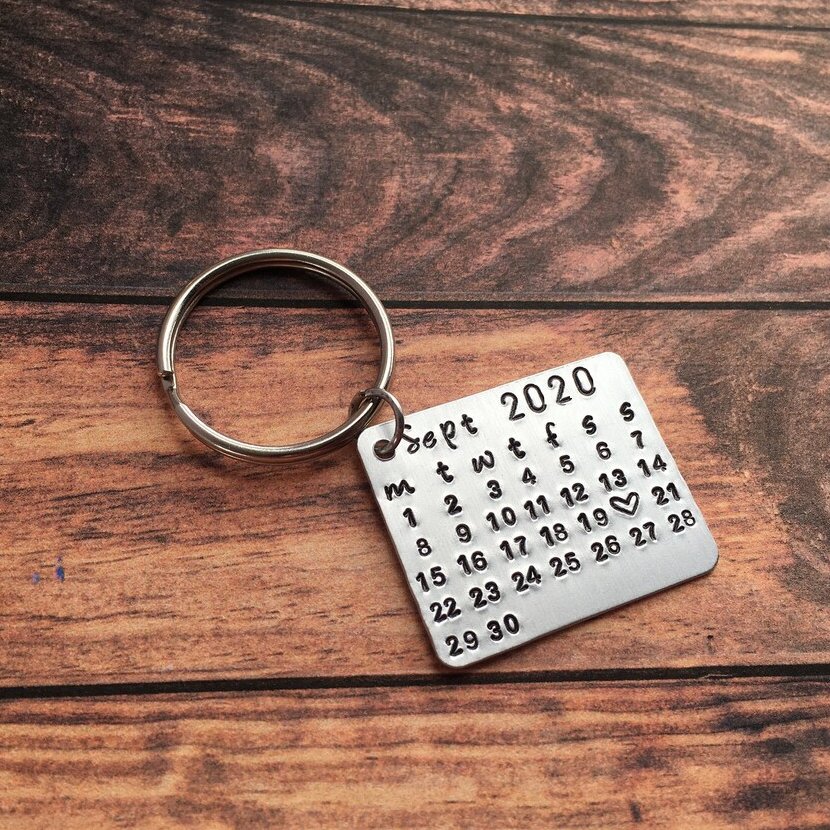 You may also like: