The richness and glamour of an emerald green and gold wedding color palette makes for a theme that is enchanting and captivating. In selecting the color emerald green for your wedding you've made a remarkably symbolic choice. In the chakra energy system, green is the color associated with the heart chakra. This chakra is the root of love and compassion as well as ease, grace and harmony in relationships. Marriage is, in fact, the sacramental association of the heart chakra.
Jewel-toned emerald green is a deep and rich color that is outstanding alone, but accentuating it with brings in a flair of wealth, elegance, and luxury. It's an enchanting color palette that works perfectly with many wedding sub-themes such as vintage, boho, traditional, modern, industrial, and whimsical.
Fun fact: The color emerald green was introduced in Schweinfurt, Germany in 1814. It was then made from a mixture of copper verdigris, vinegar, and white arsenic, after which the sediment was mixed in linseed oil.
The use of different textures of fabric and materials will help you create a beautiful decor. The rich texture of velvet, delicate organza, solid wood and gold metal decorations combined with greenery is exactly what you need to add a luxury feel to your wedding.
Continue below to whet your imagination and explore enchanting possibilities to create the emerald and gold wedding of your dream!
Don't forget to pin your favorites!
---
A shiny emerald velvet table runner makes for a stylish way to enhance the luxury of your sweet heart table decor. This velvet fabric is also available in a longer size to create a stunning arch decor, or it can be draped from the ceiling.
This gorgeous set of emerald and gold toasting flutes and cake server is decorated by hand and will bring a refined and stylish flair to your celebration. Personalized with your names and date of your wedding will make for a lovely memento to use and display in your home after.
With its gorgeous calligraphy script, this 'Love' wedding cake topper makes for a romantic way to decorate your cake. Made of acrylic, the cake topper is available in your choice of shiny gold or silver.
Create stunning centerpieces by setting these large emerald ostrich feathers in tall Eiffel tower glass vases. Their sizes range from 17-25 inches and have long and wispy hair-like feathers extending between 4-5 inches long from a stiff center quill. They are around 10 inches wide.
Save money with this stylish emerald gold geode download template bundle. The set includes all you need and is super user friendly! From invitations, menu cards, seating charts, welcome signs and more, you need only download the template and enter your information.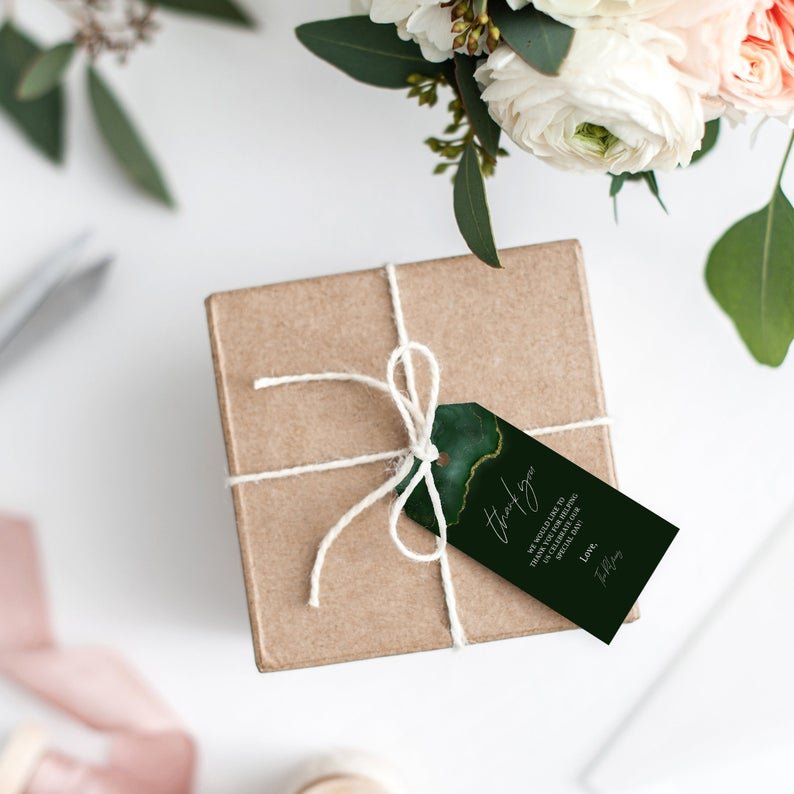 Personalized stemless wine glasses add a unique touch to table decor. With so many design options it's easy to find the perfect one for you! Add two lines of text in your choice of a print color to accentuate your tablescape. At the end of the night, let your guests bring their glasses home as a lovely memento of your big day.
For a beautiful pairing with your emerald decor, this gold geometric galvanized set includes a total of four vases of different shapes and sizes and a votive candle holder. This glamorous hand blown glass vase set includes 5 pieces that can be used as a centerpieces, vases, and terrariums.
Available in beverage and luncheon sizes and a wide variety of themes and colors to choose from, personalized paper napkins make for a simple yet effective way to spruce up your table decor while keeping things neat and easy to clean.
To safely store your guests' best wishes, this stylish emerald card box is a beautiful choice. The box is made of strong carton and is accentuated with velvet cloth and a silk ribbon. A personalized banner is included with your names and the date of your wedding.
Let your guests have fun by having them fill up these advise cards for a happy marriage. You'll be looking at these cards for years to come.
Printed in real foil, this elegant hardcover emerald wedding guest book includes white, ruled pages as well as black pages for adding photos. Personalize it with your names and the date of your wedding for a lovely reminder of your special day.
Available in you choice of cream, black, and gold, these mini lantern favors are simply adorable! Made of metal, the lanterns include a white sheer ribbon, a single blossom in your choice of color, a white wax tea light candle and a decorative gift box with a thank you tag.
Present your favors luxuriously with these emerald velvet pouches. Handmade with of a soft crushed velvet fabric, the pouches also include a beautiful silk tassel.
Round candle tins are a practical favor idea for your guests. Easy to pack in luggages, your guests will enjoy bringing tin on their next trip. These ones are personalized with your choice of design, background color, and either a monogram or up to two lines of text.
You may also like: