A dusty blue French country wedding is an elegant and romantic theme to celebrate your upcoming union. The soft hue of French blue combined with the rustic feel of country decor add a warm, charming and a loving feel.
Sharing similar tradition with North America, a French country wedding emphasizes simplicity and has a strong focus on fine foods and wines. A civil wedding ceremony is usually held in the morning followed by a religious ceremony in the afternoon. The festivities get started when 'le vin d'honneur' is served along the entrance of 'le cortège' (bridal party). This is followed by a 4 or 5 course gourmet meal and a dance to celebrate the newlyweds.
'Le vin d'honneur' served before the meal is similar to a cocktail hour. It makes for a practical and budget-friendly way to invite guests who are not invited to attend the meal served later on. Setting up a champagne tower is a lovely tradition and definitely a favorite among guests. In other words, don't miss out because it adds glam and sophistication to your event … not to mention, it's fun!
The wedding reception called 'la noce', is where a long and elaborate dinner is served. This is key for a successful French wedding and the budget allocated for the meal is prioritized over decorations.
What about the wedding cake you may ask. Well, for a modern twist on the traditional and delightful 'croque-en-bouche', which is a pastry puff montage topped with caramel served as a wedding dessert, newlyweds now-a-days opt for a wedding cake with a porcelain figurine topper…. just like North America!
Scroll down to view our favorite picks for making your dusty blue French country wedding the best day of your life!
Don't forget to pin your favorites!
---
Dusty Blue French Country Inspiration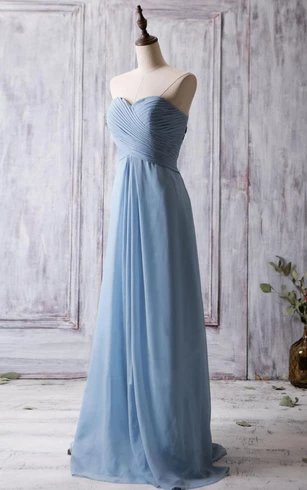 For an elegant look of your 'dame d'honneur', this sweetheart chiffon dress features a flattering a-line style. The front pleats confer a soft and romantic touch which is perfect for a French country wedding theme. Keep in mind that in a French wedding celebration, there are traditionally no bridesmaid or best man. The bride designates 'une dame d'honneur' for a married woman, or 'une fille d'honneur' if she is single. Whatever you decide on, this dress is too beautiful not to include in our theme inspiration!
This piece is simple, yet gorgeous! A hand-made silk hydrangea flower bouquet will be a keepsake for many years to come. Hydrangeas are lovely flowers that match perfectly with a French country wedding.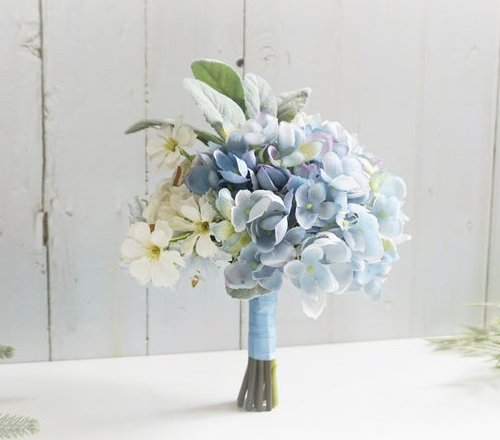 Convenient and budget-friendly, sheer chiffon table runners can easily be transformed into gorgeous and romantic wedding decorations. They'll add a luxurious and delicate look to your table decor and can also be used to create whimsical wedding arches as shown below.
For a charming and memorable toast these lovely hand made dusty blue toasting flutes will spread the love and romantic vibe! Their vintage and amorous appeal lends the French country style you're looking for. Other gorgeous accessories are also available from StayWithAnn's lovely dusty blue wedding collection This includes items such as a unity candle set, a wishing well card box, a cake server set, hanger, and a ring box.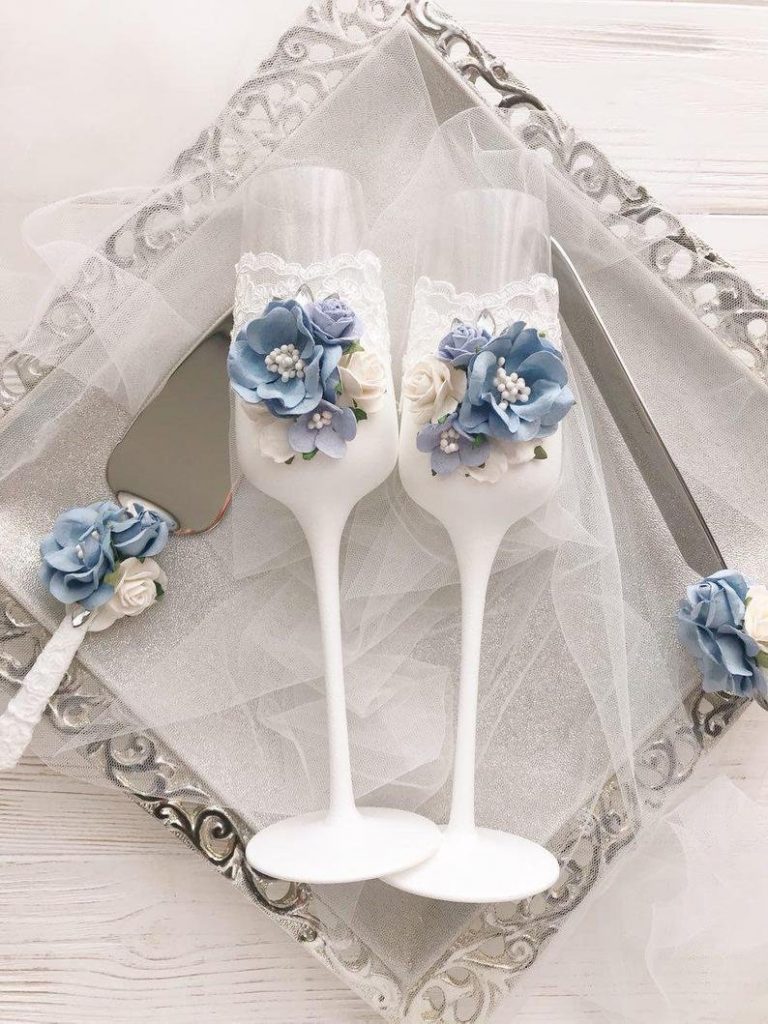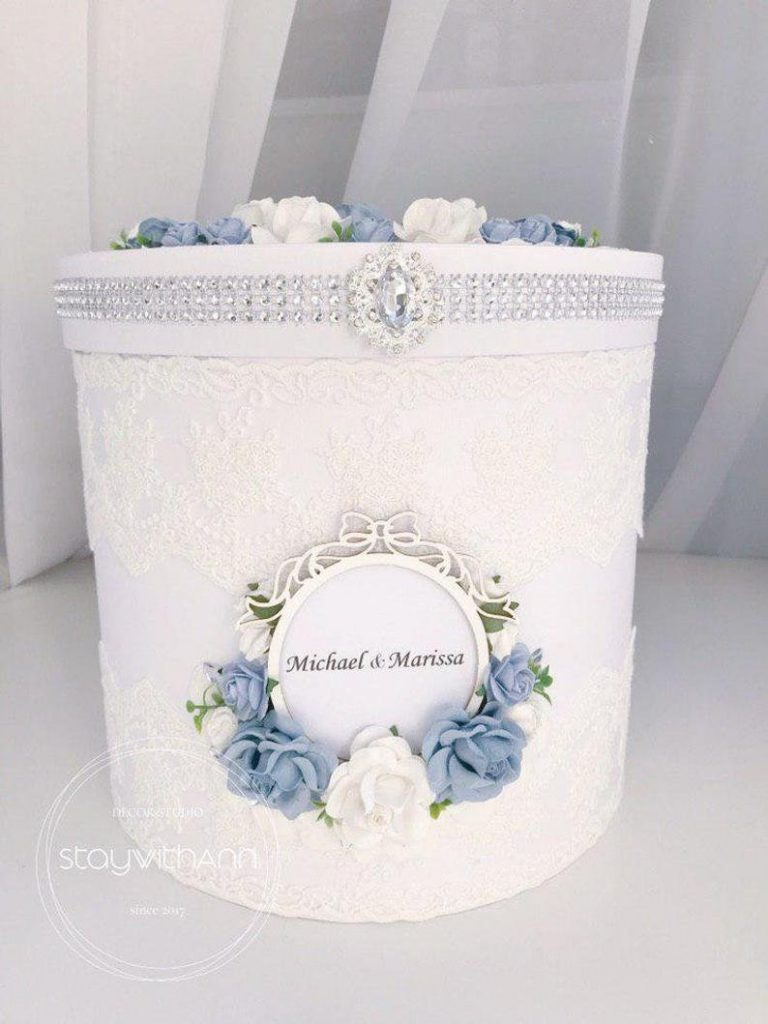 For a romantic way to collect your guest wishes, this timeless journal guest book features 48 unlined pages of handmade and hand-printed organic paper. The cover is made of leather and the overall look is harmoniously with your French country inspired wedding. (This item is no longer available)
Accentuate your French country style sweet heart or guest tables with metal pitcher flower vases. The antique and rustic feel of the pitcher features a French inscription 'Prix d'honneur'. Filled the vase with lovely wildflowers or greenery for a thematically perfect addition to your wedding decor.
Add warmth throughout your venue with this charming set of vintage pillar candle holders. Made of metal in silver, blue, and gold, each decorative candle holder is adorned with a metal flower and a tightly-wrapped burlap string to add a modern feel.
These lovely French country rustic wall hanging planters are available in your choice of a semi circle or rectangular shape making for charming decorations at an outdoor wedding. The planters have a white distressed finish and feature the script 'Le Jardin aux Oiseaux' which translates to 'Bird Garden'. Fill them with wildflowers and greenery to create a beautiful and natural display at your venue.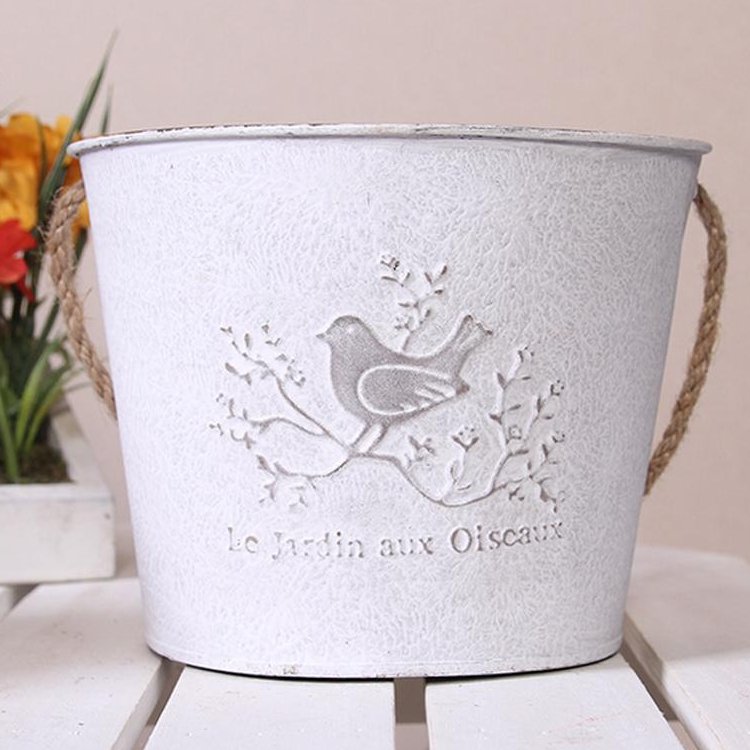 A must-have, these vintage blue pressed glass wine goblets will add a charming French flair to your table decor. Featuring an intricate glass pattern, these glasses can also be used as mini vases to be filled with flowers that will accentuate your centerpieces.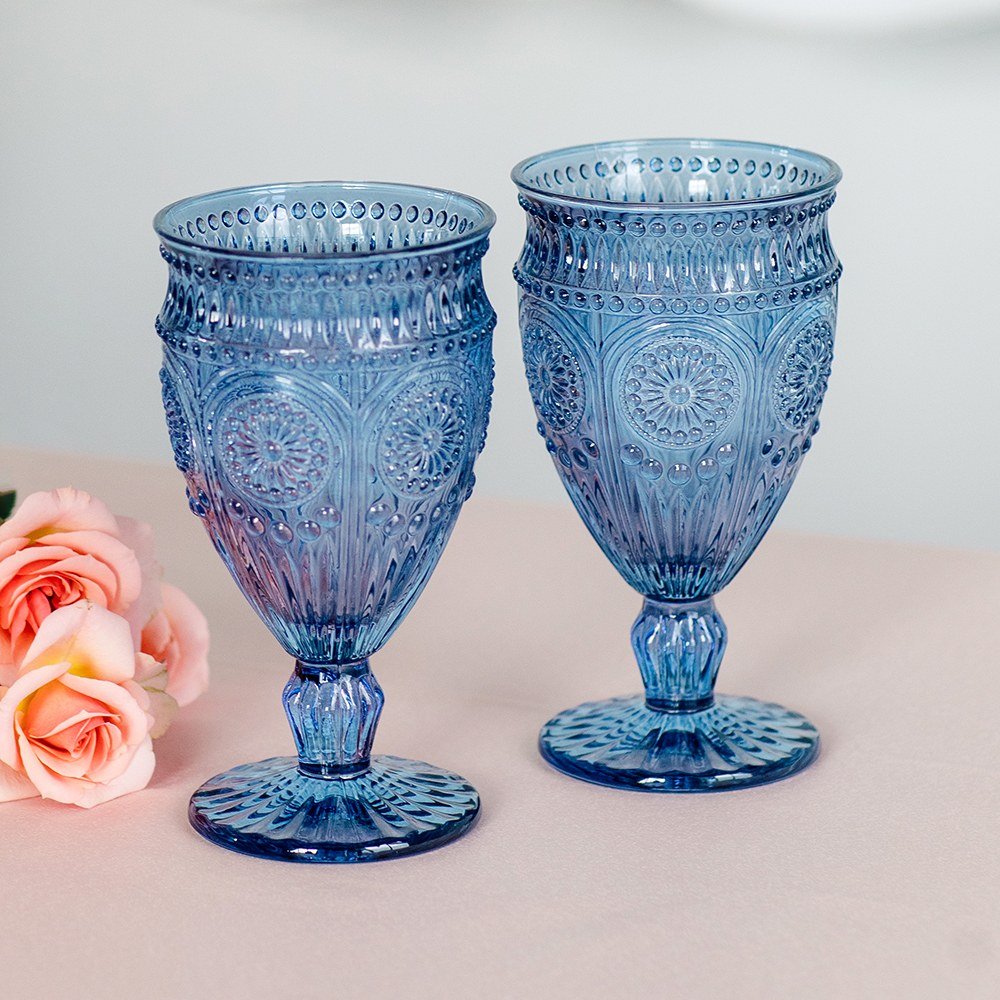 Easily download, edit, and print your table number template. As easy as 1-2-3, digital download is by far the most economical way to create beautiful table numbers. This one is elegant and features a calligraphy font that's quite stylish.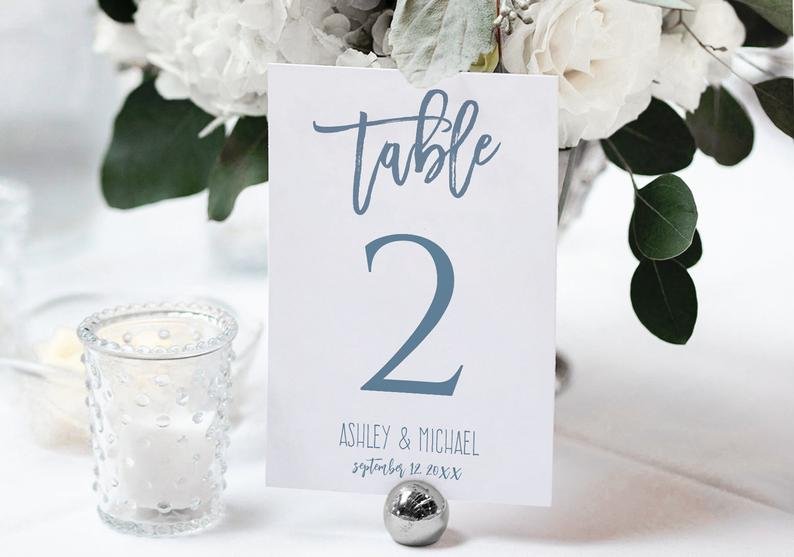 A French country inspired wedding celebration requires a simple yet refined-looking table decor. Rather than using paper napkins, elevate the elegance with these chiffon dinner napkins. They're budget-friendly and the rustic texture and look of the napkins will accentuate the beauty of your tablescape.
Artificial flowers are well worth considering when they look as realistic as these elegant dusty blue roses! They make for a budget-friendly flower bouquet, arch decor, and vase filler. The roses come with a stem of about 7 inches making it easy to bend and incorporate with all your bridal flower arrangements.
The tradition of confetti almonds dates back and has always been a strong tradition in France. What better way to thank your guests by giving them these sugared almonds in elegant 100% natural linen dusty blue favor bags. The lace trim at the opening of the bag has a charming rustic feel to it making it the perfect favor bag for your event!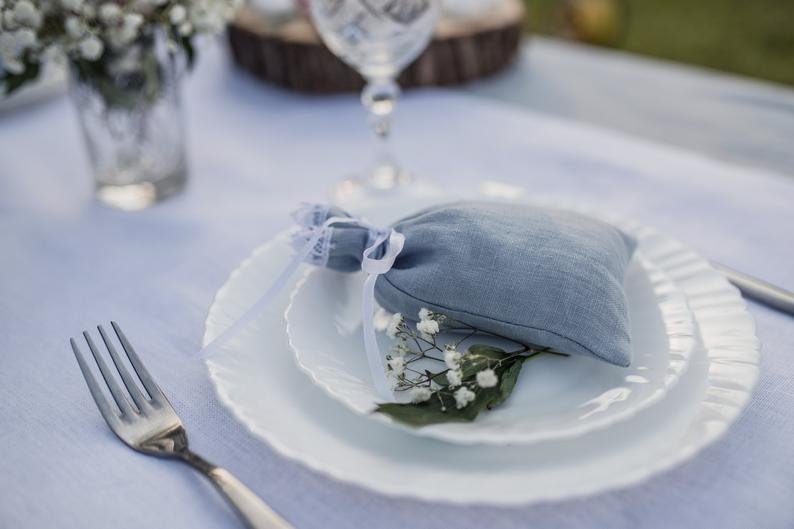 You may also like: