It's never too early to start planning your wedding! With the multiplicity of tasks involved in such an important event, breaking the tasks in smaller chunks will help you save your sanity and ensure that your dream becomes a reality! We're not suggesting that you make deposits too early in the process but we recommend taking the time to evaluate all your options in advance to make it much easier when it comes down to decisions.
Here's a list of 20 tasks that are well worth planning ahead.
– Configuring your wedding budget
– Estimating the number of guests that will be attending
– Evaluating potential ceremony sites
– Researching the perfect reception venue
– Refining your wedding style and color scheme
– Preparing your vows
– Shopping for your bridal attire
– Exploring options for your flower bouquet
– Picking your bridal party
– Ordering fabric color swatches for your bridesmaid dresses
– Noting appealing decor ideas
– Making a list of traditional wedding customs that appeal to you
– Creating a secret board on Pinterest to save your favorite finds
– Setting up a gift registry
– Getting started on your wedding website
– Selecting songs for meaningful dances
– Evaluating potential photographer, videographer, and D.J.
– Getting inspiration for your wedding cake
– Looking for bridal gift and favor ideas
– Starting to dream and plan your perfect honeymoon!
Do your due diligence and become familiar with wedding terminology. It's also essential to document all aspects of your research and inquiries regarding vendors. Be sure not to leave these things to memory – trust us; with all the details it's crucial to have a good system to make note of everything you learn! This includes what vendors provide, the cost, the required deposit, due dates for payment, cancellation policies, and how much time prior to your wedding you should book their services.
The Benefits of Starting Planning Your Wedding Early
It's never too early to start planning your wedding! Spreading your to-do list over a longer period of time will give you a better sense of control and allow you to evaluate as many options as possible!
It will help you manage your stress level
Planning a wedding involves making many decisions. By being prepared and ahead in the planning process you'll avoid having to make last minute choices that are bound to increase your level of stress. For such a special event, waiting until the eleventh hour to finalize your to-do-list will create a humongous sense of urgency. Start early and save your sanity!
It will help you stick to your budget
Last minute decisions can also be costly. Having more time to plan will give you the opportunity to shop around and compare the cost of different options that you have in mind. Making a list of your priorities and sticking to them makes it easier to know how closely you're keeping in line with your budget.
It will help you achieve the vision of your dream wedding
More time means that you can better prepare yourself and research what style and color scheme are appealing to you and your fiance. If your sense your significant other is being intimidated by this process, by taking baby steps and exchange both your preferences will make it easier for you guys to agree on a plan to create a wedding that fits both personalities and wishes.
It will help you make an informed decision regarding your venue
Evaluating what's available in terms of venue will help you find the perfectly appropriate location for the style and size of your wedding. Working with a list of pros and cons as well as making price comparisons will ensure that you get the most for your money.
It will help you save money
Having more time planning will give you the opportunity to shop around and compare cost. Decorations, bridal gifts and favors are worth researching ahead of time to help you find the best prices and take advantage of rebates offered from vendors.
It's never too early to start planning your wedding!
Planning a wedding involves taking care of so many details… big and small! You never know is there's going to be an obstacle around the corner. 'Slowly but surely' is a phrase to live by; in starting your planning early and working step-by-step, the vision of your big day will truly come to life! Staying ahead of the game can make the difference between a stressful process or one that you will fully enjoy and remember fondly!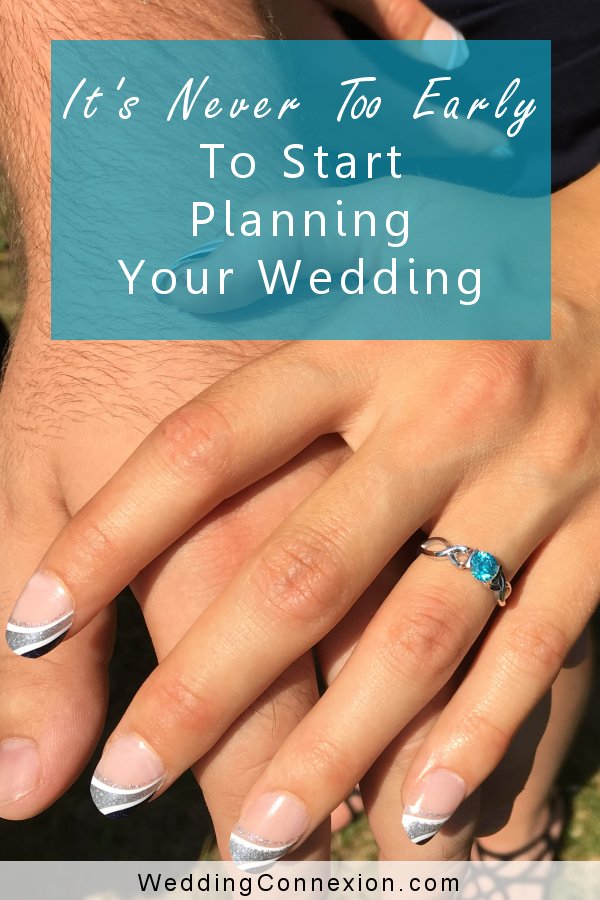 You may also like: