Explore exquisite wedding chair cover decor ideas that will convey elegance and sophistication to your venue. Chair covers come in all kinds of shapes, colors, and styles to accentuate the feel of your chosen wedding theme. It's a type of decoration that will help you achieve that wow-factor that your're after!
Chair covers are extremely convenient especially if the chairs of your venue are too commercial looking, don't match your color scheme, or just downright ugly!
From rustic burlap to romantic lace, elegant chiffon to glamorous sequin, there are tons of beautiful chair cover decor ideas that will magnificently complement your personal style and budget. Not too long ago chair decor was overlooked and considered non essential. With the increasing popularity of Chiavari style chairs it was only a question of time before people realized how superbly you can transform a simple venue decor into a breathtaking space.
Keep in mind that some chair covers are not pre-tied when you receive them. If doing beautiful bows is a challenge for you, look instead for slipcovers or sashes that come with already made bows. They cost more but you'll save time as well as your sanity when trying to decorate your chairs.
To accentuate your chair decor, tie the fabric using either a small flower bouquet, jeweled ribbon or fancy brooch. Make your decor pop by using contrasting colors between the fabric of your chair covers and the ties.
Continue below for exquisite wedding chair cover decor ideas to spruce up that venue of yours! We included a link for each model if you wish to get additional information of a particular style.
Don't forget to save your favorite chair decor ideas for later!
---
Exquisite Wedding Chair Cover Decor Ideas
Using taffeta, organza, tulle, sequin and brooches, Flora Rosa Design handcrafts the most exquisite wedding chair covers. The quality of the material used combine with their unique designs make for chair covers that are simply stunning. They are quintessential in conferring a dreamy and romantic look to your sweet table decor.
Infuse a nostalgic and romantic note to your decor with these lovely lace wedding sashes. Available in white and ivory, make sure you accentuate the sashes with a small flower bouquet or greenery.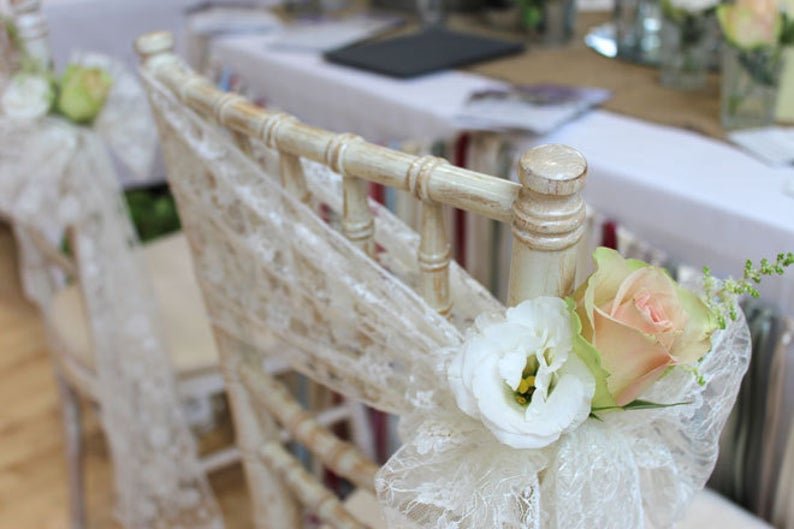 This elegant weaved pattern chair decor can easily be created by using six thick chiffon sashes. Perhaps the cost of decorating all guests' chairs would be too costly but this style is a wonderful idea either for your sweetheart table or head table chair decor. The chiffon sashes shown below are available in many colors to perfectly match your wedding theme.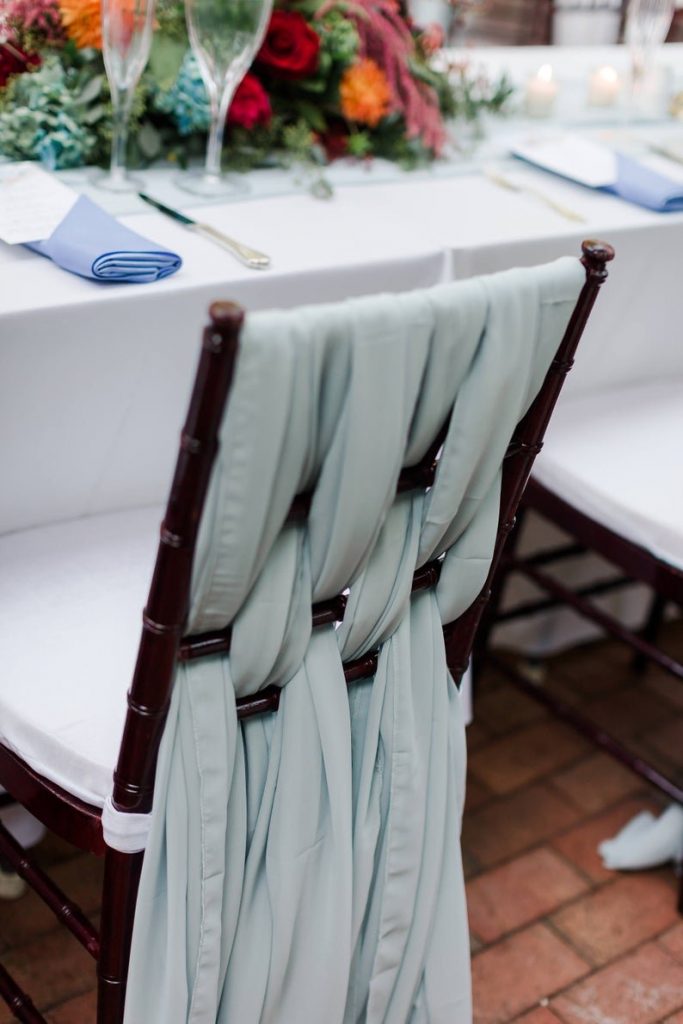 Confer a shimmery and sparkling venue decor with these glamorous chiavari sequin chair covers. They are custom made using layers of tiny sequins on a nylon mesh base.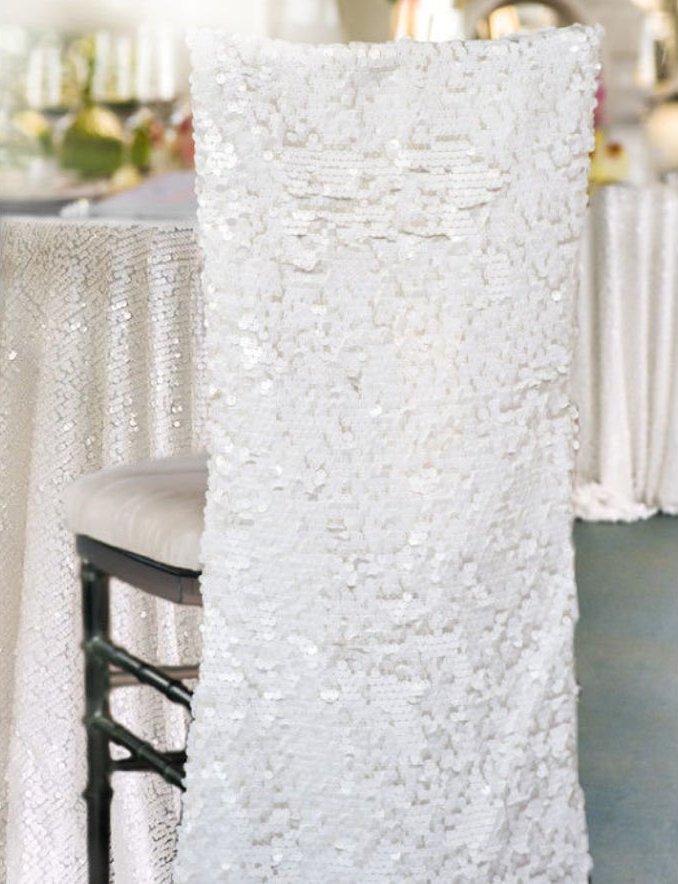 Available in an array of beautiful colors, these soft chiffon chair sashes will convey romanticism throughout your venue. Drape over a Chiavari style chair and tie either with the available rhinestone ring, a string of pearls, or with a pretty flowers and greenery.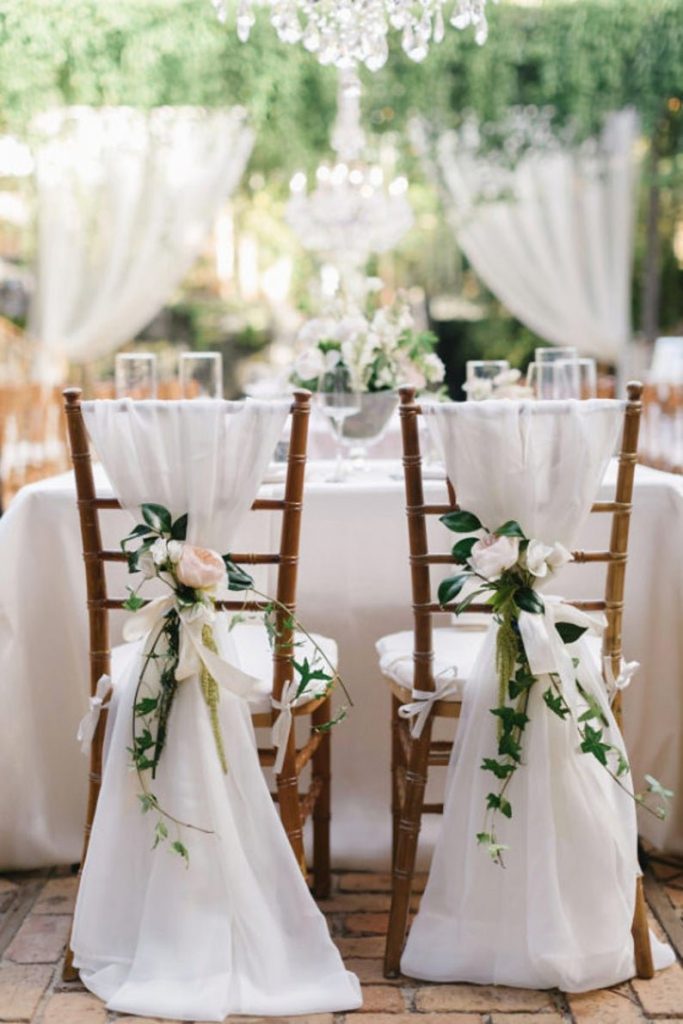 For a delicate and charming chair decor that is both eye-catching and romantic, this exquisite Chiavari slipcover features shimmery cherry blossom floral embroidery and 3D soft touch petal appliques which run to the edge to form scallop borders. This tulle chair decor is absolutely gorgeous!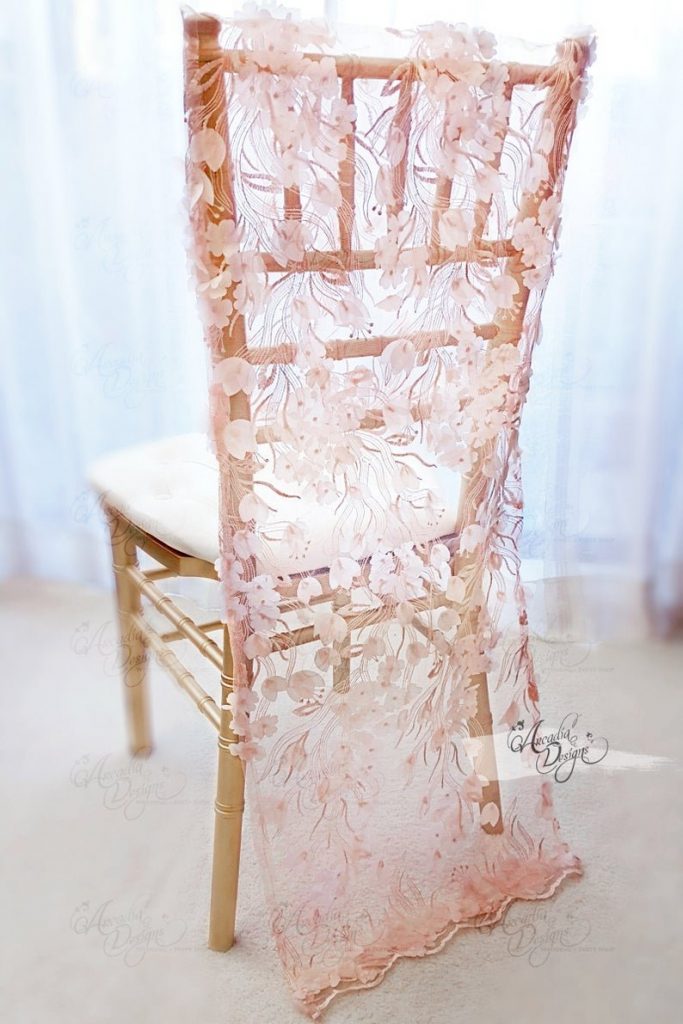 Buckled with a dazzling rhinestone in the middle tie section, the elaborate chiffon sash band features an organza ruffled tail. The colors of the band and ruffled tail can be customized to perfectly suit your wedding color scheme.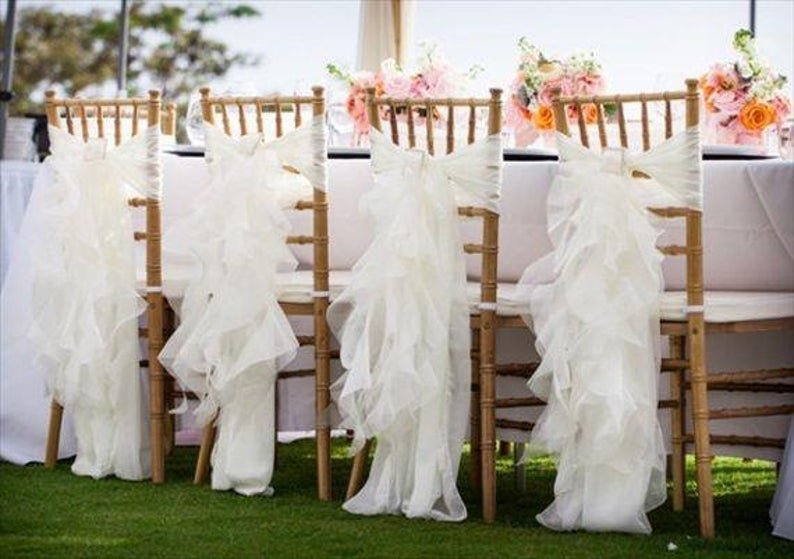 Gauze chair decor is also a wonderful idea for Boho rustic theme weddings. By simply varying the style of chair and what you use to attach and decorate the sash will completely change the look and feel of your decor. This hand dyed classic blue chair sash comes in a wide variety of colors.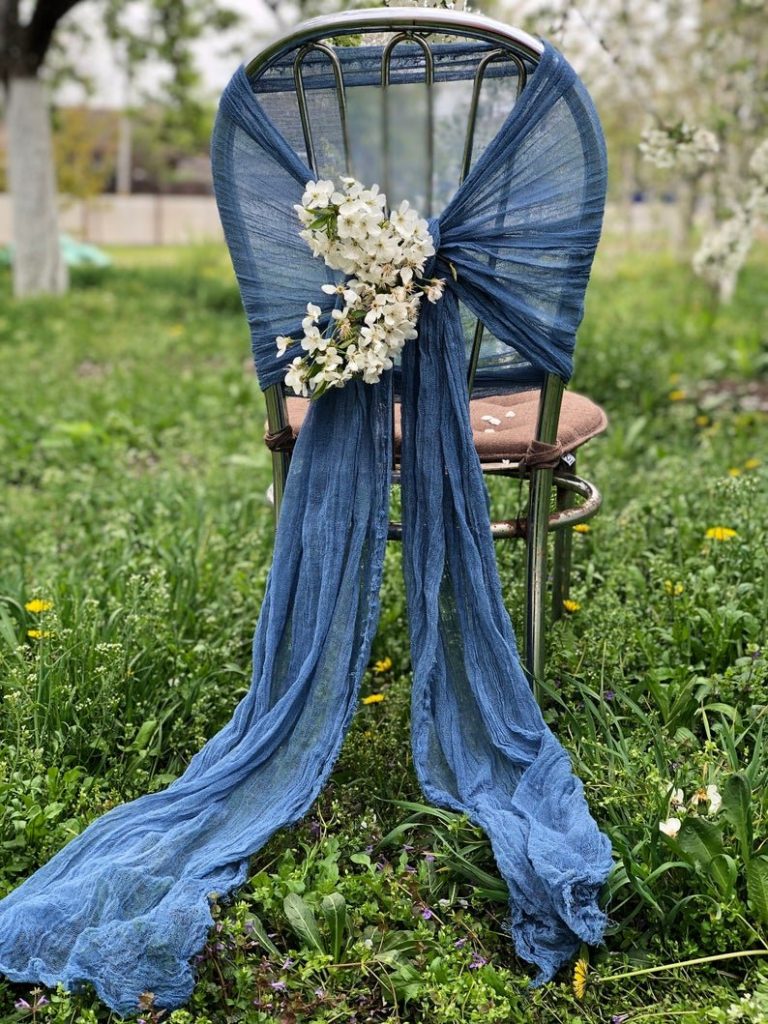 This chair cover made of chiffon is adorned with curly sashes and a pink floral accent in the center. It will create a unique romantic chair decor for your sweet table. This ruffled chair cover is available in pink and light pink and can fit to both Chiavari and banquet chairs. Beautiful!!!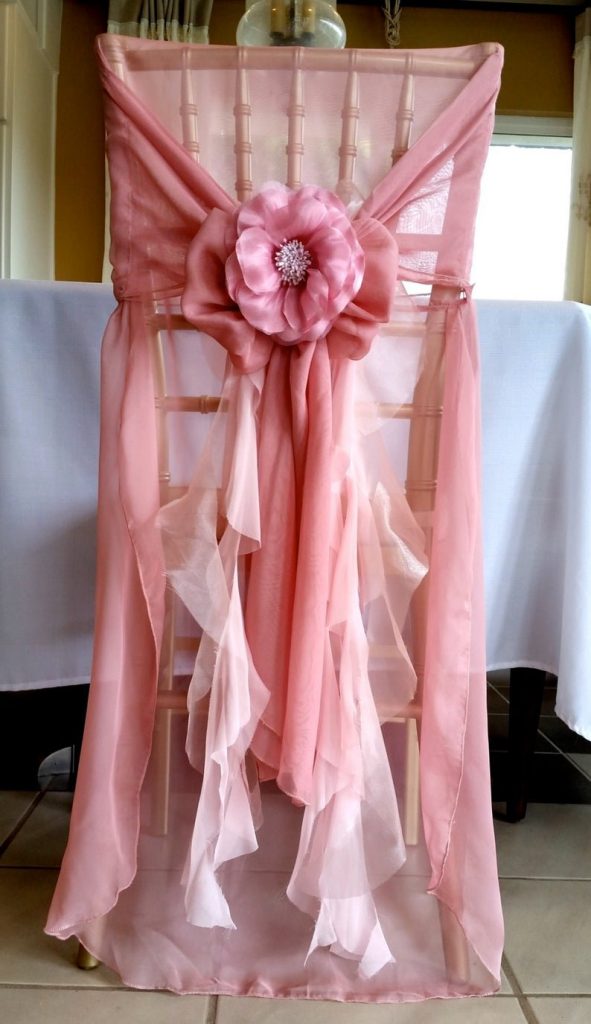 Add a vintage flair to your sweetheart table chair decor with a pair of these lovely chiffon 3D flower chair sashes. These exquisite handmade chair covers will confer romantic elegance to the newlyweds table.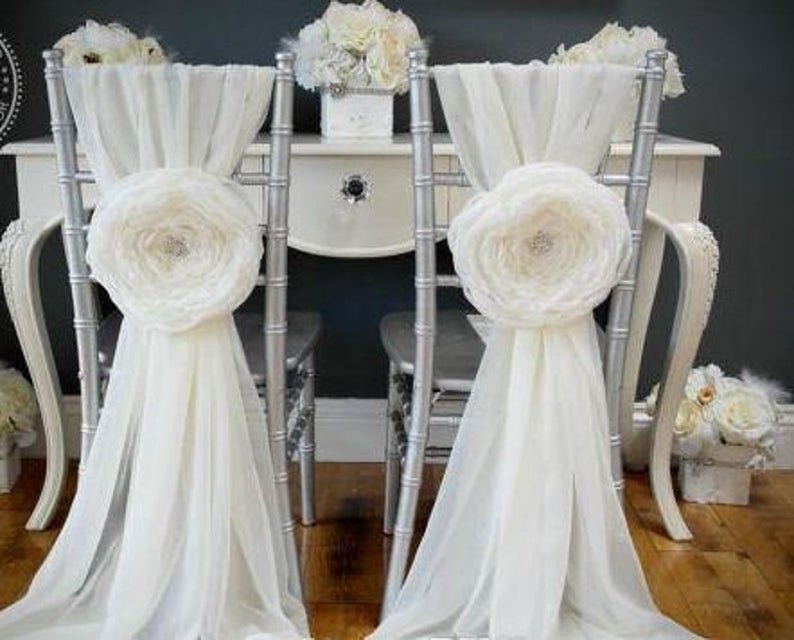 Straight from a fairy-tale, this luxurious chair cover features a combination of a hood decorated with sequins and a bottom made of layer upon layer of fluffy ostrich feathers, each hand sewn for the look of perfection.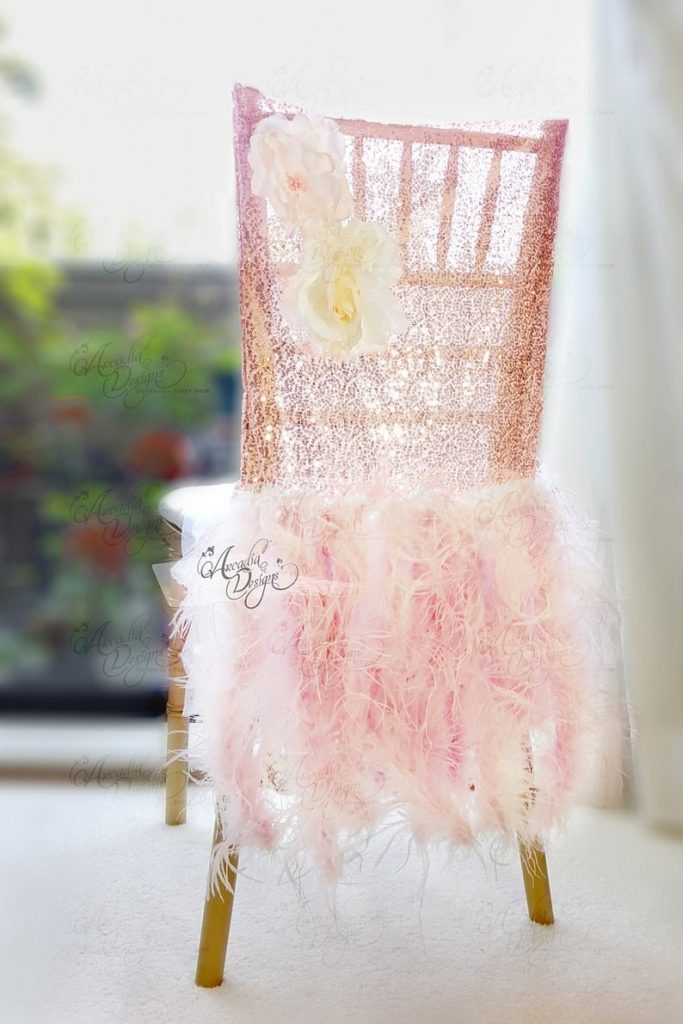 Convey elegance to your venue with this lovely floral design lace chair jacket with an organza layered skirt. Each cover is handcrafted in your choice of color and makes for a princess-like chair decor idea.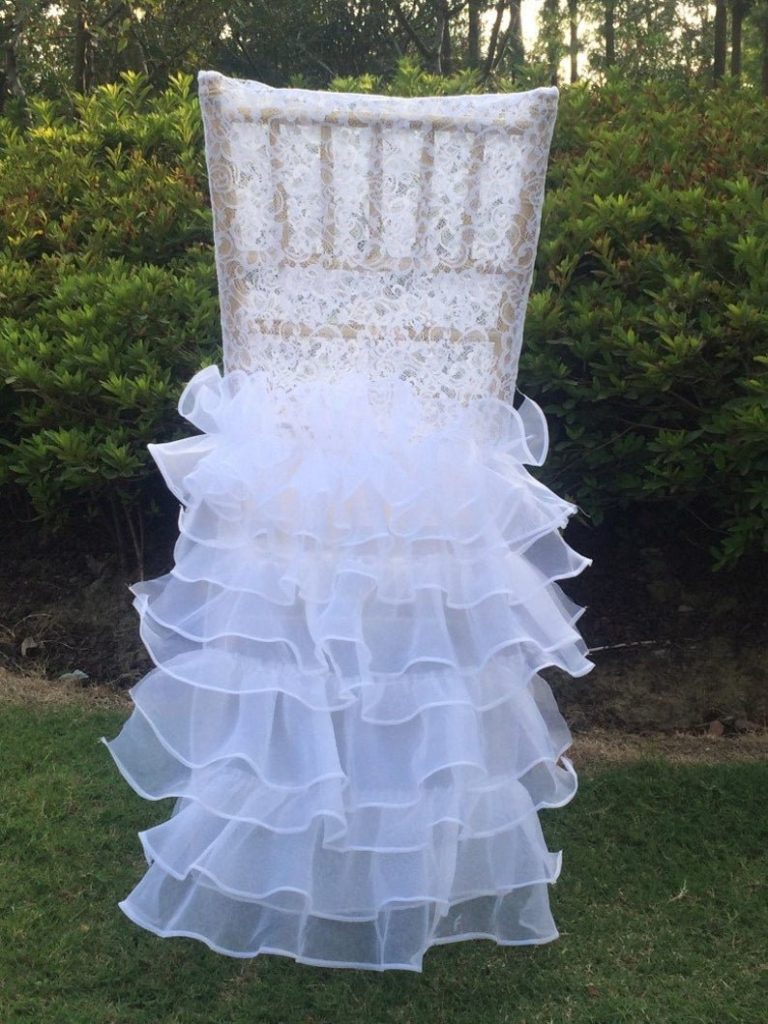 If the chairs provided by the your reception hall lacks pizzazz these premium spandex chair covers will save the day! The stretch fabric is made of polyester and covers the chairs from top to bottom. Add an elegant organza chair sash bow tie to complete the look.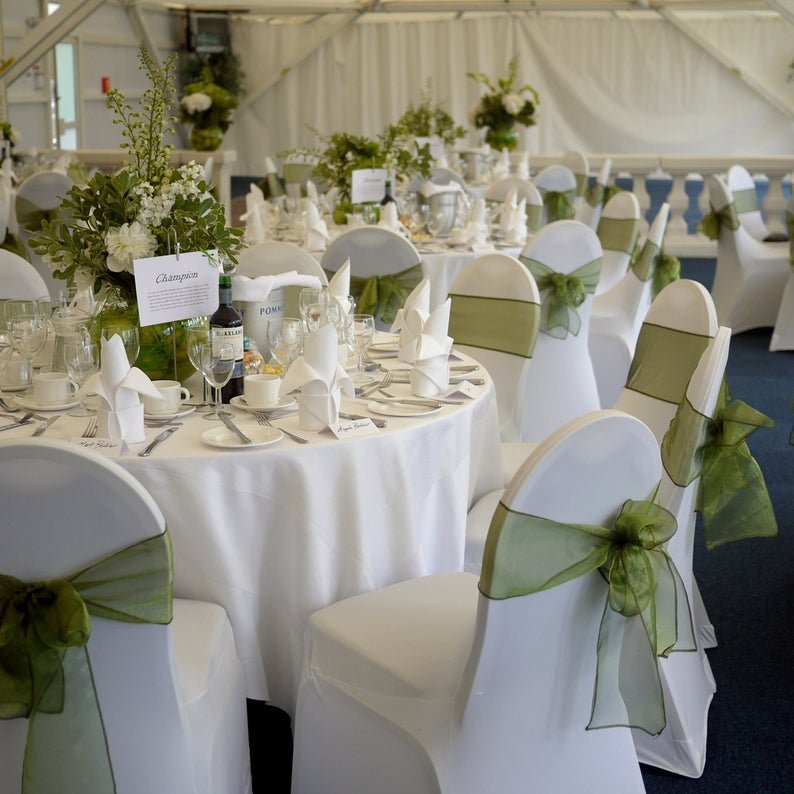 For an affordable means to decorate all chairs of your venue, organza chair sash bow ties make for an excellent choice. Choose from a wide range of colors the one that will add a pop of color and elegance to your theme. Sometimes simple is really the best way to go, especially if the rest of your venue is heavily decorated.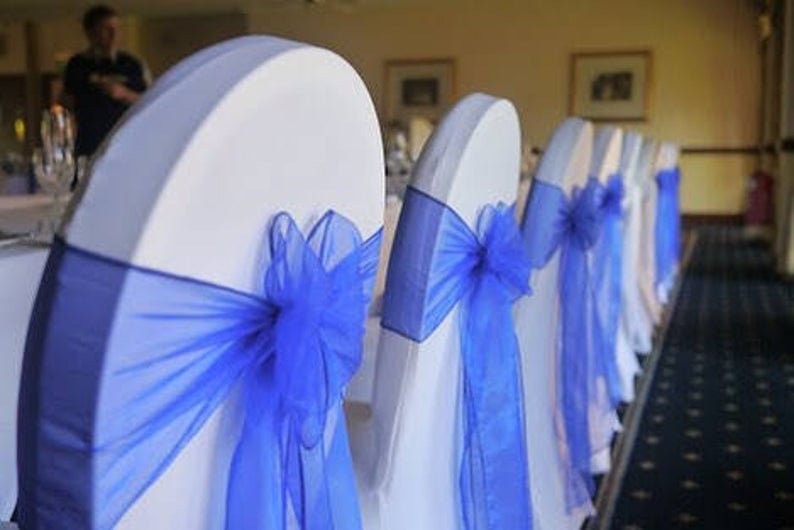 You may also like: