How to choose the perfect wedding cake stand depends on several factors that you must consider before setting your mind on a specific model.
Here's what you should be taking into consideration:
Choose a cake stand that will complement your wedding theme and in a size that is at least equal or a bit larger than the bottom of the cake board.
Will your wedding cake be on the heavy side? If so, your stand should be sturdy and made in wood, metal or iron. You'll find Styrofoam stands and flimsy acrylic pedestal trays that look attractive yet they're not strong enough to support heavy cakes.
A round cake tray is perfectly suitable to display on a round table during the reception. A square or rectangular stand is more visually appealing displayed on a long table.
Keep in mind that your baker will provide a board beneath your cake. You can simply display the cake as is but a cake stand will beautify the overall look of your cake table.
Scroll down to view our specially handpicked favorites to help you choose the perfect wedding cake stand. For additional information on any of the stands, simply click on the provided link and you'll be directed to amazing artisans who take pride in their work.
Don't forget to save your favorite wedding cake stand ideas!
---
This metal cake stand is absolutely gorgeous! Very sturdy, it can be used to display a heavy wedding cake. The round loop frame includes a round glass pane to hold the cake making for an elegant addition to your cake display.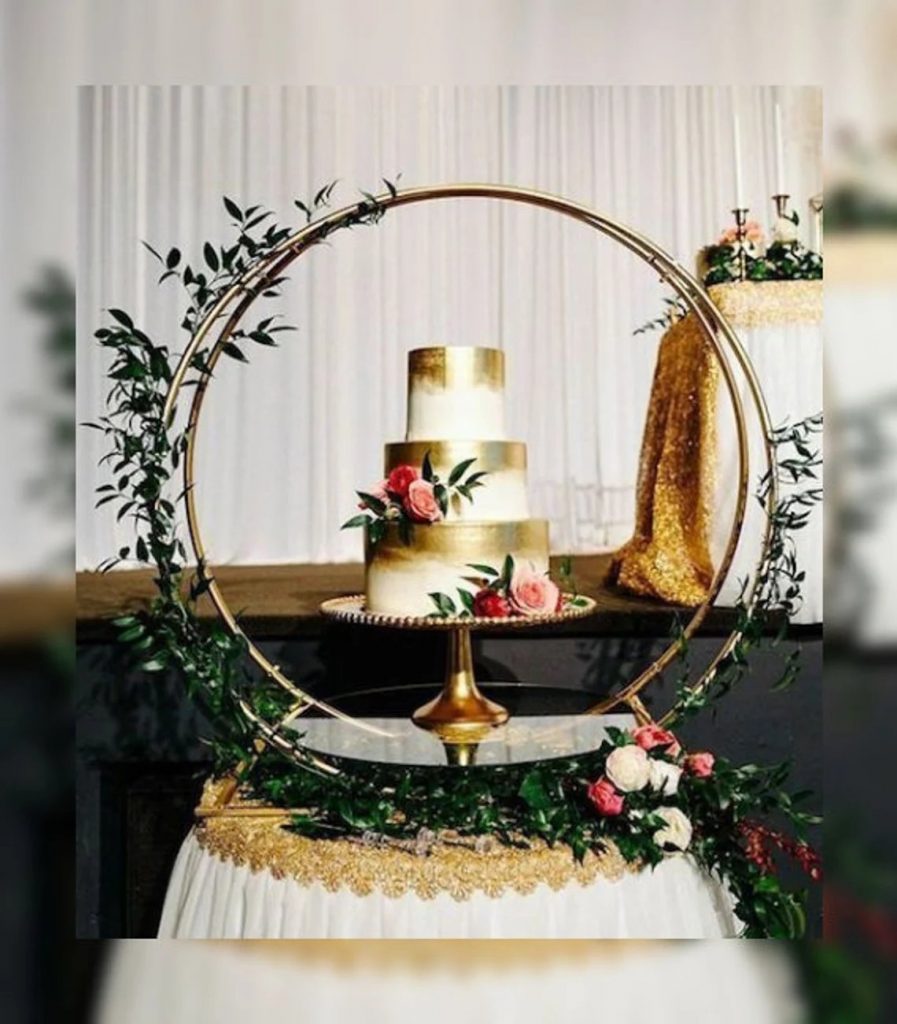 Create the illusion of a floating tier cake with a side bar cake stand spacer. Made of sturdy metal in a stunning powder-coated white finish, it's perfect for using with or without styling. The cake side bar is available for several cake sizes.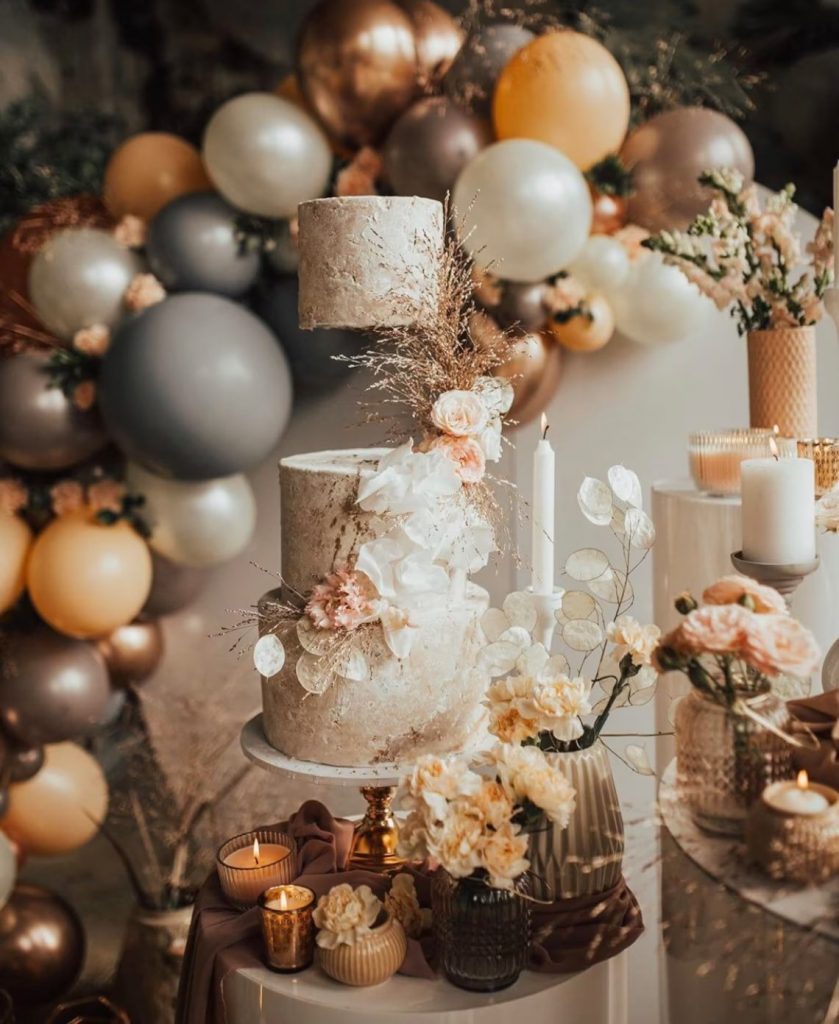 Offered in your choice of gold, silver or rose gold, these stylish metal cake stands feature an elegant embossed design around the border. You need only select your preferred size from 14″, 18″ and 22″ to elevate your cake display table. Offered by CHEERICO (Etsy Store)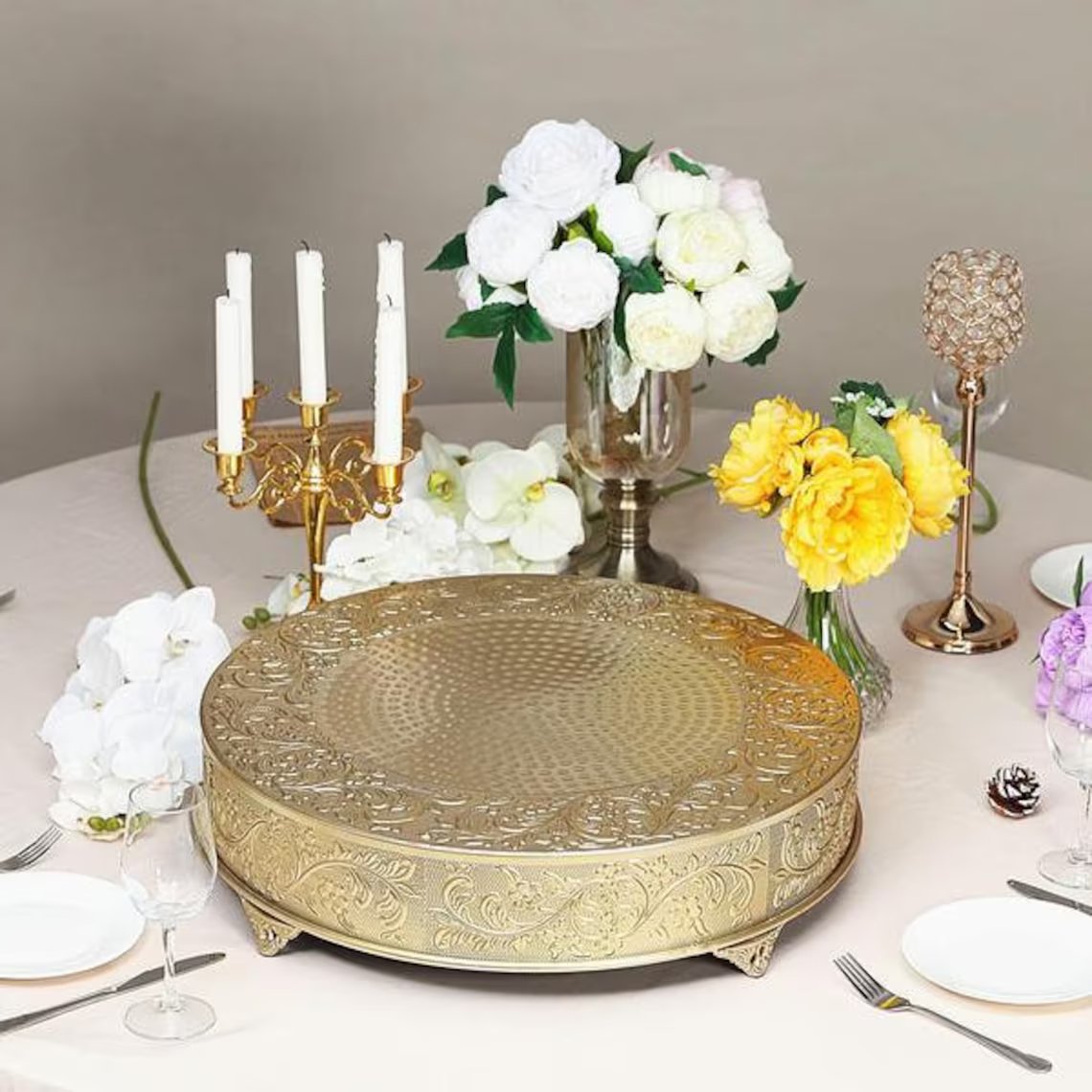 Crafted from carbon steel and available in a range of sizes and colors, this metallic gold geometric wedding cake stand is extremely strong – rest assured that it will support even the heaviest of cakes!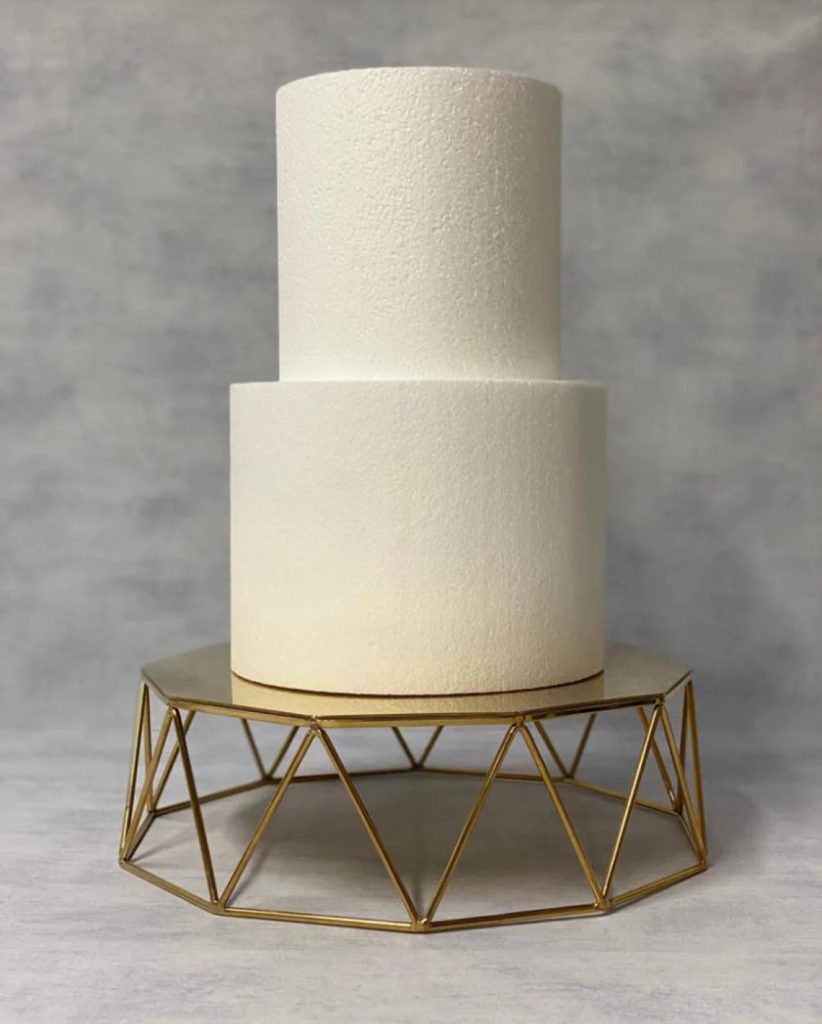 Add bling to your cake display decor with this round gold gem cake stand. Featuring a mirror top, the stand is lightweight and excellently suited for cake under 12″.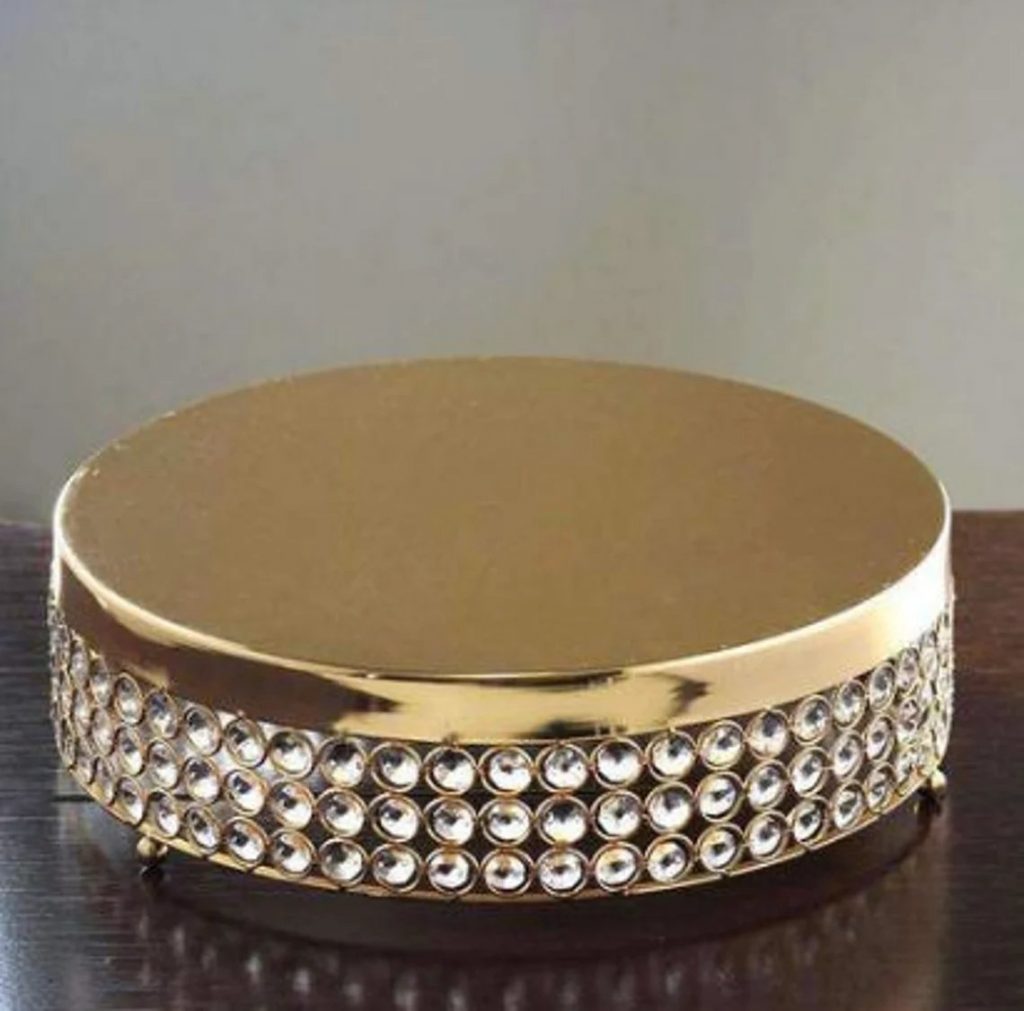 For a beautiful addition to your cake display, this set of three clear acrylic cake box stands will add a modern flair to your decor. The stand comes with either open boxes or removable tops and lets you add flowers between your cake layers if desired. After your event, flip the boxes over to create a magnificent centerpiece of greenery.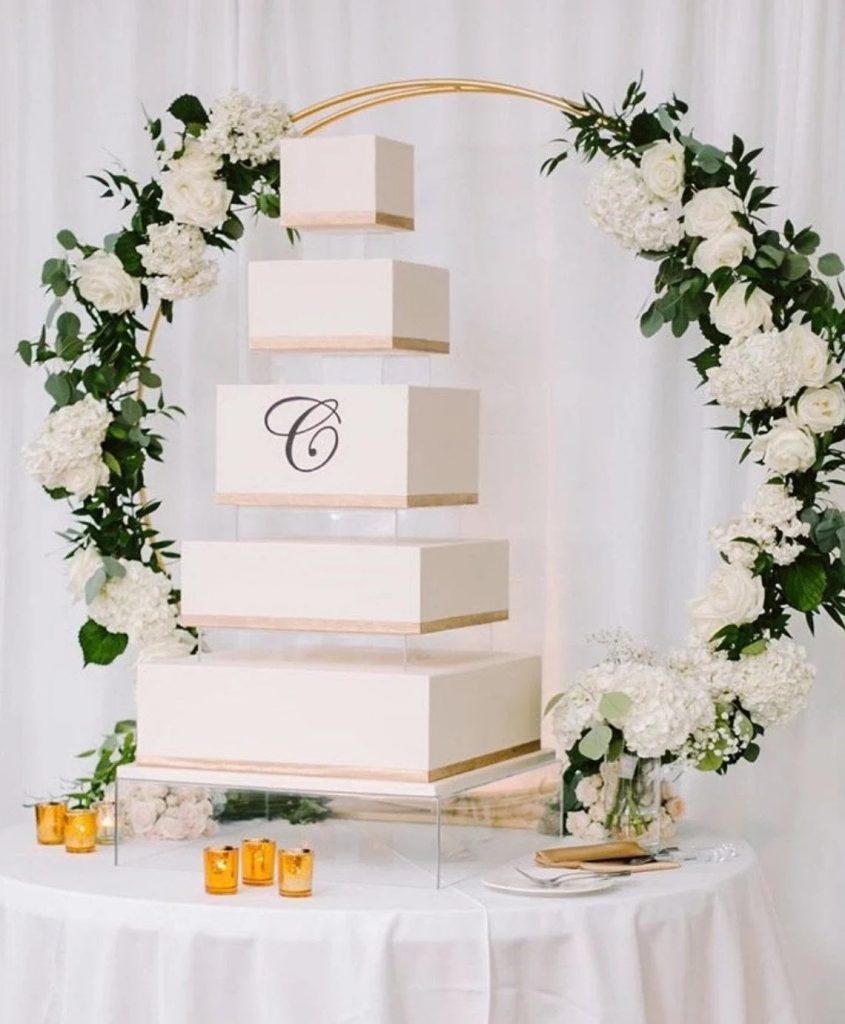 This lovely hexagon riser with removable lid is placed between two cakes allowing for flowers to be inserted inside. The cake stand is made of clear acrylic and comes in widths ranging from 4" to 18″. The riser comes with no strips but you can add them yourself as an alluring complement.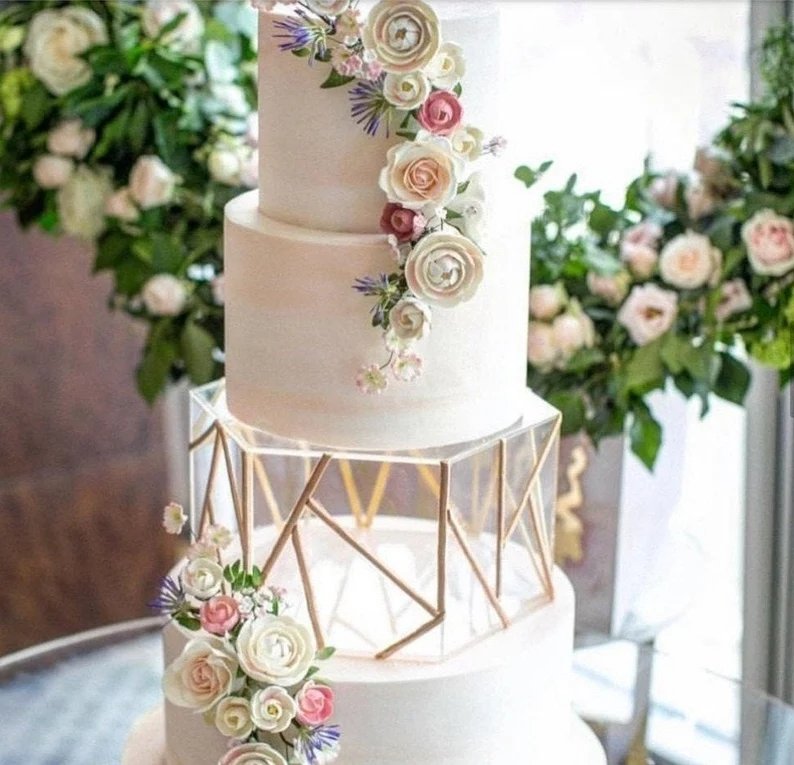 Custom made in your choice of a size and color, this cake stand is made of sturdy wood and can support the weight of a 5-tiers cake. Other beautiful designs are also available to accentuate your wedding cake table display.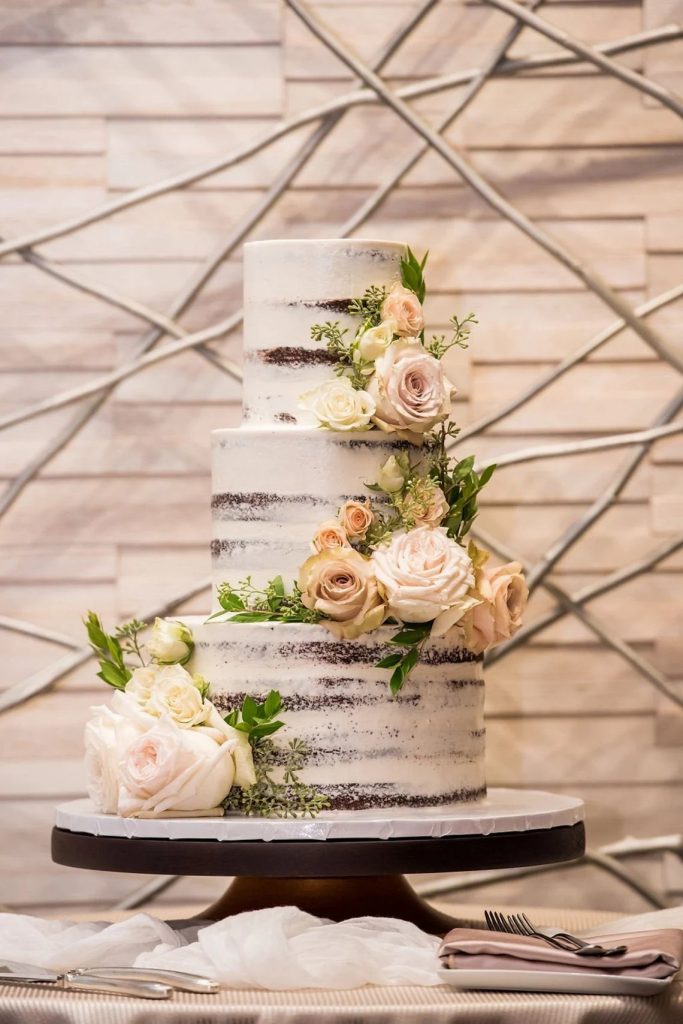 Handmade from raw, rough cut lumber, this rustic cake stand is cut to the perfect size and thickness. Personalized with your names and the date of the wedding, this charming stand is available in your choice of size and in a dark walnut, antique white, early American, or grey finish. Your wedding cake will look fabulous set on this sturdy cake stand!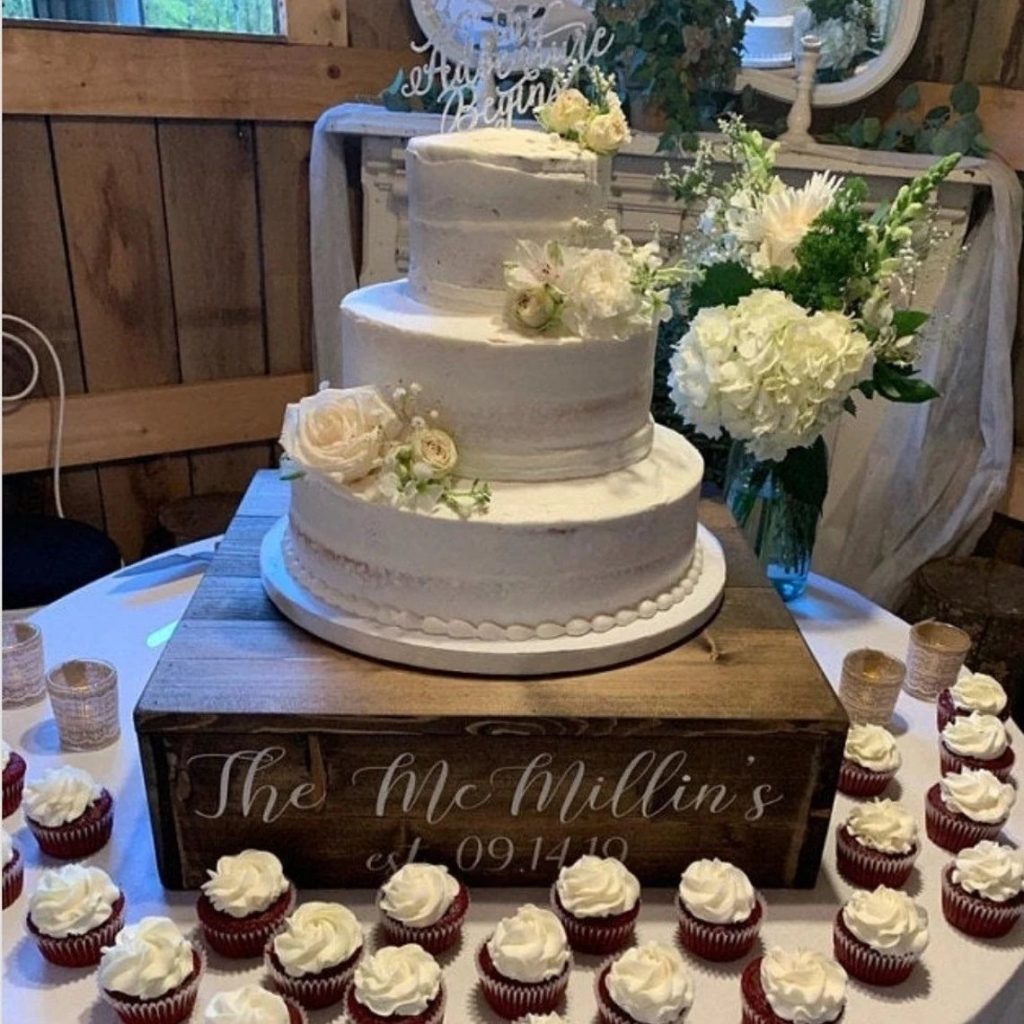 These farmhouse style pedestal risers make for perfectly charming wedding cake stands. They're offered in sizes ranging from 6″ to 20″ in an array of beautiful colors to perfectly match your wedding theme. You'll have no difficulty using them at home after to elevate your decor!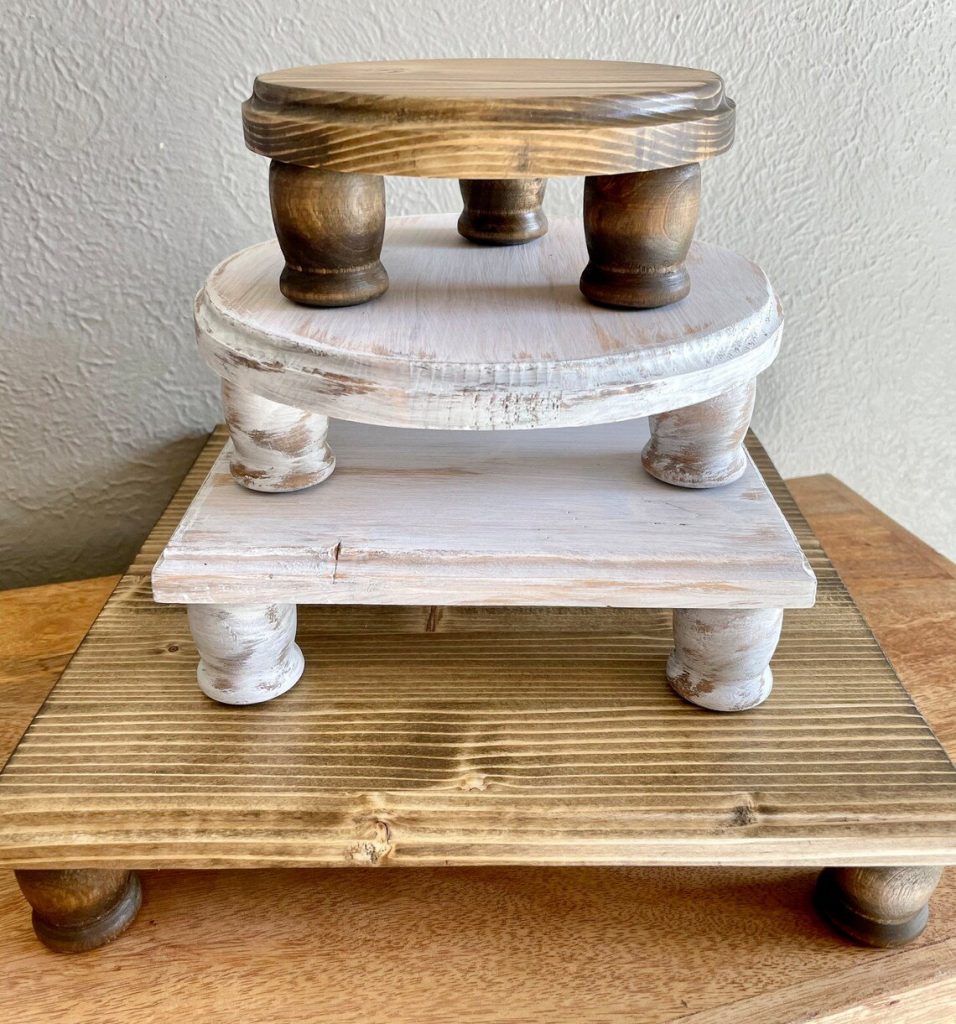 For a cherished memento of your big day, this personalized cake stand can be hung on a wall after the celebration. Handcrafted from walnut, maple, white oak in your choice of size and engraving, this stand is simply gorgeous. Your names and the date of your wedding can be engraved making for an even more special memento.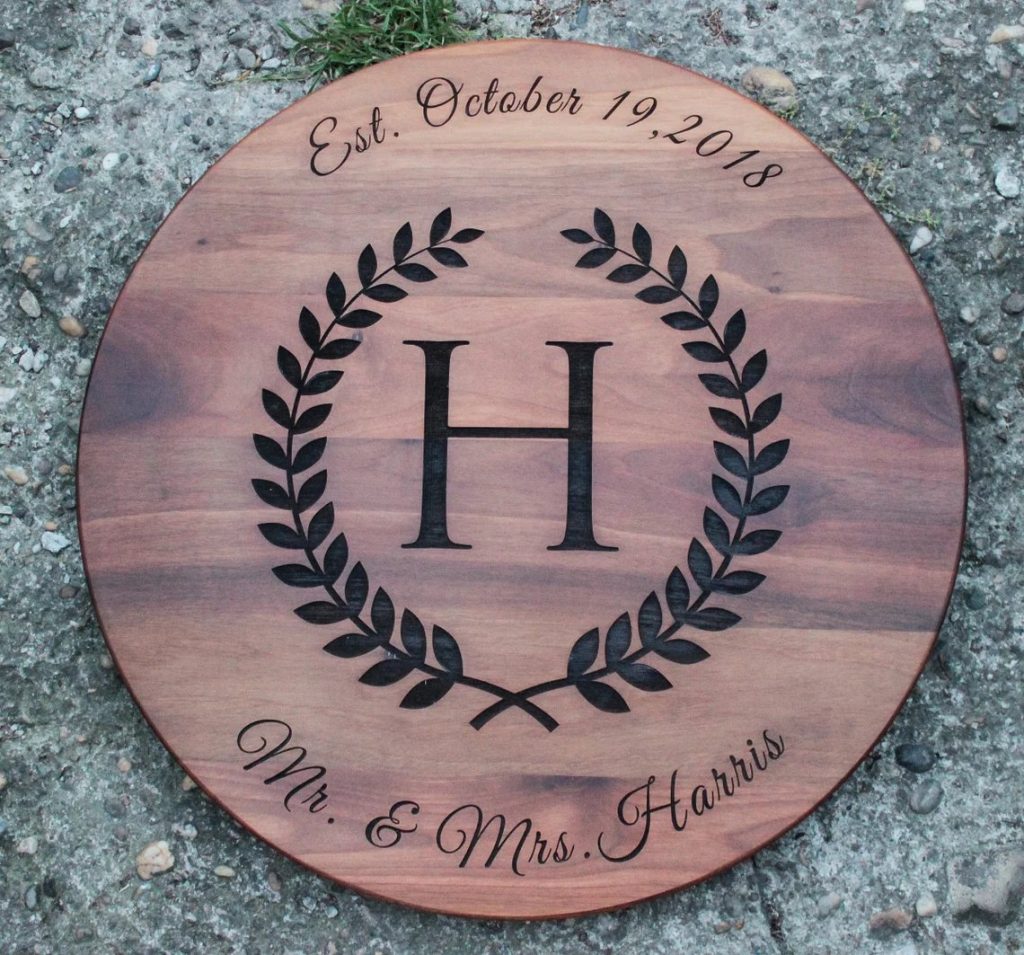 Designed with a wide bottom base to prevent any unhappy mishaps, this rustic pine wood cake stand is available in a 16″, 18″, or 20″ wide platform top in an array of finishes. The top unscrew from the base for easy storing and features a heavy metal screw nut and heavy duty hang bolt at the base making for an extremely solid cake stand. The beading design at the base is extremely charming!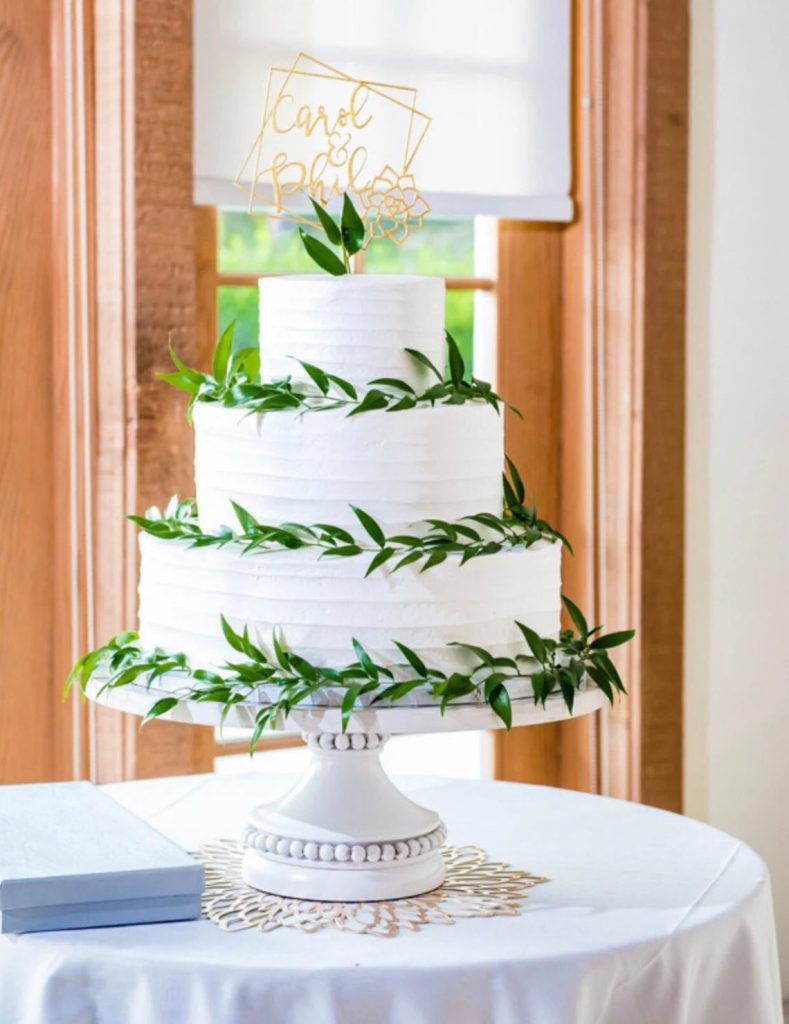 If you have been searching for the unusual, this chandelier cake stand is pretty hard to beat! Made of metal, the stand is offered in a choice of sizes in white, black, gold, silver or unpainted.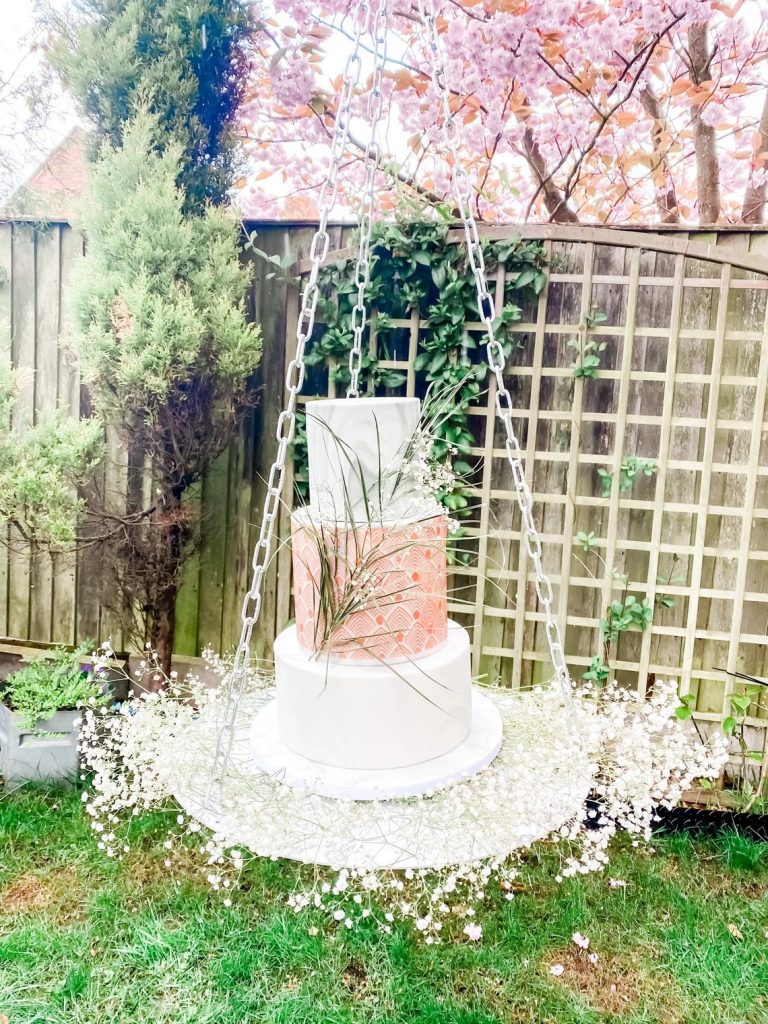 For a touch of romance to your cake display, this marble wedding cake stand makes a lovely idea. Made from Italian Carrara marble, each piece is select for its beauty, cut and hand-polished to achieve a smooth finish. Use it at home later as a table centerpiece or a gorgeous dessert and cocktail stand!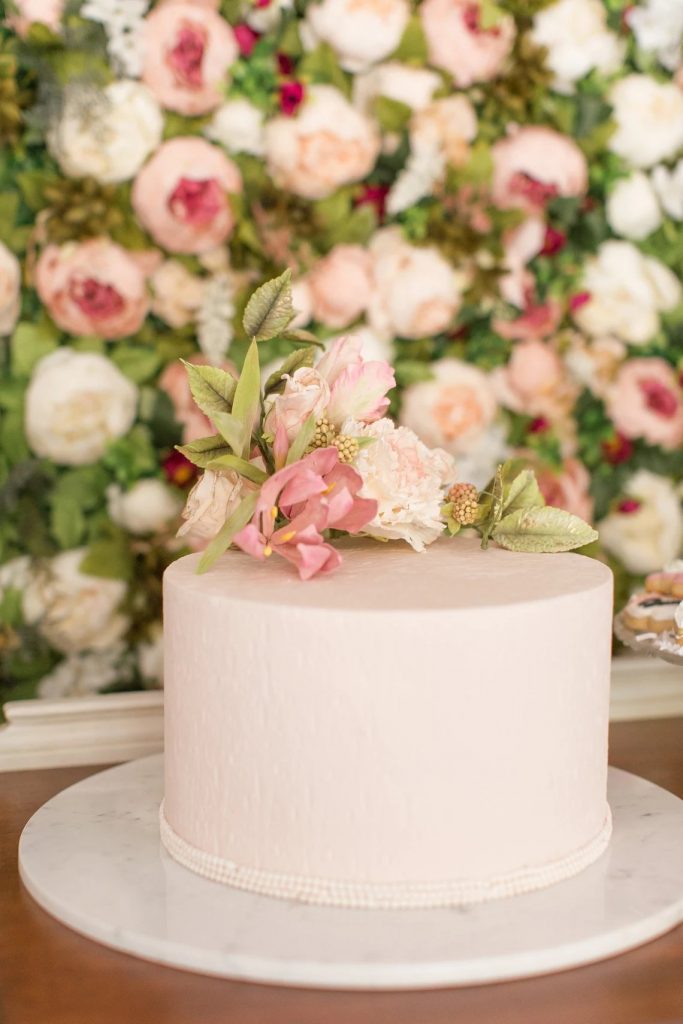 You may also like: