Your guide to exquisite champagne toasting flutes aim to help you find the perfect set worthy of your first toast! Ideally, not only should your glasses enhance/complement and enhance your table decor, they should also reflect your personalities and style as a couple.
The quality of the craftsmanship is also an important factor to consider. Since toasting flutes personalized with your names and the date of your wedding will be passed down as keepsake for generation to come, finding an heirloom-quality set is well worth it.
You'll be using these exquisite champagne flutes to celebrate milestone anniversaries and special events. This means that selecting a style in accordance to your home decor is pretty important. We wouldn't want the the set to collect dust!
Here's a summary of the considerations:
Conducive to your personalities both individually and as a couple.
Thematically appropriate for your chosen wedding theme/color scheme.
A set that matches your kitchen decor.
Something of high enough quality to last the test of time and be worthy of heirloom status.
… and you thought is was just about finding something pretty!
From romantic and glamorous to contemporary designs, you'll find exquisite champagne toasting flutes adapted to your own style. If you want that extra sparkle, look for glasses made of crystal; when tapped, you'll hear a pleasant high-pitched note.
The best way to enjoy using your set for years to come is to store it somewhere safe where the set can't be knocked over. It's also preferable to hand-wash your set with mild detergent; never put them in the dishwasher!
Scroll below to explore our exquisite and specially hand-picked wedding champagne toasting flutes. They're beautifully handcrafted and come with customization options that guarantee a set that is perfectly unique to you! For additional information on any of the flutes, simply click on the provided link and you'll be directed to one of our preferred partners.
Don't forget to save your favorites for later!
---
Featuring a delicate, hand-painted gold design, these lovely toasting flutes can be engraved with your names and the date of your wedding. The flutes are available in champagne, gold, rose gold, silver, white, copper, or ivory to perfectly suit your wedding color theme.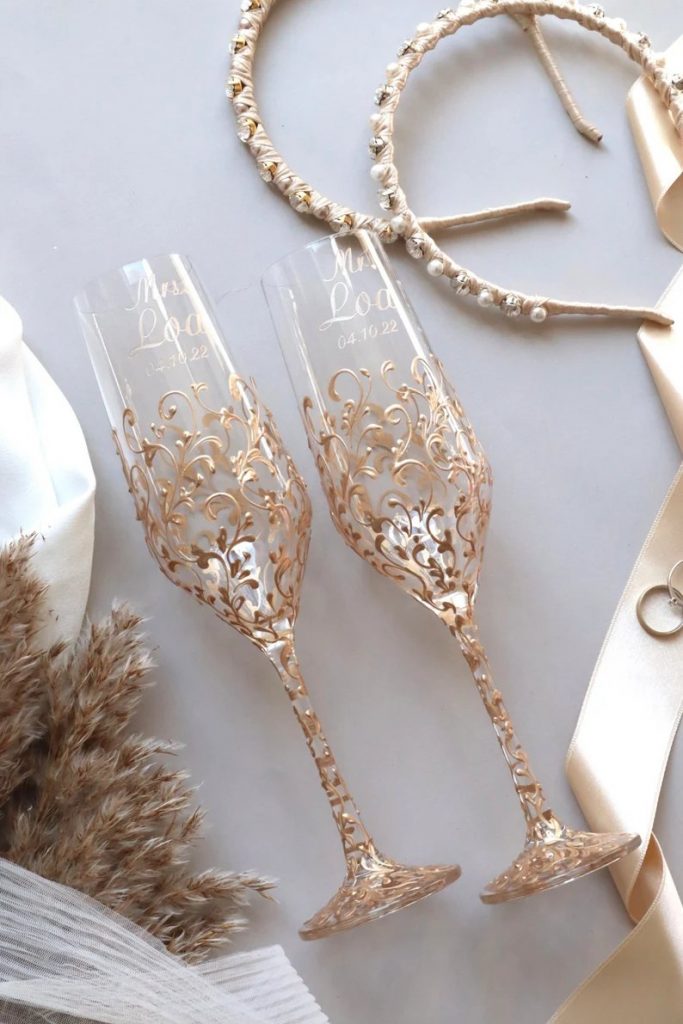 For the romantic couple, this gorgeous set of toasting flutes is adorned with an elegant pearl design. Personalized with your names and the date of your wedding, this set makes for a cherished memento of your bid day. Other pieces are also available from this beautiful collection including a cake server set, plates and forks, as well as a unity set.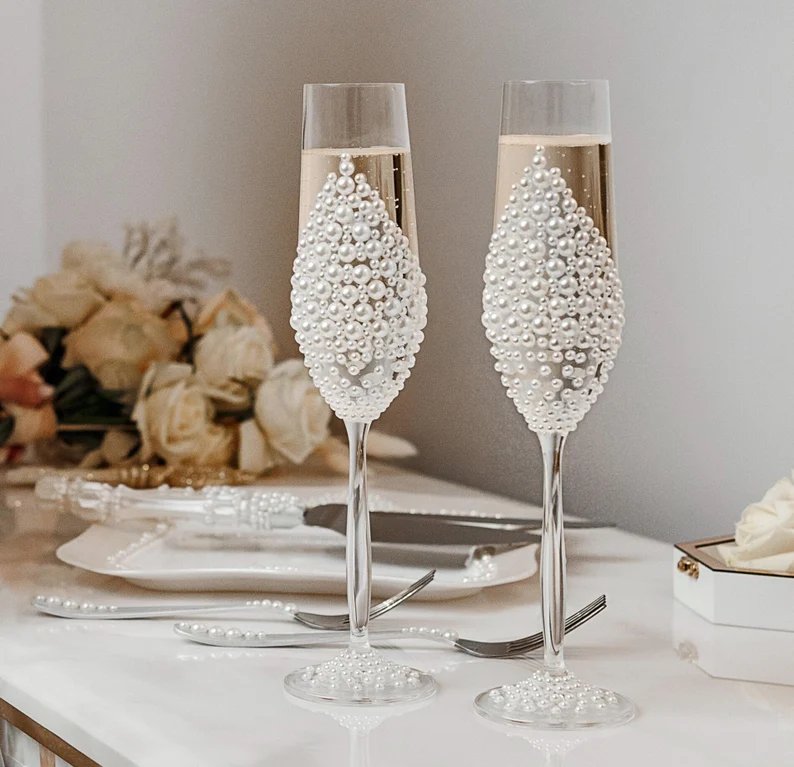 The exquisite rhinestone detail of these gold crystal toasting flutes is remarkable! Available in your choice of gold, rose gold, white, and ivory and light gold, the personalization of the flutes with your names and the date of your wedding comes without a additional fee.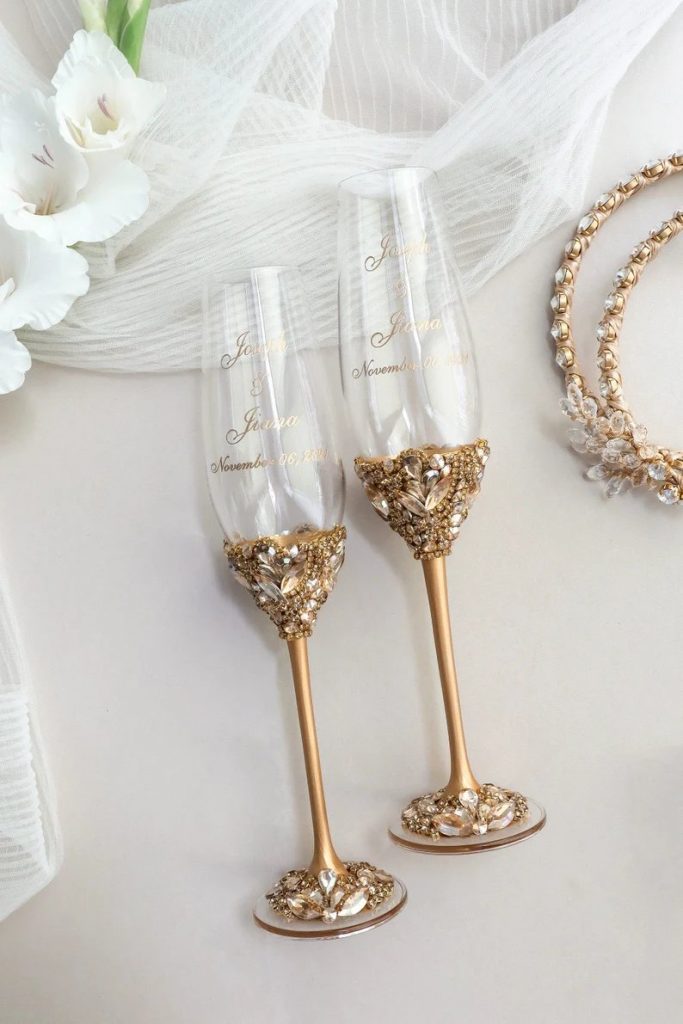 This set of Waterford Elegance toasting flutes features a contemporary trumpet shaped bowl. The crystal flutes are sandblasted and engraved with your names and the date of your wedding making for a high quality keepsake of your big day.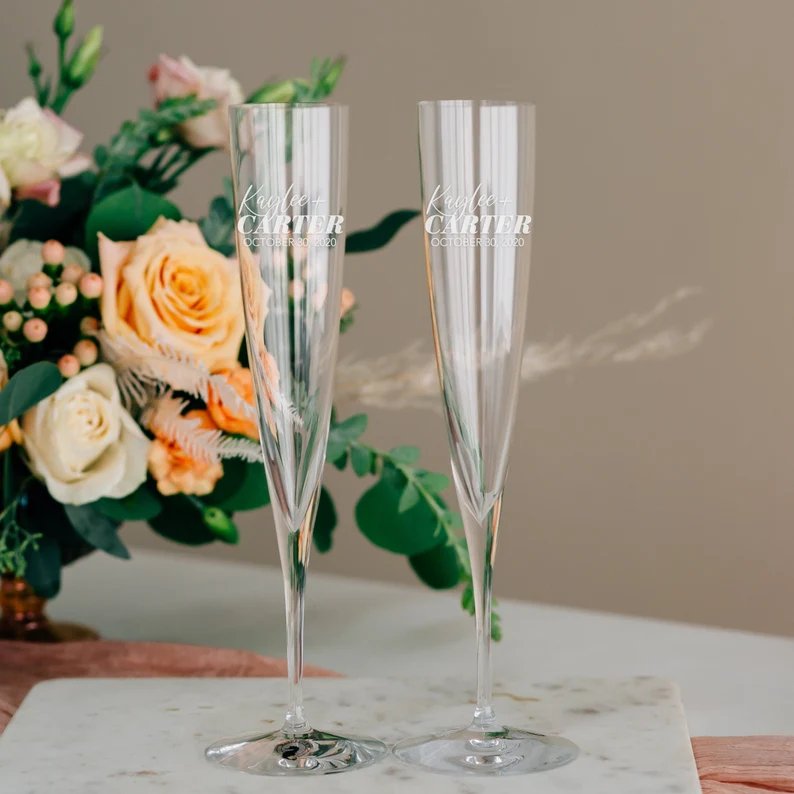 Available in your choice of gold, rose gold, or silver, this set of toasting flutes makes for an elegant addition to your sweetheart table. This crystal flutes are adorned with an attractive rhinestone and crystal design that are sure to capture attention!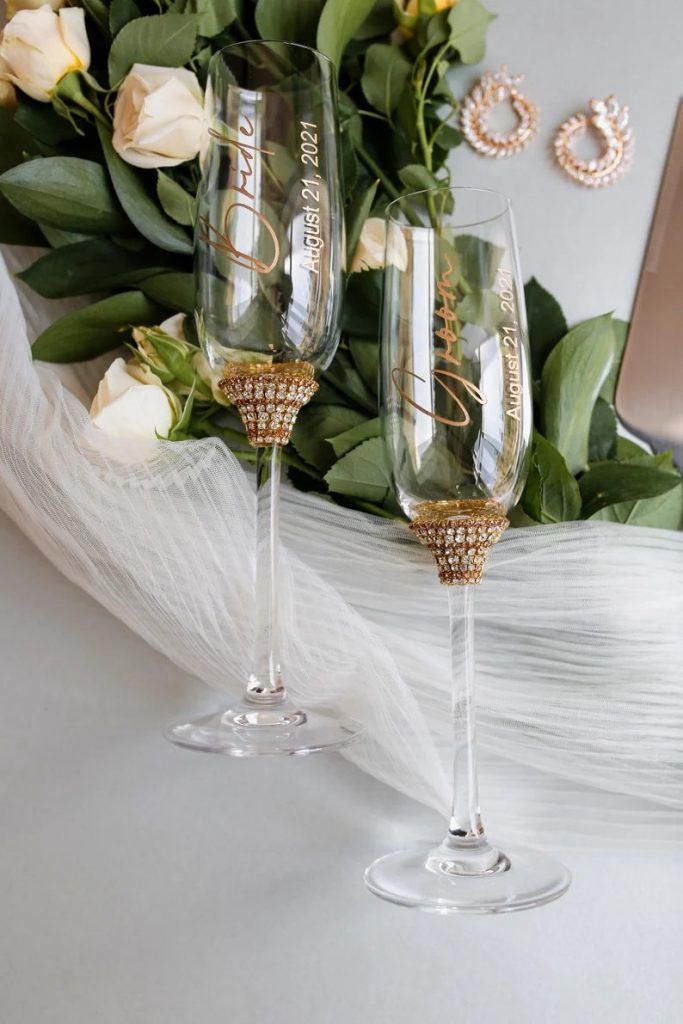 For a unique and romantic celebratory toast these champagne flutes rest in a silver plated stand. Personalize the flutes for a keepsake you'll cherish long after your big day!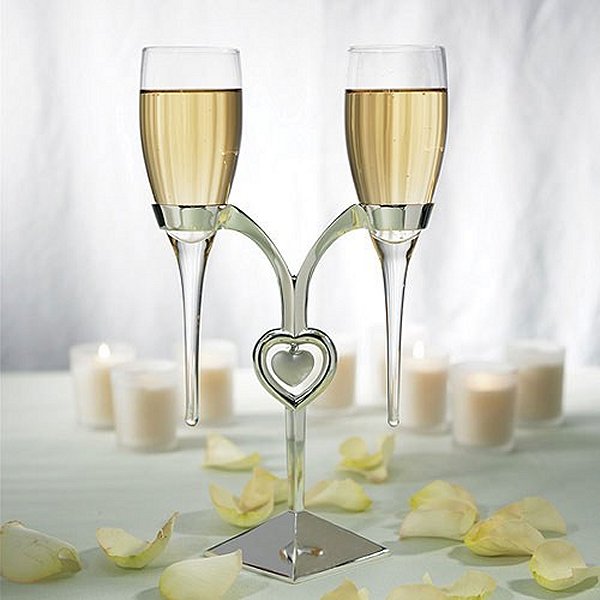 These exquisite silver calla lily toasting flutes makes for a classic way to celebrate your new marital status. Personalized with your names and the date of your wedding, these elegant glasses make for a timeless memento you'll be using for years to come!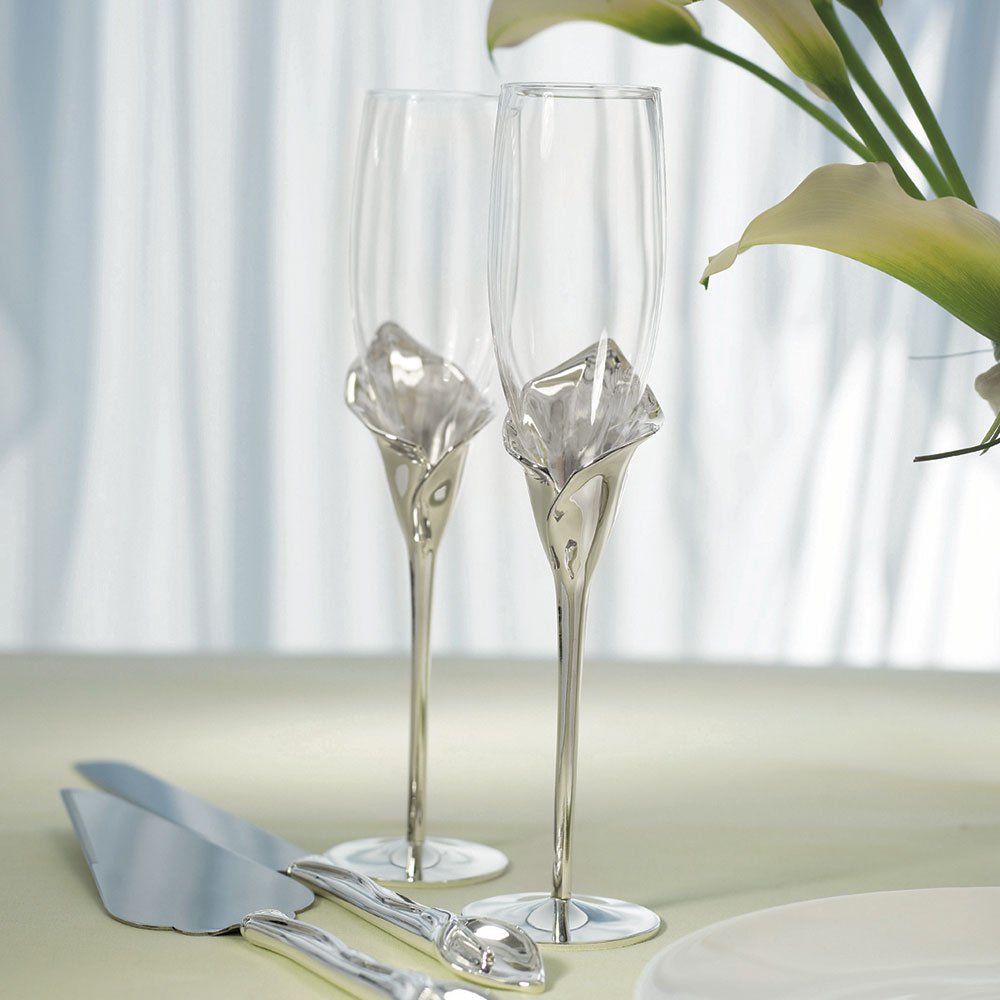 David Tutera gold or silver crystal toasting flutes are sleek and will add a luxurious feel to your table decor. The names of bride and groom are written in liquid gold making them even more exquisite and extraordinary.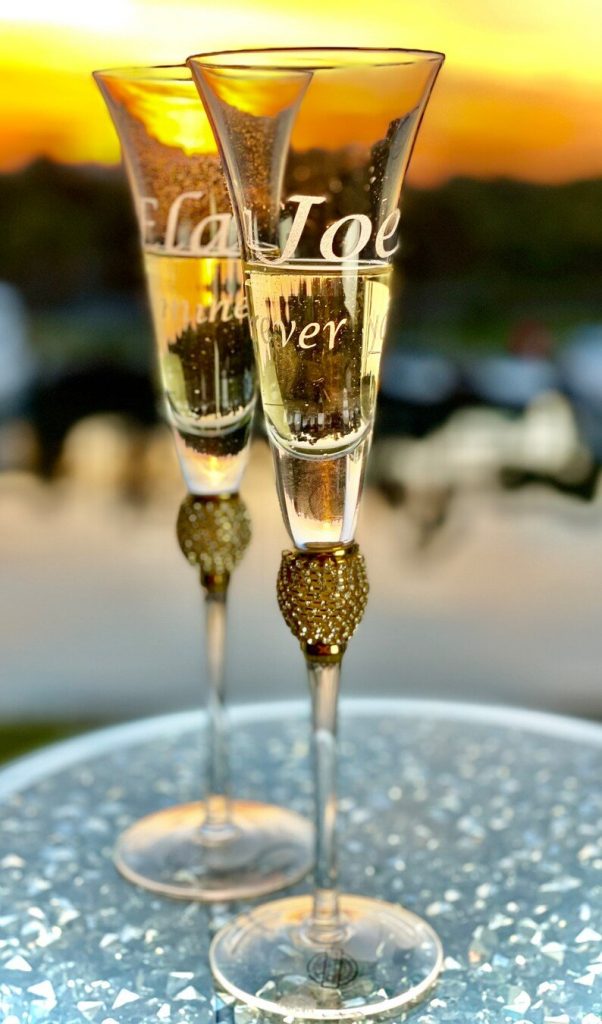 Handcrafted beautifully with rhinestones, these gorgeous toasting flutes will have you toasting in style! Complete the look with a matching cake server with plates and forks available from the same artisan.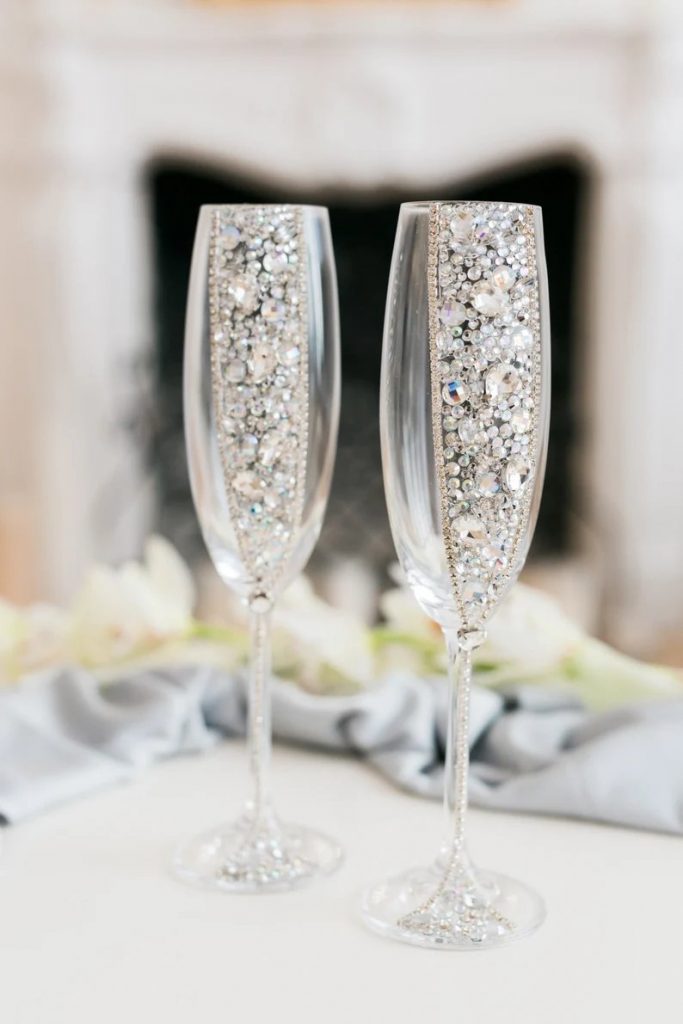 This gorgeous set of toasting flutes can be customized to perfectly match your color theme. These rose gold flutes are adorned with rose gold colored crystals making for a splendid way to toast your big moment. Engrave the set with your names and the date of your wedding for a unique reminder of your special day.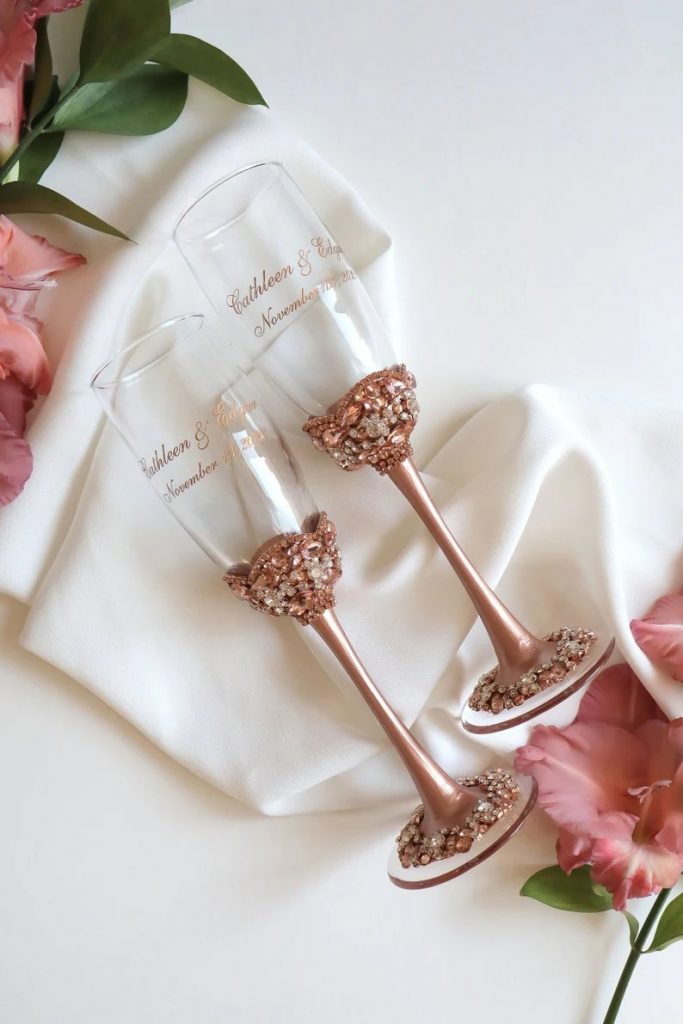 Adorned with crystals and rhinestones, this set of silver champagne flutes will make your sweetheart table sparkle! Beautifully handcrafted, the flutes can be laser engraved with your names and the date of your wedding. A cake server set just as exquisite is also available if you're looking for a unified presentation.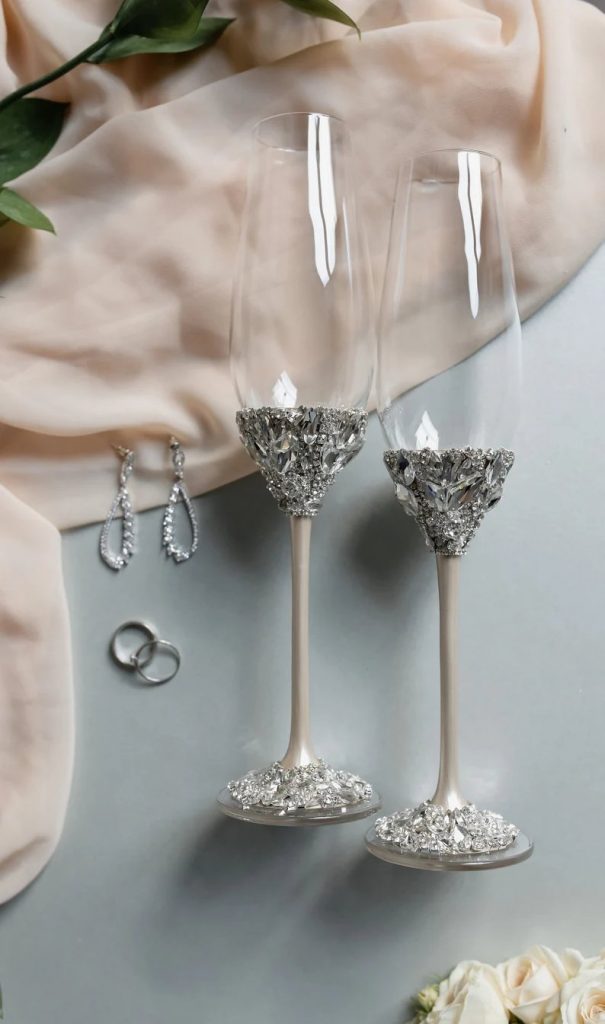 Accentuated with a rose gold rhinestone pearl gem cluster, tulle, and satin ribbon, this set of champagne toasting flutes confers a charming and romantic flair to any table decor. A cake server set is also available to complete the elegant set.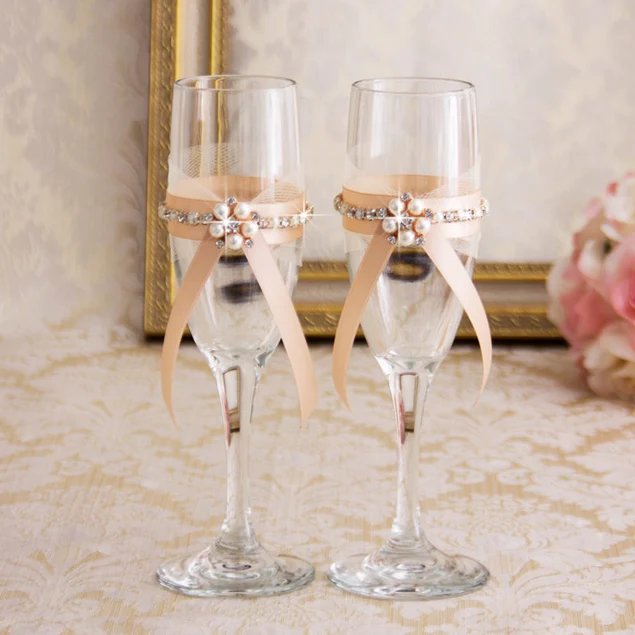 Enhance the romanticism of your decor with these lovely toasting flutes. Decorated by hand with a beautiful lace design, this set is a keepsake you'll be using for many years to come. The beauty of this set truly lies in its apparent simplicity!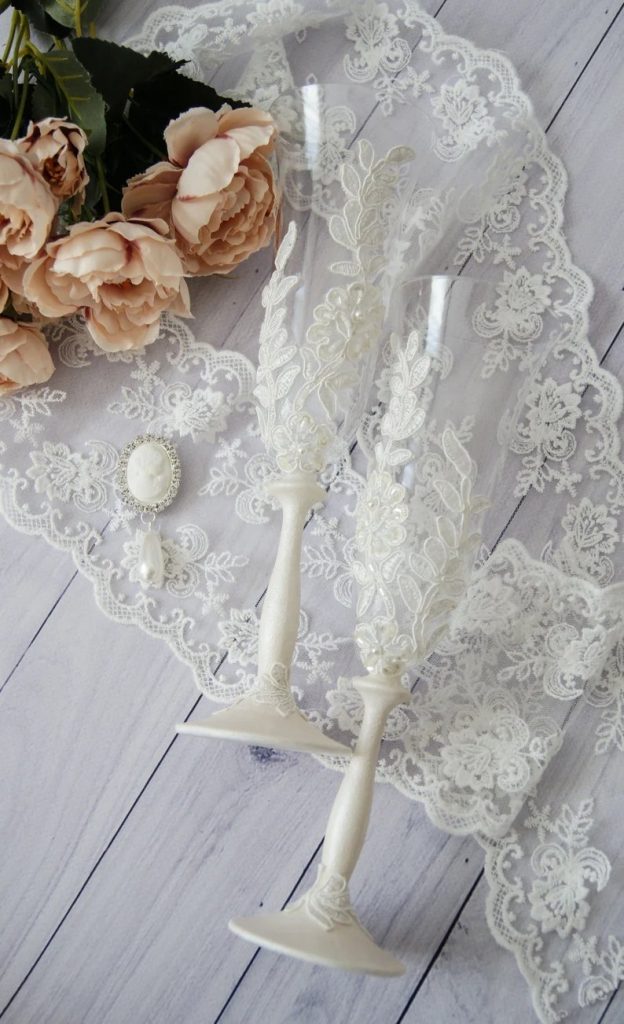 Hand-painted with high-quality, non-toxic materials, the design of these toasting flutes is simply revolutionary. Your names and the date of your wedding can be hand-engraved, painted or embossed, making for a precious reminder of your special day.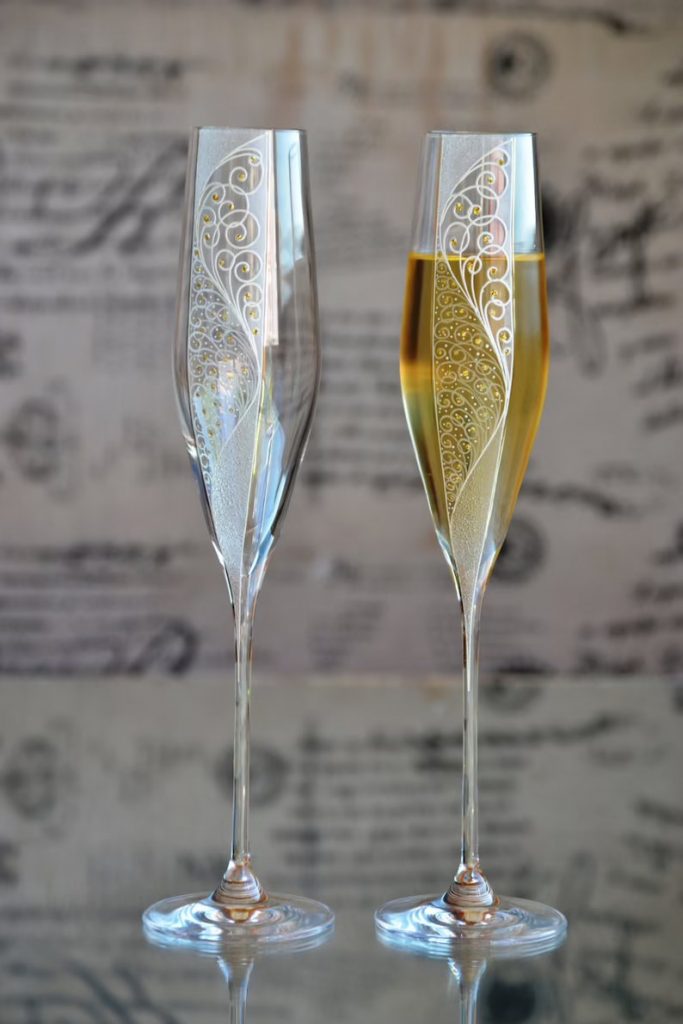 You may also like: