A lovely lantern wedding decor can be achieved no matter what the style or theme of your event. From traditional, rustic, to a nautical theme, you'll find beautiful lanterns in a wide array of materials to perfectly complement your event.
There are so many great reasons for using lanterns in your decor. Not only can you add a lovely and stunning glow to the lighting of your venue, you can also create unique and romantic centerpieces.
Lanterns are extremely versatile and can be used in so many different ways. Use them indoors and outdoors for a day or night event. Use them to decorate your sweetheart table and guests' tables by incorporating fresh flowers, succulents or even seashells depending on the theme of your wedding. You can also place them in rows to outline your romantic walk down the aisle or hang them from trees. They would also look good throughout your venue wherever you need to enhance the decor.
Depending of the model of the lantern you choose, some will require tealights, votive candles, natural candles, or LED.
After your wedding, you'll want to bring home these fabulous lanterns to decorate your home. They make for a wonderful memento that you'll cherish for many years to come. Keep in mind that mini lanterns make for lovely favor ideas that your guests will appreciate bringing home.
Continue below and get inspired with our favorite decorative lanterns we found on the market. For additional information on any of the models, simply click on the link provided and you'll be directed to our trusty affiliate merchants.
Don't forget to pin your favorites!

---
Lovely Lantern Wedding Decor
Add a vintage charm to your wedding table decor with these gorgeous antique and ornate lanterns. Available in white or black, the lanterns make for lovely wedding table centerpieces.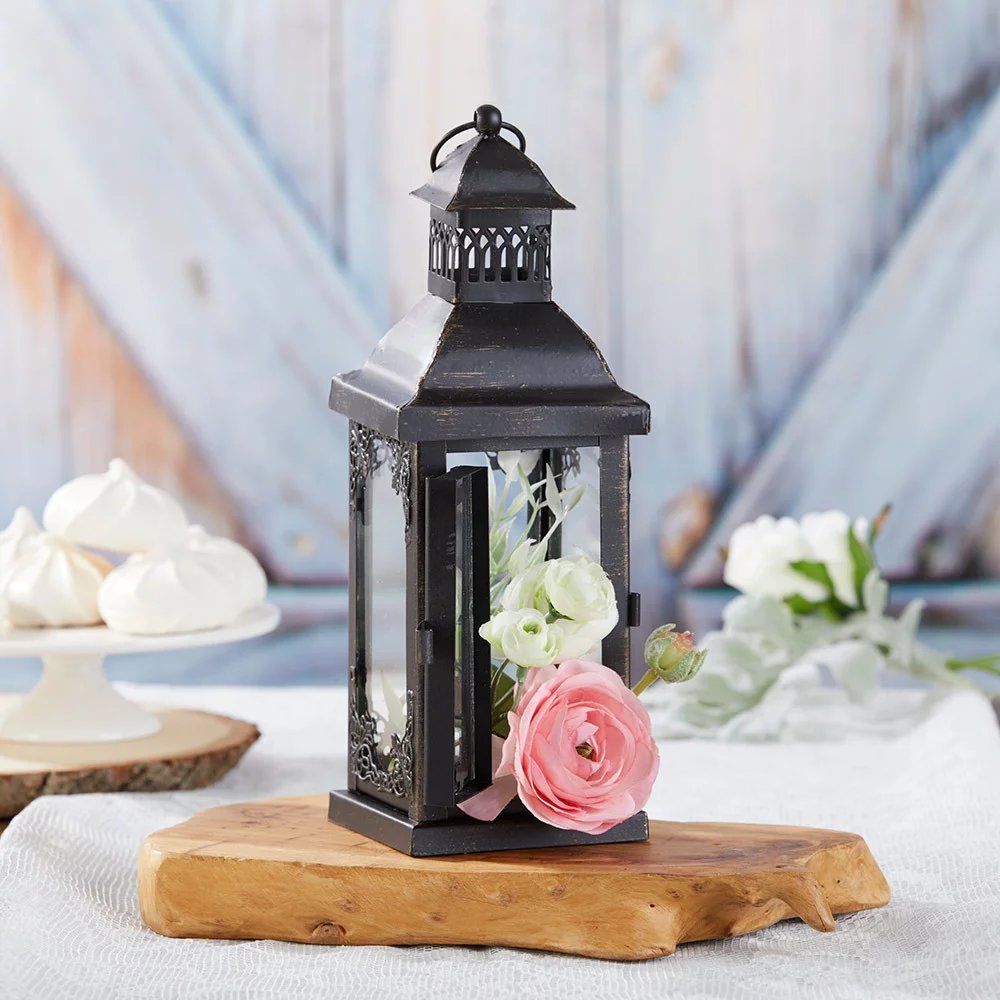 This romantic and lovely pyramid lantern features a white distressed iron finish and glass panes. This lantern is absolutely gorgeous and is perfect for your sweetheart table or to create incredible table centerpieces. They will truly shine when illuminated with a LED or natural candle.
Available in black or white, these mini hexagon decorative lanterns can be used throughout your venue to enhance your decor. The lanterns also make for lovely table centerpieces.
Paired with greenery, these vintage decorative wedding lanterns feature an elegant gold distressed finish. The lanterns make for unique table centerpieces and a wonderful decor element for using throughout your venue.
These vintage decorative lanterns are available in your choice of white, blue, and black distressed finishes.
Lovely Lantern Wedding Decor
Available in black or white iron, give your event a beautiful and romantic feel with these European style lanterns. Featuring an intricate design, the candle holders are perfectly suited for adding a unique touch to your decor.
Featuring an exotic pattern, these antique gold henna jewel lanterns are stylishly ornate with their blue glasses. Use these beautiful lanterns as centerpieces or to set them along the aisle for your ceremony. They also make for thoughtful favors for your guests.
Add elegance to your wedding decor with these beautiful gold decorative candle lanterns. Perfect for using indoors or out, these lanterns are available in two sizes and feature clear glass panes making for a unique way to light the way for your guests. Combine several of these versatile lanterns together as a table centerpiece or suspend them from overhead for a classy accent to your celebration.
Convey a romantic feel to your table decor with this traditional classic gold decorative lantern. Skillfully crafted from matte gold metal, you need only set them on tables and add tealights.
These large geometric wire hanging lanterns feature a black metal finish with gold accents on the inside. These are a great size for holding pillar candles, flowers or other decorations.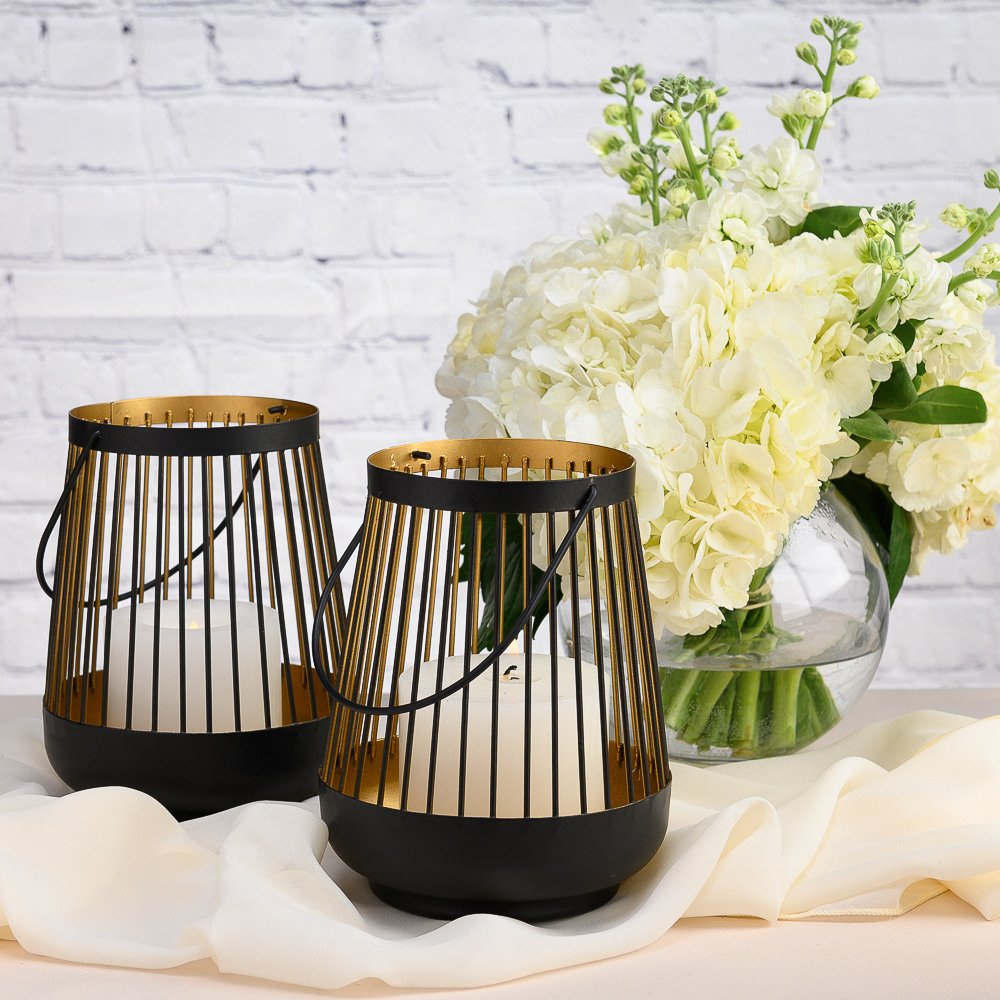 Made of aluminum, these charming white mini-lanterns are perfect to enhance your table decor. Each lantern stands with a removable lid which makes lighting the replaceable tea light easy. It also makes for a lovely favor for your guests after the event.
Add a romantic glow to your wedding table decor with these silver stainless lanterns. Made of stainless iron with glass windows on all four sides, you need only add in your favorite candles. The lanterns make also for elegant flower and succulent centerpieces.
These light champagne frosted mercury glass hanging lanterns may be filled with small tea lights and hung throughout your venue with the attached silver chains. The lanterns may also be used for hanging bouquets, or used to enhance your table decor.
Perfect to enhance a whimsical, vintage, or garden themed wedding, these lovely vintage birdcage lanterns make for a unique decor. Featuring an antique silver finish, each lantern holds a single, included tealight. Use them to create stylish centerpieces, or to create a pathway along the ceremonial aisle.
Accentuate your nautical beach-themed decor with these lighthouse tea light holders to create an inviting seaside ambiance. The cream-hued metal lighthouse includes a handle and a place card at the base for the tea light candle that is included. Great for your table decor as well as for wedding favors.
Don't forget to pin your favorite lanterns for a lovely wedding decor!
You may also like: