Let your style and personality shine during the celebratory meal with lovely sweetheart table decorations. As opposed to a head table where all members of the bridal party sit side by side at a long table, a sweetheart table offers the alternative of sitting with your partner alone. It makes for a romantic opportunity for the new couple to enjoy some intimacy and catch a breather during dinner time.
There are numerous advantages in opting for a sweetheart table especially if your parents are divorced and sitting them together at a head table could potentially … nuclear. Another good reason is if your bridal party is fairly large and sitting them all at a head table proves to be impractical.
Typically a sweetheart table measures 4 feet and can be either be in a rectangular or half circle shape. Your choice of a tablecloth and table runner is dictated by your wedding style and theme. For a romantic look, a pooling extra long chiffon table skirt makes for a beautiful idea. A flower centerpiece or extra long swag will also help you bring your color scheme together. Your stylish table-top decorations should be perfectly sized as too not impede with the functionality of your table set. You can add a multi-dimensional feel by using candle holders or a lovely lantern. Don't forget to find out where your sweetheart table will be located in your venue and consider if you'll need a backdrop to accentuate the look.
A sweetheart table is a unique opportunity to make your style and personality shine throughout your decor. After all, you are the shinning stars and sitting in front like a queen and king is simply adorable!
Explore below for enchanting and lovely sweetheart table decorations that will hopefully get you envisaging what your first meal as a new couple should look like. Enjoy!
Don't forget to pin your favorite sweetheart table decor ideas for later!
---
Lovely Sweetheart Table Decoration Ideas
A circle arch accentuated with fabrics, flowers and greenery makes for a unique and romantic backdrop decor for your sweetheart table. Choose an arch size that will complement the size of your table when you're sitting down as to elegantly frame both of you.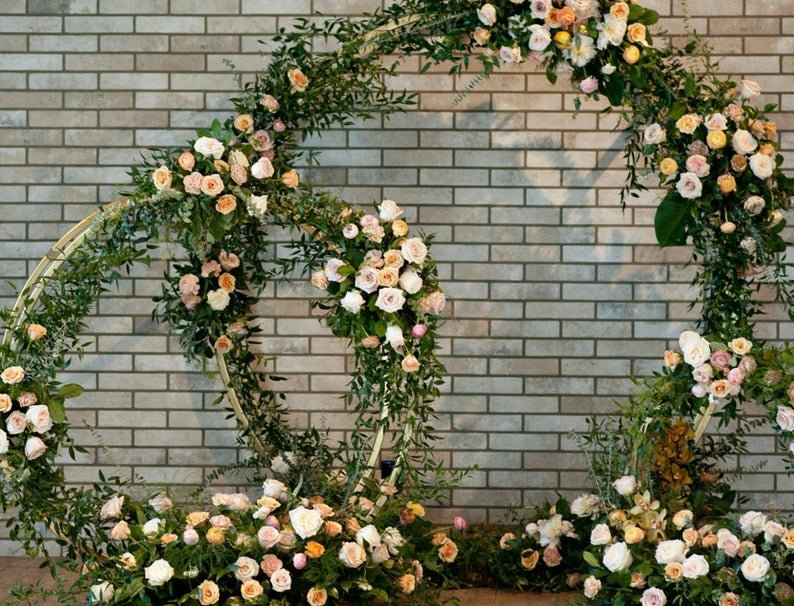 Create a stunning and eye-catching table decor using an extra long tutu tulle table skirt. Available in your choice of color and size, follow the dimension guide to perfectly pick the size of tulle skirt you need to confer to your sweetheart table a dreamy and romantic feel.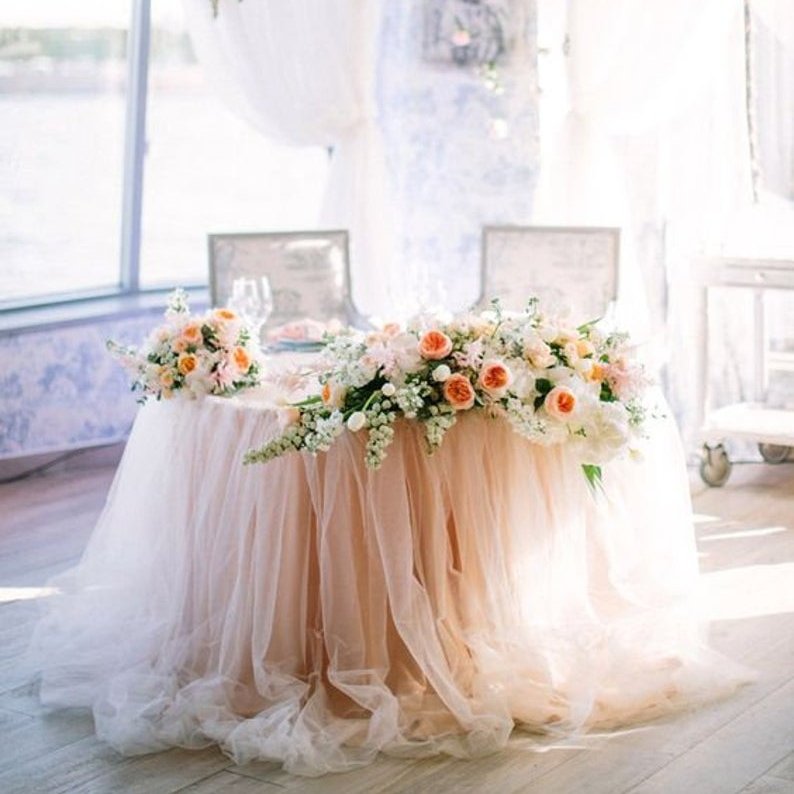 To decorate your chairs if your sweetheart table is not against a wall, these elegant hubby & wifey chair signs are available in several colors to perfectly match your color scheme.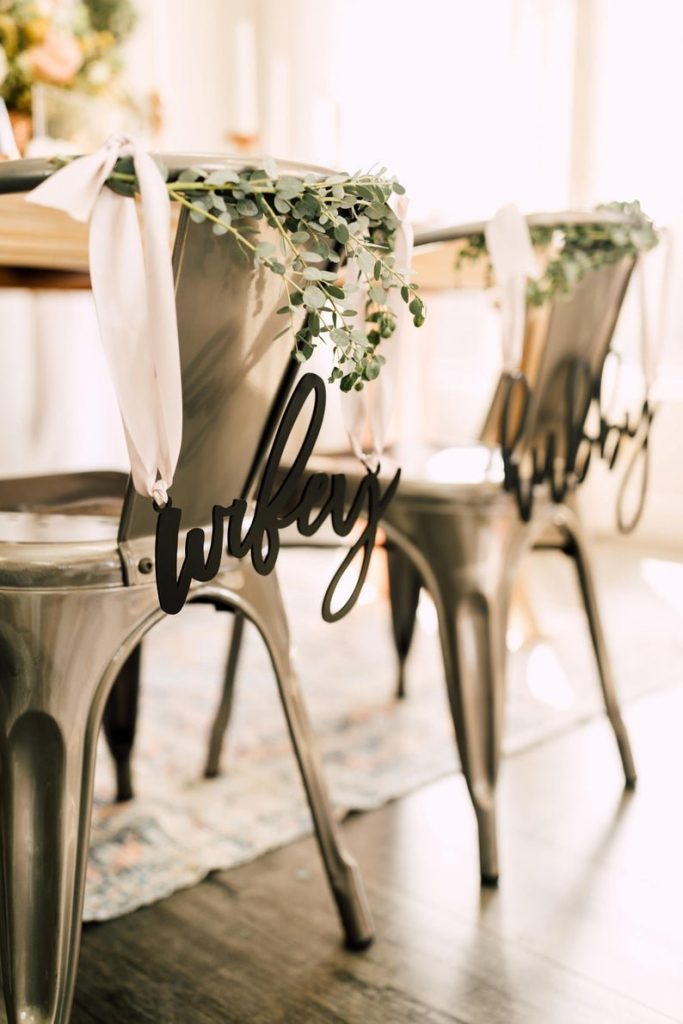 Garlands make for impressive sweetheart table decorations. This one shown below in terracotta is composed of high quality artificial flowers, eucalyptus and willow leaf as well as iron wires hidden in the plastic stems to make bending easy. This lovely garland is also available in pink and dusty rose.
This lovely vintage distressed lantern will help you add a warm glow to your sweetheart table decor. Perfectly size to complement your flower garland, the lantern is hand painted from raw metal.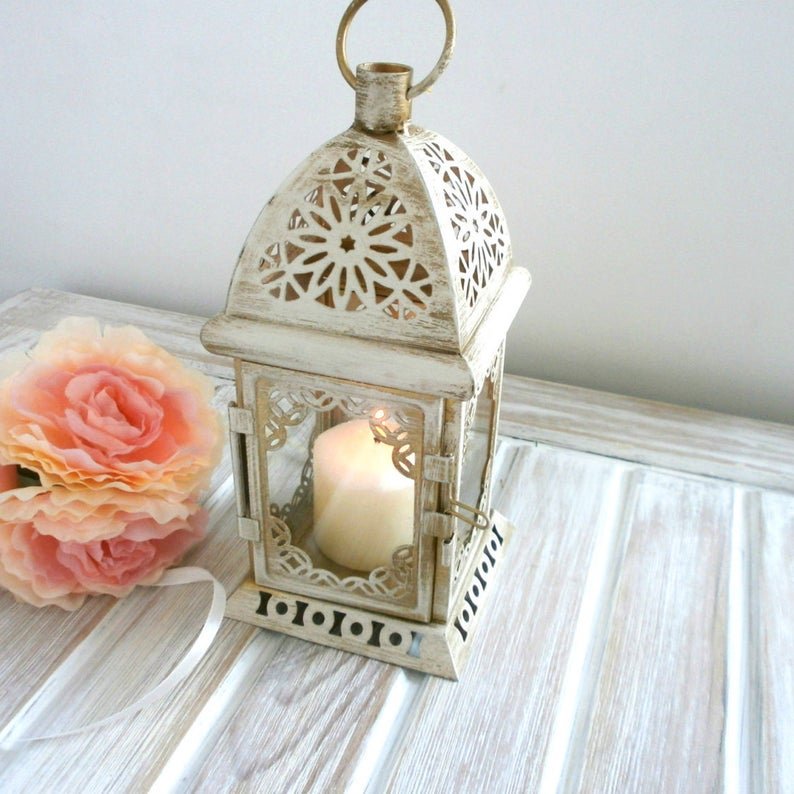 Featuring a sturdy and heavy round base, this set of 3 sleek metal candle holders have just what you need to add dimension to your tablescape. Available in an array of finishes to perfectly accentuate your color scheme.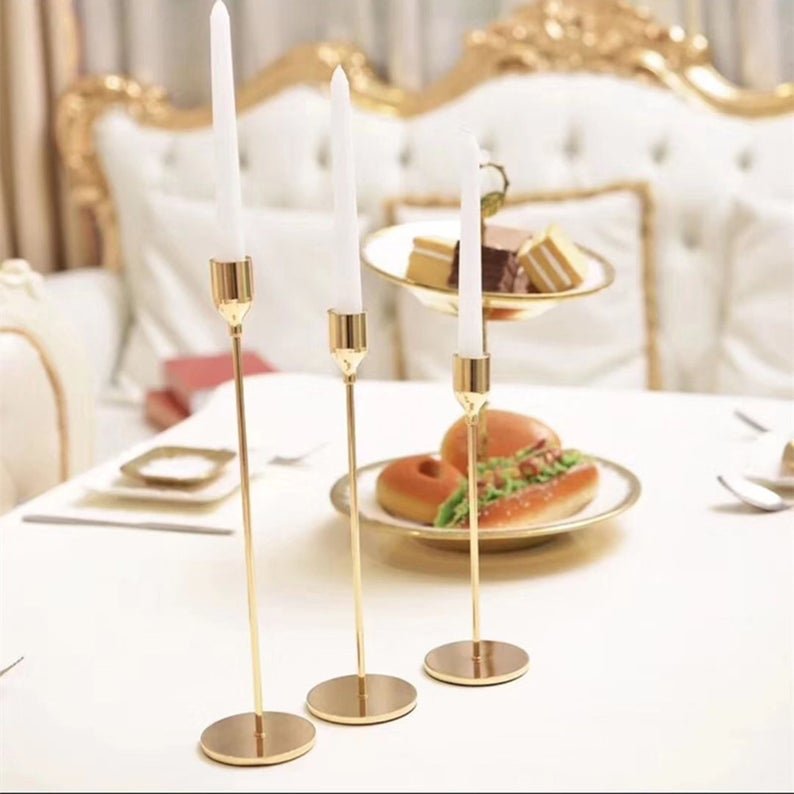 These adorable laser cut bride and groom place card name signs will add a touch of glam to your sweetheart table. The signs come in your choice of mirror gold, silver, rose gold, white, black, or in natural wood to perfectly complement your color scheme.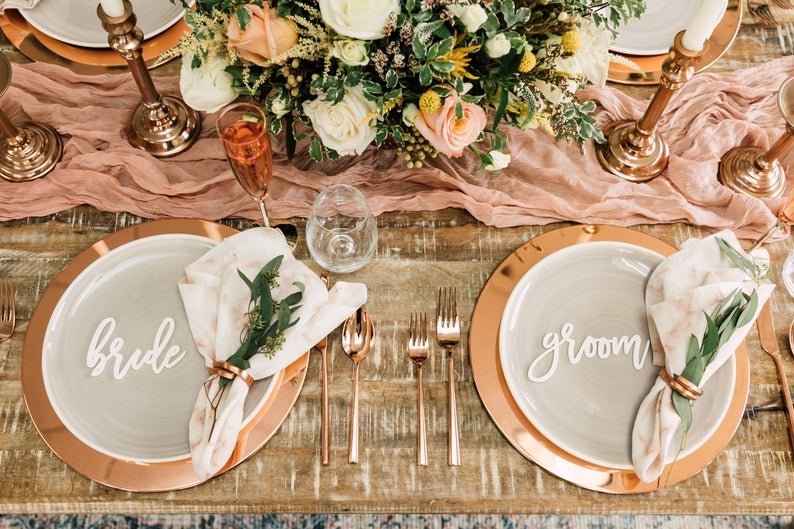 A trendy choice for your sweetheart table are these wooden Mr. & Mrs. signs. Choosing a set that is tick enough to offer stability on your table is extremely important. This set is 1″ thick and is guaranteed not to fall. It can withstand outdoor wedding conditions and the set is sturdy enough to handle accidental table "bumps" without falling over. Choose from an array of finishes to complement your table decor.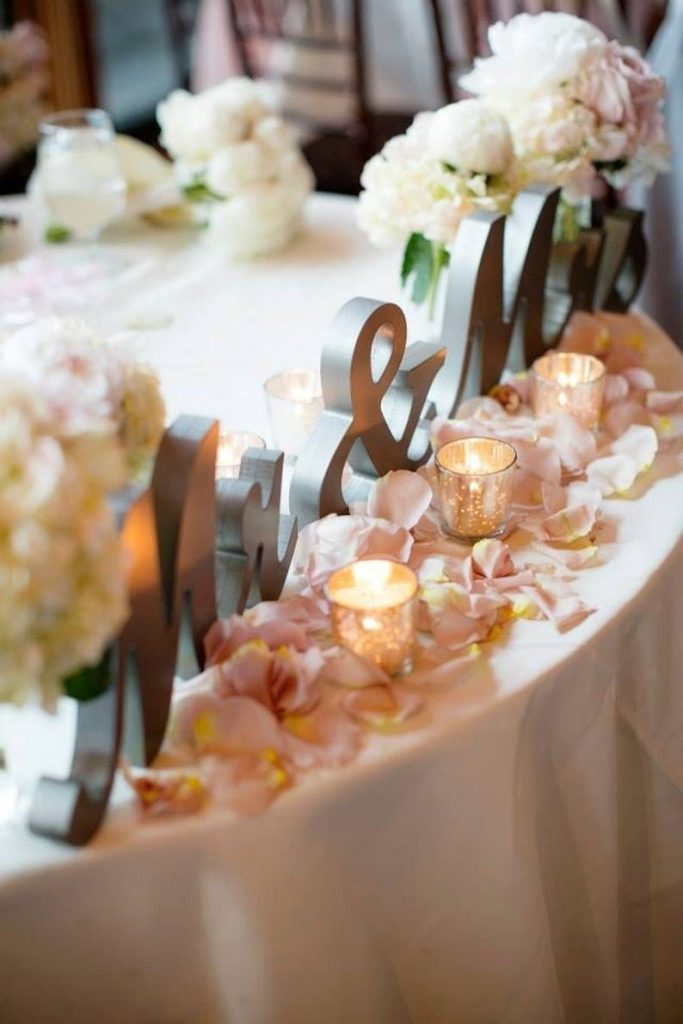 You'll make your sweetheart table stand out with these exquisite gold champagne toasting flutes. Engraved with your names and the date of your wedding, they'll make for a cherished memento of your big day you'll enjoy using at each anniversary.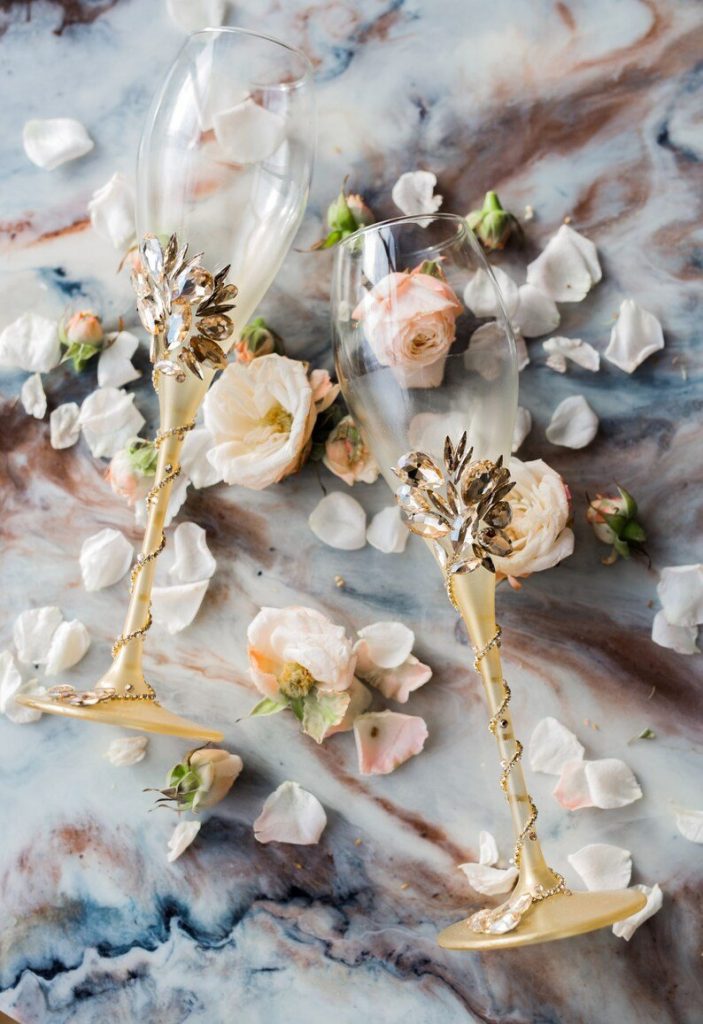 Add a luxurious feel to your plate setting with this designer royal charger plate. The high-quality see-through glass plate is adorned with your choice of gold or silver beads. Charger plates are often non considered when planning a tablescape and yet they add so much elegance to table decor!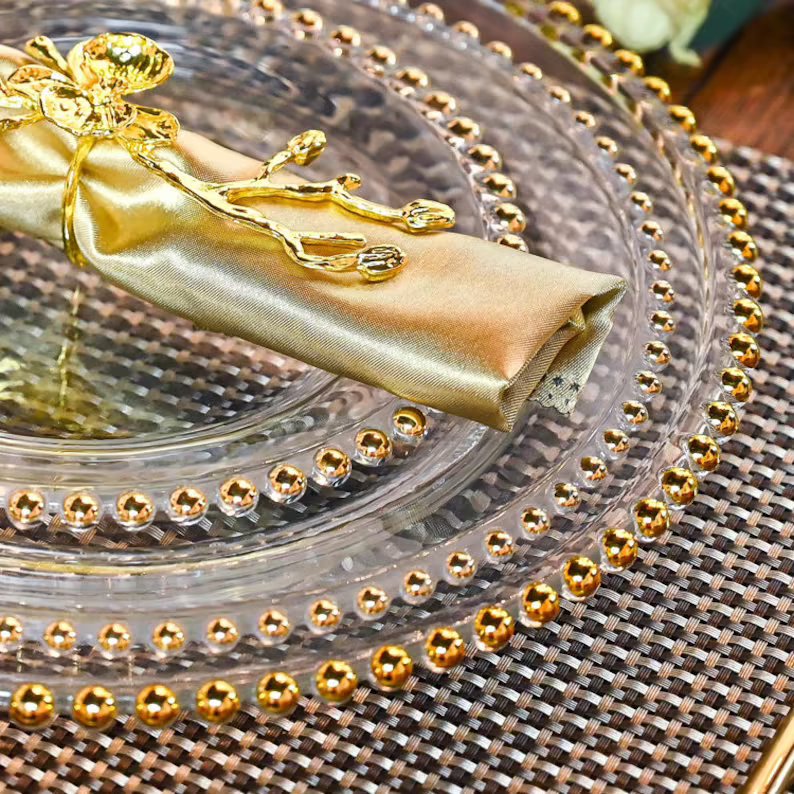 This beautiful infinity table sign features your names and is available in an array of beautiful finishes and custom sizes. The sign is laser cut from high-quality materials making for a decoration you'll cherish displaying in your home after.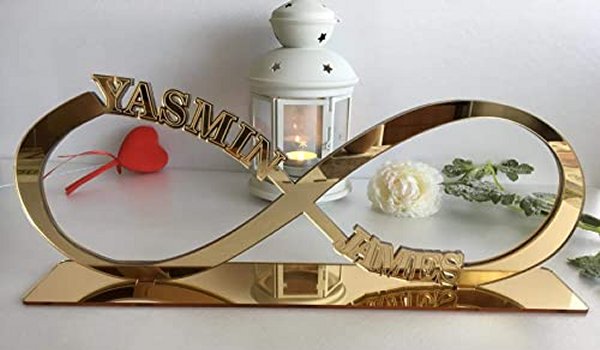 When spoken words doesn't rendered justice to your love, this custom calligraphy table runner makes for a romantic and unique sweetheart table decor. This runner is also a wonderful idea to use as an elegant backdrop.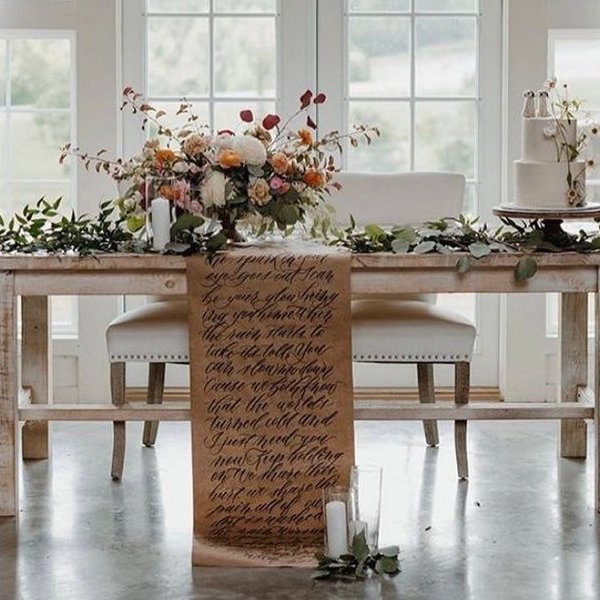 Spread love all over your sweetheart table with rose petals! The petals are made of silk and each one is hand stamped with the word love. They make for a romantic addition to your décor and offer an eco-friendly alternative to real petals.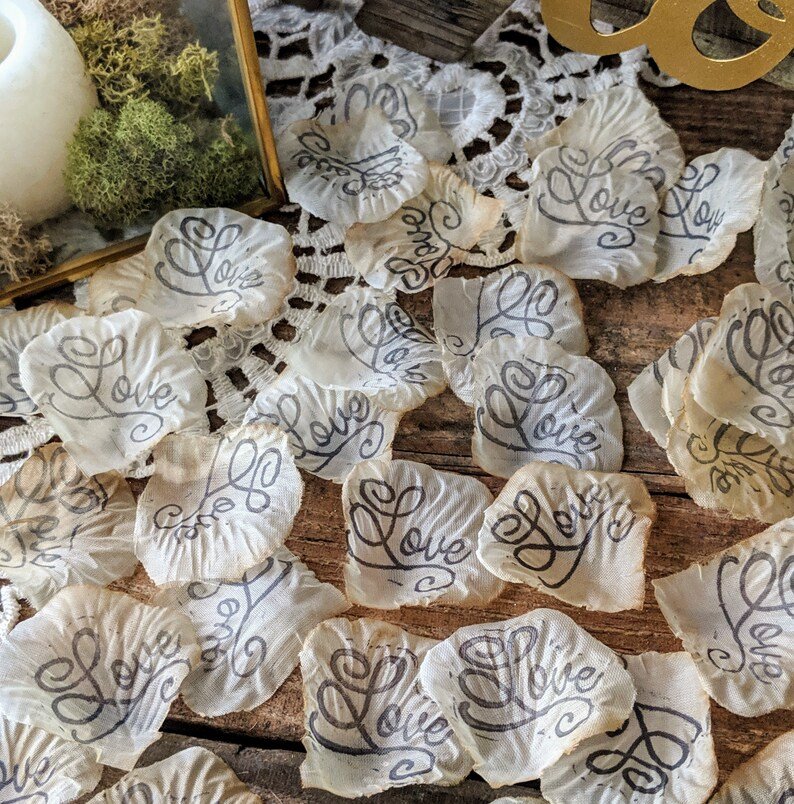 Perfect for the newlyweds to enjoy their special drinks, these fun bride and groom stir sticks are available in a vast array of colors to perfectly match your sweetheart table decor.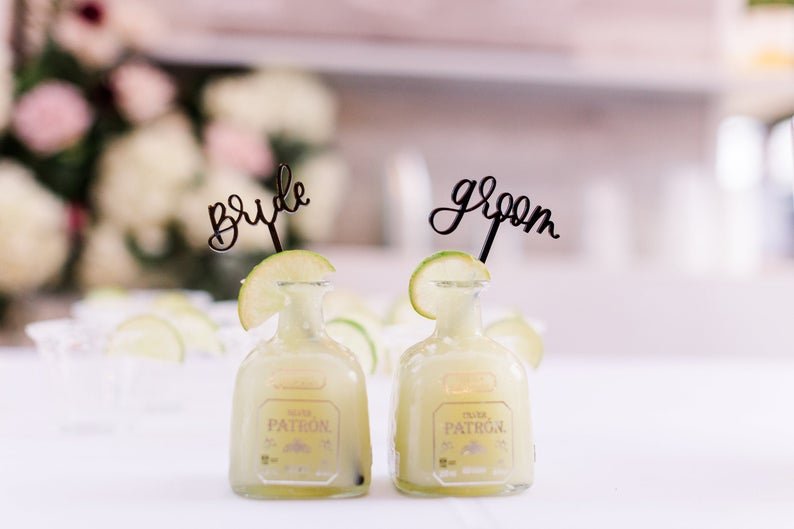 You may also like: