The rich color palette of a moody black and burgundy wedding is an infusion of deep and passionate Romanesque style. It's a perfect and stunning theme if you're considering a fall or winter wedding.
Keep in mind that a moody wedding has nothing to do with unpredictable mood swings swings as we might expect. It's a deeply romantic aesthetic achieved by using rich, dark and powerful color hues. Dark blues, greens, reds, burgundy and black make for a great color palette in achieving this moody wedding theme.
For a Gothic wedding you would most likely choose your decorations to project a moody vibe. Choosing a moody theme however doesn't necessitate Gothic elements. You don't have to integrate Gothic decor to embrace this charismatic and stunning color palette. You need only choose decorations that have rich color hues to set a scene of boldness and a dramatic undertone.
The richness of the texture for your decorations also plays an important part. A perfect example is a rich, jewel-toned velvet table runner or overlay. A luxurious and romantic feel is immediately established not just with the color, but with the texture and look of the fabric itself.
It can't be left unmentioned that this is a profoundly sexy wedding theme. If you want to capture the flame of desire that you and your significant other share, this is a wonderful way to uniquely express it! A Moody Black and Burgundy wedding is a backlash to the typical white purity that has been at the core of weddings since long, long ago. So if you're feeling rebellious or just want to have fun, this is a stunning color combination that no one is likely to forget! Embrace your passion, embrace the undertone of eroticism and let your mind run wild.
A moody wedding theme is a serious endeavor. I invite you to continue below for ideas on how you can plan for a poetic moody black and burgundy wedding.
Don't forget to pin your favorite moody black & burgundy wedding ideas!
---
This black pentagon arch is fairly new on the market and we predict it will become trendy very quickly! The wooden arch is easy to assemble and is available in your choice of oak, wenge, black, or unpainted. Dramatic, bold and unique, this has all the components to start your theme with a bang!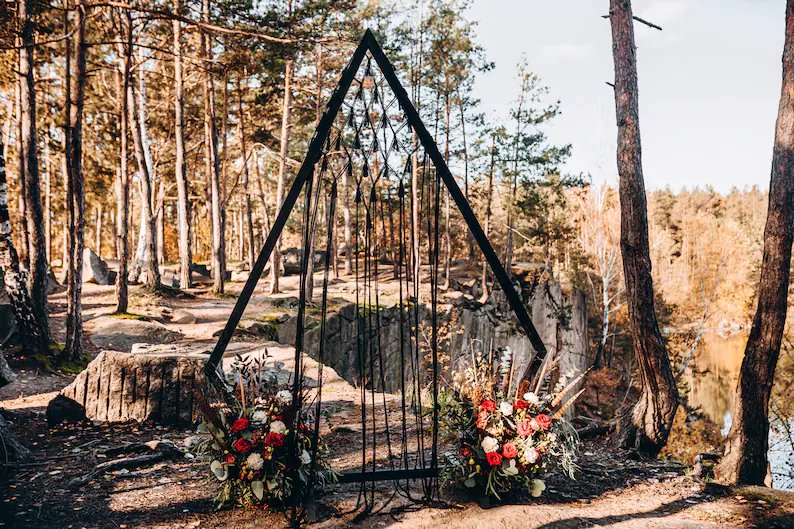 For the individualistic bride, this two pieces black wedding dress is made of luxurious Italian tulle ornately adorned with realistic looking pearls. This stylish dress has delicate and ultra feminine long sleeves.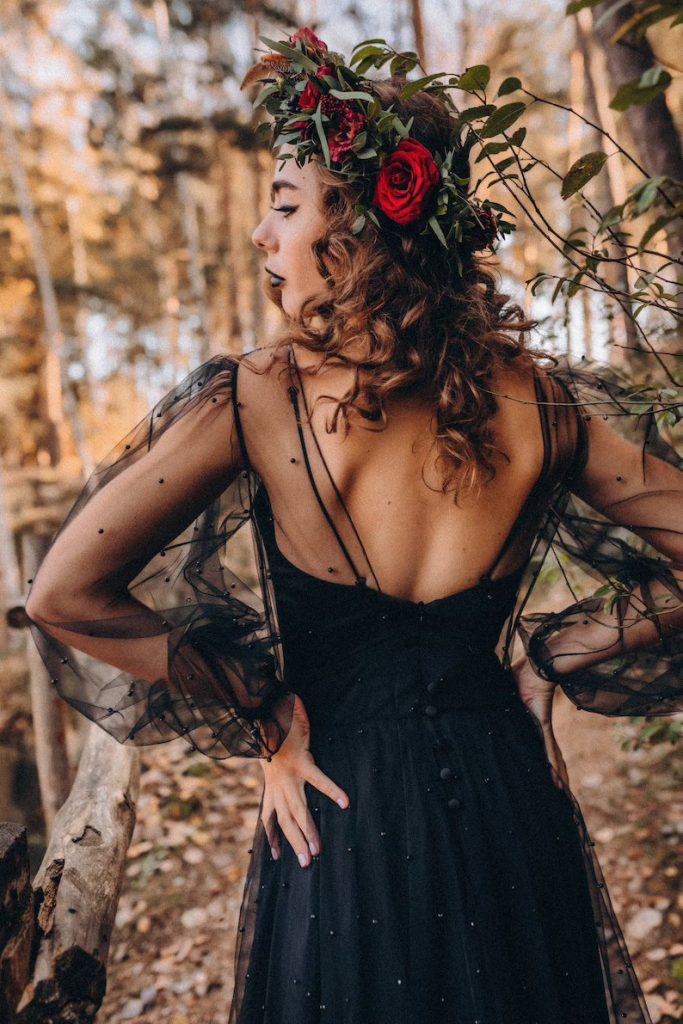 Walk down the aisle to tremendous awe holding this alluring black and burgundy flower bouquet. The unique composition of this artificial bouquet is also available for your bridesmaids' bouquets, boutonnieres, corsage, and crown for your flower girl. If you want something that says "this is MY wedding", look no further. Your guests will forever remember this smoking display!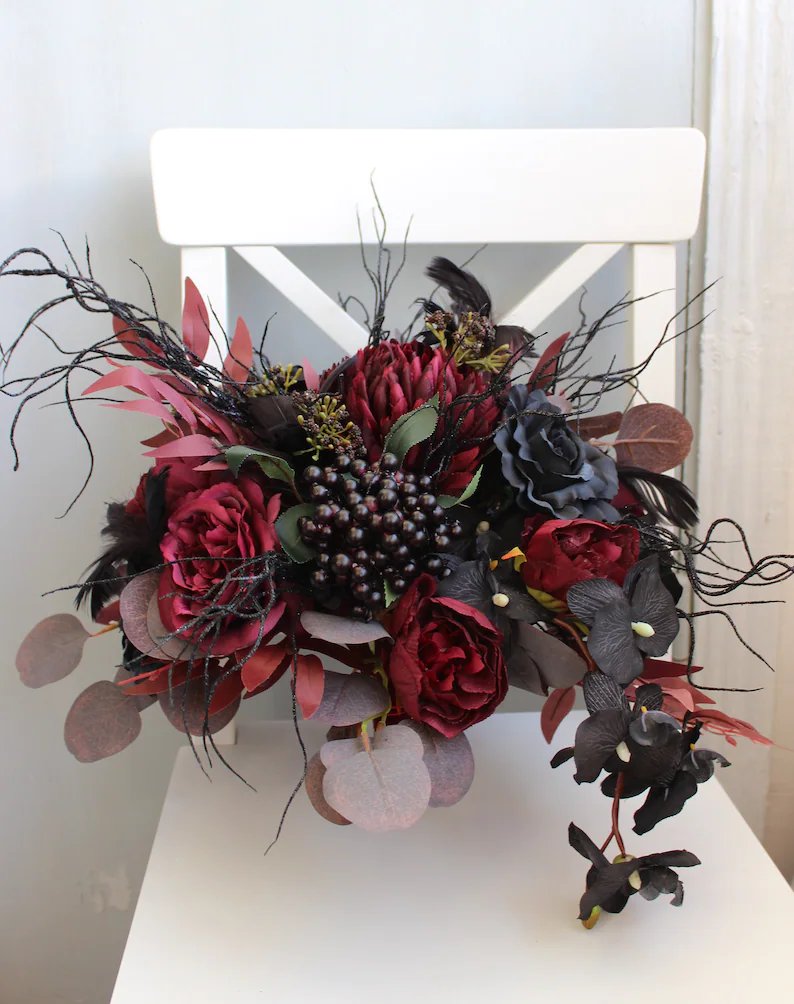 This woodsy black floral invitation template makes it easy to edit and customize invitations to the most minute details. Easy to use, there's no special software; it's hosted by Templett and this user-friendly platform is all you need to create your own invitations.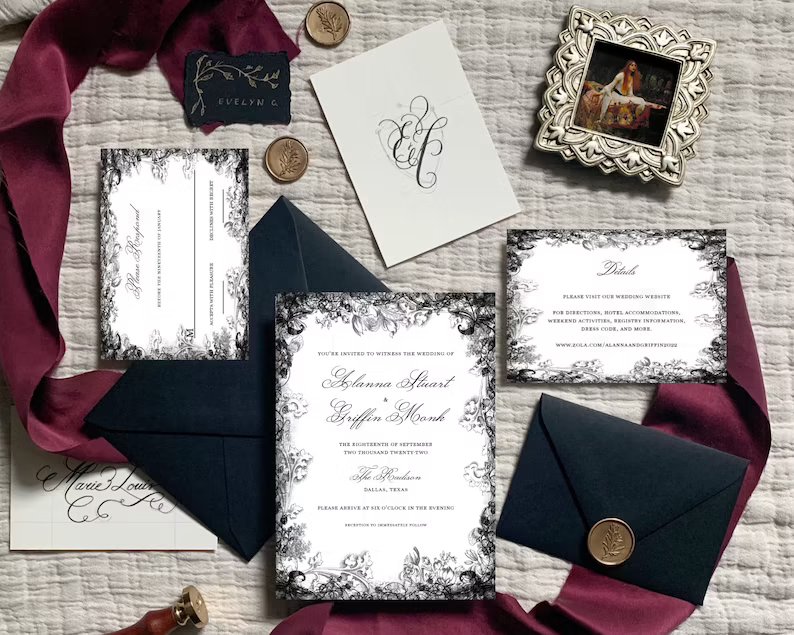 Also available from the same shop: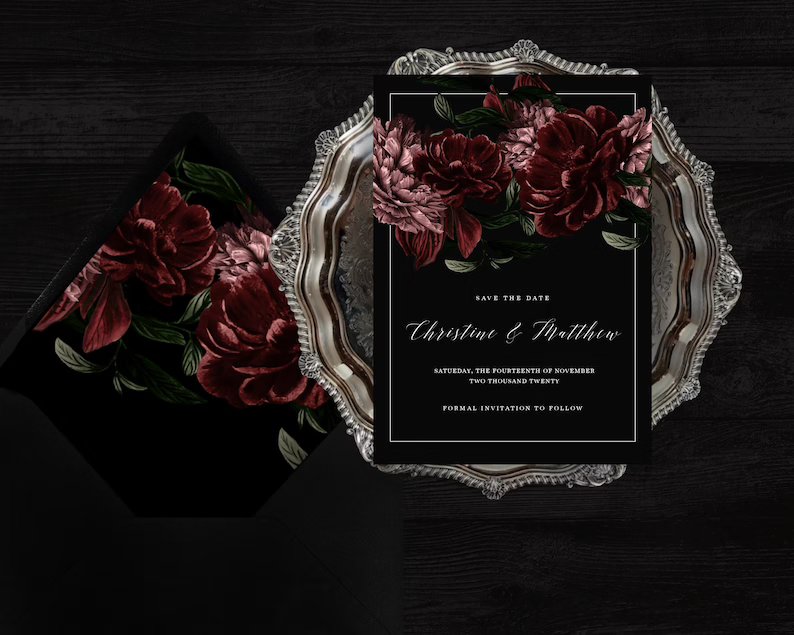 Download and edit this moody black and burgundy welcome sign to make it your own. The sign features a lovely peonies design and makes for a warm way to greet your guests attending your special day.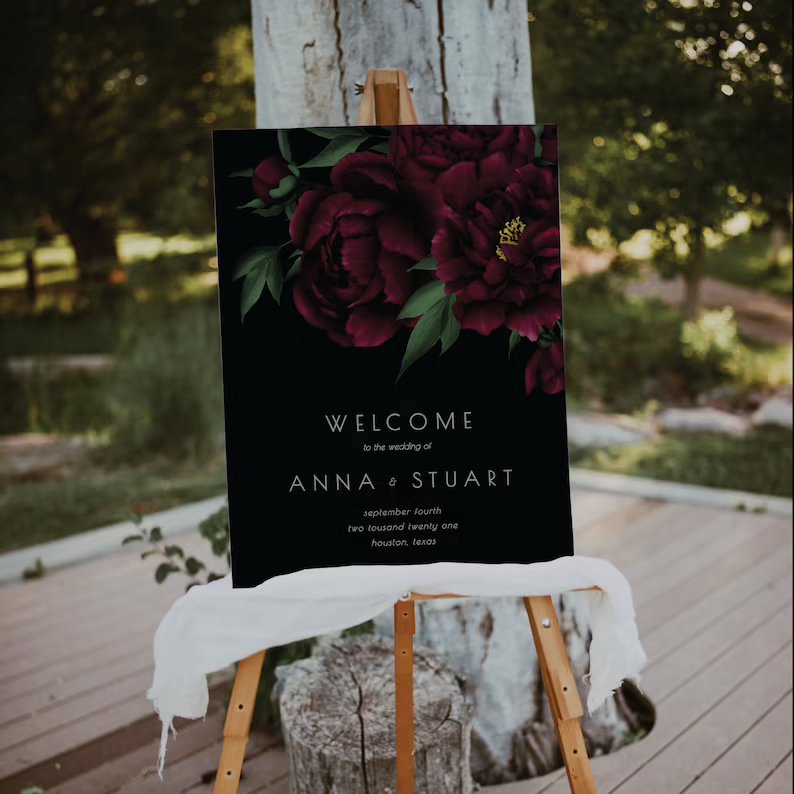 Also available from the same collection: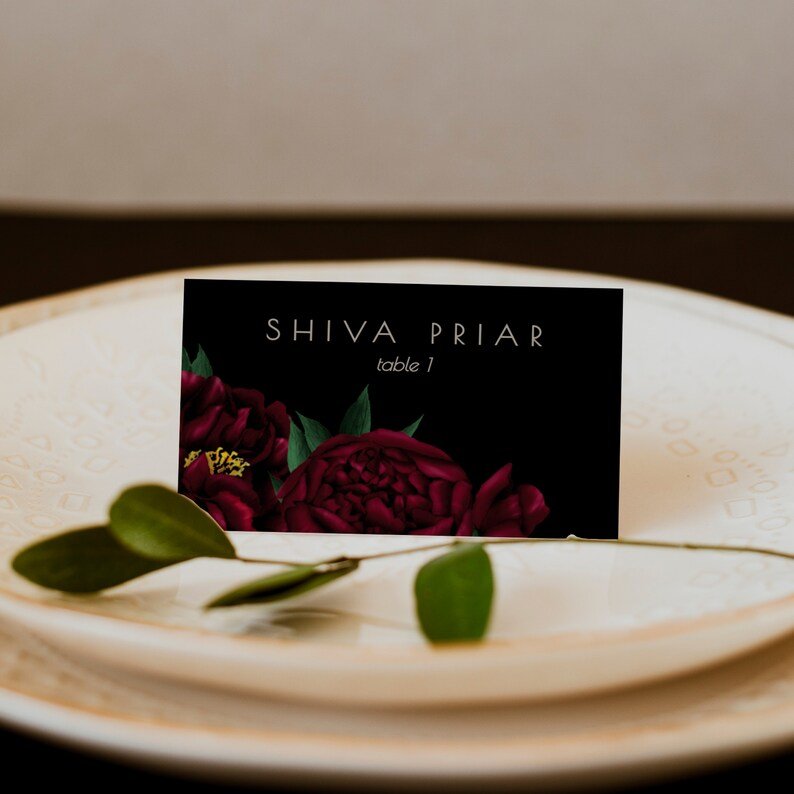 Accentuate the feel of your moody theme with these black decorative lanterns. They are made of metal and glass panes and come in a set of two. Use them for your ceremony, sweetheart table, or to create majestic centerpieces. Glamorous, eye-catching and romantic, you can't lose with this gorgeous vibe-enhancer.
If you're searching for a beautiful black and burgundy guest book this one is made with high quality paper and is hand-stamped, embossed with gold and fashionable aged with stained edges. Each page is hand cut, torn, folded and sewn in a Coptic stitch binding with natural waxed Irish linen thread. The book is embellished with a vintage antique gold frame customize with a title of your choice. It also features shabby-chic ribbon and delicate lace.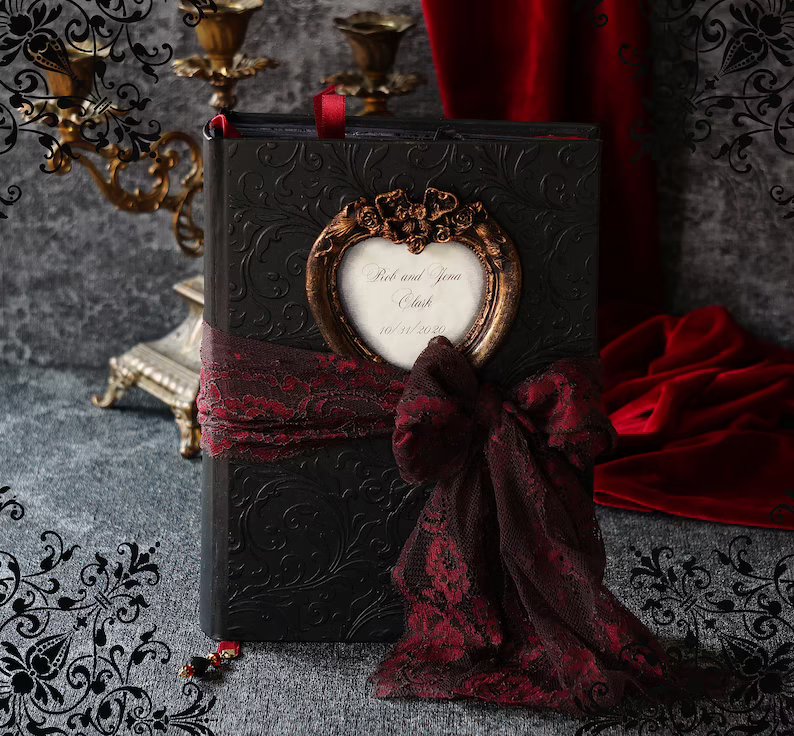 This stunning black cake server set features an intricate design that is absolutely gorgeous! Personalize it with your names and the date of your wedding for a cherished memento you'll be using long after the wedding.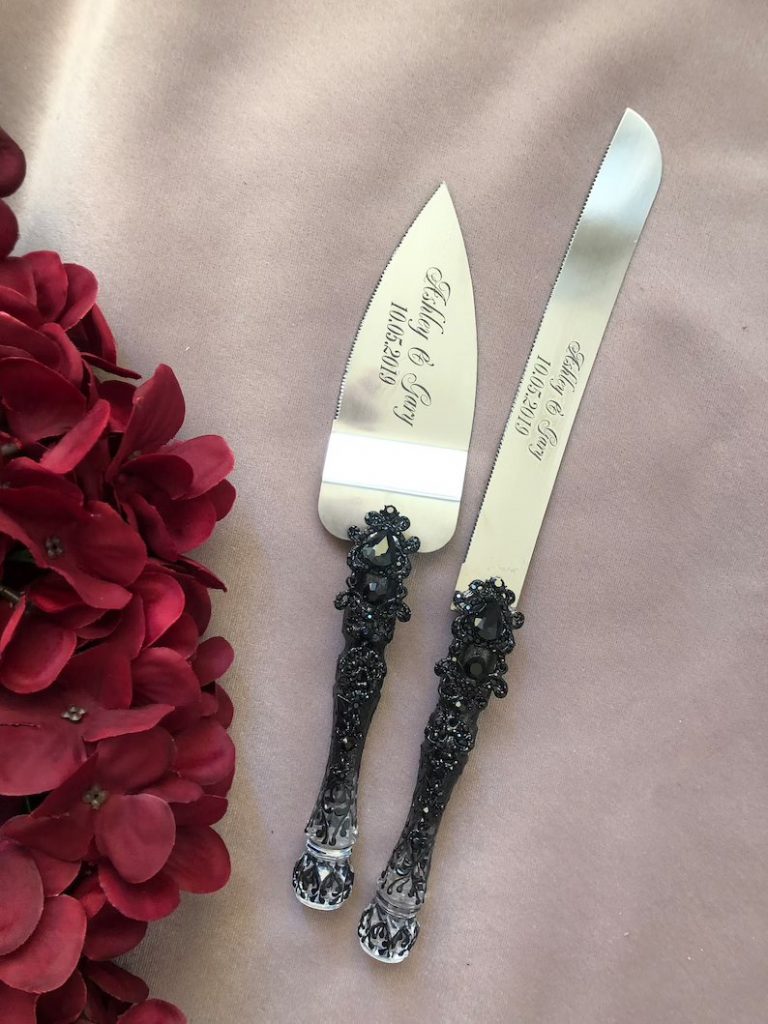 A moody black and burgundy is all about details! This cute ring bearer pillow captures what your wedding theme is all about. Other accessories from the same collection are also available such as a flower girl basket, garter set, card box, and much more!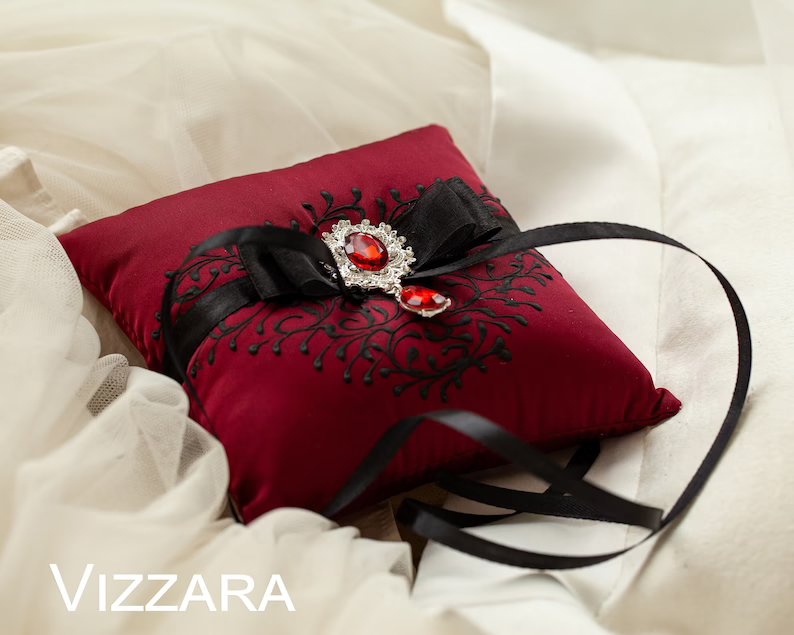 Dress up your table with gorgeous velvet table runners. The texture and richness of velvet is wonderfully perfect for a moody-themed wedding and will luxurious feel to your tablescape .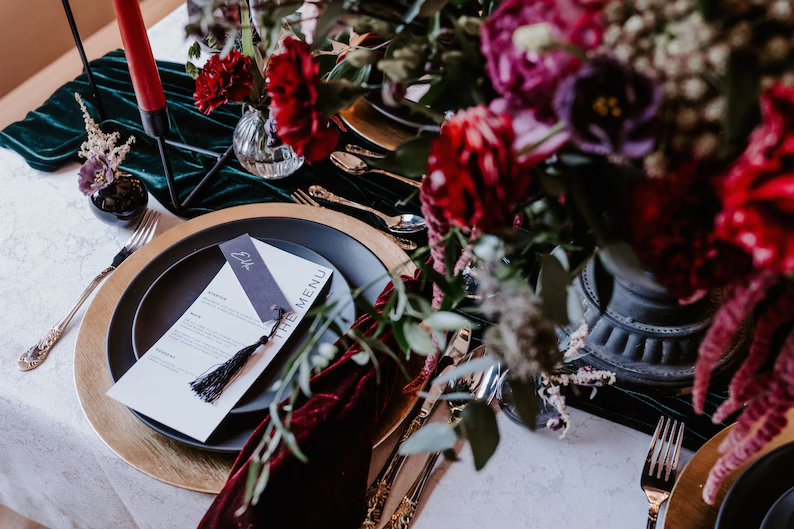 Enhance your table decor with these black pressed glass wine goblets. You can either use them as stemware or as charming mini vases to complement your decor.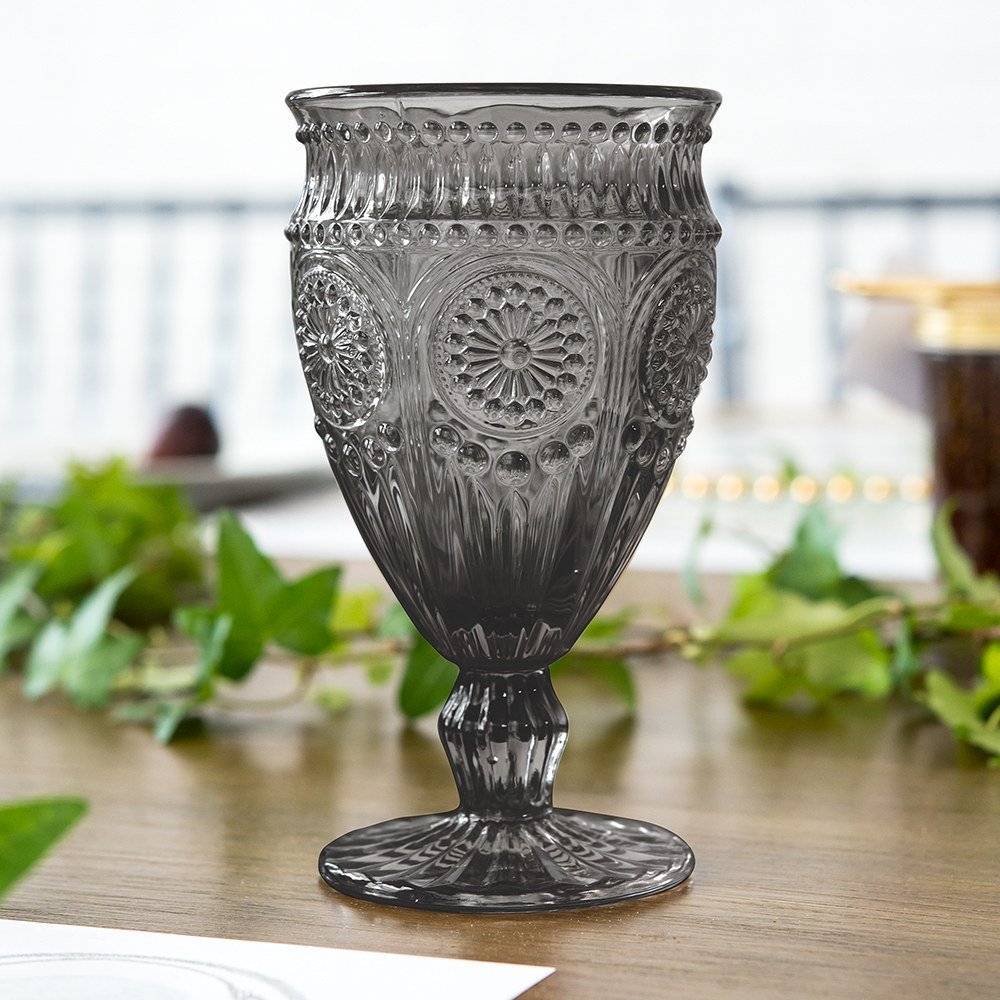 Pampered your out-of-town wedding guests with a personalized welcome bag filled with special treats and items to help them feel comfortable away from home. Notice the satin handles that add a notch of elegance and the refined script.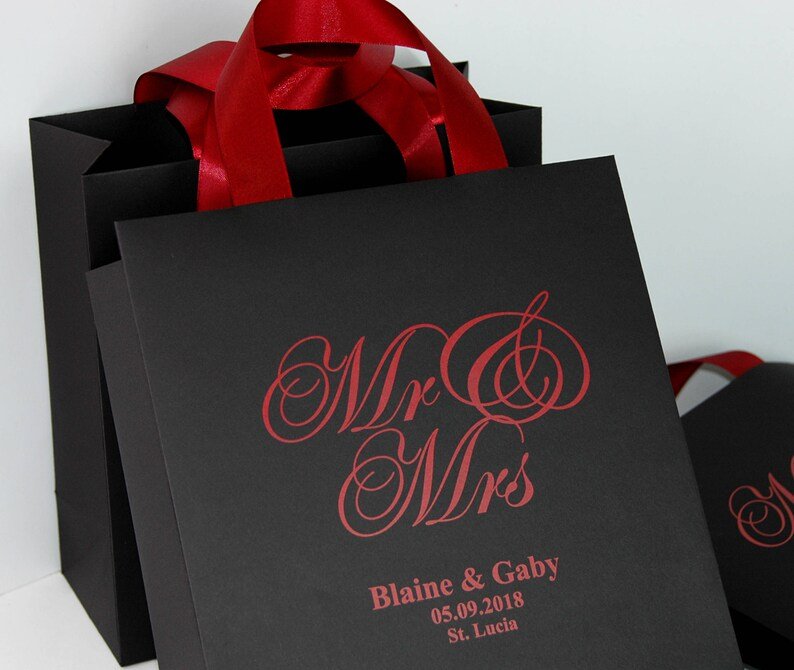 Thank your guests for attending your special day with treat packaged in these classy cube favor boxes. Available in an array of colors the box and ribbon, the favor is personalized with a tag that includes your names and the date of your wedding.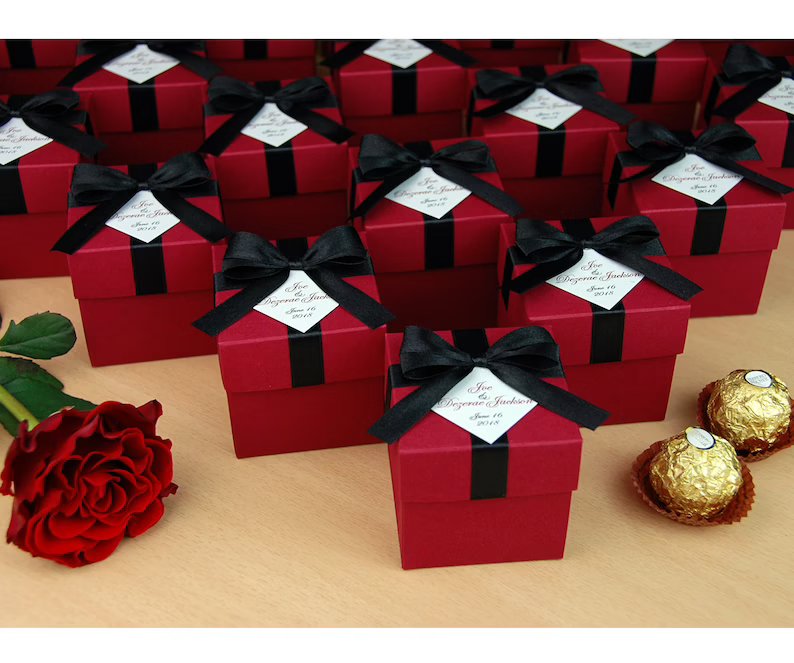 You may also like: