Join us today to discover the best places to shop for your wedding arch! Finding the ideal ceremony backdrop to exchange your vows makes for cherished memories that last a lifetime. Also known as arbors or archways, a wedding arch frame will help you define the space of your ceremony.
Symbolizing the gateway to your united future and new family life, a wedding arch represents much more than a simple enhancement to your decor. As you plan for one of the biggest days of your life, you will want to choose a style perfectly in sync with the vision of your chosen theme.
Wedding arch frames come in different styles, colors and sizes and they are most often made of wood or metal. To reduce the cost of shipping, all backdrops are shipped in parts that require assembling. You need to find a style that is not only easy to assemble but also built solidly enough to withstand the weight of the decorations you have in mind. Another factor for sturdiness is whether or not your arch will have to withstand outdoor elements.
The height and width of your arch also needs to be considered. It has to be high and wide enough to accommodate the couple and the officiant. The ideal size for a ceremony is around 7- 8 feet high and 6 feet wide. Most models are available in a selection of sizes making it easy to find arches suitable for outlining a sweetheart table or as photo backdrop.
Complete the look of your ceremony arch by draping sheer fabric adorned with flower swags and greenery that complement your wedding theme.
Continue below to view our favorite wedding arch frame ideas and the best places to shop for them! For additional information on any of the backdrops, simply click of the provided link and you'll be directed to one of our preferred craftspeople.
Don't forget to save your favorites for later!
---
Handmade, this customized square wooden wedding arch is available in white, walnut, oak or naturally burned. Embellished with macrame, pampas grass, a flower swag, or tulle fabric, its simple design is perfect for Bohemian, rustic, contemporary themes held either indoors or outdoors.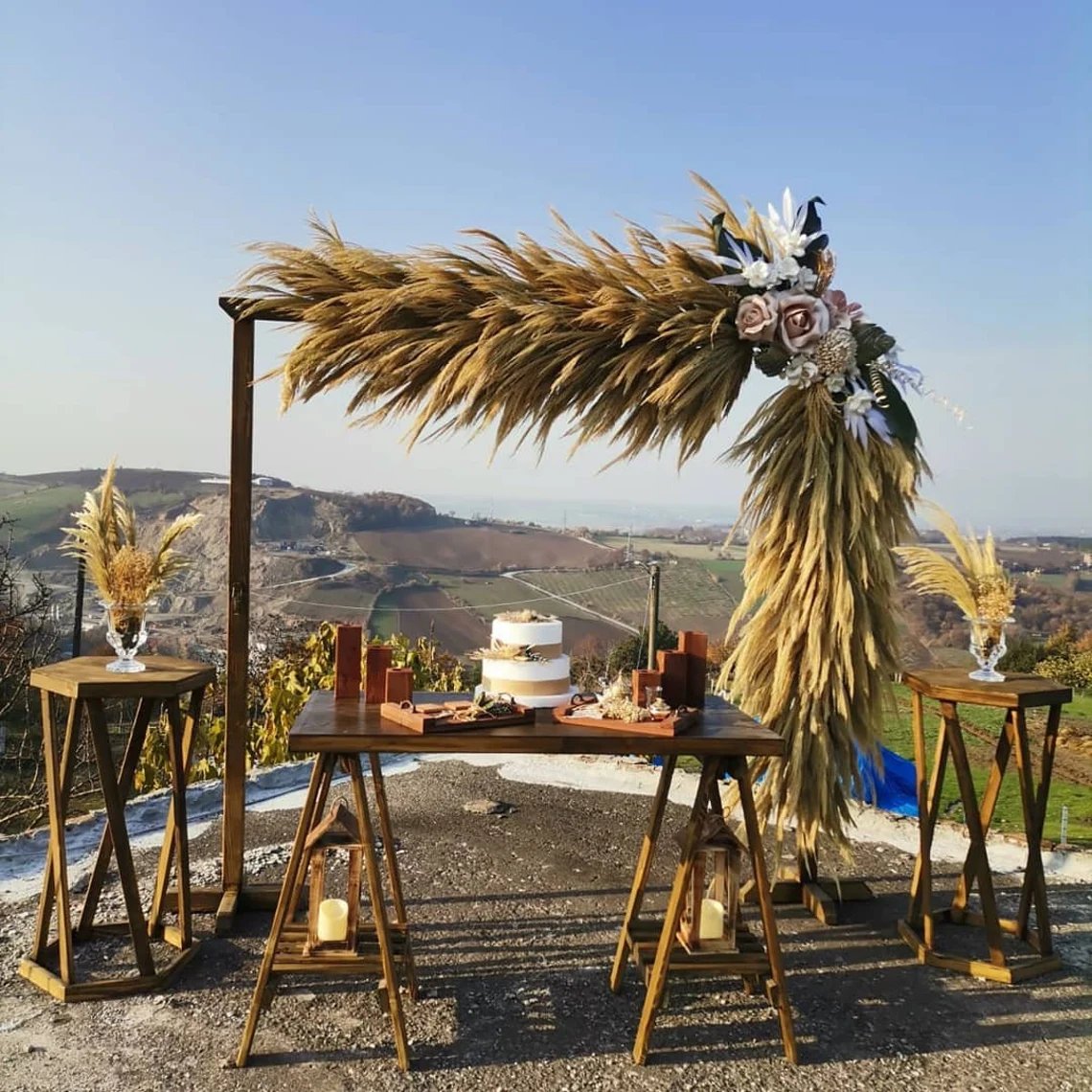 Offered in your choice of hexagon, circle, or triangle, these gorgeous high-quality wooden arches come in a warm shade of brown. You need only select a size from small, medium, to large and personalize it with your names.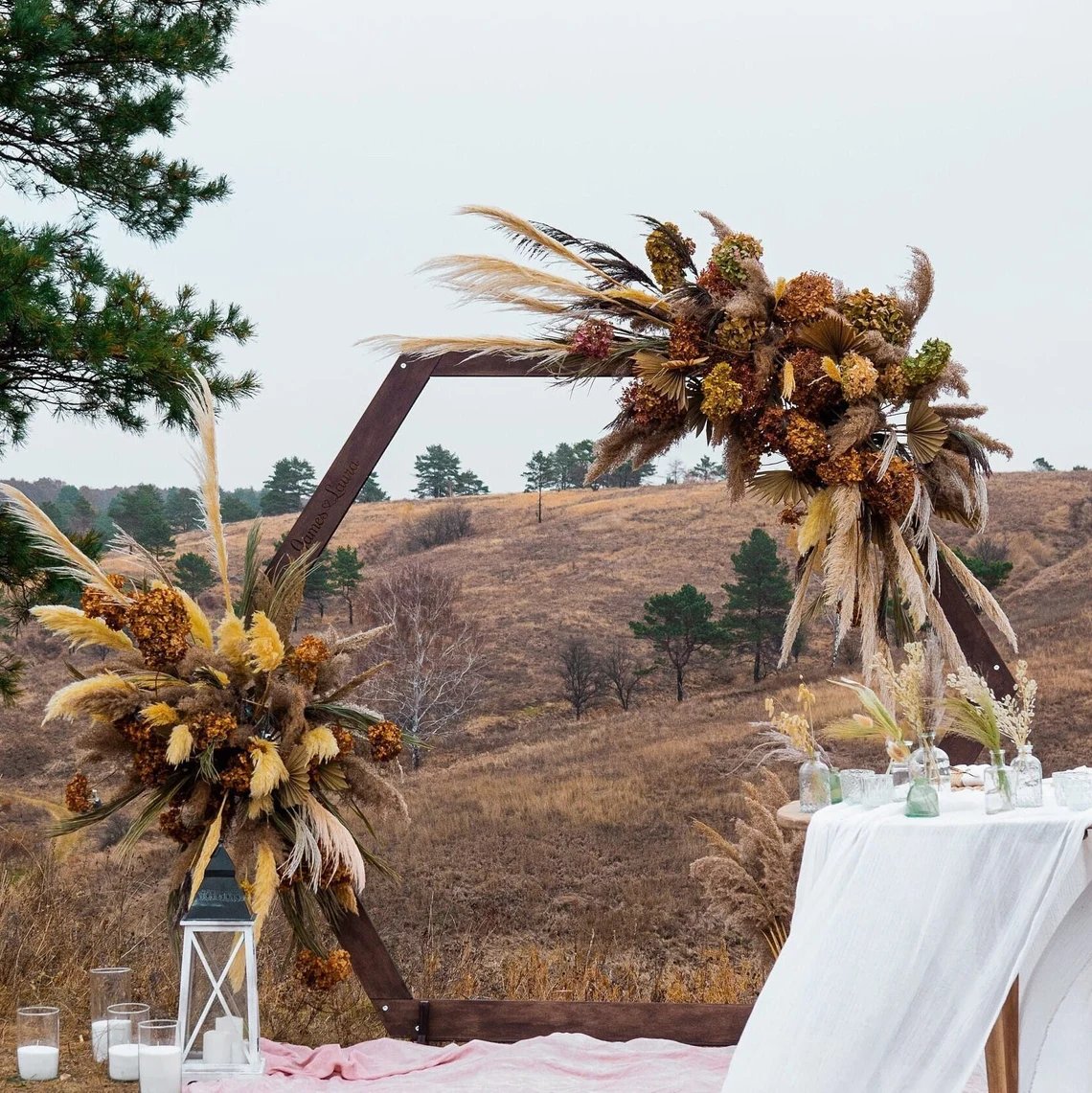 Add a multi-dimension feel to your decor with this double hexagon wedding arch. Available in several sizes ranging from 4 to 8 feet, you can also select the color of this uniquely-shaped arch. Made of strong wood, this sturdy arbor can hold a fair amount of weight!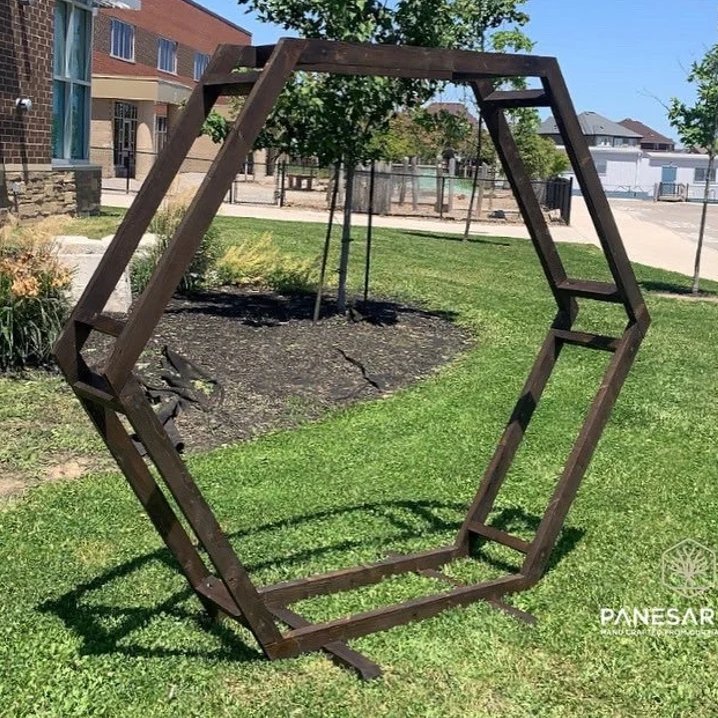 Elevate your ceremony decor with this circle shaped wedding arch. It's handcrafted from Baltic birch with a backdrop available in your choice of two sizes and a wide range of colors.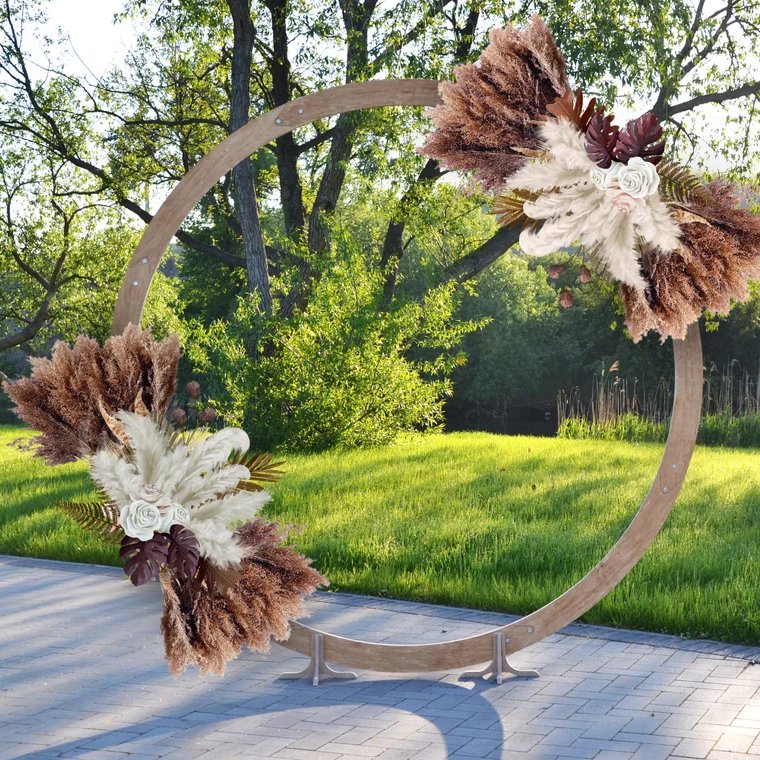 A triangle ceremony arch makes for an intimate way to exchange vows. Made of Baltic birch, this arch is available in small, medium, or large with the options of getting a set of two sizes to add a multi-dimensional feel to your decor. Choose a favorite finish from natural, amber, dark or white wood to perfectly complement your theme.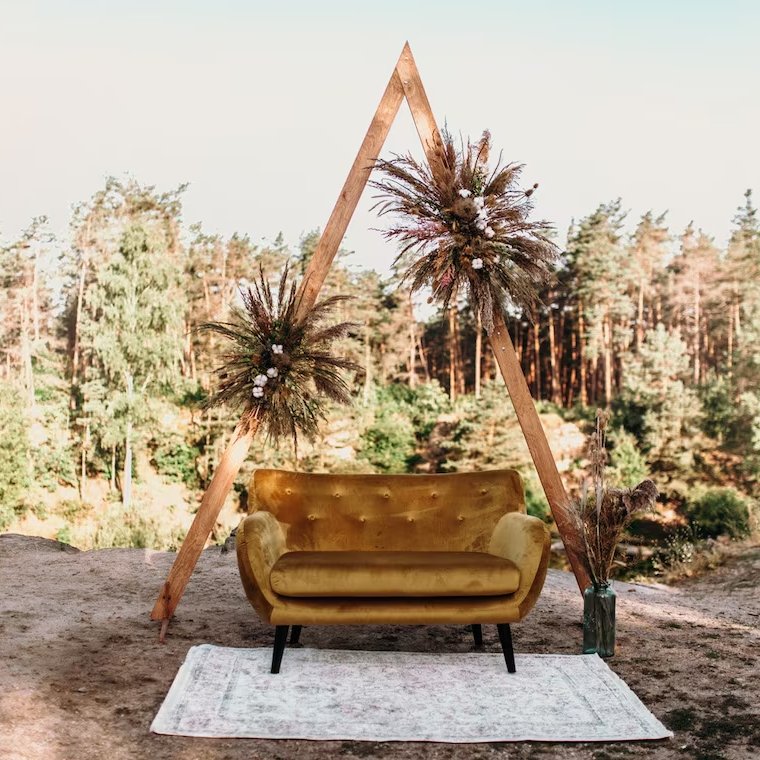 Handcrafted from natural wood, this octagon shaped wedding arch is strongly built and easy to assemble. The arch comes in four sizes and you need only embellish it with tulle fabric, flowers and greenery for a unique ceremony decor.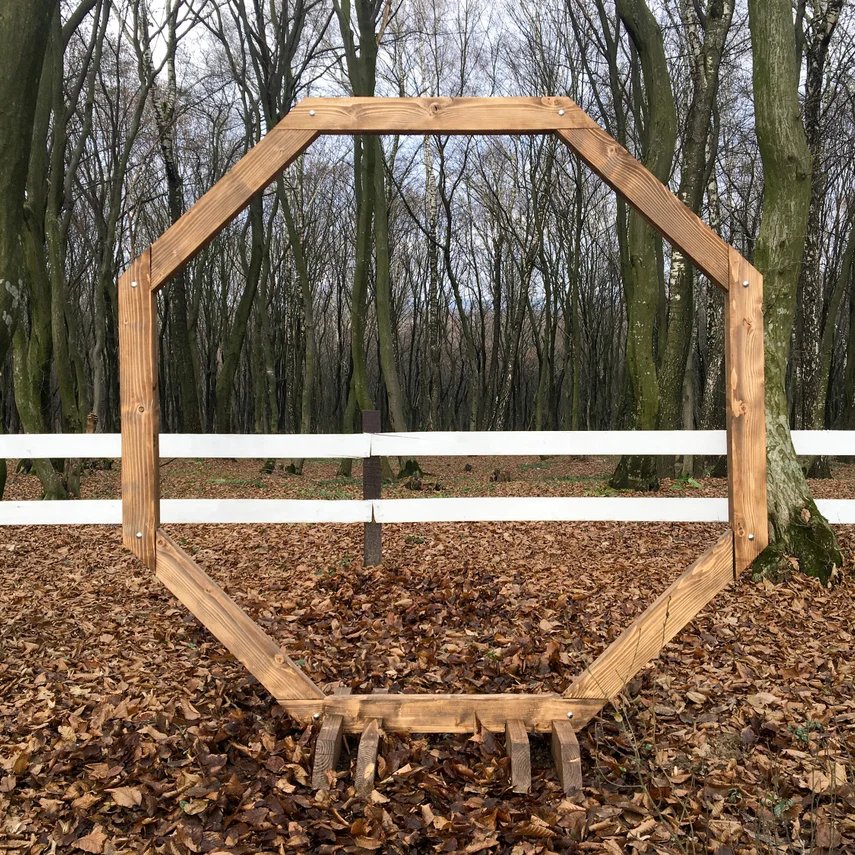 Easy to assemble, these diamond shaped ceremony arches come in three sizes or in a set combining a small and medium size, or medium and large size. Choose from a natural, amber, white or black wood finish to harmonize the arch with your theme.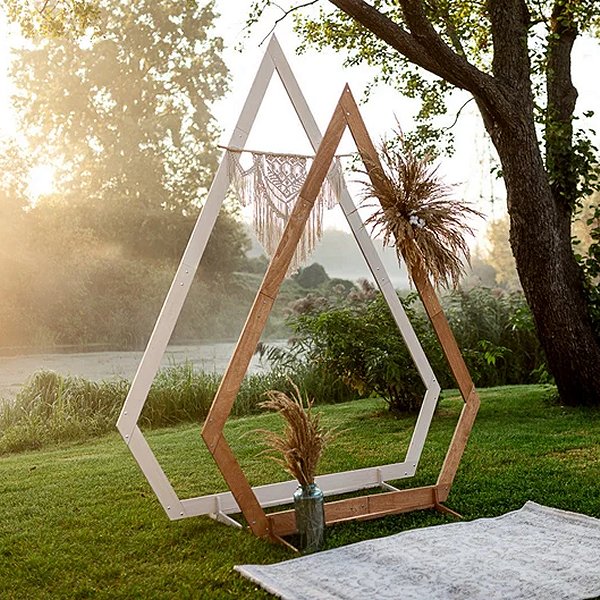 Wonderful for complementing any style of wedding, this open arms two-piece split arch is a modern take on a classic! Hand polished in a rose gold copper tone, this arch not only makes for a creative way to exchange vows, it can also be used as a gorgeous backdrop for your sweetheart table.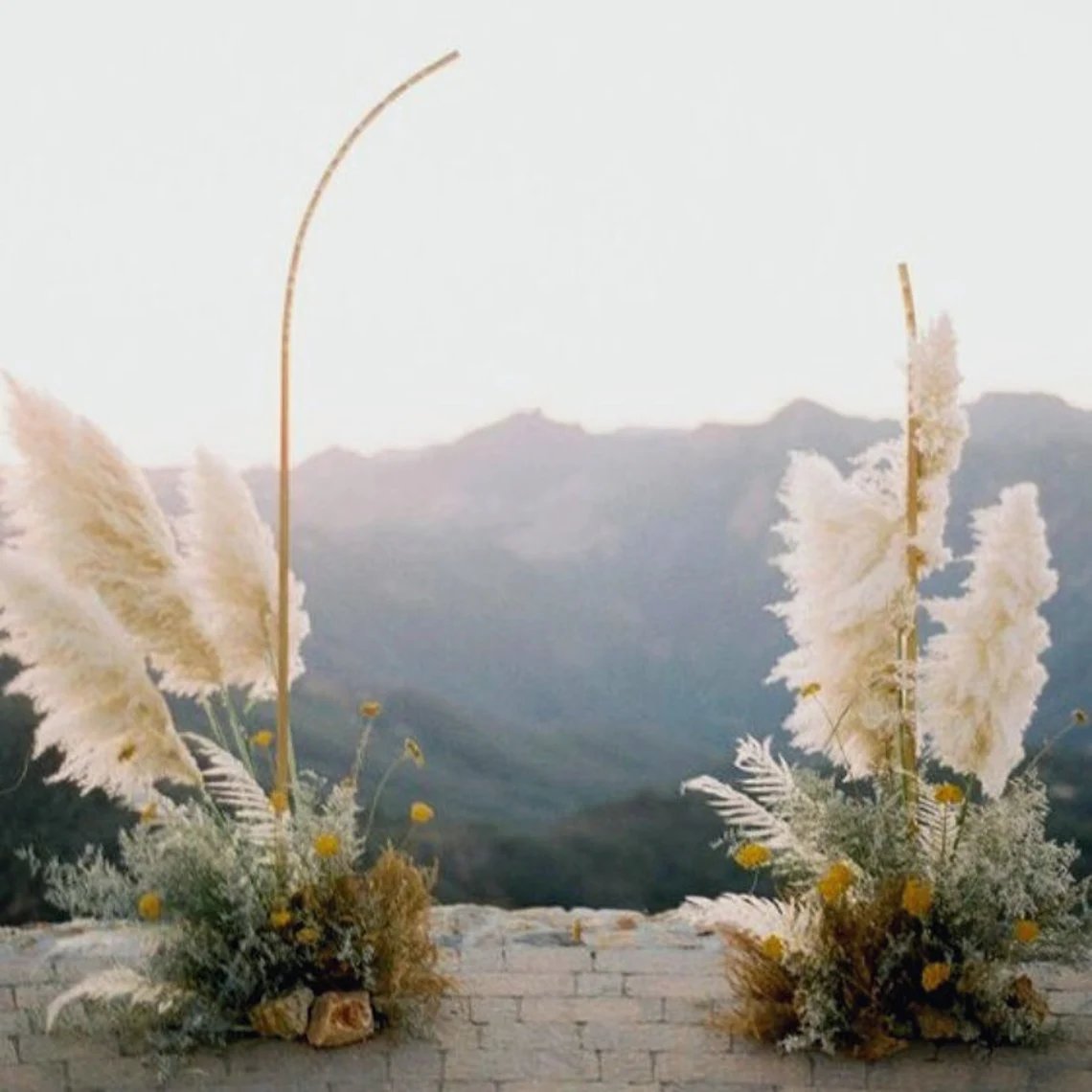 This circle hoop metal frame will confer an elegant flair to your decor. Easy to assemble, the frame comes in 3 sizes and can easily be spray painted if you require a specific color.
In your choice of white or gold, this open circle arch frame will add elegance to your ceremony decor. Beautified with flowers and greenery, this arch makes for a stylish way to define your ceremony space!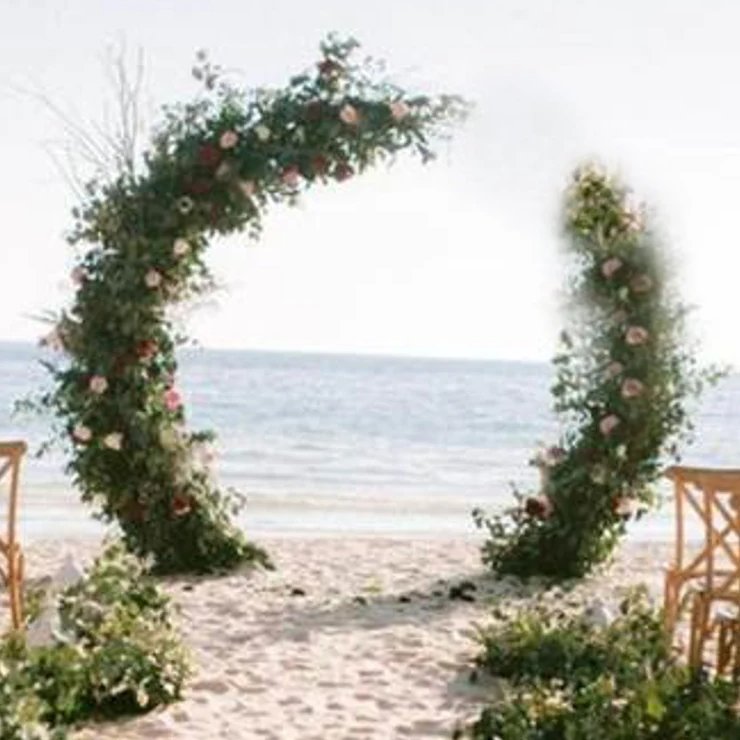 Create a stunning ceremony decor with this triangle arch frame. Handmade from copper pipes, this teepee backdrop comes in two sizes and no tools are required to assemble it.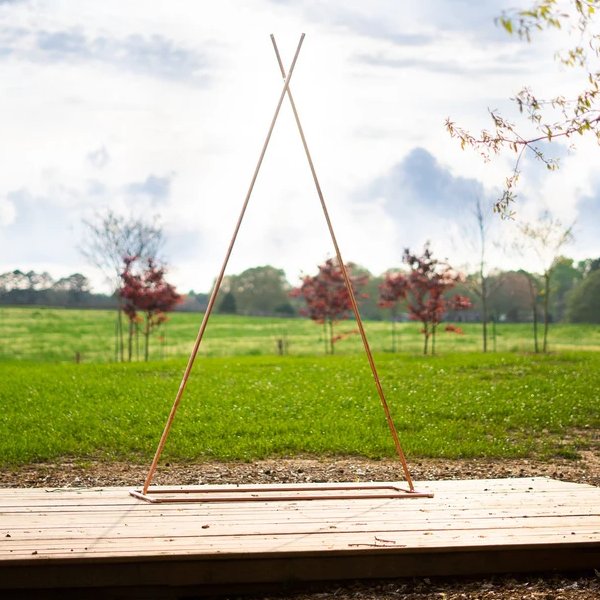 Add a touch of romance to your ceremony decor with this lovely heart shaped wedding arch frame. Crafted in your choice of white or gold metal, accentuate the arch with sheer fabric, flowers and greenery. It makes for a gorgeous decor while saying 'I do'!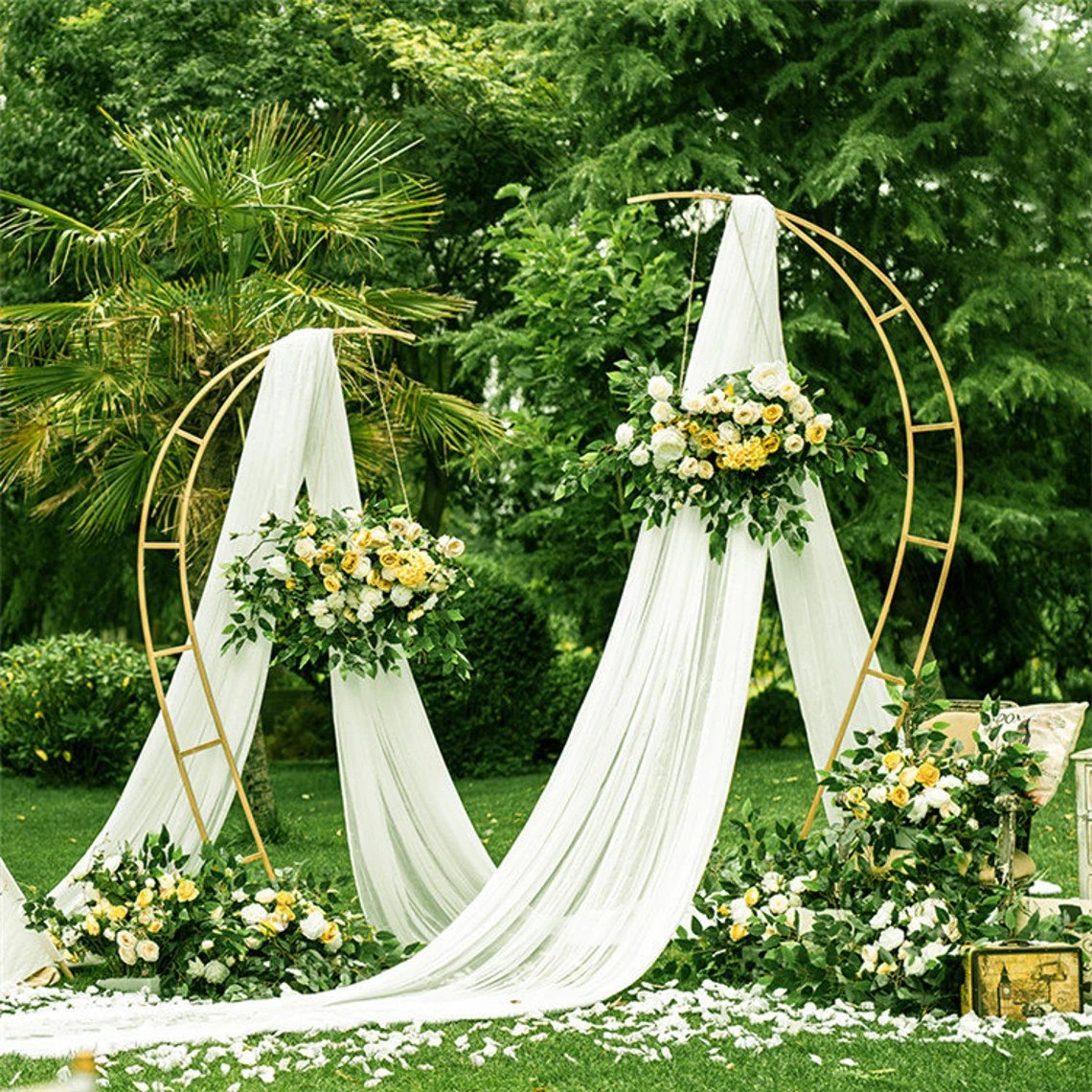 Perfectly themed for a celestial wedding, this moon shaped wedding arch makes for an alluring decor idea to exchange vows. The frame comes in your choice of black, gold or white and in three sizes. Made from high quality iron, this moon arch is very sturdy and holds up to 30 kg of decorations.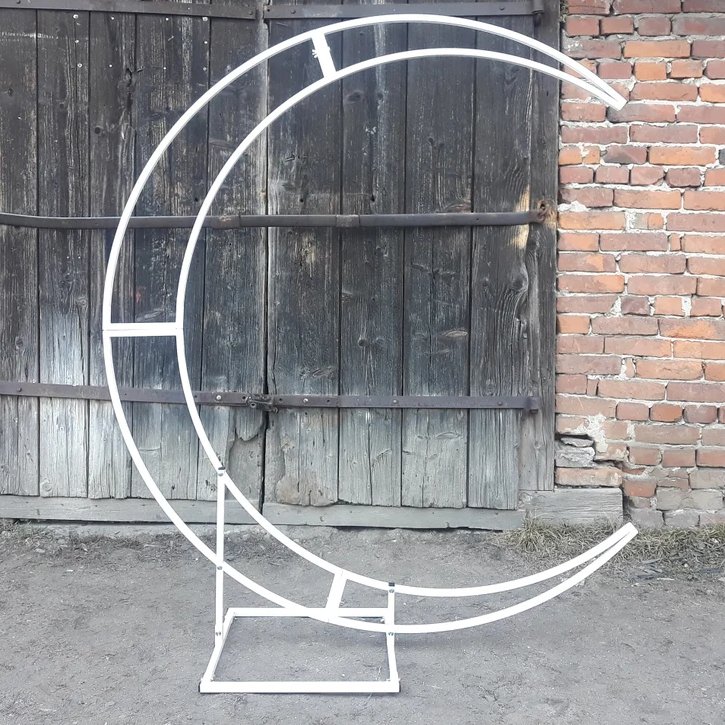 This metal wedding arch frame makes for a unique ceremony decor! Available in your choice of white or gold, complete the look with the optional electric light stands.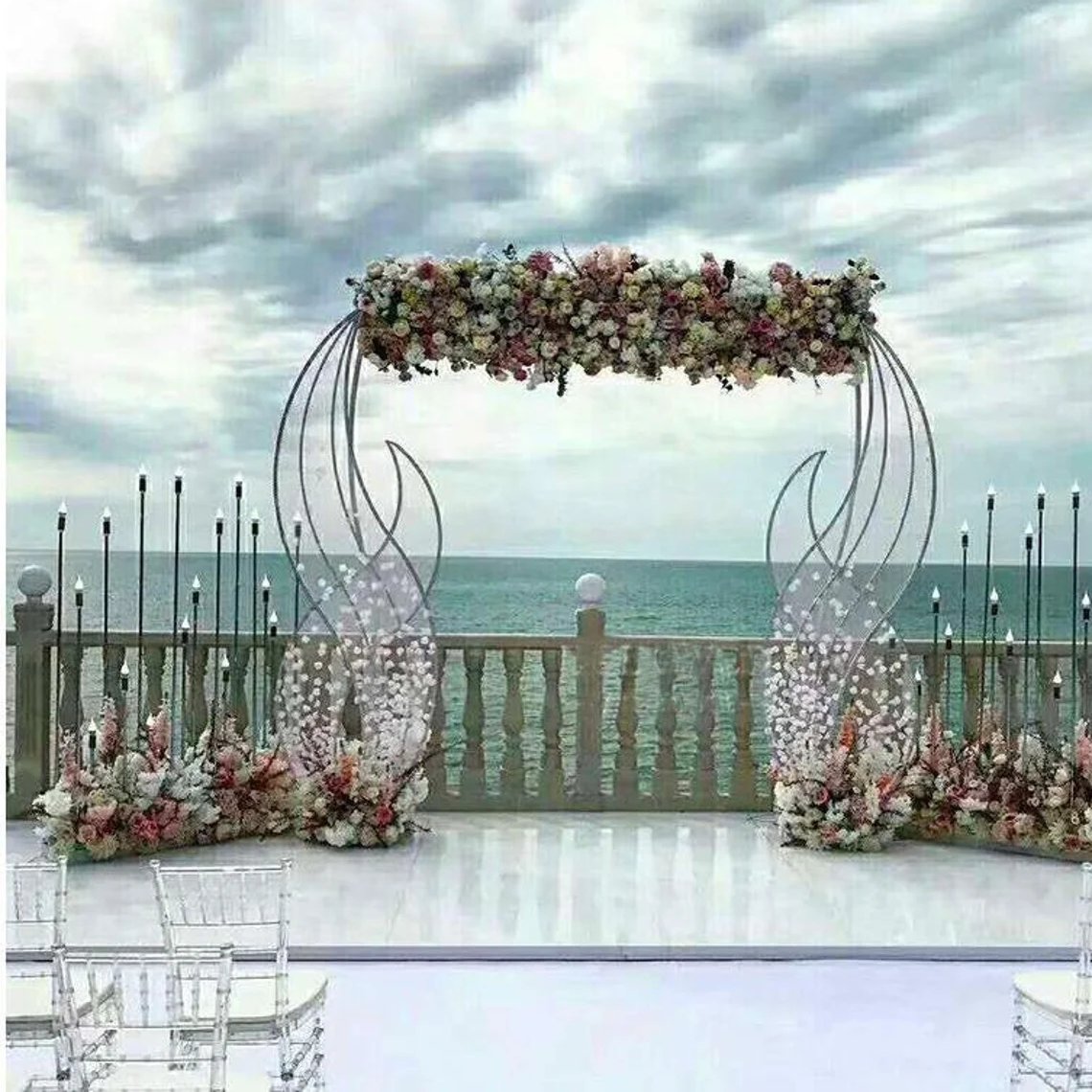 You may also like: