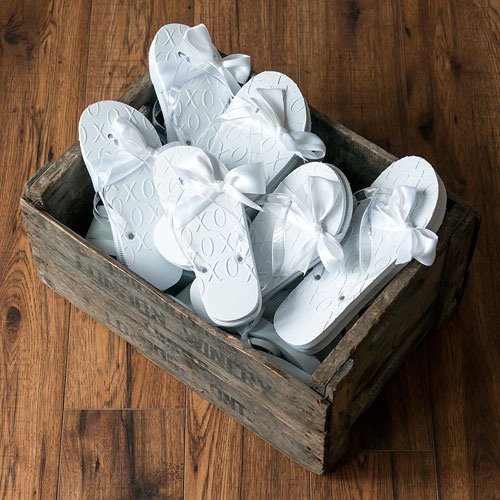 WEDDING RECEPTION GUEST PLEASER IDEAS
Being thoughtful is a heartfelt way to say thank you to your guests. By being attentive to the smallest details, they will remember your wedding as being the best one they ever attended. Make their day enjoyable, and comfortable, surprise them with something unexpected and practical.
Outside Wedding
Plan your reception considering that you may come upon extreme weather condition. On a very hot sunny day, keep your guests cool and comfortable by having plenty of refreshment available. Have on hand lots of water bottles, fresh lemonade, and fruit juice in ice buckets to quench everyone thirst. Other thoughtful items are inexpensive sunglasses, hand fans, parasols, refreshing towels, mild fragrance spray, sunscreens, bug spray, and a basket full of flip flops for a beach venue.
For a garden venue, women will forever be grateful if you supply high heel protectors. Made of durable clear plastic, they are discreet, easy to attach, and will protect heels from sinking into the grass. Have also on hand small blankets to warm up guests if it gets cooler at night, and umbrellas in case of rain.
Pre-ceremony and Post-reception Refreshments
No guest expects a drink before getting to the reception venue. Surprise everyone by offering water bottles, and light refreshments before the ceremony. For driving home after the reception, have bottles of water available for your guests to take. These simple gestures speak for themselves showing that you really care about their comfort.
Welcome Bag
Make your out of town guests feel like VIP by providing them with welcome bags filled with surprises. Include items to add to their pleasure and comfort such as: small bottle of wine or bubbly, snacks, scented soap, hand cream, magazine, and map of the area and a list of the best coffee shops, restaurants, or things to do nearby.
Transportation
Attending your destination wedding, guests may not know how to get around. If the reception venue is at another location of the ceremony, arrange for the transportation of the group to make it easier for everyone.
To make sure everyone join the party after the ceremony, provide your guests with a map or specific information on how to get to the reception site.
Some guests will drink more than they should, making their driving back home a bit challenging. Have a clear plan of action and a listing of the taxi company numbers of the area.
More Guest Pleaser Ideas

Write a customized handwritten thank you note and place on each guest plate seating.

Provide vase for the bridesmaids to put in their flower bouquet at the reception table.

Hire one or two babysitters to keep young children busy and amused during the reception.

Have vegetarian and special diet food options available for guests needing it.

Supply personalized glasses, coasters or tags with the name of each guest for them to never lose their drinks.

For non drinkers, provide interesting mocktails Instead of plain orange juice.

Treat your guests to an exciting candy buffet, magic show, dance lesson, photo or video booth, or even a caricaturist that will go from table to table for amusing drawings of the guests.
Click Here to Return to Wedding Reception Tips & Tricks