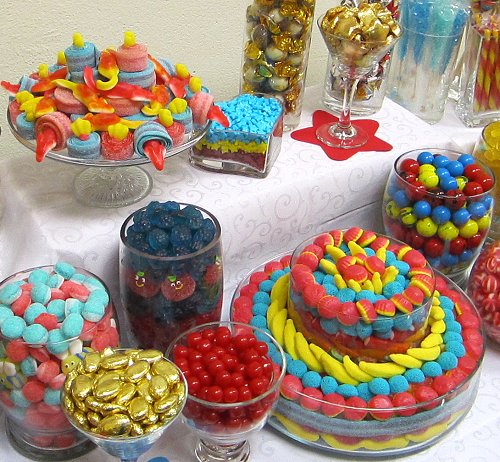 A sweet table is a buffet style set up, where your guests have a wide selection of attractive and flavourful candy to choose from, displayed in appealing glass jars.
Having a candy buffet for your wedding, is not only a creative way to please the taste buds of every guest, it's also a beautiful decorative choice. Along with your wedding invitations, table decorations, flowers and bridesmaid dresses, it needs to complement the style and feeling you've worked so hard to convey, and must be in harmony with the overall colour scheme of your event. May it be an elegant combination of classic colours, or a bold and unique statement, these chosen colours are a reflection of your personality and will even influence the mood of your chosen venue.
To dazzle your guests with this spectacular and mouthwatering display, be sure to include a wide variety of textures and flavours in the colour pattern of your choice.
Click here to view an array of
attractive candy colour combinations
for sweet tables.